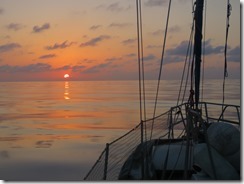 These are emails we sent via SSB during the crossing from Isla Mujeres, Mexico to Great Sale Cay in the Abacos, Bahamas.
Sailing north
Mon, Apr 23, 2018 at 7:27 PM
Hello
We started our long route northwards!
We left Isla Mujeres at 1700 heading North-East with 10 to 15 knots of South East winds and relatively calm seas. Just a couple of miles afterwards we hit the Gulf Stream that pushed us northward at more than 2 knots. After our last encounter with this big river of the oceans we were a little stressed before our re-entering the gulf stream but this time the sea did become a little more aggitated and the boat movement seemed strange – we were sailing at 5 knots but our speed on the ground was 8 and sometimes even more but we did not experience the washing machine we had when we came down from Cuba.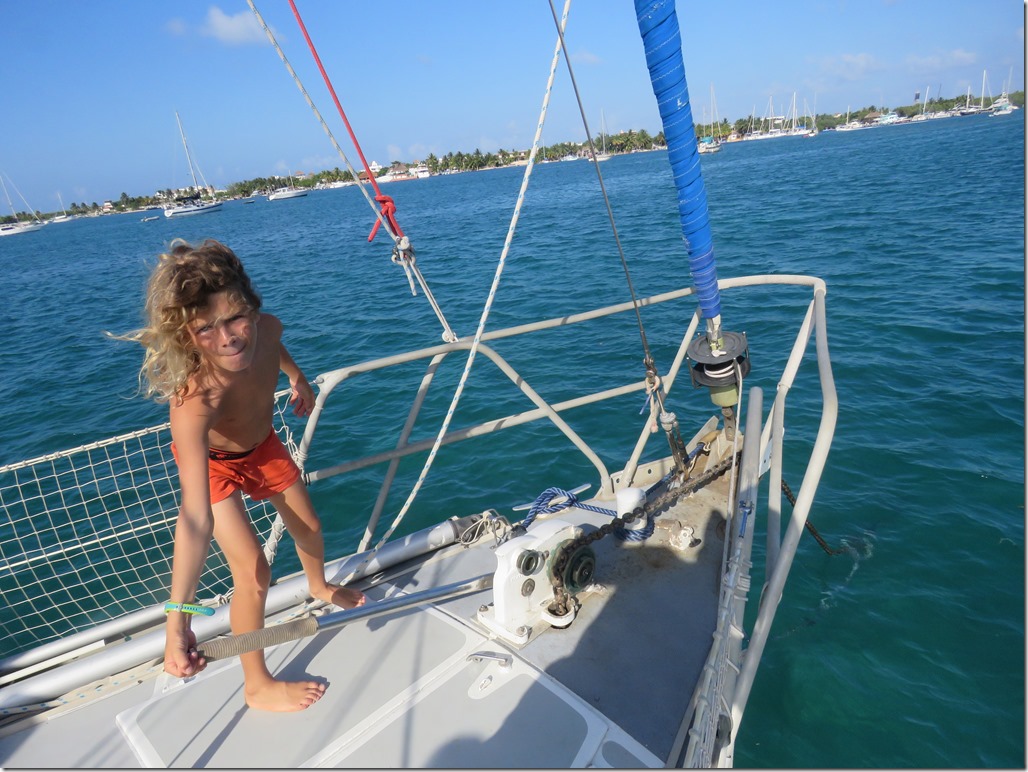 After two and a half months in Isla Mujeres Amos unhooks us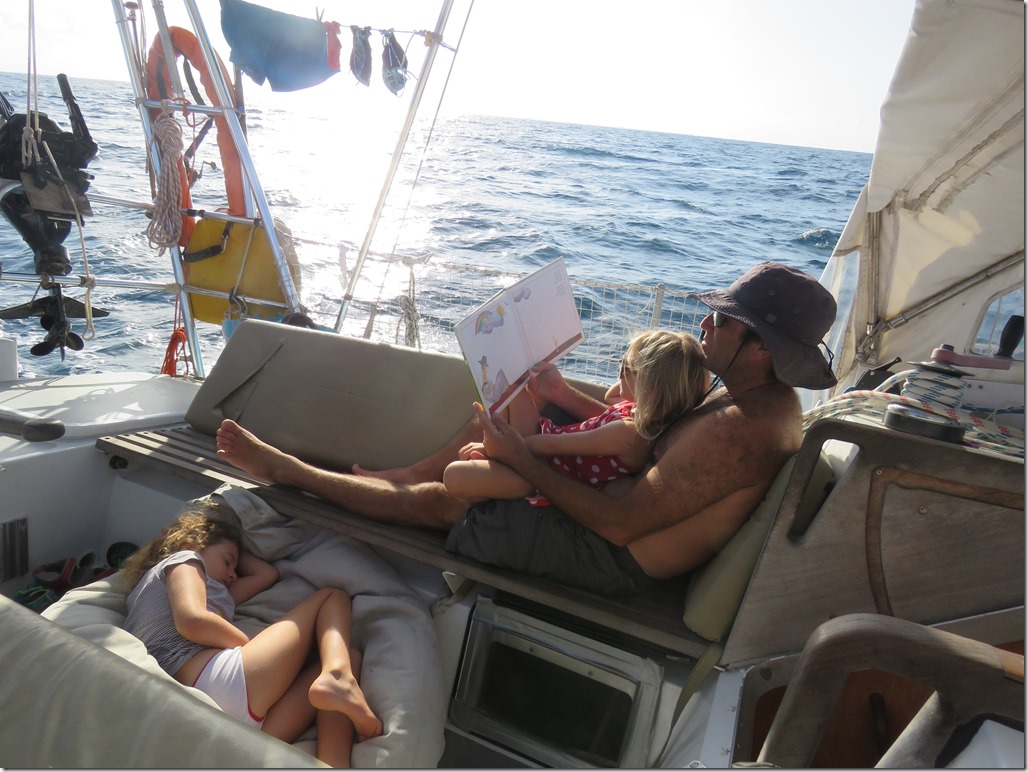 story time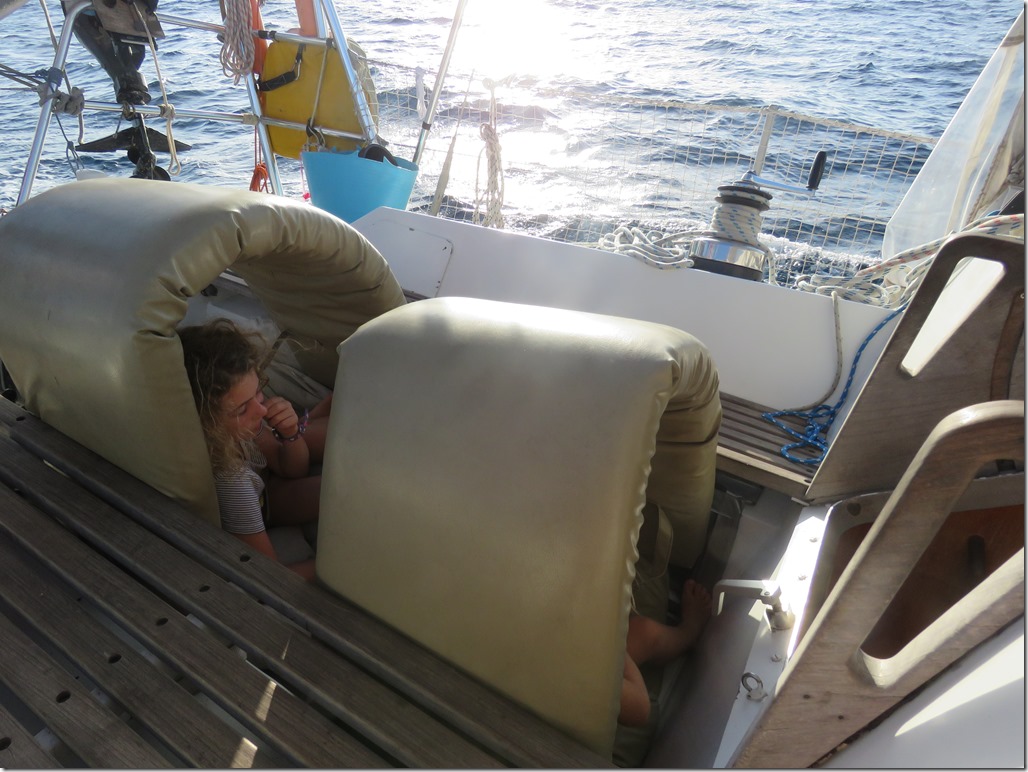 Playing in the cockpit
Night was beautiful, first with Venus shinning on us just after sunset than thousands of stars were lighten above us while the the half moon was making enough light to see around the deck and the ocean. Late at night we could see some lightnings but they were far from us. We will however probably get into some thunderstorms as a weak cold front should pass over us in about 24 hours.
Since this morning we are motoring though as the wind died out and the sea around us resembles more a lake than a big ocean. Only the typical deep blue colour of the gulf stream and the water temperature (currently at 27) attests that we are in the vicinity of the gulf stream.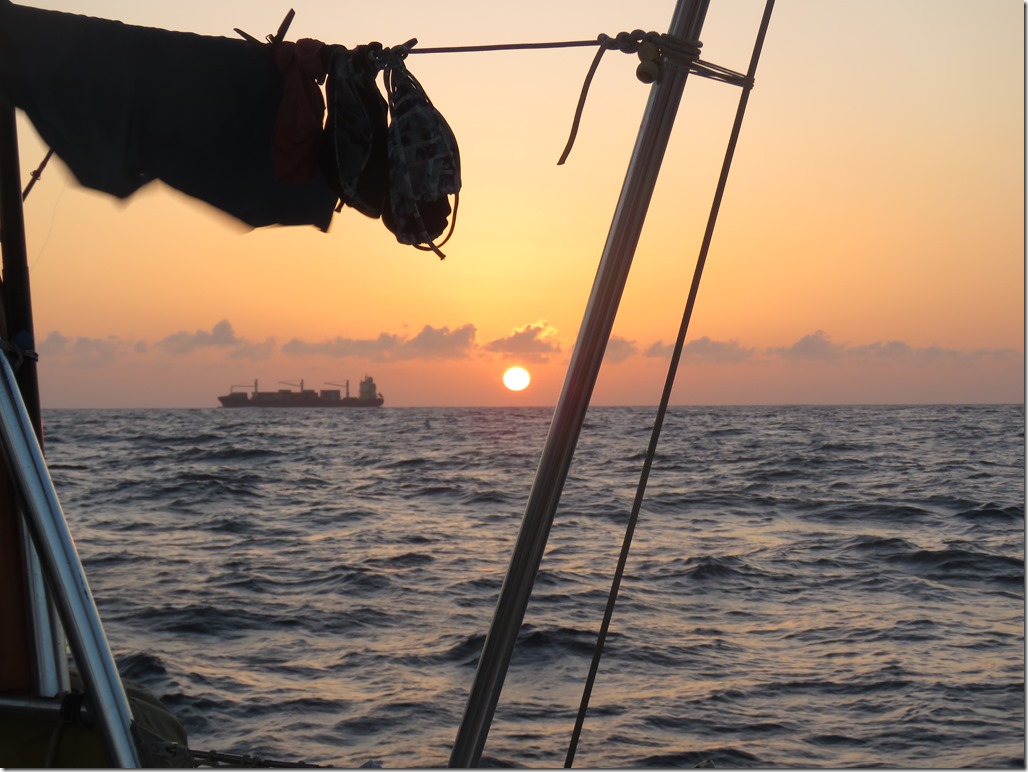 First sunset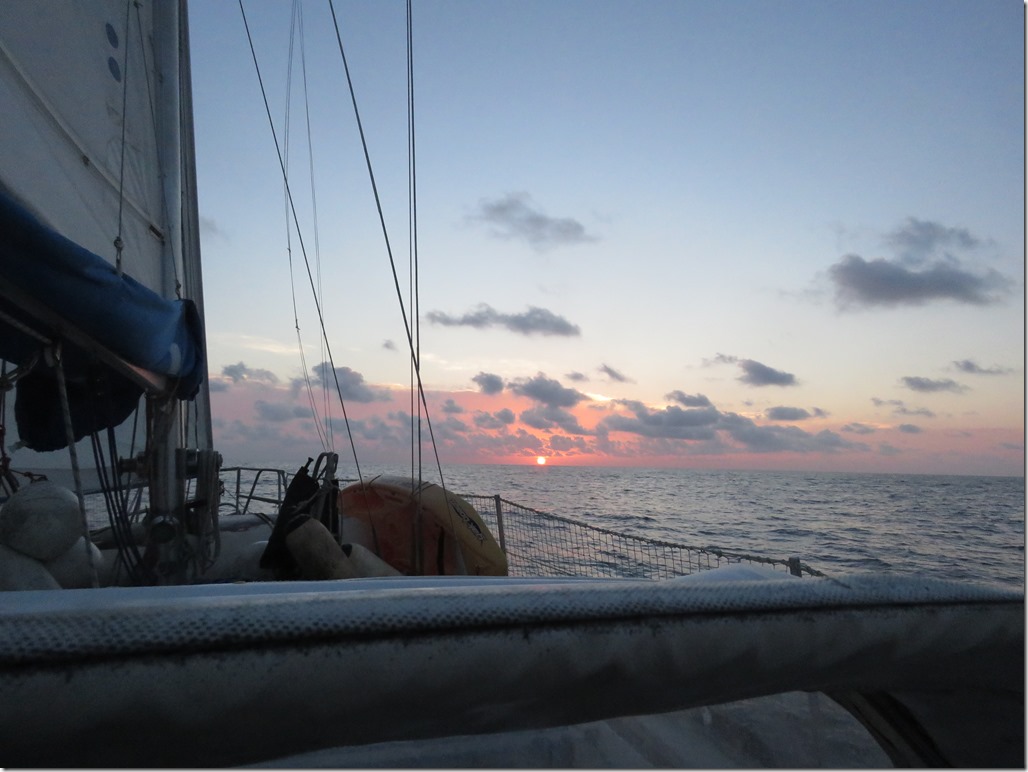 And the sunrise follows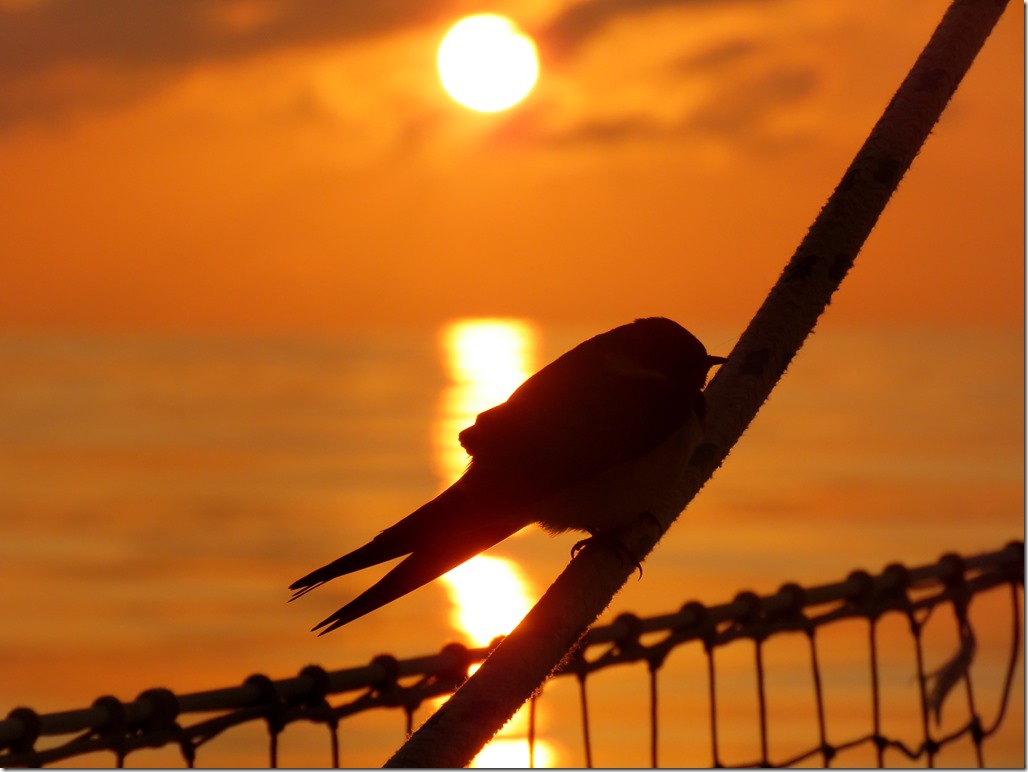 He too enjoyed the beautiful sunrise
In the morning Amos, Noa and Adi had school and the rest of the day everybody was busy playing and reading. since this morning two tiny birds accompany us by flying around the boat stopping on the lifelines or the bimini from time to time for a rest as the girls try to make them sit in their hands. Now we all took a shower in the cockpit and are getting ready for another night at sea.
In these first 24 hours we sailed 140 miles.
Have a good night
The 5 Nomads back at sea
our position:
23°19.77 N
085°11.54 W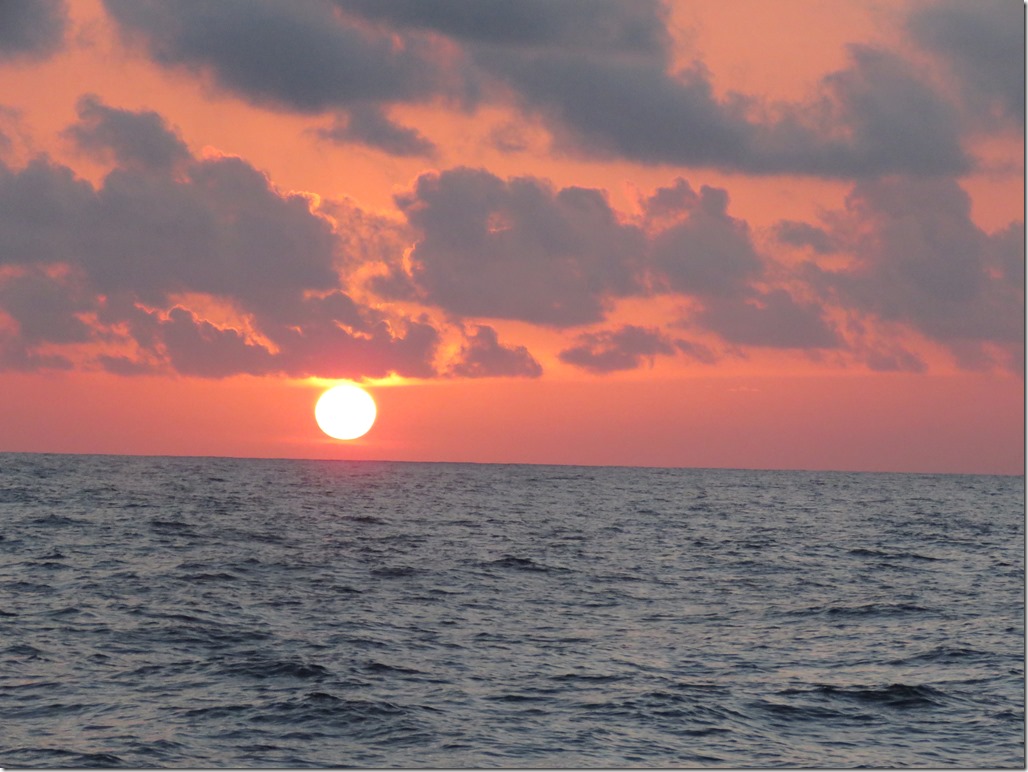 Sunset or sunrise? can you tell?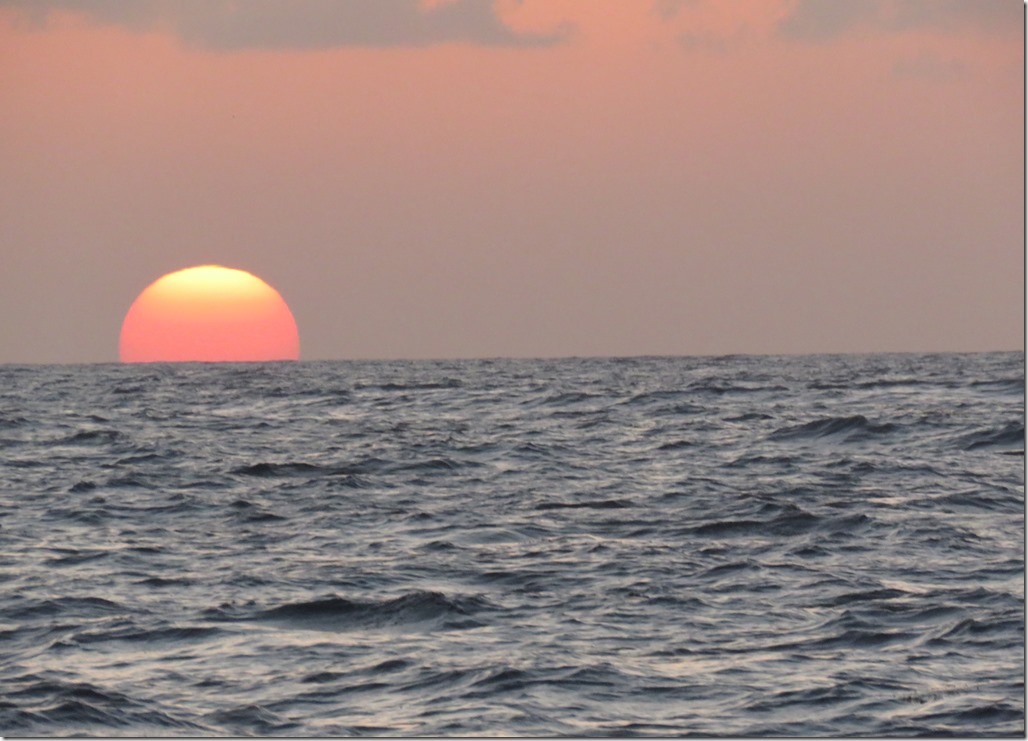 And this one?
(as I am about to send this email Adi comes to me all happy – 'she came in, the bird just went inside the boat, she is sitting behind you, look!'. So right now we have another passenger on board searching for a cosy spot to pass the night)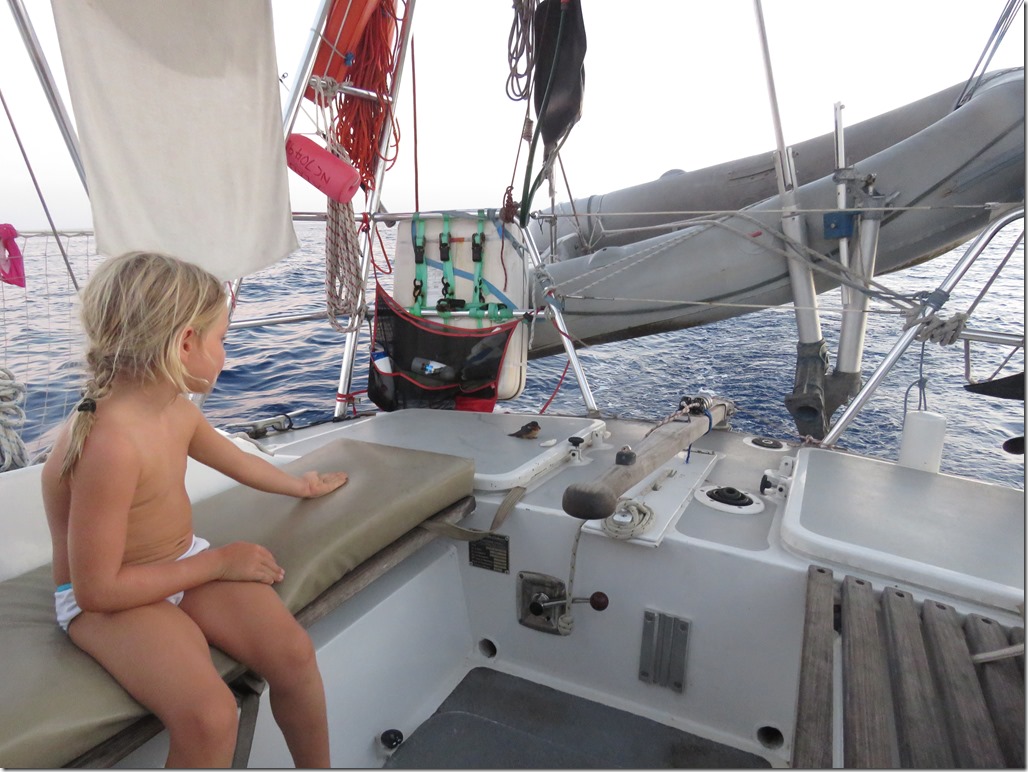 Adi trying to convince the bird to come and sit in her hand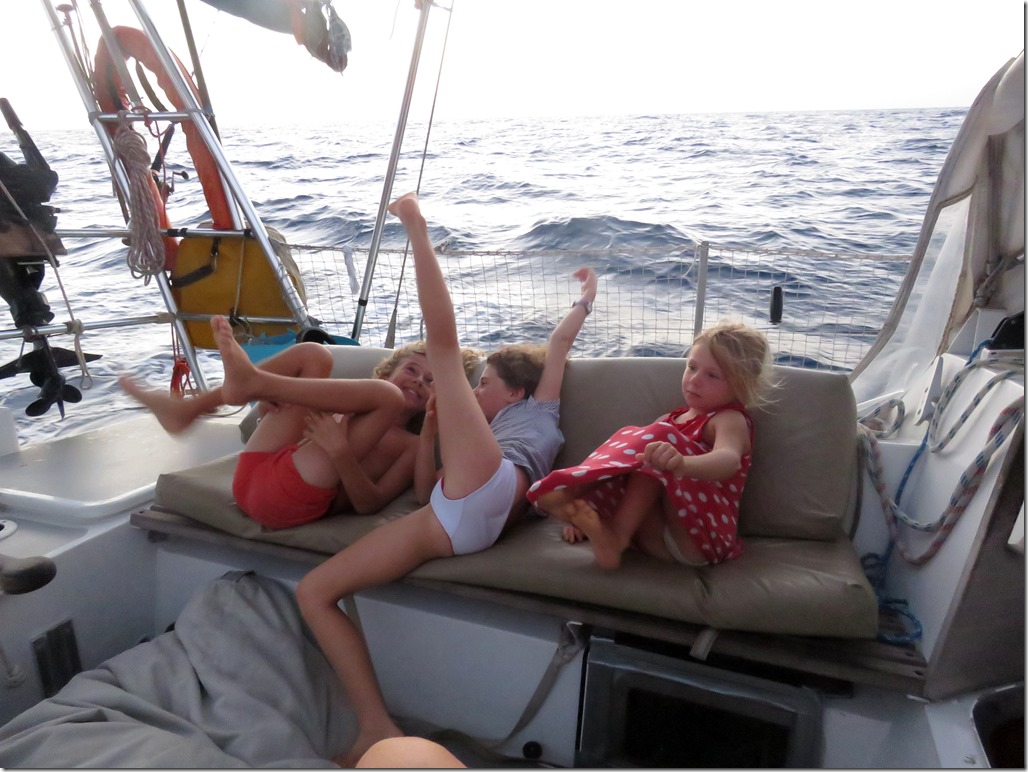 Second day at sea
Wed, Apr 25, 2018 at 3:22 AM
The second night at sea was even calmer than the first. The water was so still we could see the reflections of the stars in it. As Nomad was moving forward it made in both sides a little wavelet of sparkling planktons.
We did manage to sail for a couple of hours making between 4 to 5 knots but at least 2 of these came from the strong current.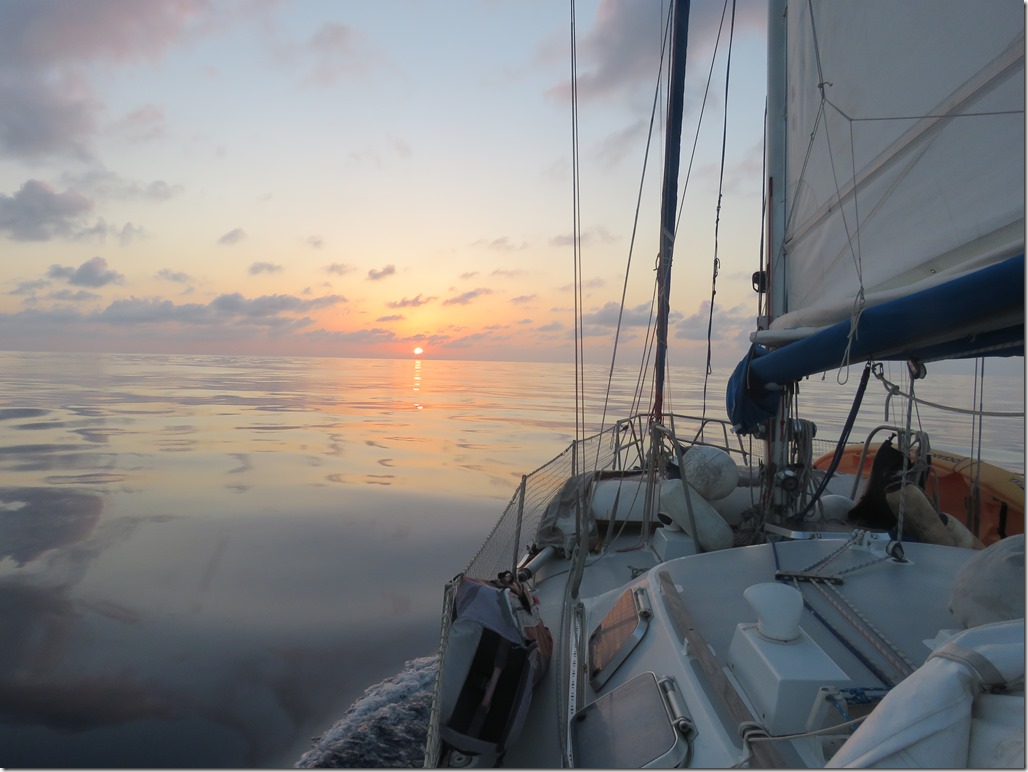 The sea was like a mirror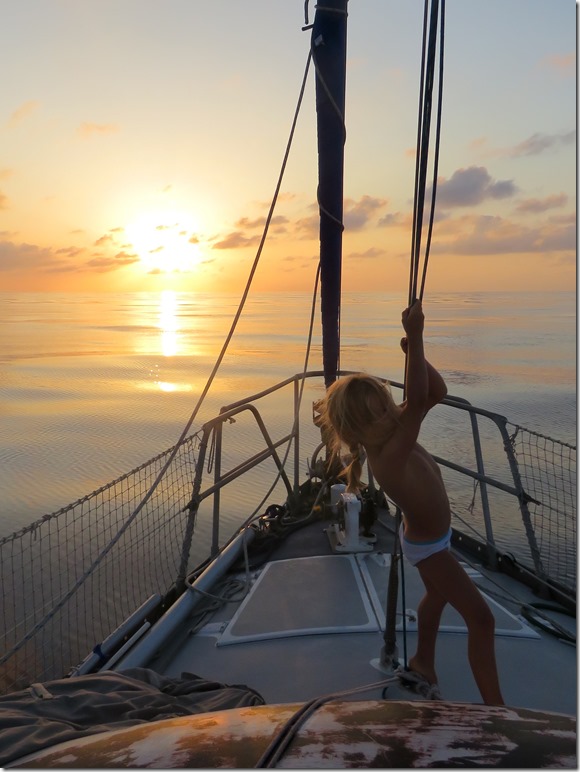 it was so calm we allowed the kids to go forward and play in their favorite spot
The biggest advantage of these calm conditions (not to mention that it allows us to sail eastward in an area where most of time that's where the wind comes from) is that everyone on board feels great, including Virgine. So we can do school, play games or just read a book.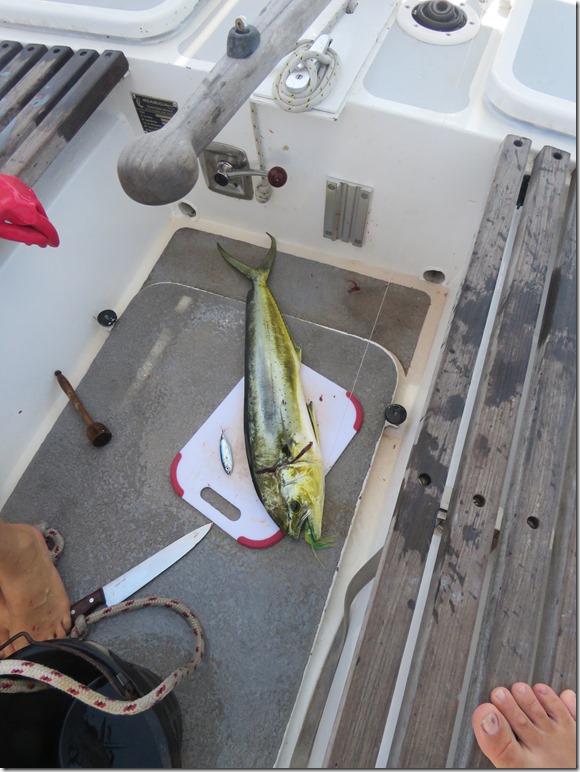 The first Mahi mahi we cought in this crossing. The little fish was inside the stomach of this female dolphin fish.
Same Mahi mahi
In the afternoon we cought a small Mahi mahi and so we could make one of Amos's favorite dishes – a fish schnitzel. An hour later we got a second one but as we brought him along the boat Virginie saw that next to him swam another small mahi mahi (his 'companion' as she called him) and so she decided to let him go but then the fish decided to take with him our lure, the last one we had on the boat. So unless we improvise something there will be no more fishes for this crossing.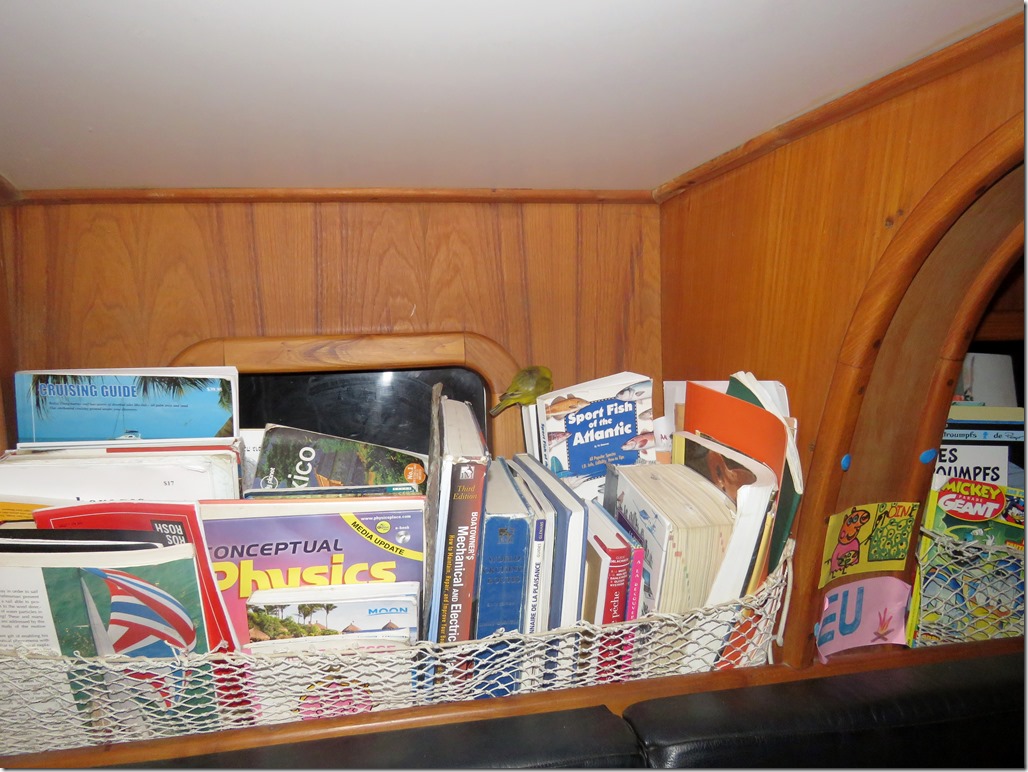 Two different birds slept at the same spot in two different nights. Unfortunately, in the 4 days of this crossing (and as it happened in two other passages) we found four of these little fellows dead on the deck.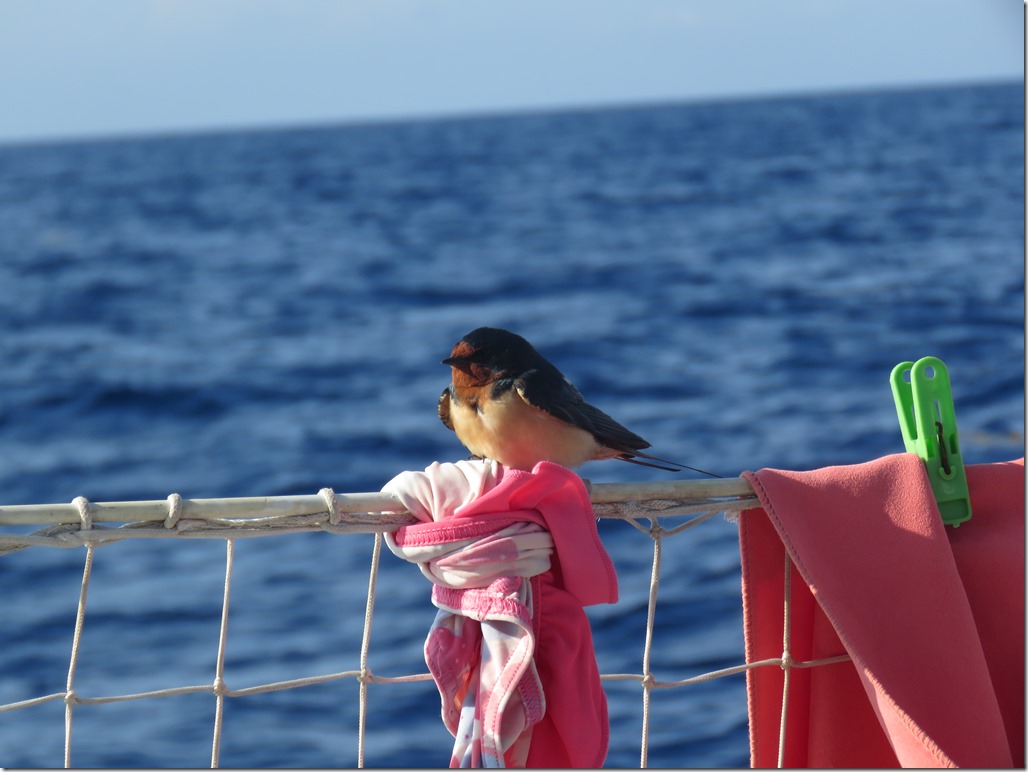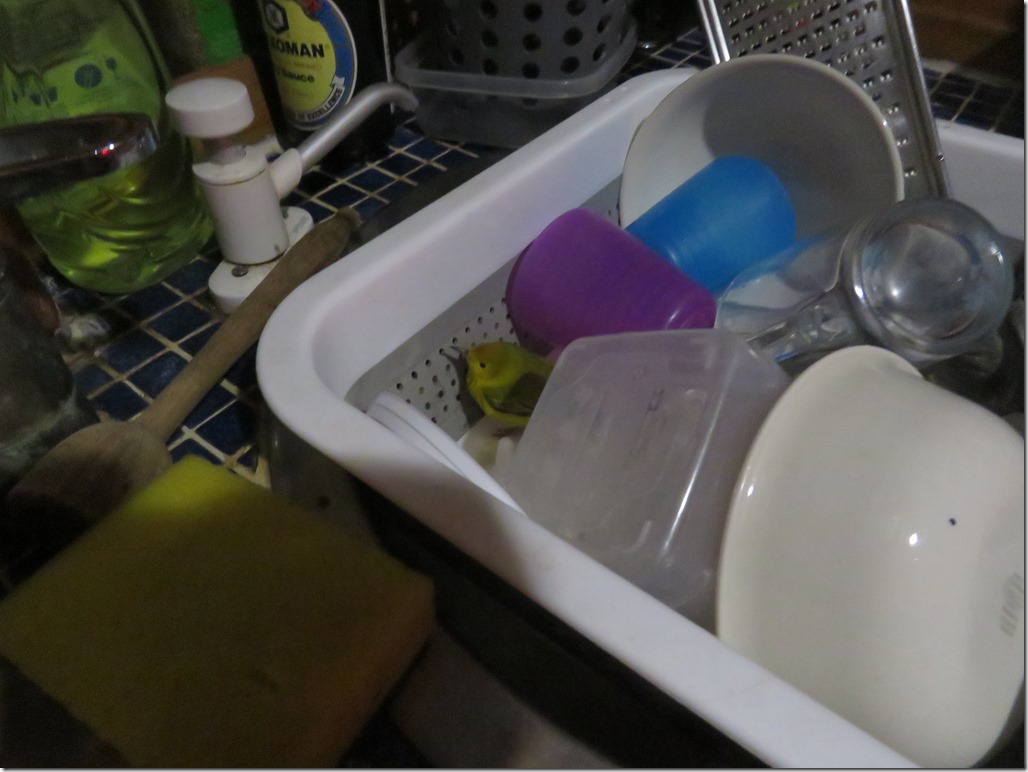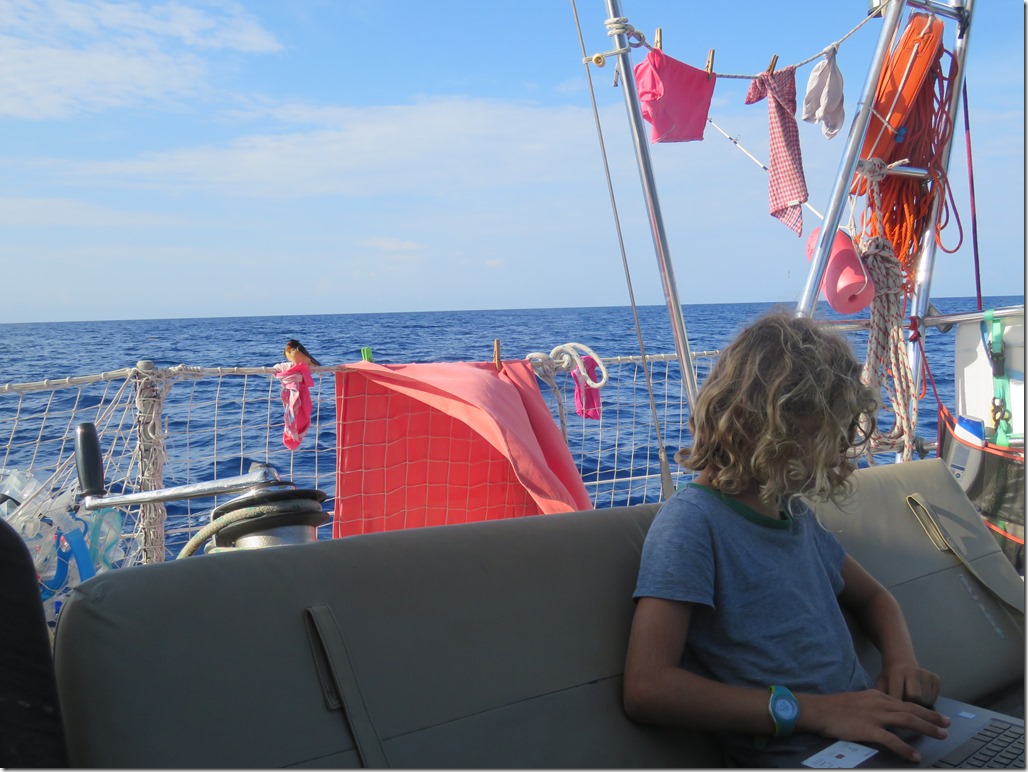 As to our little companion, he slept on our larousse dictionary (leaving us two little souvenirs on it) the whole night. This morning we actually had four of these little birds sitting at the bow of Nomad watching the sun rises above the horizon. We did not see them for the whole day but as evening came we noticed three of these flying around us again. We found the fourth one lying on our deck next to the mast and sadly he wont be flying anymore. Tonight another little bird took its cosy place on the big larousse dictionary. We hope they will all make it to the Bahamas.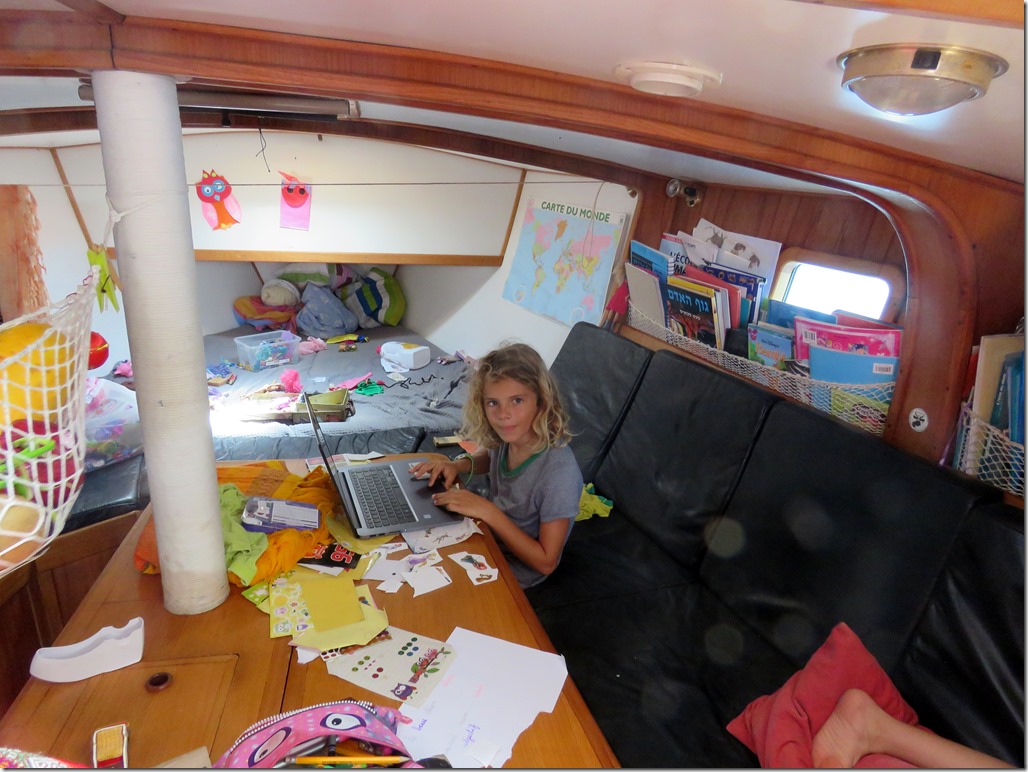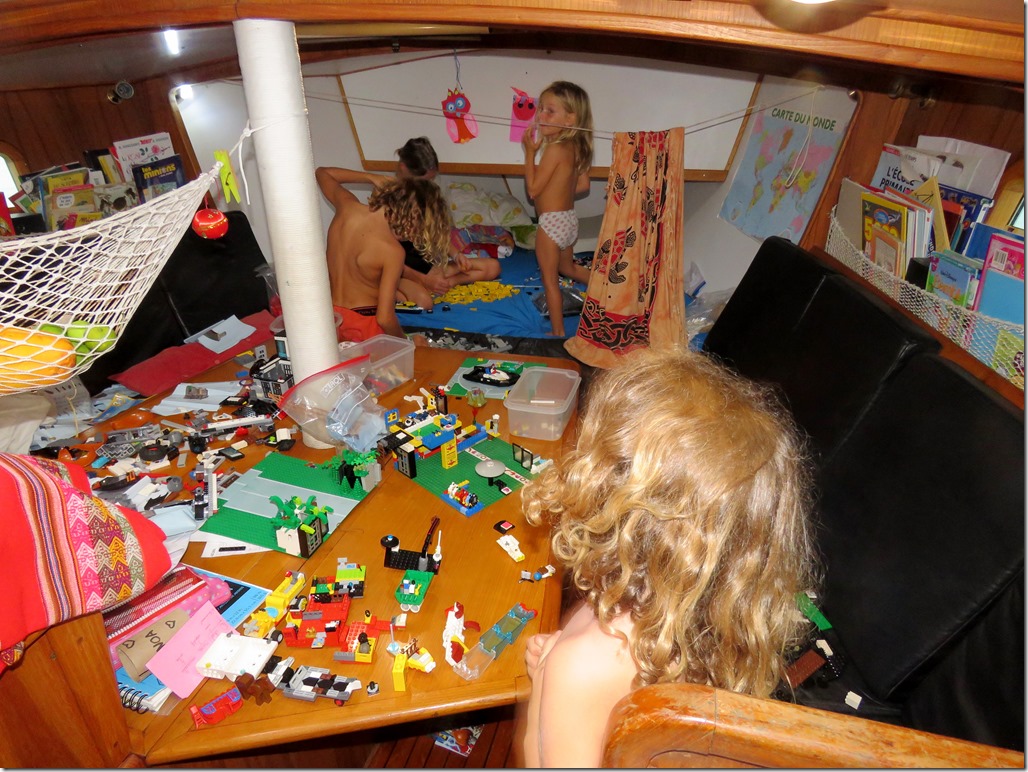 kids were playing Lego for hours.
Right now it's 0120 and outside it's like a discotheque. The skies are flashing with lightnings all around us… the radar image is not very promising either showing tons of rain closing on us from all directions. At least our decks will be washed clean from all the salt. But the sea is still quite calm, Nomad motors at 7.6 knots eastwards and all crew members are sleeping like babies. We are only 40 miles south of Key west Florida.
Good night everyone
our position:
23°55'30 N
082°05'38 W

I turned off the computer as the lightnings got very intense and the clouds and the rain closed on us. We went through an hour long of a very impressive light and sound show, and wet, very wet. But now everything is back to normal and we are sailing with very light winds (8 knots from the beam) and flat sea doing 7+ knots.
Lila tov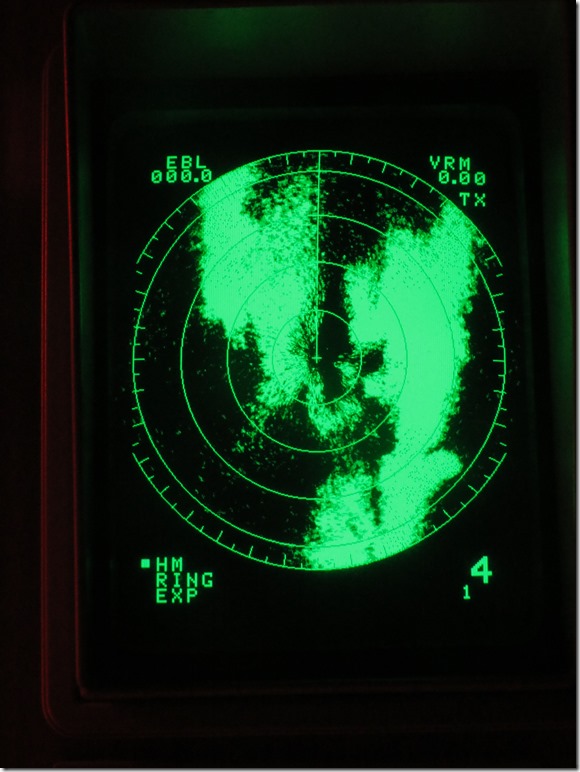 The rain closing on us. This was one of the most impressive lightning storms I have experienced so far
Welcome back to the Bahamas
Fri, Apr 27, 2018 at 8:46 AM
Hello!
Yesterday morning we could see the high rising buildings of Miami far in the distance and we could hear the us coastguard and tow-US on the VHF. It's almost 18 months since we left Florida for the Bahamas and now we are back on our way to the USA.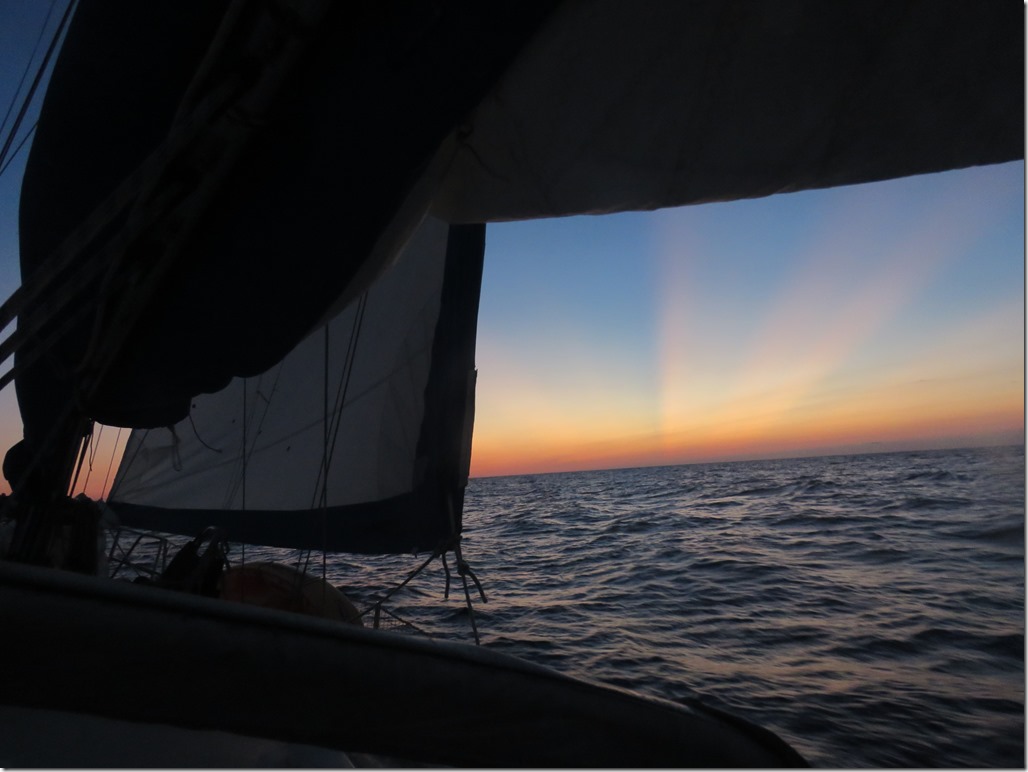 Another beautiful sunrise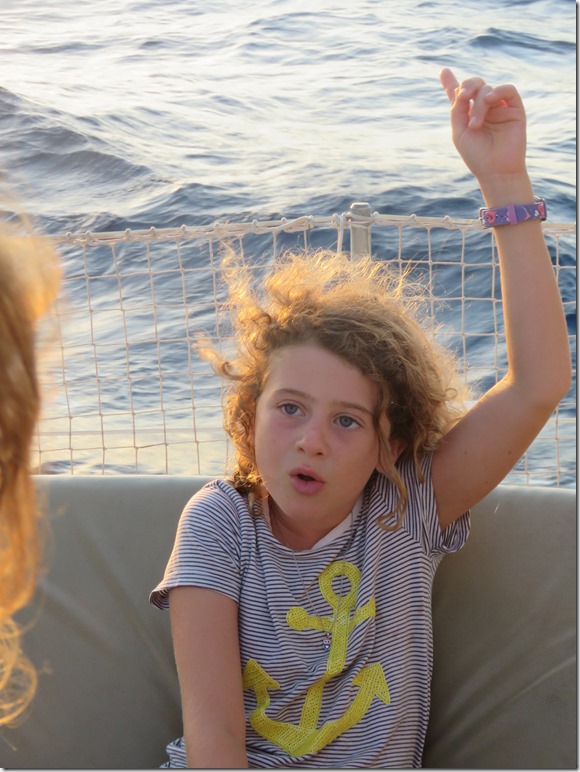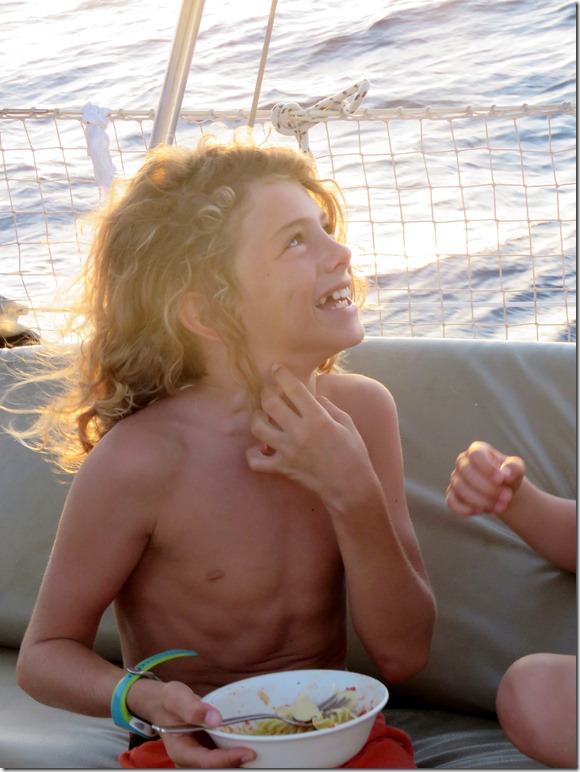 In three hours we will put the anchor down in the small bay of Great Sale Cay in the North Bahamas. It's 4.5 days ago that we left Isla Mujeres, Mexico. The crossing was one of the calmest we have had. Not much wind and very calm seas with no swell and for most of the time not much of waves either. But thanks to the gulf stream we could make good speed even while sailing in very light winds. Everyone on board was feeling great and enjoyed his time. We almost kept sailing on further north as the window was still open for another 24 hours before a new cold front with northely winds is forecast. But finally we decided to do stop in the Bahamas for a couple of days of swimming and resting (which I really need now after sleeping so little during the passage) while we wait for the next weather window to show up. after all, this might be the last time this year we get to jump off the stern of Nomad in turquoise warm waters… Ah and by the way, already on the 24th we left the tropics when we crossed the tropic of cancer.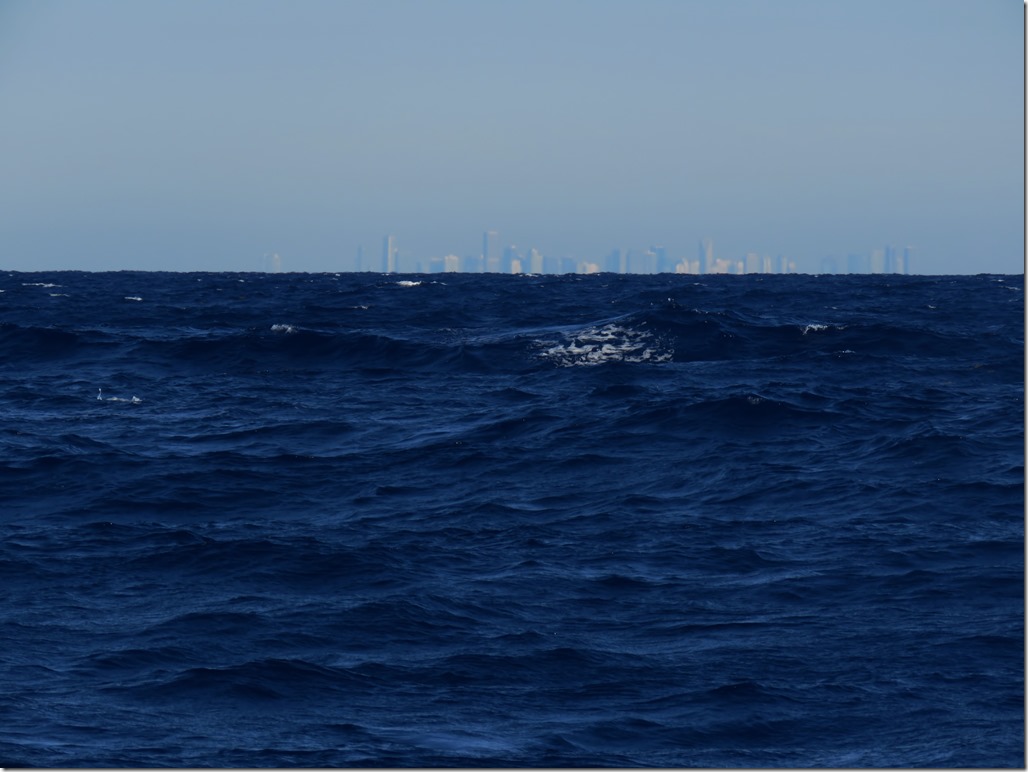 Miami in the distance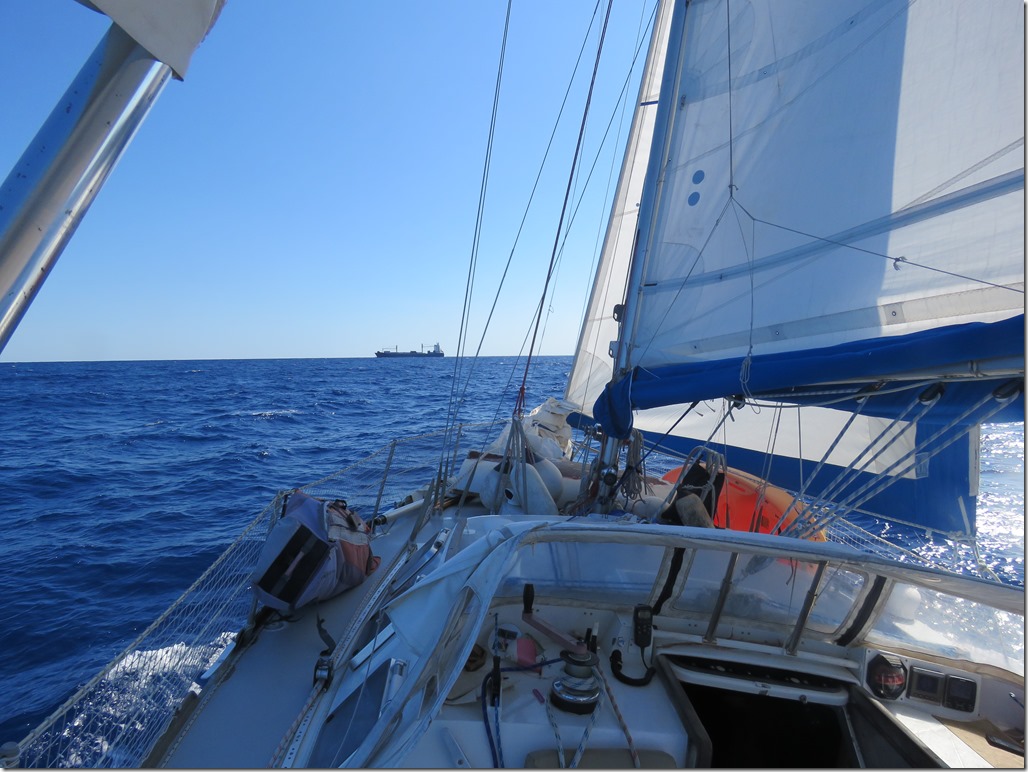 This was also the most busy passage we have had. At least 40 big tankers, cargo ships and cruise liners, and even one canadain army boat crossed our way during this crossing. But now, sailing over the calm and turquiose waters of the little Bahamas bank it feels like we are alone in these waters (though the AIS does show 3 boats not far from us.)
While we are waiting in the Bahamas for the next weather window I am not sure we will find internet so we will keep updating you via our HF radio.
Our road north is still long..
our position:
26°58'31 N
078°25'00 W