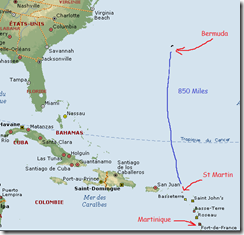 We left St Martin on the 30th of Mai, arriving in Bermuda on the 6th of June sailing 850 or so nautical miles.
These are the emails we sent during the crossing.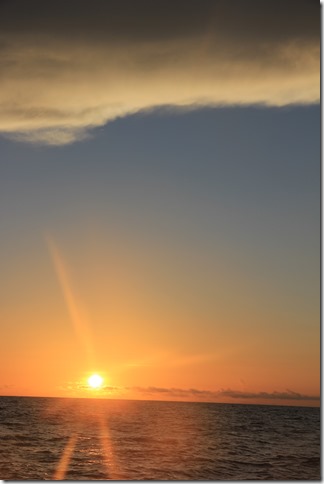 On the way to Bermuda
31/05/2016 20:22
First 24 hours are behind us and we are 152 miles closer to our destination. Another 712 miles are before us..
The wind is easterly at about 20 knots and Nomad sails steadily at 6.5 and surfs at 9 knots. Waves are about 1.5 but growing and the skies are getting full of clouds. Everyone on board is feeling good and we are doing fine. Yesterday before sunset we saw a huge splash of water ahead of us that must have come from a whale but we did not spot it.. we are still looking.
our position:
20°35 N
063°33 W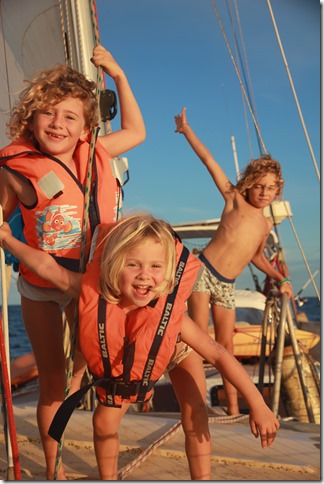 Second day at sea
01/06/2016 20:13
In a couple of hours we will officially leave the tropics as we will pass north of latitude 23°26′ better known as the tropic of cancer. This is not a definite goodbye as we plan to be back in the tropics for the next season! Today the wind went down to 15 knots and Nomad sails along with all sails up. The seas also became more gentle and all the crew is getting used to once again living on the high seas. Even though the main activity of almost everyone is still lying down and trying to get some sleep.. Except for Amos which, when not reading, looks over the horizon in search of whales. Another good news is that in the last 24 hours we sailed another 150 miles towards Bermuda though probably the next days we will average less as the wind is supposed to be weaker still and have a more southerly orientation.
take care,
The Nomads at sea.
our position
23°05N
063°46W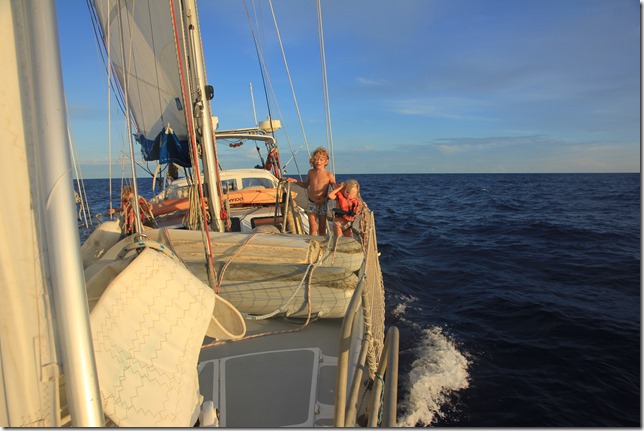 Half way to Bermuda
02/06/2016 21:47
This is our third day at sea. Our performance in the last 24 hours was less impressive than the previous days – we only managed 140 miles. We made 440 miles in 72 hours and this is about half the distance to Bermuda. The next half will take us a bit longer – we hope doing 120 miles in the following days as the forecast wind is 10 to 14 knots southerly and our route is due north.
The sea is much calmer today and everyone (including Virginie..) feels great. Kids are playing playmobile in the boat, building camps and taking baths in the cockpit. We did not sight any other boat since we left St Martin 3 days ago. And so far the only ocean creatures we saw were the 3-4 flying fish we find on the cockpit every morning.
Going to watch the sun sets over the horizon
have a calm evening everyone,
The 5 nomads half way to Bermuda
our position
25°29N
063°59W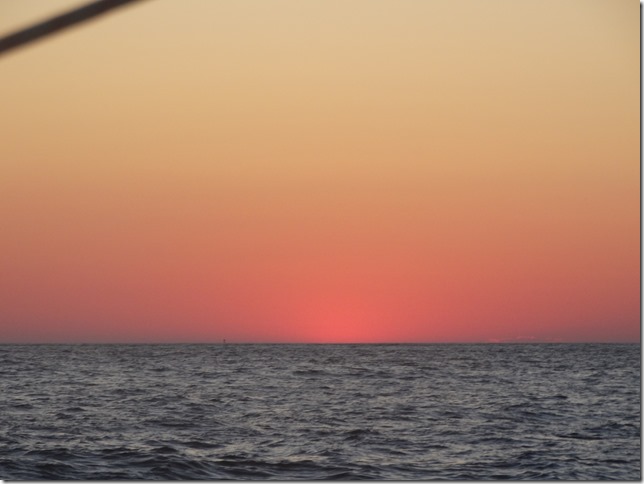 Where are the pine trees?
04/06/2016 05:35
Tough day.
Virginie woke up today with longing to see and smell pine trees. Quick look around the horizon shows nothing but blue water and blue skies and the pine trees are, at least, 3 more days away (and this is only if Bermuda has any, if not, we will need to wait till we get to north America). There is salt everywhere from the many waves that crushed on deck in the first two days mainly outside but some found its way inside through half closed hatches and also because each time we step into the boat we bring some of it with us. And if the salty beds was not enough, during the night didi decided to add some pipi into ours. And even if its sunny we can't dry our things outside because of all the salt. As for the kids, today the two little girls decided it's fighting day instead of playing day. To add to all this the wind died. It went to 5-6 knots and Nomad averaged 3.5 knots today. At a certain point when the wind was as low as 2 knots we turned on the engine and the calm of the sea was replaced by the roaring of the machine (at least it camouflaged the girls' cries). But now, as the moonless night arrived the skies got filled by bright flashing diamonds and everyone went to bed, the engine included. Nomad with all its clothes out of the closet – full main, genoa on a pole to windward and the gib to leeward sails at the unbelievable speed of 3.6 knots! Another 261 miles to go!
We are still optimistic and believe we will reach Bermuda on Monday. And on the same note, yesterday, after sending the email and going to watch the sunset we had the pleasant surprise to share the moment with the company of about 10 dolphins that swam around the bow of Nomad for 10 or 15 minutes. Magic. How we missed these dolphins!
Have a good night
our position
28°01N
064°17W

Radio Bermuda
05/06/2016 15:23
The last two days brought with them great sailing conditions – not quick sailing but very comfortable – winds from the west-southwest (we haven't had winds from the west since we left Spain) at speeds ranging from 8 to 12 knots. The sea is gentle with little swell and Nomad makes between 4 to 5 miles an hour. But everyone is happy and feels good. We can already hear radio Bermuda calling vessels around us and probably tomorrow morning they will call us. They track every boat coming and going to Bermuda and have a radio chat with each boat. This is to help boats avoid the many reefs surrounding the island which turned hundreds of boats into wrecks. The last two days brought us also some more encounters with dolphins, a small shower to wash off the salt from the deck and cold wind at night – another first since we left Europe six months ago. But now the sun is shinning and it is 27° outside. water temp is 26°. Our pilot book says that water temperature in Maine in July is 10°…
Another 110 miles and we should be there. Hopefully by tomorrow afternoon the latest.$
our position:
30°32N (!) higher than the canaries!
064'36W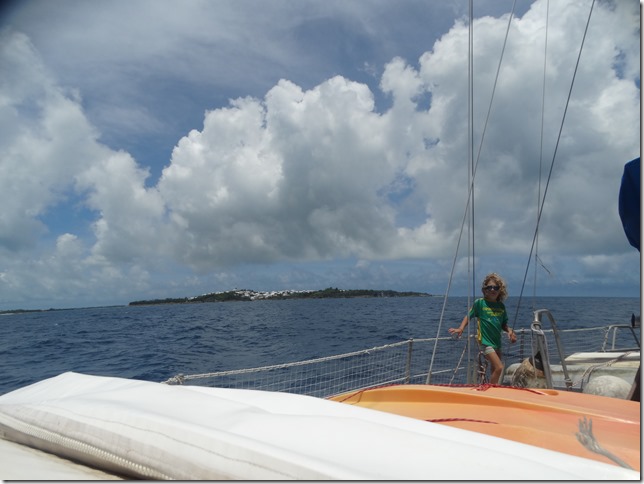 Bermuda – here we are
06/06/2016 15:19
we are 2 miles southeast of st david's lighthouse on the west coast of Bermuda and getting ready to enter the harbour. Weather forecast for the coming days is Northwest winds 20-30 knots gusting to 40, rough seas… We are happy to enter the safe waters of Bermuda to get some rest.
take care
The 5 Nomads in Bermuda