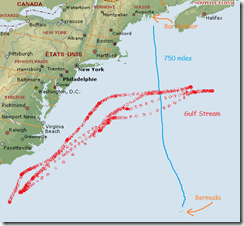 750 nautical miles separate Bermuda to Bar Harbor in Maine. We left Bermuda on the 25th of June and we landed on the public pier at Bar Harbor on the first of July.
These are the emails we sent during that crossing.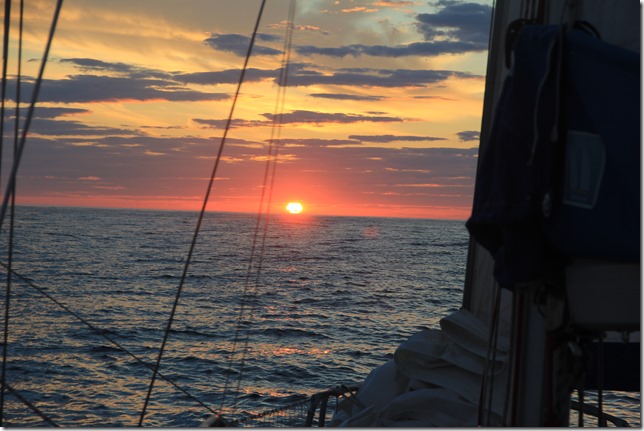 Sailing North
26/06/2016 14:43
Hello
We left Bermuda 24 hours ago. We were not the only to leave Bermuda – many of the Newport – Bermuda race boat were going back home. And so while we were patiently sailing at 5-6 knots we had these super fast boats passing us one by one at 9, 10 and even 12 knots. So if in the first hours we saw other sail boats around us, after a couple of hours they were only triangles on our AIS screen and during the night even these triangles disappeared. Leaving us with the sea to ourselves. But we were not completely alone – there were fireworks all around us and now in the morning they turned on the sound and opened the tap so we could hear the thunders rolling and get our clothes washes. Now there is no wind again. Since we left we also managed to break two cars of our main sail but luckily we had replacement cars and everything is back up again. Other than that we keep the fish happy around us. if you know what I mean..
The wet and tired nomads
our position:
34°39N
065°31W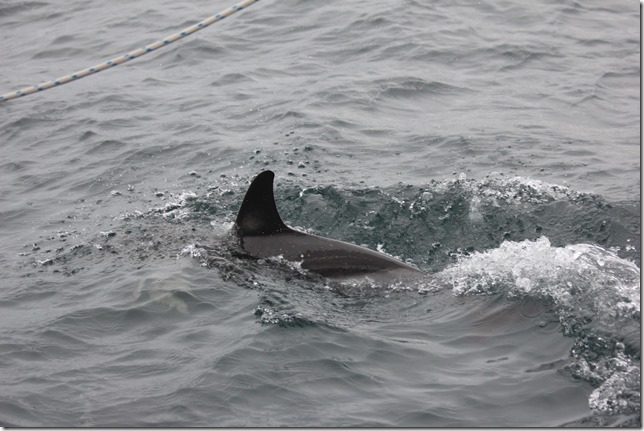 The Gulf Stream
27/06/2016 22:01
Hello
The second night was quite and with not much happening except for 3 cargo ships that crossed our path far ahead. Unlike a trade-wind passage, the wind is erratic and we need to change our sails and/or their configuration very often. But now the wind settled to the south and it should stay that way for another two days. As I write this we are making our way into the gulf stream – this massive ocean current that carries warm waters from the Caribbean and gulf of Mexico to the north America and than all the way to Europe. It can get to 4 knots at times and if the wind blows against it the sea can become rough. Its general direction is north and east but things are not that simple as there are many sub-currents going in different directions. For a boat doing 6 knots 4 knots can make huge difference so we had to take it into our sailing decisions. We hope the current will carry us forward and not backwards (right now it seems to carry us sideway – to the east:-) At least it keeps the water around us warm enough (26°) for taking showers.
As for the crew, everyone slowly gets used to his passage routine and activities (vertical, horizontal or otherwise..)
our position:
37°03N
066°58W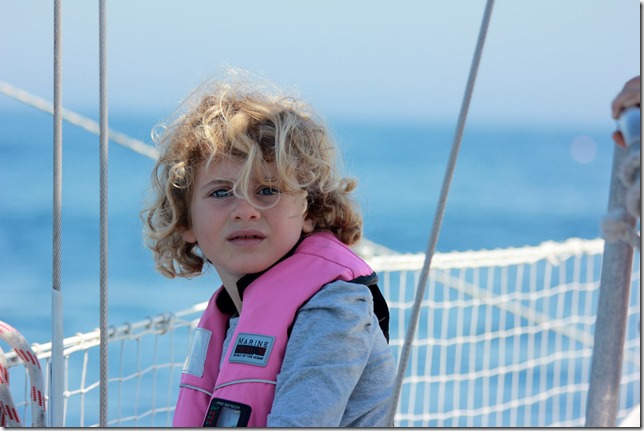 Take out your pullovers
29/06/2016 03:11
Crossing the gulf-stream last night was exciting. We wanted to go due north (360° or 0°) but for this to happen we had to steer the boat to 315°. Wind was at about 10 to 15 knots from the stern. In normal conditions Nomad would glide the water at 5.5 knots. We did 8. When suddenly our course became 30° we knew we were out of the stream. Water temperature also dropped from 27.4 to 21 degrees. Nights are getting colder. Virginie took out for the first time since our voyage started our fleeze blankets and pullovers and handed them to the kids. They were actually really happy to have new materials for tent construction.
The sea is calm now with little wind and Nomad sails quietly northward under a blanket of bright stars. At least we can still see the stars.
Weather forecast for New England: fog.
our position:
39°32N
067°07W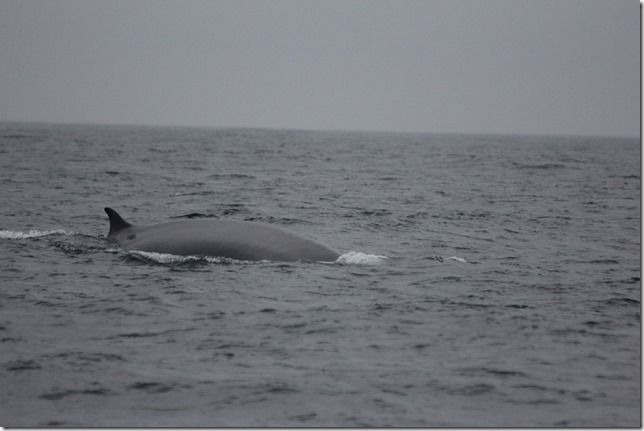 Encore deux dodo
30/06/2016 00:46
An un eventful day until dinner.
The mantra of today was 'encore deux dodo' – another two nights. The wind was gentle throughout the whole day and the sea very calm. All three sails were up and Nomad was doing 4.5 to 5.5 knots and no sail changes were needed. So apart from the usual occupations of reading, playing playmobil, lego and barbie, building tents, watching a movie or simply lazing under the blanket (it's 22° inside the boat now) we could even do school.
And then came dinner (inside, of course, lunch we could still have outside but evening feels chilli in the cockpit) and while serving some more pasta I had a quick look out of the hatch and saw a group of about 30 birds sitting in the water just in front of me. I quickly went out and saw there were many other groups of these birds all around us. But there were not only birds – in between them there were dozens of dolphins swimming, behind us, ahead of us, to starboard, to port, some far away others hugging our bow. Everywhere. Birds and dolphins, dancing around Nomad. There were maybe a hundred of them.
We all watch this amazing spectacle for a minute and then we notice that together with the birds and the dolphins there are actually 4 or maybe 5 whales swimming around us. Some got so close we could hear their breathing. This was really breath-taking. The most amazing experience the sea prepared us so far. It lasted for 15 or 20 minutes. Until Adi started screaming. And everybody ran away…
Thinking that we could have missed this show altogher if we wouldn't have popped our head out of the cabin just for a second. So next time you're having dinner, breakfast or maybe lunch, don't forget to have a look through your window from time to time, there might be whales playing outside just in front of you.
Encore deux dodo.
our position:
41°14N
067°23W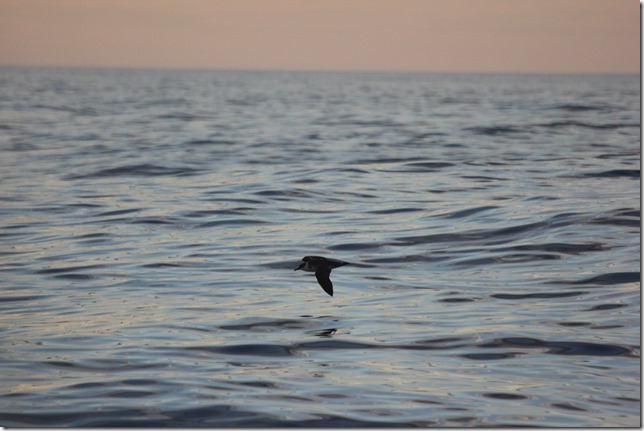 Maine is around the corner – or behind the fog
01/07/2016 08:20
Hello
After the show was over night fell and with it the fog covered us. Thick fog we could not see beyond the bow of the boat. It was all dark around us. And cold – water and air temperatures were 12° and 14° respectively.. The only thing we could see was Nomad's wake – behind the rudder where the water gets excited by the movement of the boat there was a line of glowing plantcton so strong and dense you could tell where we just passed for a couple of meters behind before it vanished under the fog.
Today the winds were very light and the sea very calm. The strong tide drives us forward 2 knots and a couple of hours before it turns and pushes us backwards.. Tidal range for Bar harbour is almost 4. That's a lot of water moving around twice a day.
When the evening came the fog dissipated and the bright blue skies appeared above us. During the day we see many sea birds – some flying very close by and other simply sit in the calm water as we pass next to them. As we passed two miles south of the Canadian territorial waters we had another short visit by 2 or maybe 3 whales. We tried hard to identify them but we are not sure – not much goes out of the water when they come up to breath. They do have an upper fin which is very very small compared to the size of their body. These encounters with the big mammals of the sea appearing on the surface suddenly are very impressive and exciting.
We should arrive at Bar Harbor this afternoon. Luckily forecast promised no more fog for tomorrow so hopefully we will be able to slaloom between the many lobster pots waiting us without hitting any..
We all feel great and moral is very high.
The 5 Nomads (almost) in Maine.
ps.
Bon anniversaire and Mazal tov Brigitte!
our position:
43°28N
067°56W