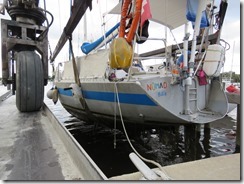 Nomad is out of its element.
I know, we are way behind on our blog. Last post we put online was about Hingham which in the chronicles of Nomad happened about two months ago… We are not only late but also disordered as the post 'on the way to provincetown' was published before Hingham but in our memories it comes after. I guess you will need to wait a little while to hear all about our adventures since Provincetown because Virginie, who usually write this blog.
flew today (together with our little three Nomads) to visit her family in France. So tonight, coming back from the airport, I found an empty Nomad and some free time to update you on our whereabouts and plans.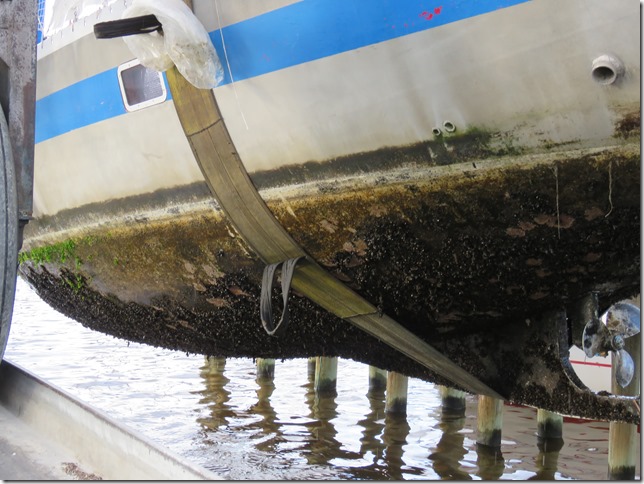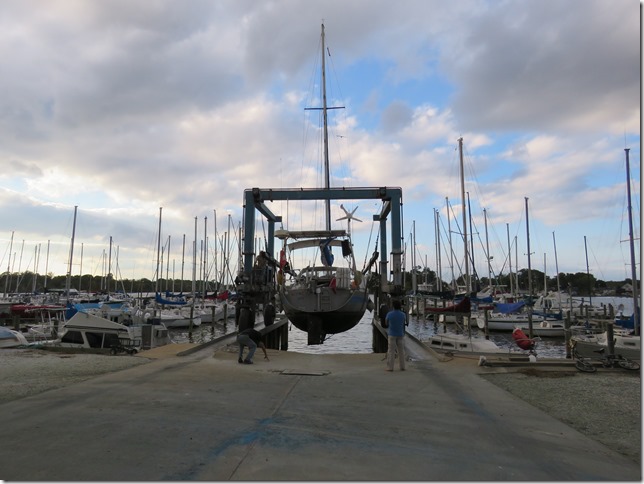 Since we left Port Saint Louis du Rhone we did fix a couple of things that got broken or worn down but some other things we just put on our 'todo list' and kept on sailing. Either because we did not have the time (or should I say, we preferred to use the time we had to do some other, probably, more fun things) or because fixing things on a boat turns your little cosy home into a messy and uncomfortable 'chantier' – or in English – a construction site. A third reason is that some of the attention a boat needs requires you to take her out of the water. And after one year and 2 months of constant use by us and abuse by the elements Nomad needed some loving attention.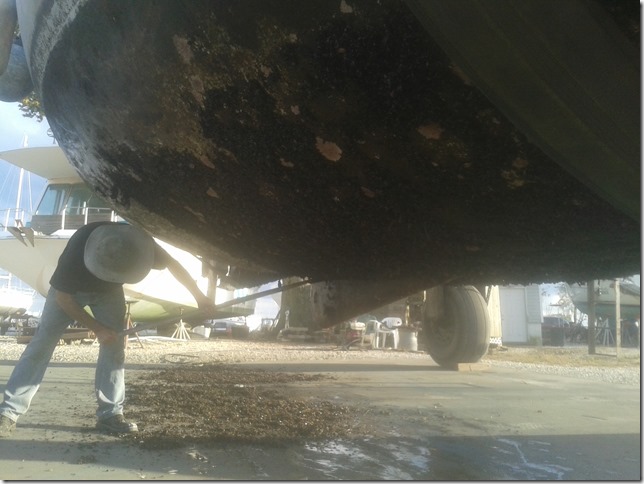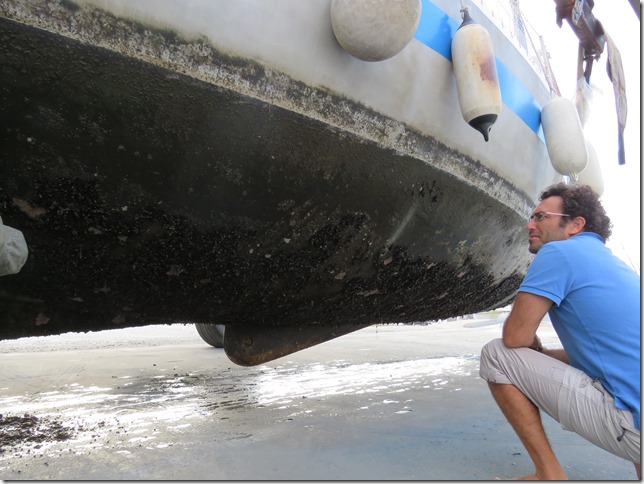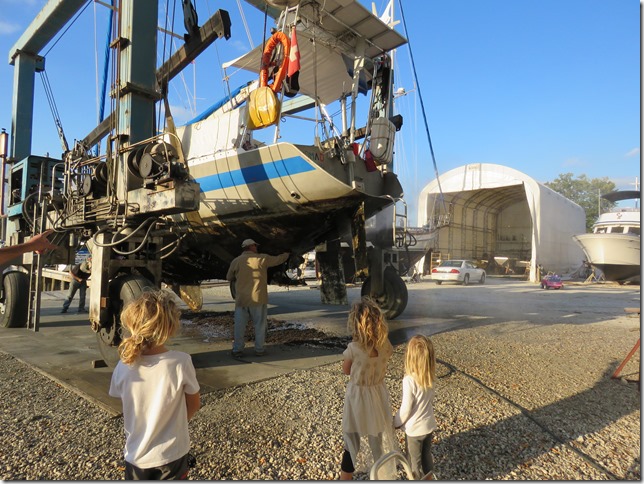 So it is one week now that we don't need a dinghy to go to shore as Nomad sits on the shore. it is always very stressful to see your boat getting pulled out of the water hanging in the air on two straps. After cleaning the hull from the tons of mussells that took a hitchhike with us from who knows where Brian, the boatyard owner, put us on a couple of wooden blocks under the shade of a tree that colors our deck with its falling leaves.

4 weeks ago, when we were in NY, I made a couple of phone calls to different boatyards around Baltimore. Nobody agreed to get Nomad out of the water because we are already late in the season and people take their boat out for the coming winter and the yard manager did not want to lose a whole season's place for a short time haul-out. No one except of Brian from Old Bay Marina. When he heard our story he straight away say we can come and he will find us a place and help us with what ever we needed and not only that, we can live on the boat and even do our own work. All the criteria for a great boatyard!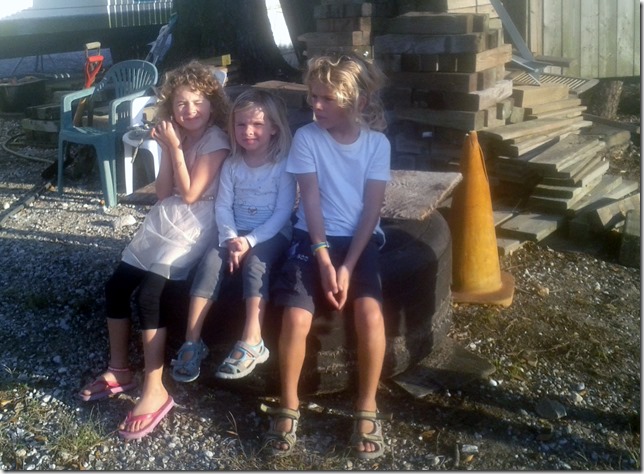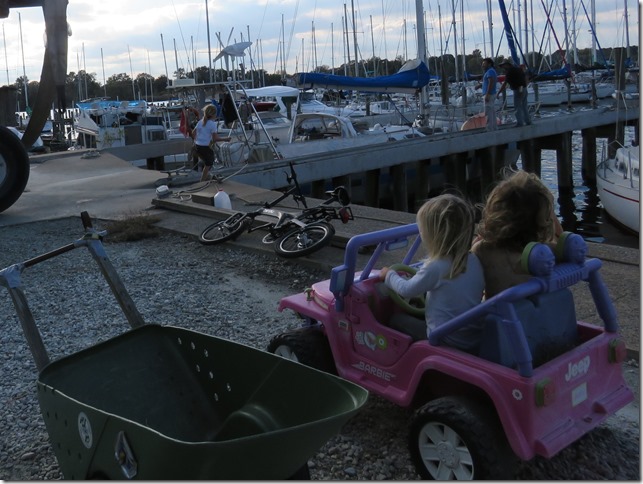 So now that the family left it is time to get to work.
On the menu:
removing the propeller and changing the saildrive seals so we will stop giving the fishes oil to drink.
fixing our anchor light
doing a full engine service
fixing our dinghy's engine that gives us hard time since NY
replacing a couple of our running rigging (read, ropes) that show signs of weakness
a thorough cleaning of all the bilges and outside lockers
fixing and sewing our sail-cover (or at least trying to)
fixing my bikes!
servicing all the winches
and of course, antifouling – painting the bottom of the hull with a sort of mussels-and-other-sea-creatures repellent paint.
in other words, preparing Nomad for another year of adventure.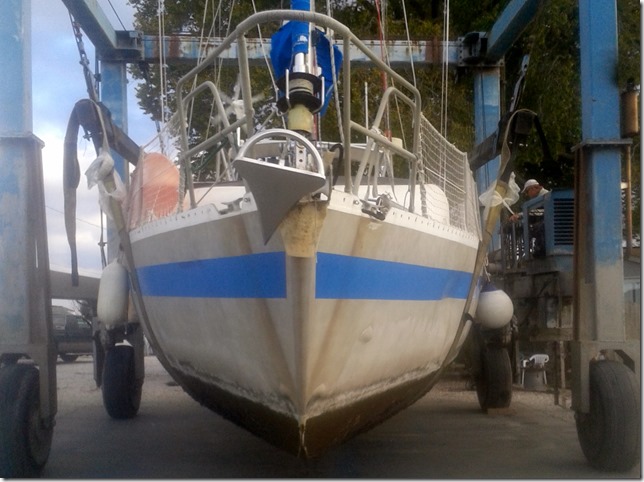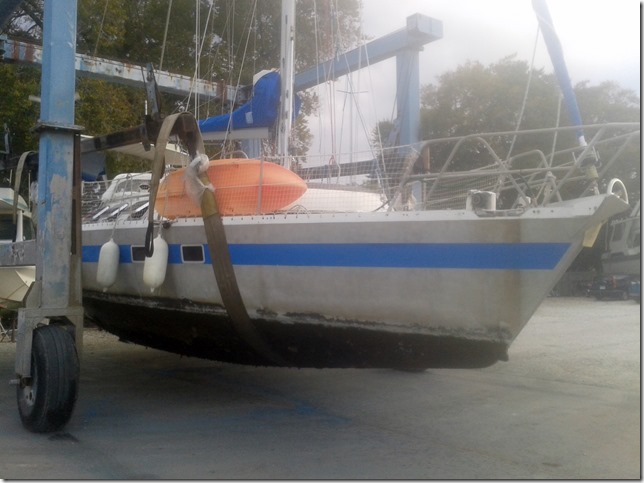 As for our plans, Virginie and the kids are coming back in the beginning of November by which time Nomad would be ready to get back in the water again. We will quickly sail down the Chesapeake bay to Norfolk where we plan to take the ICW – the inter-coastal waterways – a system of canals and water inlets that runs all the way to Florida where we plan to be by mid December. We heard that some parts are closed due to Hurricane Matthew but hopefully those parts that we want to sail through will be open again in 3 weeks. And anyhow, because we are short of time we will probably do most of the way 'outside' rather than 'inside', that is, sailing along the ocean coast and not through the canals. Before the end of the year we need to sail to the Bahamas. Why need? because our visa will expire on the 31st of December. Well, mine anyhow, that of Virginie and the kids will probably have some different date.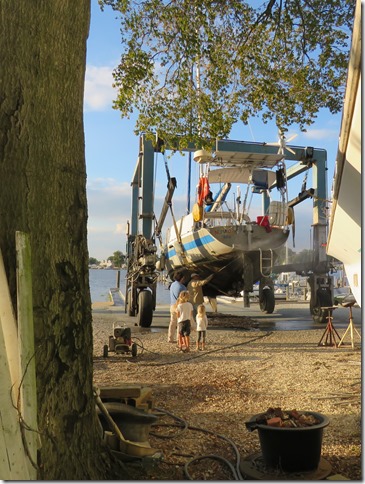 It is silly to speak out our plans and route from the Bahamas as they tend to change from one day to the other but today's plan for the coming year is as follows. We will sail down the Bahamas to the Turks and Caicos, than the Dominican Republic, Puerto Rico and the Spanish Virgin Islands, from which we will sail south towards the ABC islands – Aruba, Bonaire and Curacao, not in that order. From the ABC we will continue west to Panama, stopping, maybe, in Colombia, than up to Cuba via Central America – Costa Rica, Honduras, Belize, Guatemala and Mexico. Well, this is our plan today, tomorrow we will probably have different plans.