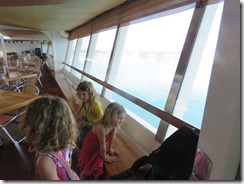 If you were around Montego Bay last week and you were monitoring channel 16 on the VHF you would have heard the following conversation:
Celestyal Crystal, Celestyal Crystal, Celestyal Crystal, this is sailing vessel Nomad, Nomad, over.
Silence, some nervous waiting and then an answer:
Sailing vessel Nomad, this is Celestyal Crystal, over.
Celestyal Crystal, this is sailing vessel Nomad, please go to channel seven one, over.
This is Celestyal Crystal, go to channel 10, one zero, over.
Celestyal Crystal, hello, my name is Amos. I am nine years old and I am living on a sailboat since two years now. Me and my two little sisters prepared some questions for the captain of your boat. Can we please come on board? Over.
Again, silence. This time it seemed longer and we were even more nervous. But than came the answer:
Nomad, Nomad, this is Celestyal Crystal. Yes, you are welcome on board. We are expecting you in one hour.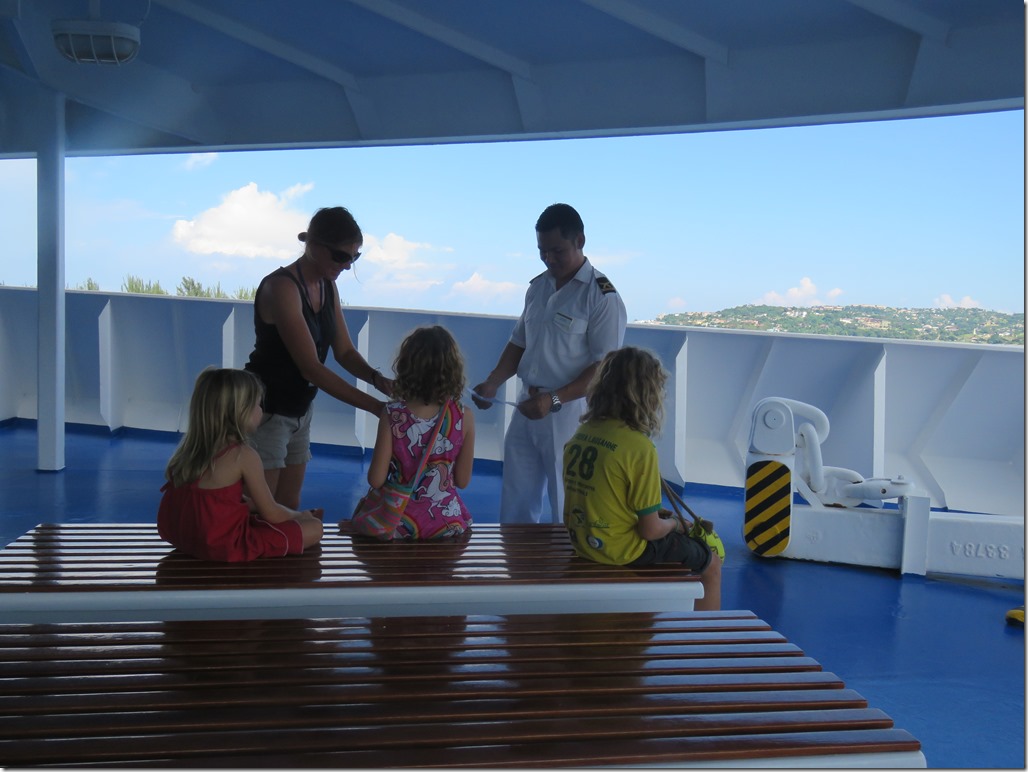 We tried this already in Port Antonio but there the captain was too busy to show little curious kids around his big ship. So we were all very excited to visit the Celestyal Crystal.
We often see these floating hotels, some with the capacity of a little Caribbean village in mid ocean. At night, somewhere in the far horizon you can see a hallow of light as if you were approaching a city but half an hour later you can see that this is actually a huge ship completely lit up. If the ocean makes us feel small, when sailing past these sea monsters you feel even smaller.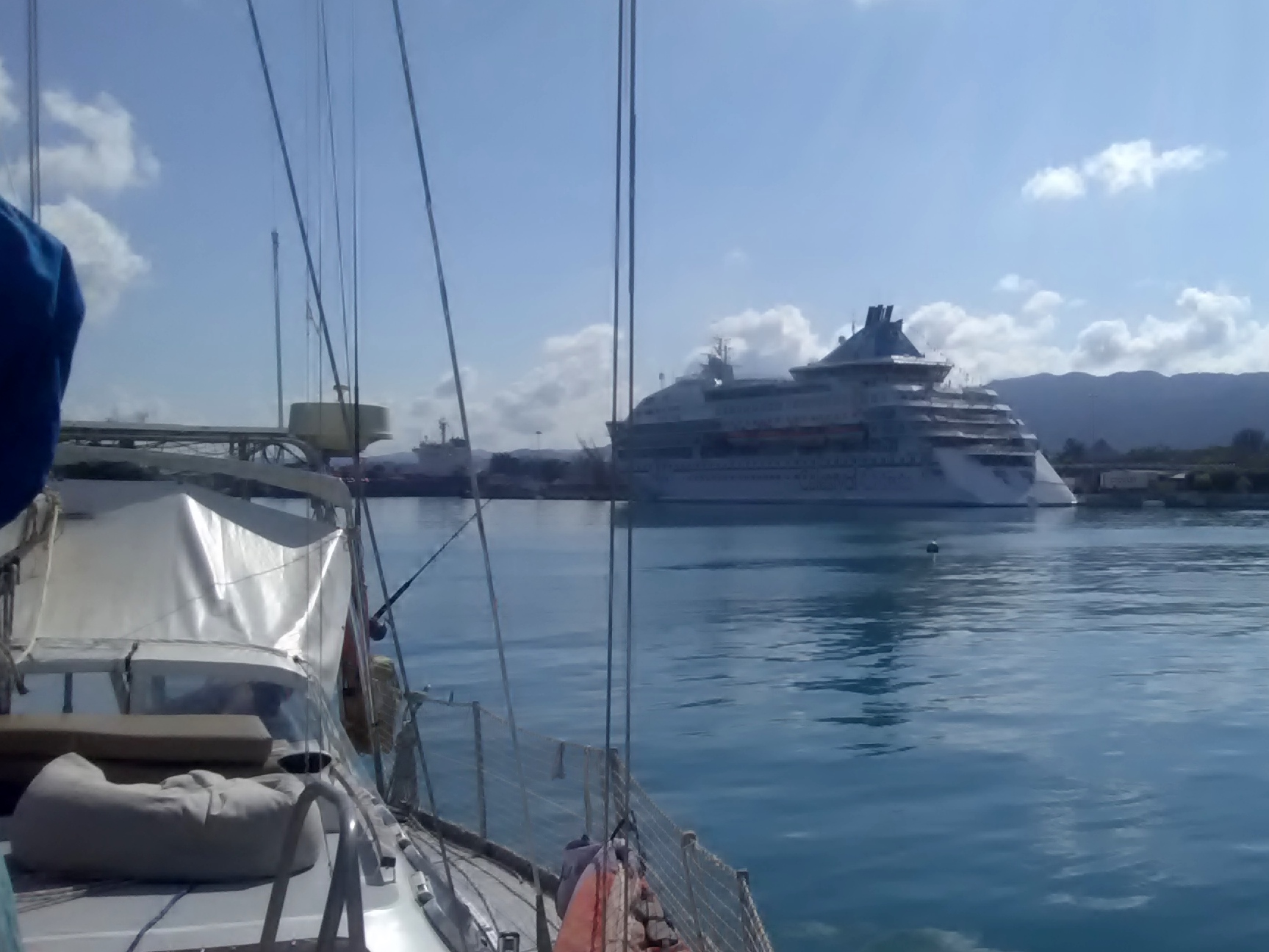 The Celestyal Crystal from Nomad
I was always curious about these big ships and the people who choose to take such cruisers. We are both traveling the globe by crossing oceans but this is where the similarity ends.
We travel at 7 knots at best, they cruise at more than 20. We have 5 people on board, 10 on rare occasions. Some of these monsters can have more than 5000 guests and 2000 crew taking care of them. The technical differences are obvious but it is the style of travelling that, for me, is even more interesting.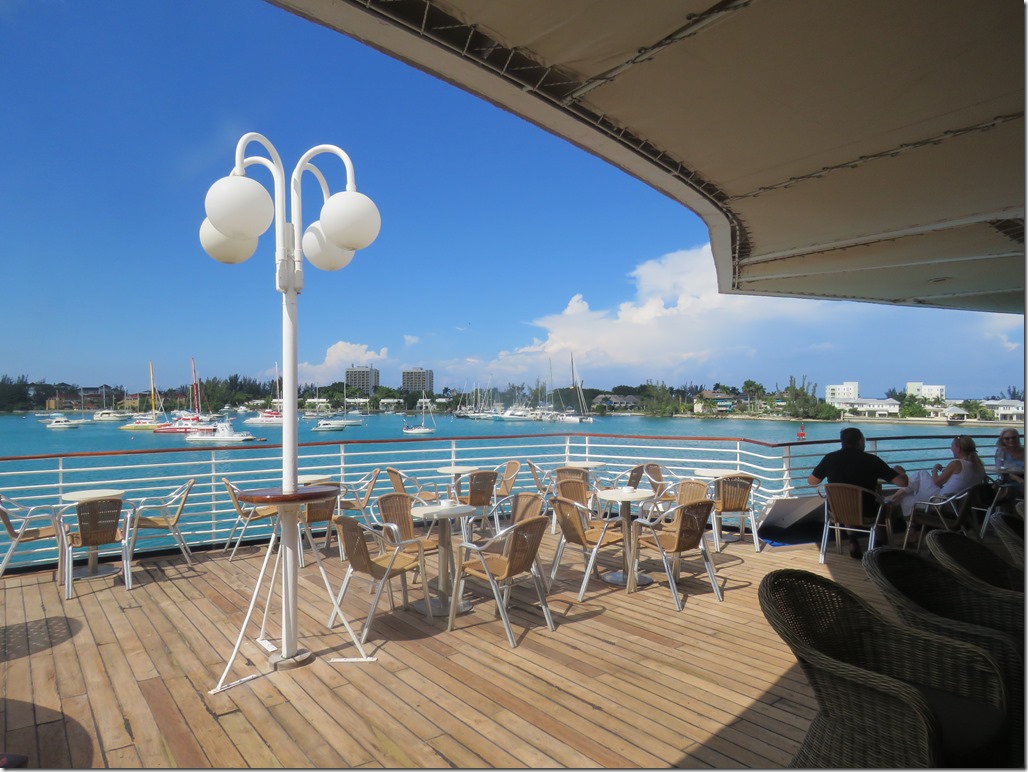 At the anchorage In Fort de France, Martinique, we would wake up every day with a new cruise ship at the dock, sometimes even two. They usually would show up at around 6 in the morning and by 6 in the evening they would be already on their way to the next port. We stayed 2 weeks at that anchorage.
In some islands when a cruise ship arrives the island's population more than doubles for a couple of hours. On these islands these cruise ships are the main source of income for most of the inhabitants and everything turns around their visits. Buses, taxis, dive boats, tour guides, restaurants, craft markets, everyone waits for the hundreds of tourist that get off the boat for a couple of hours ready to spend good money. While we try to live as cheaply as possible, shopping at the local market, eating on the boat, walking instead of taking a taxi and simply swimming off our boat rather than taking some guided tours.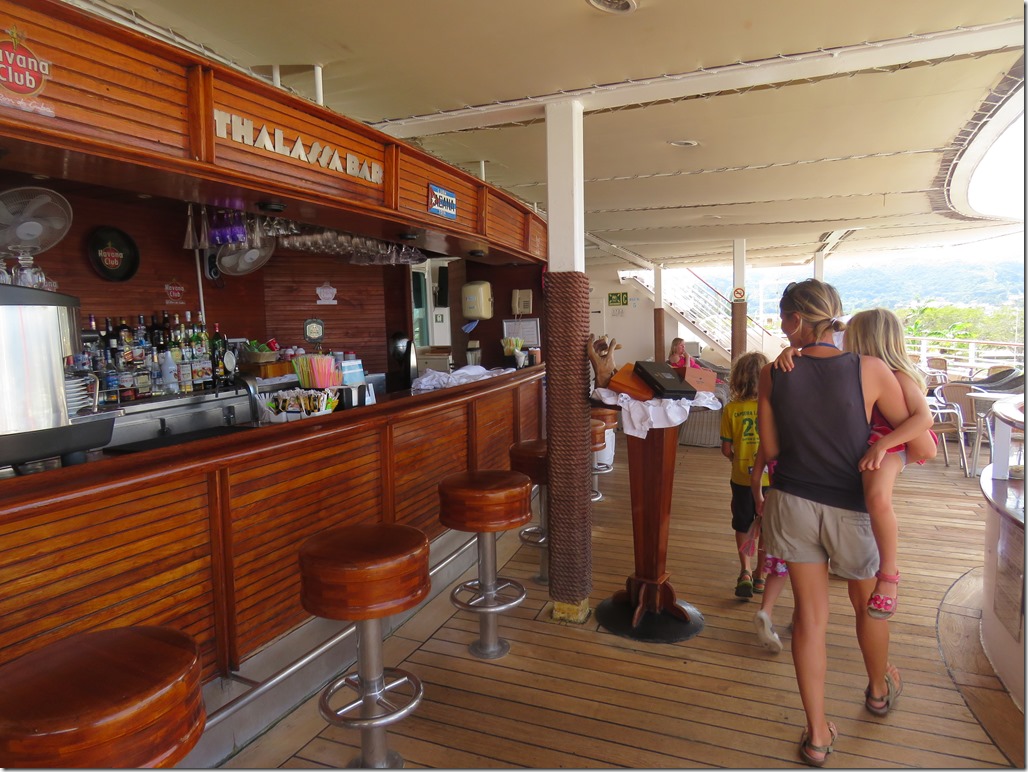 Sometimes we think how fun that could be, to be on a vacation, eat in restaurants, take tours around the island, go shopping, don't think on every dollar we spend, take a real shower without worrying that we are running out of water, don't have concerns about the weather, whether the anchor holds, about the safety of the boat and fixing all those things that brake all the time, just relax for a week.
But than I remember, hey, they do it just for a week, we are almost two years and a half out there, living our dream. I would never change my life with theirs. Not even for a second.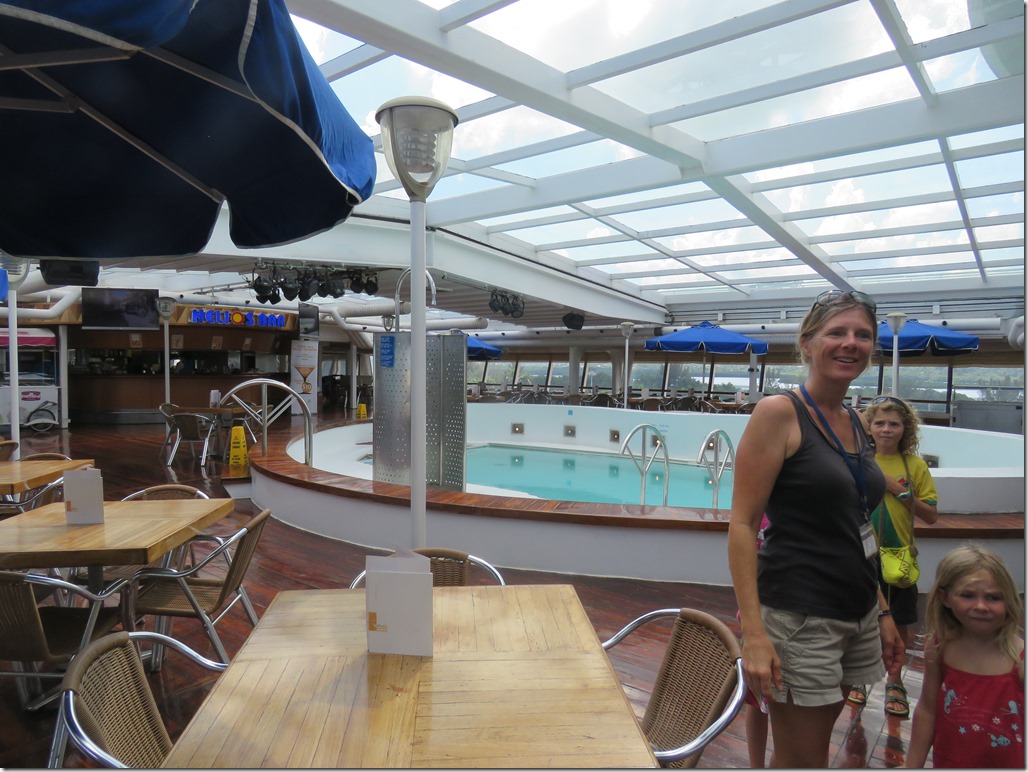 We walked over to the ship dock still not believing we made it – we have an invitation to go on board of this huge ship. The guy on the VHF informed us we will probably have some trouble passing through the first security gate to the port as it is a private security company not that of the ship. The ladies at the gate knew nothing about a sailing family expected on board the ship and they did not want to let us in. We had to wait for a crew member to pass by and ask him kindly to go back to the boat and get a security person from the ship to come and let us in.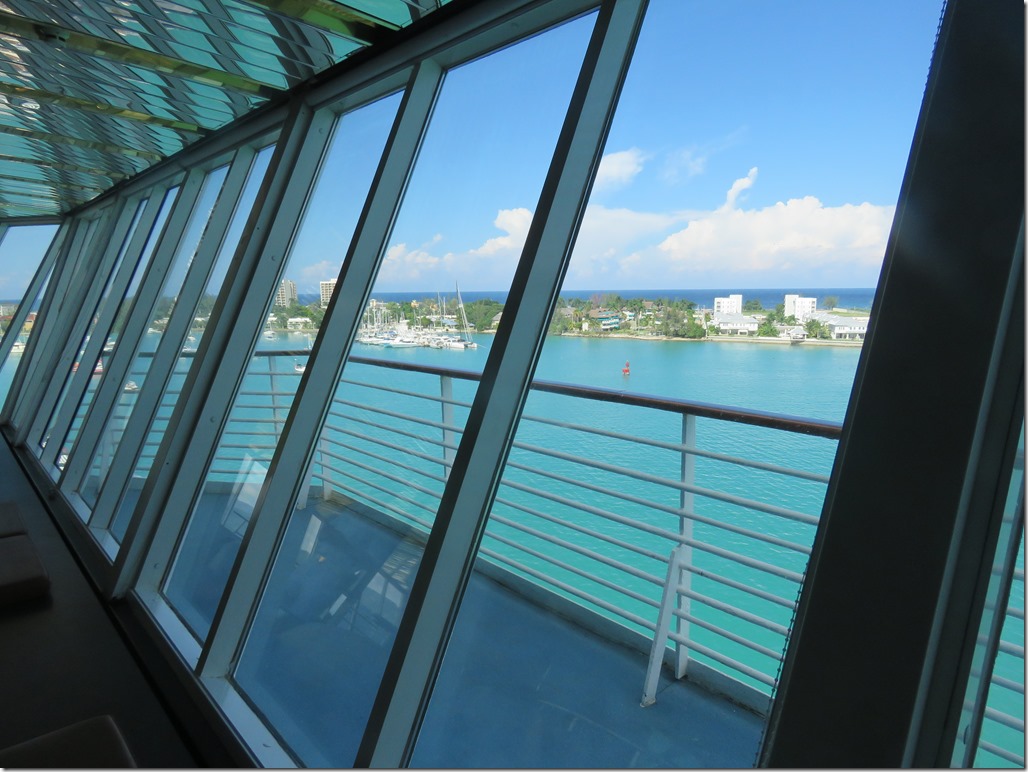 Nomad is right next to the big Catamaran, the rightmost boat on the dock
After some more security checks, metal detectors and x-ray scans for our bag we received a visitor card and the ship's security officer, a very nice guy from Nepal, showed us around the boat. Going from the top deck where the swimming pool and bar were located to the lower decks where the cabins can be found. On the way stopping in the gym, the cinema, the cabaret room, the casino, the beauty saloon, the sauna and Jacuzzi, the duty free and a couple of bars and restaurants. The ship itself was empty as all the guests were on excursions on shore.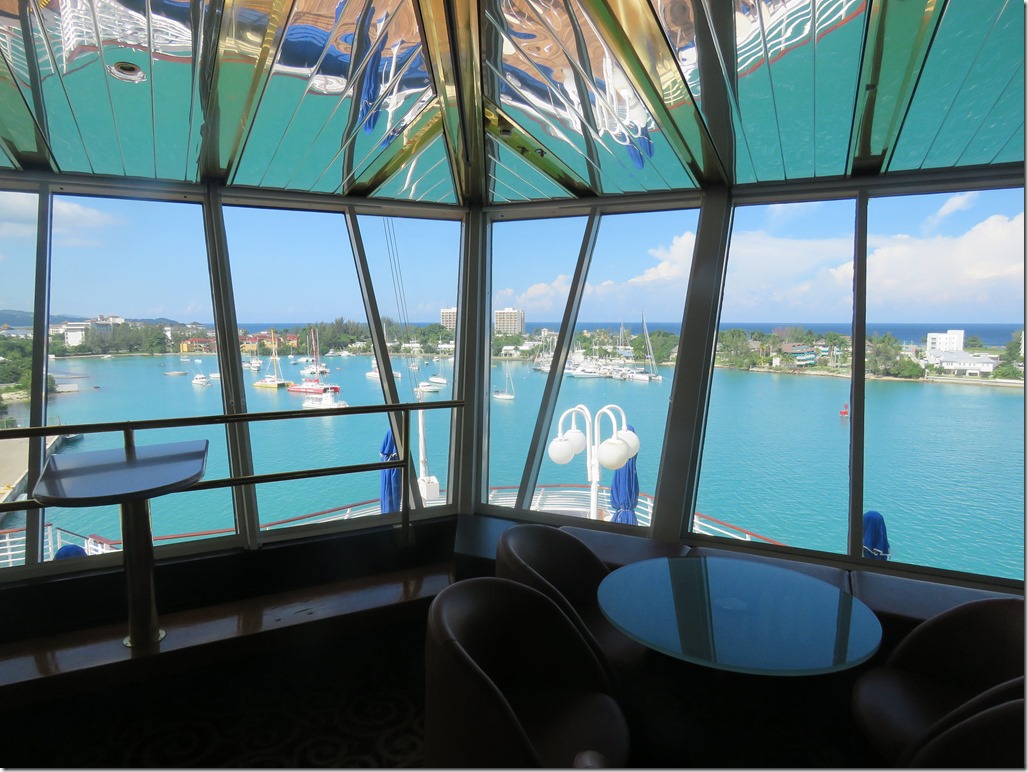 Kids took out their papers and pens and asked the guy the questions they prepared. Like how many engines you have? (4), for how much horse power (more than 25000) do you ever use your anchor? (yes, when there are already boats at the dock they anchor) capacity of passengers? (1200) crew? (400) how many life rafts you have? last port of call (Cienfuegos, Cuba) Does it rolls when the seas are rough? (Yes, even though they have stabilizers) etc.
Afterwards the security officer started questioning our kids about life on a sail boat. He could not imagine what it was like navigating through the same places he has been but on a small sailboat.
Thank you the Celestyal Crystal for allowing us on board and giving us a very interesting morning visiting the ship.
From the open deck we could see our boat tied to a dock at the Montego Bay yacht club. It looked so small. But it was ours. Our little home and companion, our Nomad.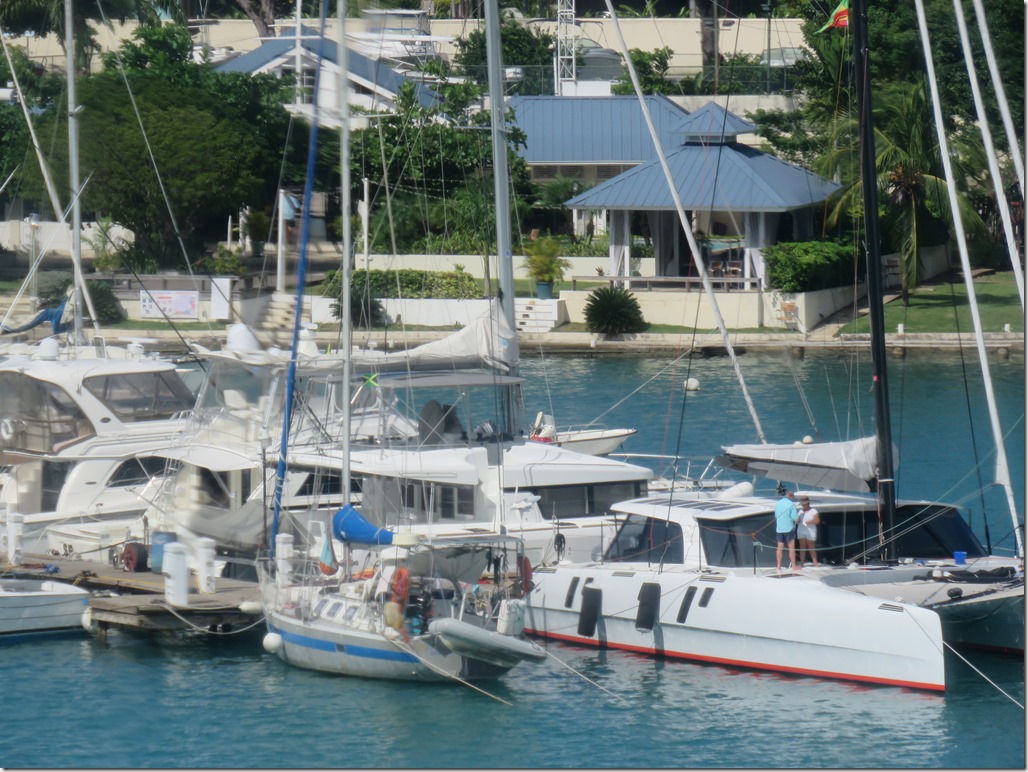 Nomad from the Celestyal Crystal viewed through the super zoom of our camera.