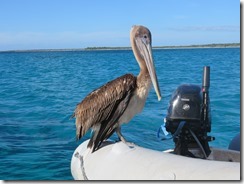 Nueva Gerona, the capital and main settlement of Cuba's biggest island – Isla de la Juventud, sits a couple of miles inland on the north side of the island. A river, Las Casas, allows the city an access to the sea and provides it a natural harbour right in the middle of the town. That's where the boat that will bring Louis, Alnorto and Noel back home will arrive. Foreign vessels are not allowed in this harbour and so we had to go around the south coast of the island and anchor in front of Marina Siguanea on the
western coast. The distance from Cayo Campos to Nueva Gerona is around 40 miles whereas to Marina Siguanea almost double that – 80 miles. That's a good distance for a night sail and so we left Cayo Campos late in the afternoon but not too late so we could still have the sun to help us negotiate the reef exit. The next morning, when we were rounding Pounta Frances to enter into Ensenada de la Siguanea a little open fishing boat arrived at Cayo Campos to pick up Louis, Alnorto and Noel after spending 40 days on the small cayo.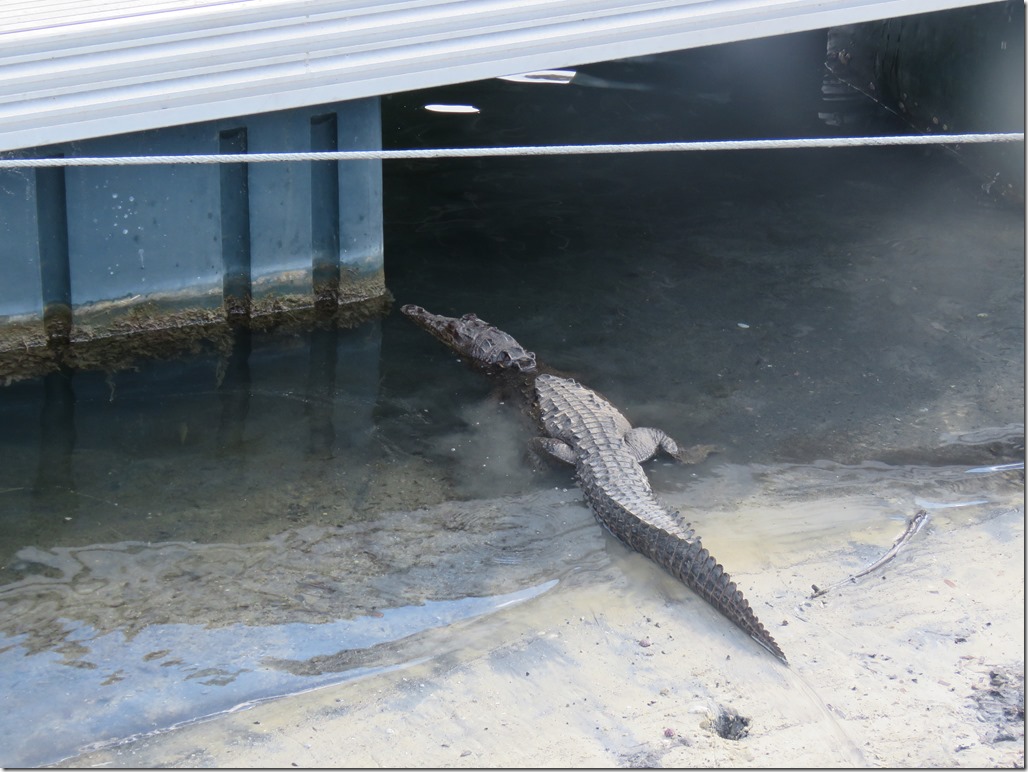 A crocodile on the mangrove banks of Marina Siguanea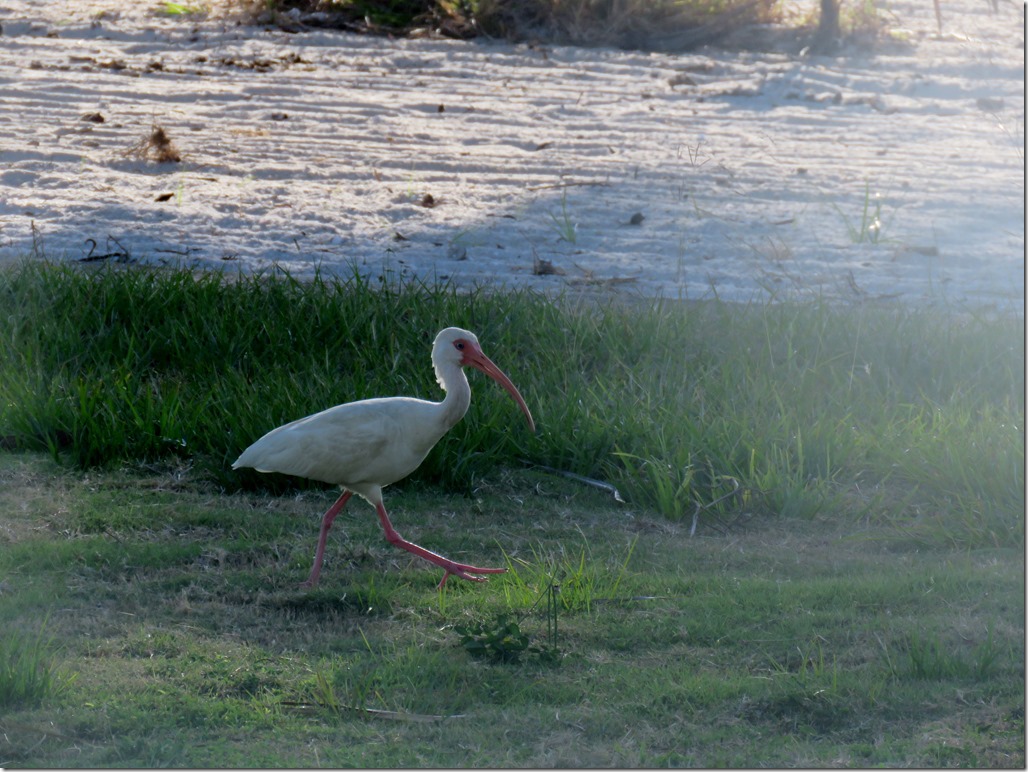 Don't know what this funny looking bird is
Marina Siguanea, like all Cuban marinas, is built far away from any settlement, actually it was built far away from everything. Except for the Guarada frontera building and the hotel Colony, about 2 km to the north, there was nothing around – just mangroves. To get to Nueva Gerona we had to take the old bus that every morning brings the hotel and marina employees. The ride takes about 45 minutes through small rural villages and some plantation fields.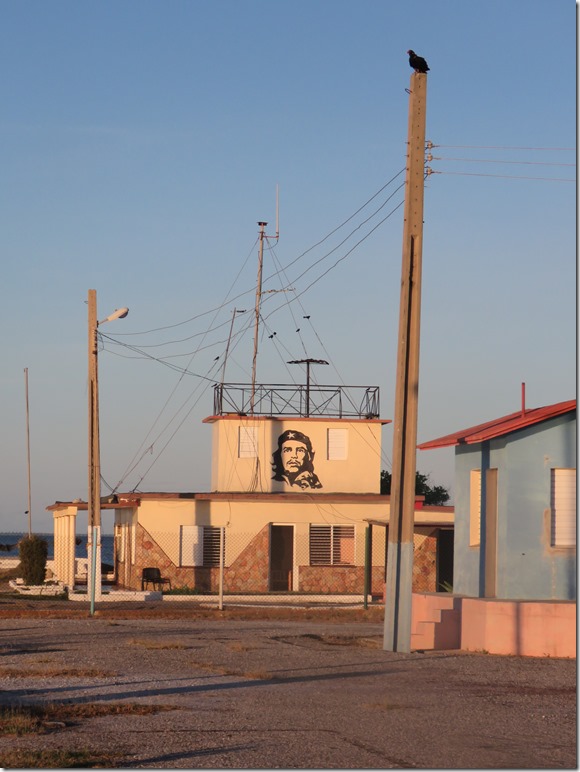 The guarda frontera building near the marina with the omnipresent Che
Like we promised Louis, first thing we did when the bus dropped us on a little street in Nueva Gerona was to grab a public phone and call him ('use the smallest moneda national coins you have' Louis told us. A local call costs 5 cents of a national peso, or about a fifth of one USD cent!).
Louis took us around town, showed us all the right places to shop and even got his son to find a car for an hour to take us to the market and bring all the stuff we bought back to his home so we can go and do internet before we join him at his house for lunch.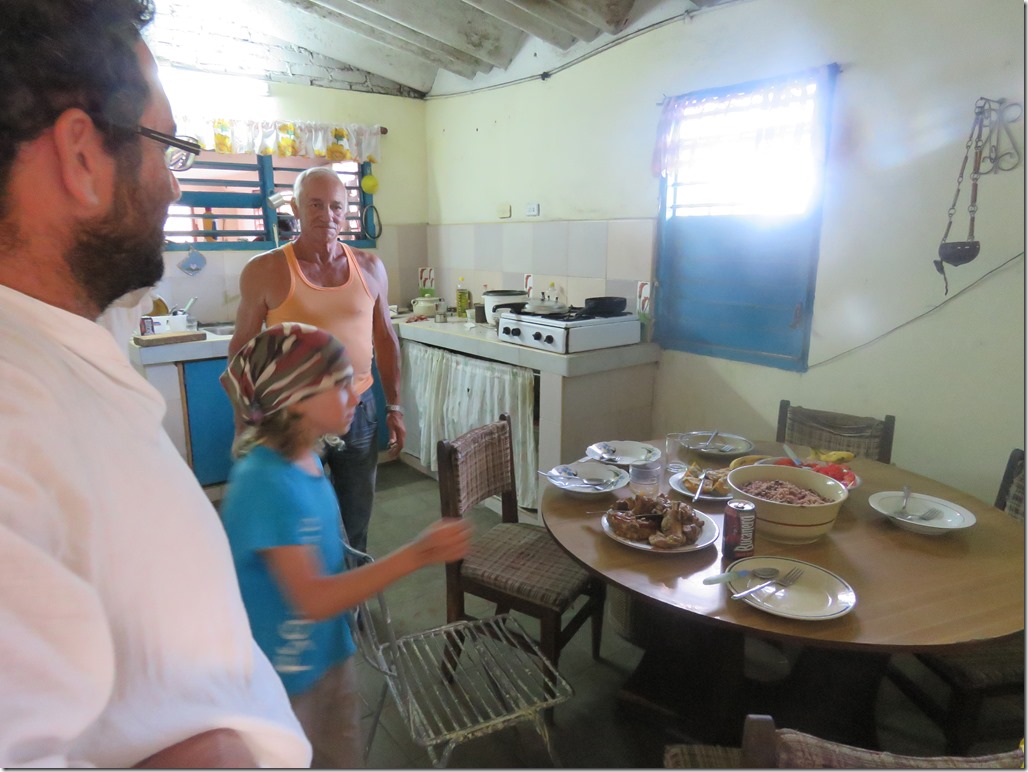 Lunch at Louis's place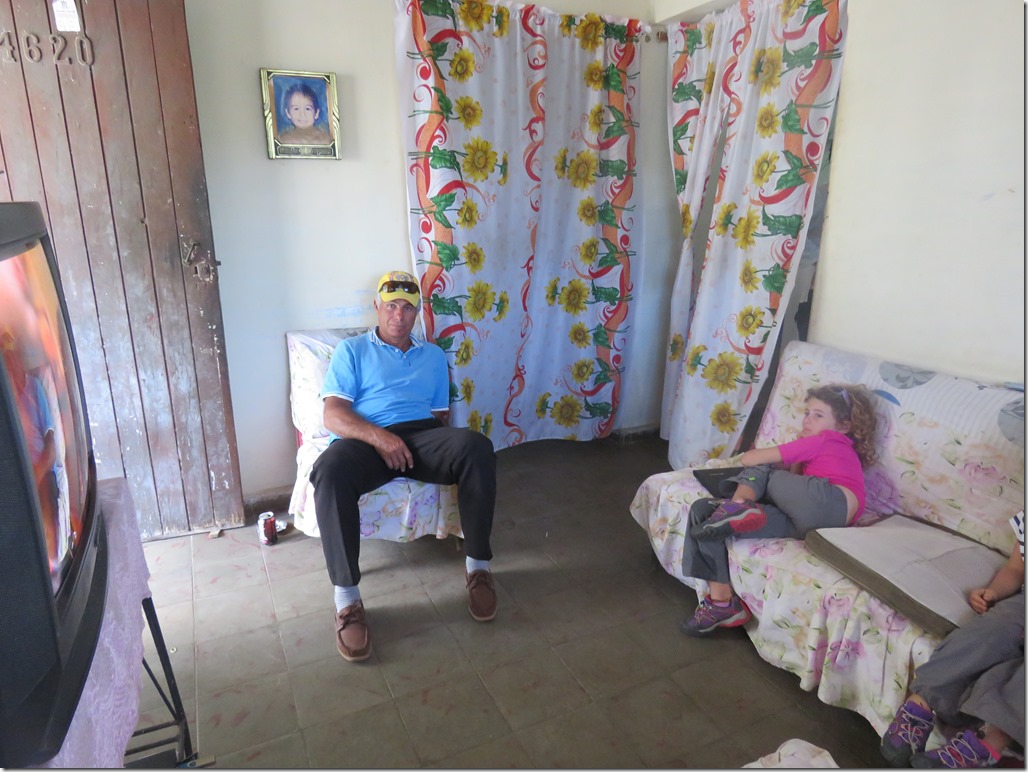 Alnorto made us a surprise and arrived at Louis place also. They tried to contact Noel to invite him as well but they could not reach him. After all, it was less than 24 hours since they arrived back home after 40 days on Cayo Campos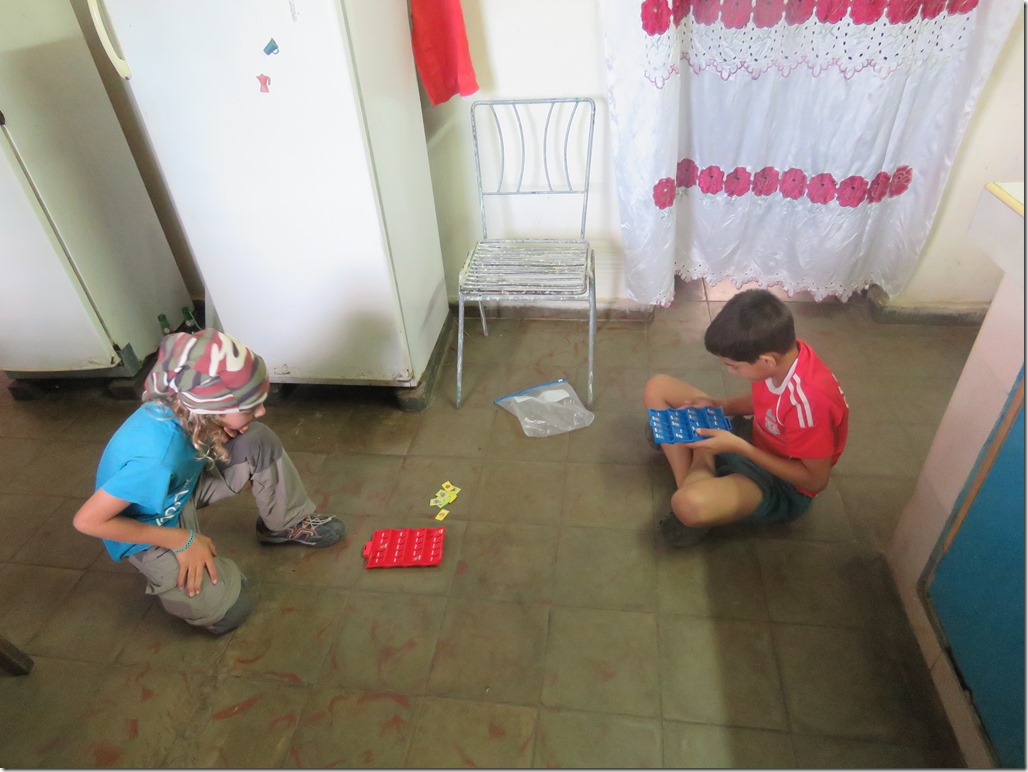 Amos playing with Louis's grandson a game we gave Louis about a week ago while we were still on the Cayo
We stayed at Louis's place till late in the afternoon. In his freezer were big fishes, lobsters and even Jutias they brought back from the Cayo. But he cooked us chicken, rice and beans Cuban style. In the market he was quicker to pay for all our shopping so we brought 3 six packs of beer and some ice cream as desert. They rarely buy alcohol as it is very expensive in terms of Cuban salaries. A six pack of local beer cost 6 CUC or almost a third of the average Cuban monthly salary. If the minimum wage in France is about 1800 the price of a six pack would be 450 euros or 75 euros a beer! in Swiss terms it would be more than 250 CHF for one beer. Something to think about next time you order your favourite draft in the local pub. In contrast, a kilo of tomatos, a couple of red peppers, a melon, some onions and a salad in the market costs a total of 30 pesos – a little more than one CUC.

Saying goodbye was difficult. We were very lucky to meet these people who made us experience and live, even if only for a short time, the real Cuban life. But a weather window was present and we had the urge to find some better provisioning and better internet connection. It was time for us to move on westwards towards the American continent.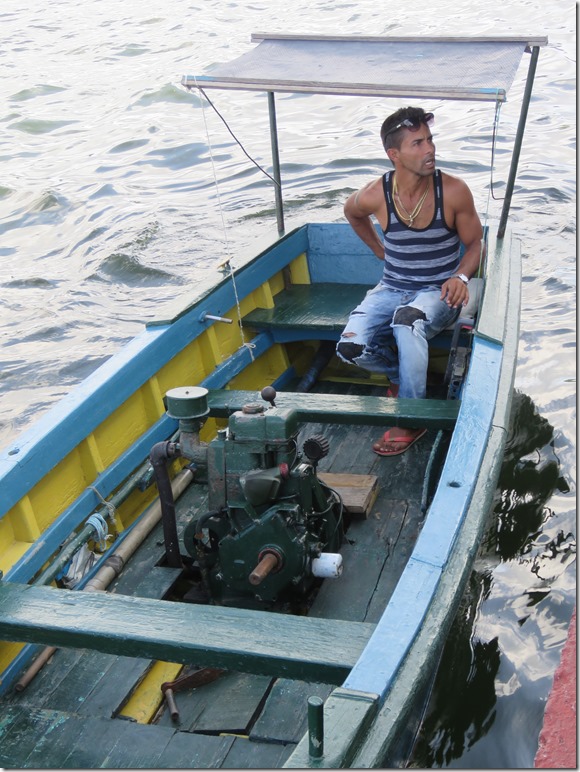 In inboard engine cuban style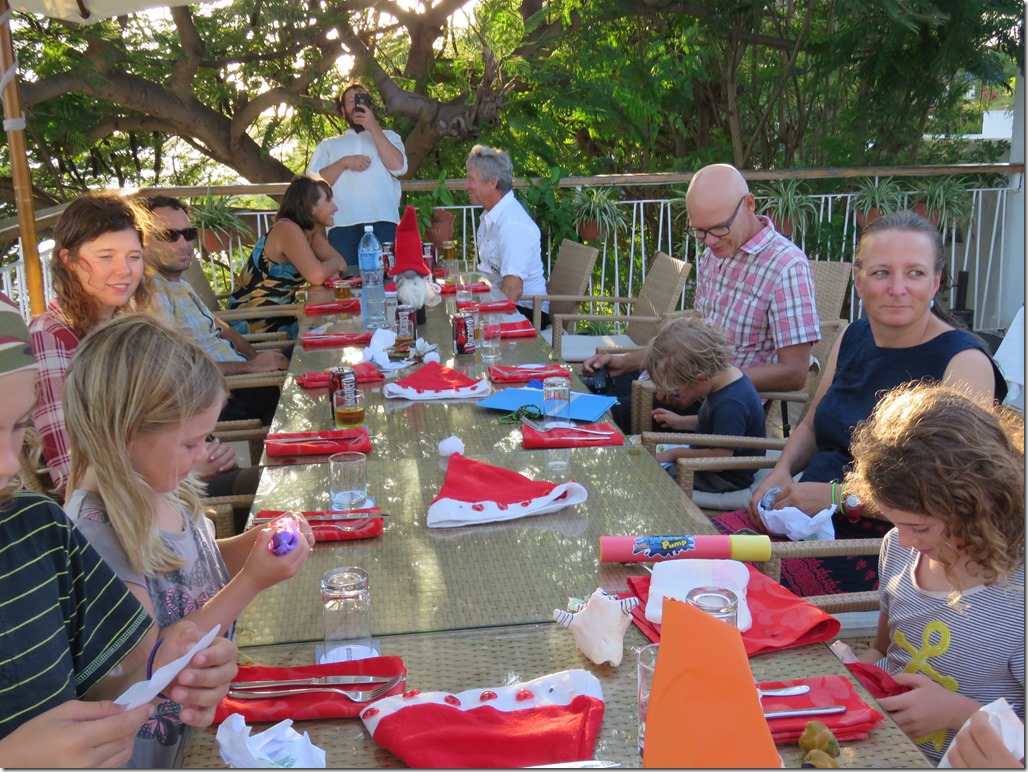 Christmas dinner with Kattami, Melimelo and Love me Doo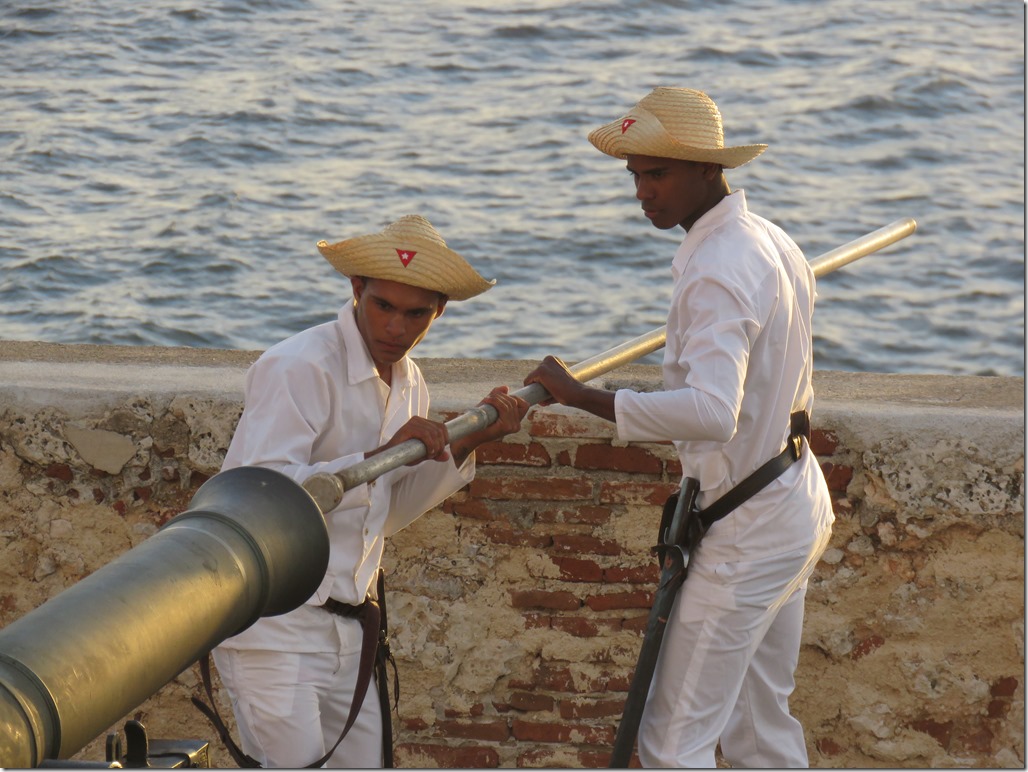 Sunset ceremony at El Morro castle in Sanitago. Every evening it ends with three hails for 'Cuba Libre'
We had to sail all the way to the El Morro's marina on the westernmost corner of Cuba around Cabo San Antonio. The guarda frontera in Isla de la Juventud promised us that we could do our exit papers in Maria la Gorda – a little diving resort about 35 miles before El Morro but when we arrived there they told us that this is not an international port of entry and we had to keep to El Morro. Actually in the beginning they refused to have us there – anchoring is prohibited as it is a protected park and they refused to let us moor on one of the diving mooring boats. But in Cuba a no does not necessarily means no so after a little insistence on our side they let us take one of the mooring balls.
The water in this bay was the clearest and most beautiful we have seen so far. The depth under our boat was about 10 meters but we could still see the bottom. The corals were also one of the healthiest we have seen. Snorkelling was simply spectacular.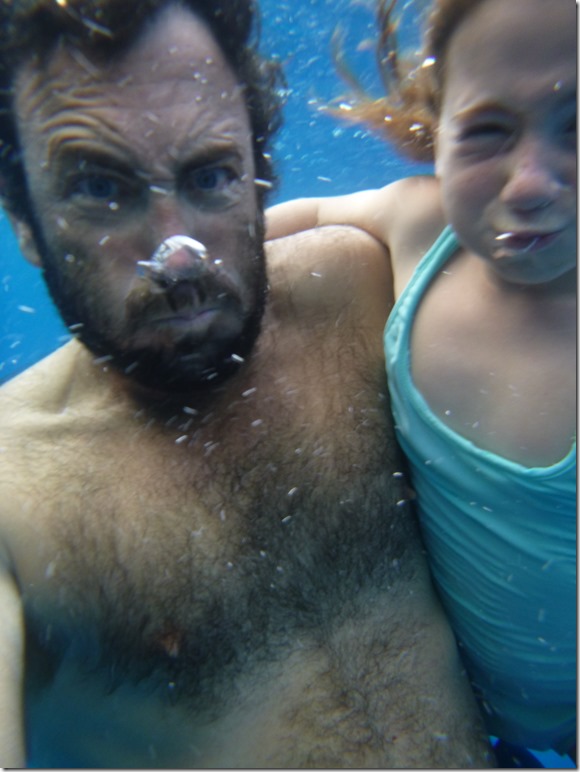 Having fun with Noa underwater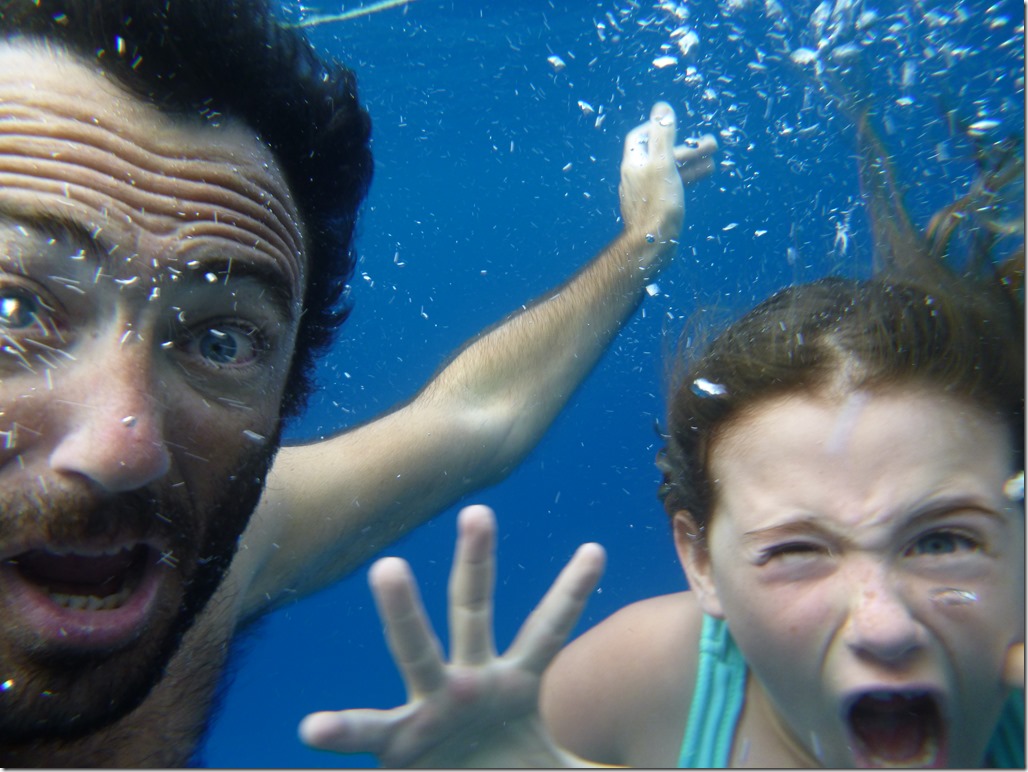 The colours of the water were of the most amazing shades of blue we have ever seen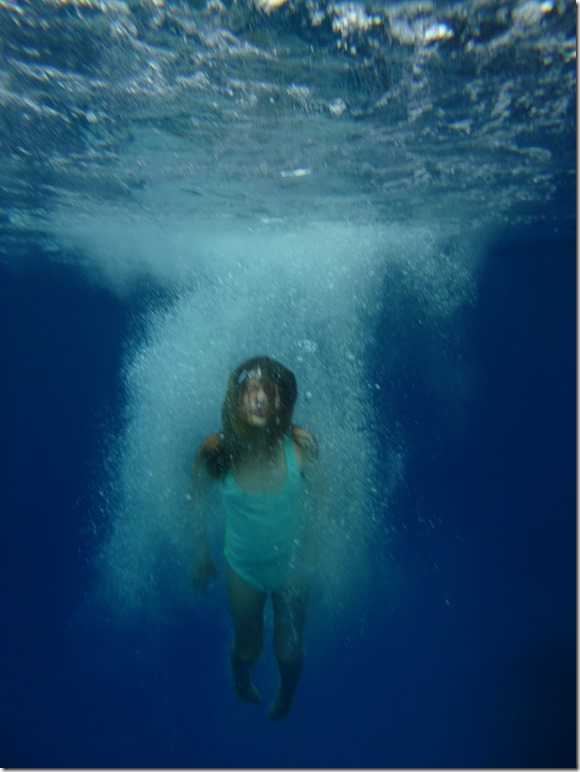 Visibility was also pretty amazing
El Morro marina is only a half broken dock with little around. At 14:00 We dropped the anchor in front of the dock, went ashore, did our exit papers, had a cold drink in the little restaurant and went back on the boat. At 16:00 we were already on our way to Isla Mujeres, Mexico.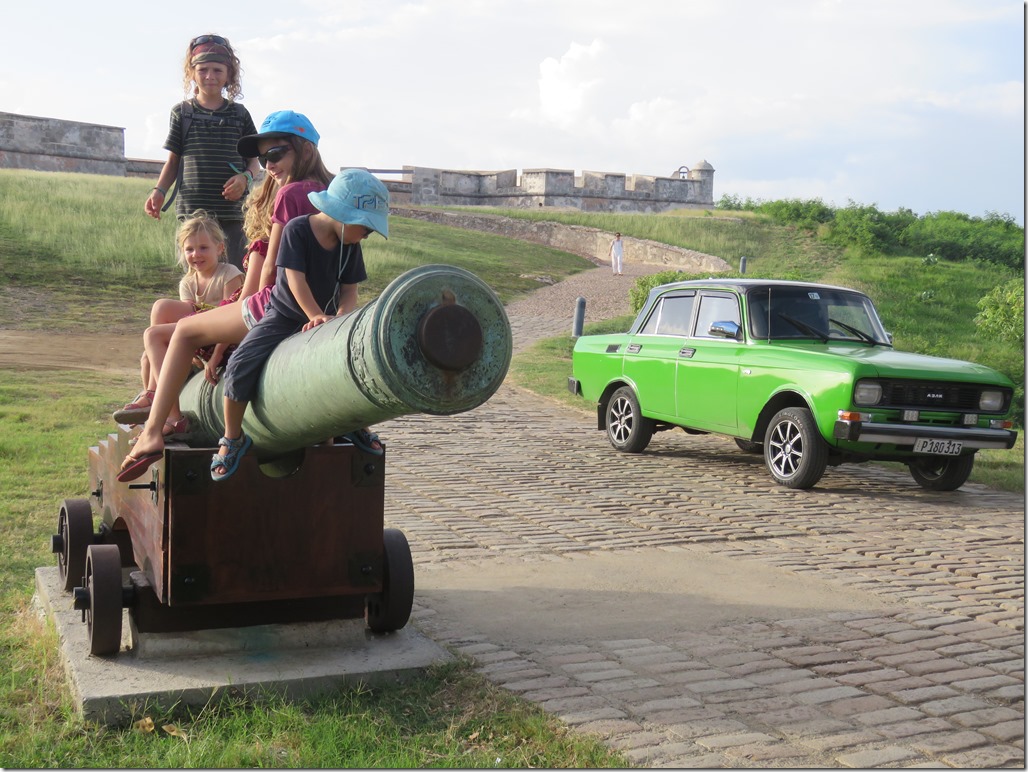 With Melimelo at the entrance to El Morro Castle, near Santiago de Cuba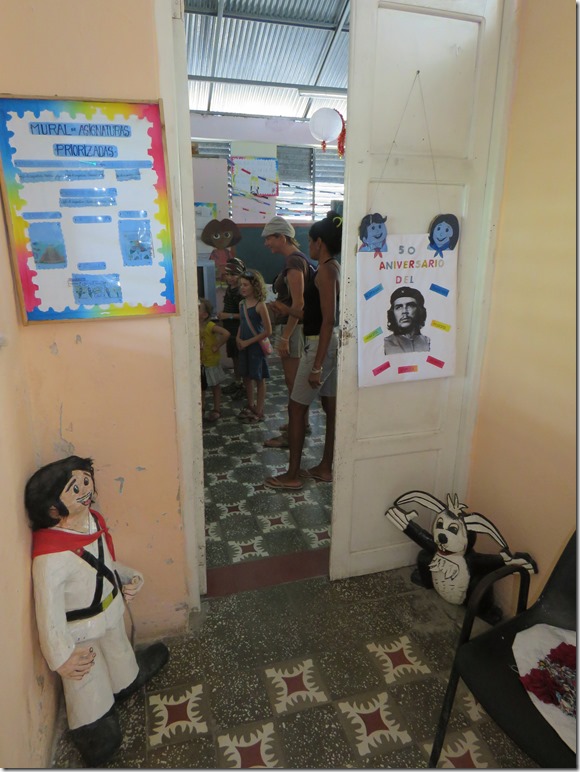 A visit to the local school on Cayo Grandma. Che is celebrated there as a role model
We spent almost two amazing months in Cuba. We haven't seen half of what we wanted though – we did not even visited Havana (so we will have an excuse to come back). We met many cruisers who did not like Cuba. Some even hated it. They had complete different experiences than we did. I think this is mainly because of two things – first, staying in the official 'marinas' and second, language barrier.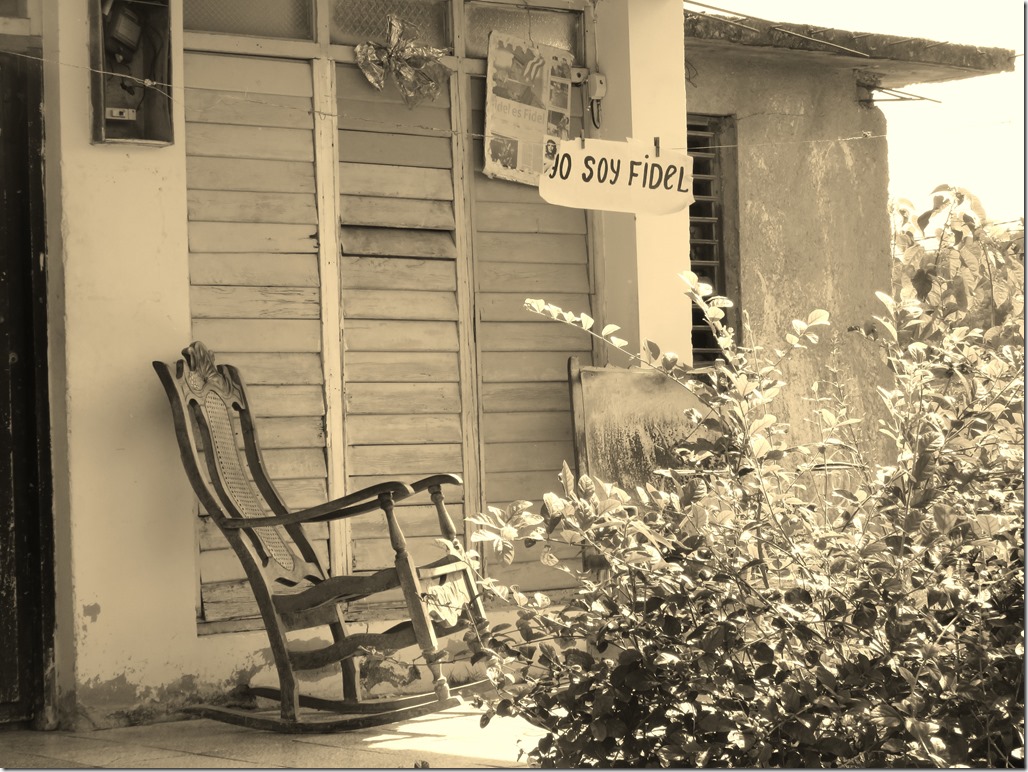 Yo soy Fidel. Amazingly, the Cubans do like Fidel. For them he is still the saviour. A terrace on Cayo Grandma near Santiago de Cuba.
I had to try some local Cuban cigars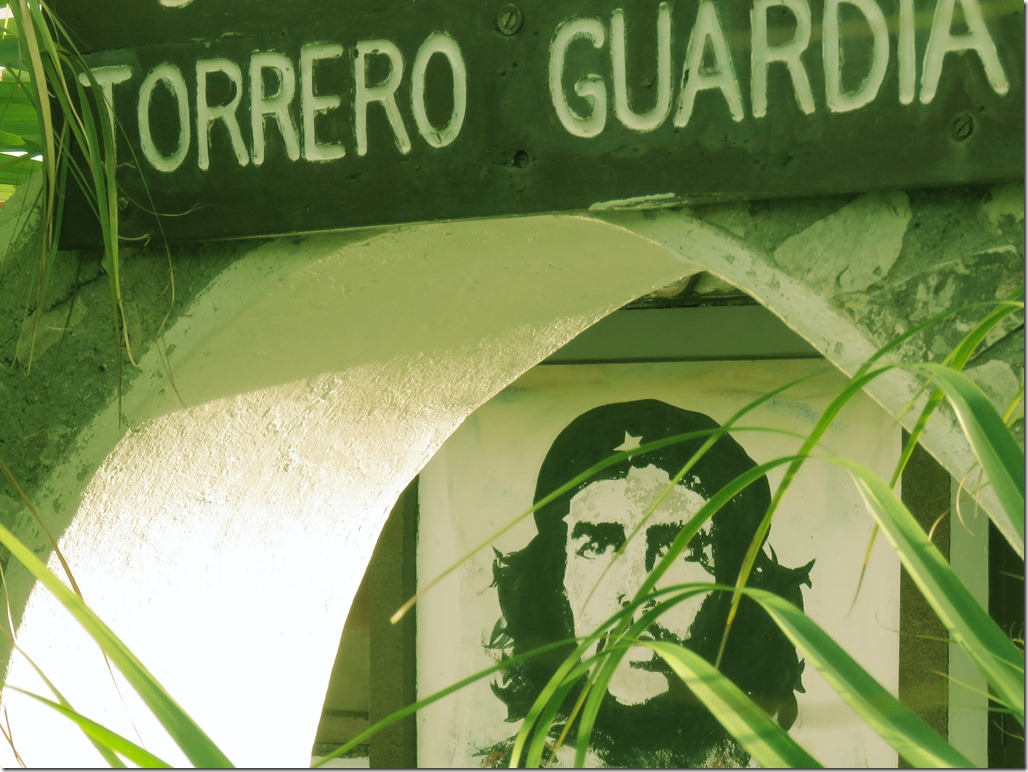 And again, beloved Che. This one was next to the lighthouse at the entrance to Santiago de Cuba
The Cuban government did a very good job keeping cruisers away from having a daily contact with the cuban people. They put the marinas far away from the city center (or even from a city), they enforce rigid rules to limit our free movement like where we are allowed to go on land, the necessity of obtaining a zapre from the guarda frontera at each port, etc. We cruisers appreciate and take our freedom for granted but here suddenly someone tries to take this sacred quality away from us. Furthermore, the Cubans around the marinas are people who are used to tourists and usually to reach tourists. They made their salaries in CUC not moneda national. They see us as a source of income not as a window for exchange and sharing.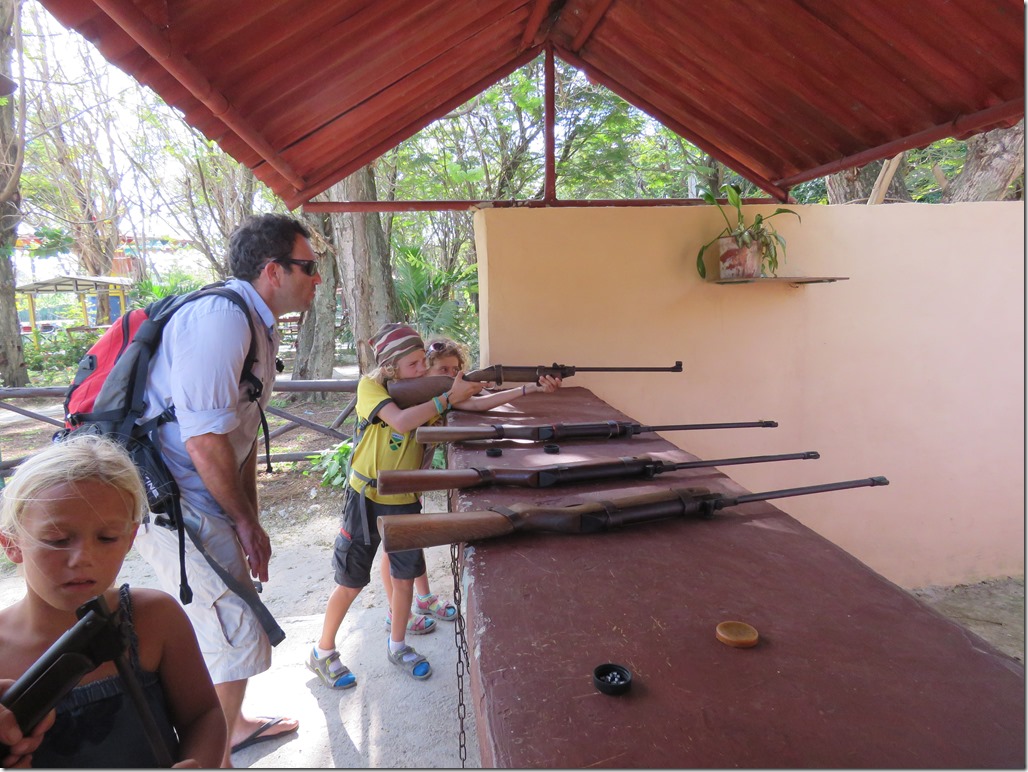 At the amusement park, Amos tries his shooting skills. One peso moneda national for 7 bullets.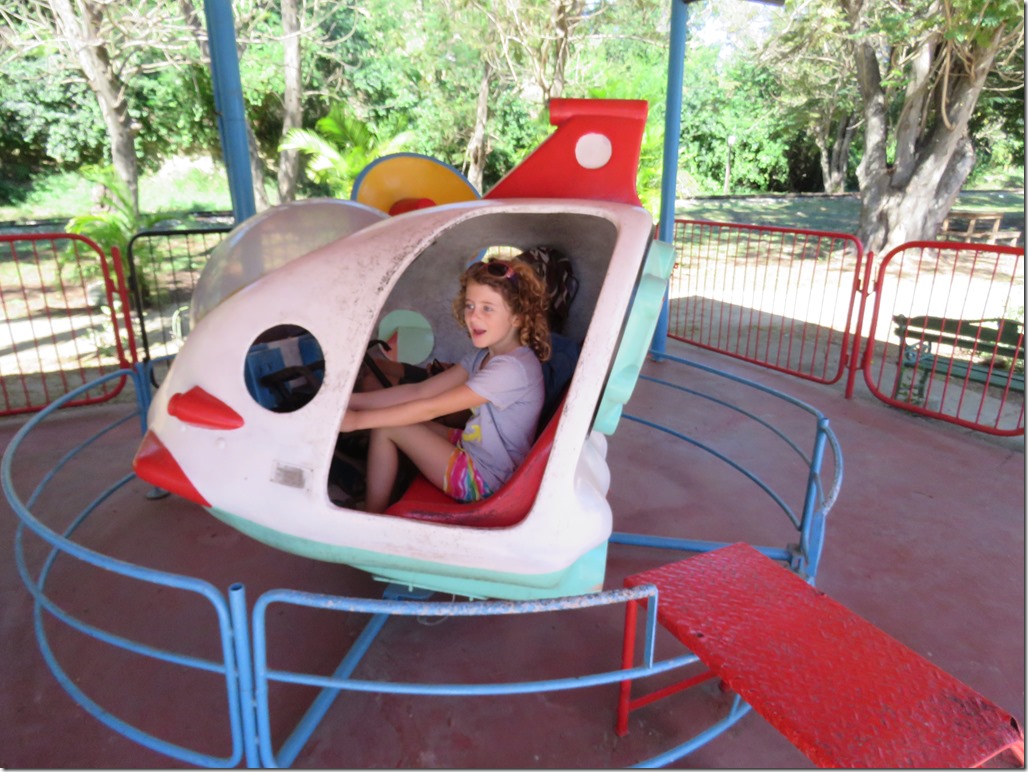 The amusement park felt more like a musuem to us with very old and rusty attractions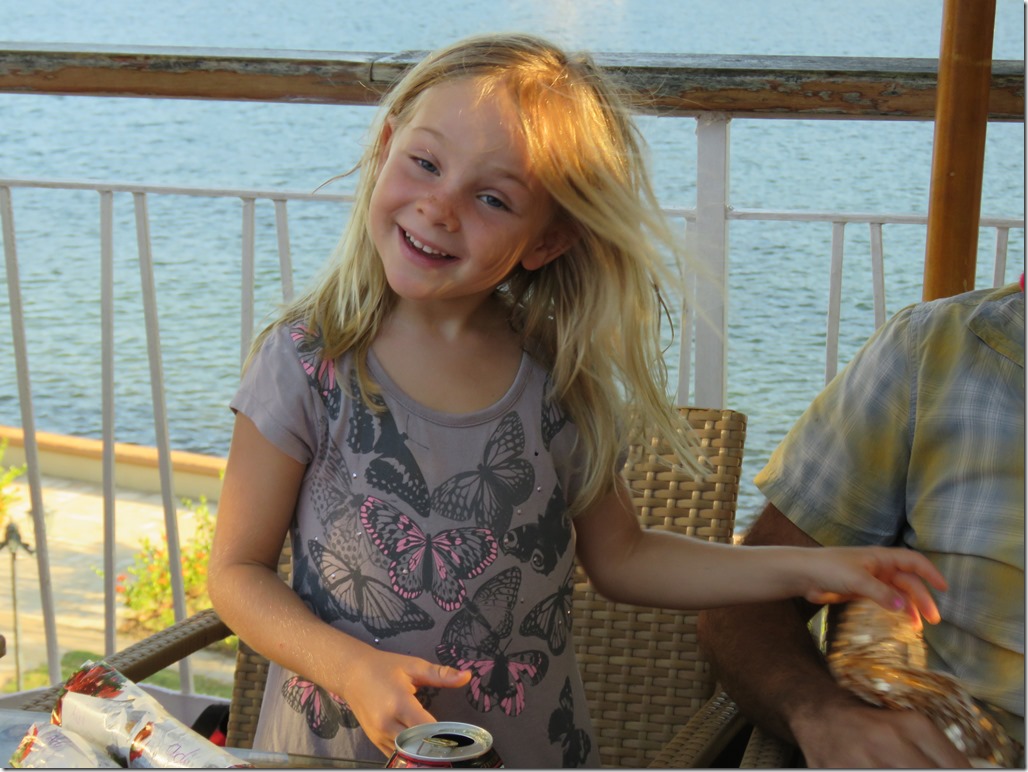 But if you go to out of the way villages, like Marea del Portillo or Chivirico things are completely different. There you will find one of the most honest, hard working, inventive and hospitable people you will find anywhere else around the Caribbean or even anywhere else.
Staying in the small cayos where you get to meet the fishermen, the rangers and even the Cuban skippers of the charter boats is a whole different experience as well.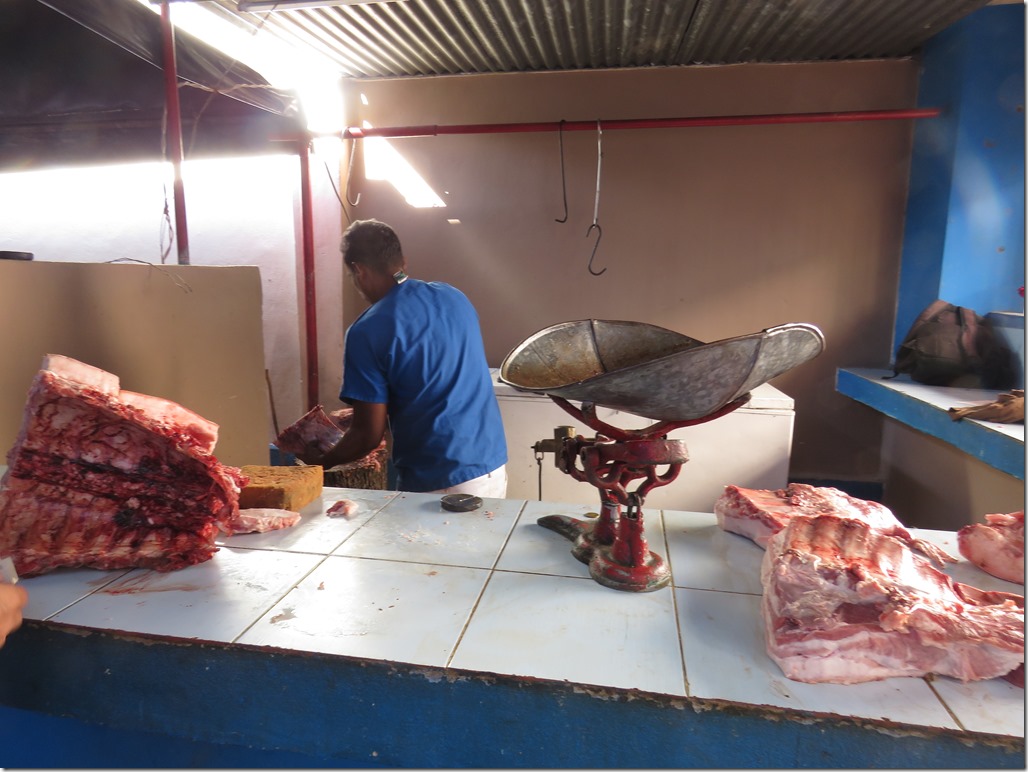 Buying meat at the market.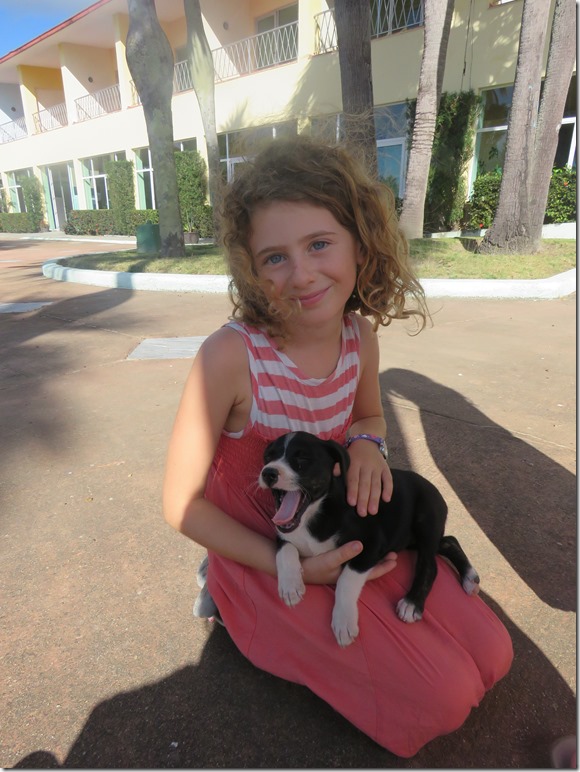 In hotel colony, another dog the kids wanted to adopt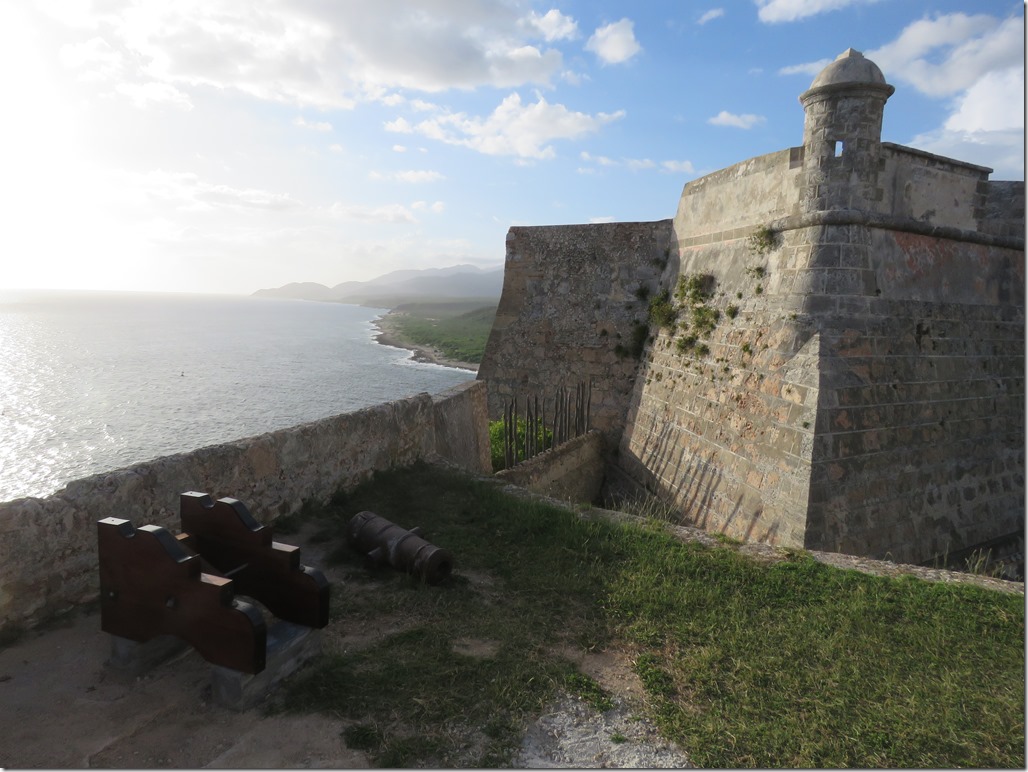 El Morro castle overlooking the entrance to Santiago de Cuba
The second point is even more important, it does not help to meet all these friendly Cuban if you cannot talk with them. One thing is certain, the single most important thing you have to bring with you to Cuba is Spanish. Most of our encounters with the Cuban people would not have evolved as they did without Virginie's Spanish (well, her smile, and our three little kids around us helps as well). Being able to say more than hello, good morning and asking how much does it cost can open a whole new world to your Cuban experience.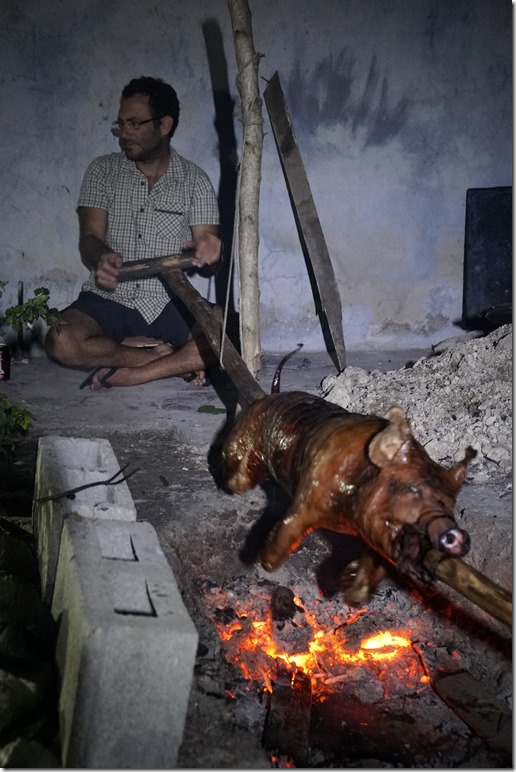 New Year's eve at Angel's place. They slaughtered one of the pigs he kept in the backyard as an investment. They buy them young, feed them with leftovers and once they are big enough they can sell them for much more money than they bought them.

He dug a hole in his garden to make the fire and used a big branch to hold the pig onto it.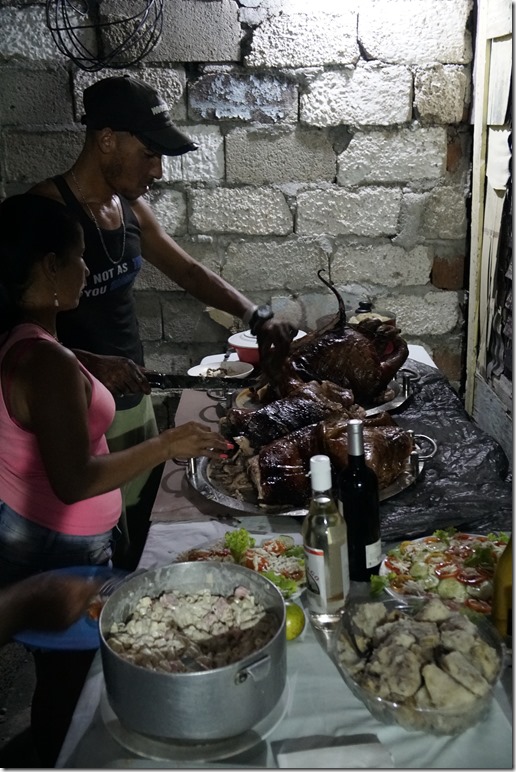 Cubans usually eat at new year's eve at midnight but we proposed to have desert at midnight and eat earlier so kids were not too tired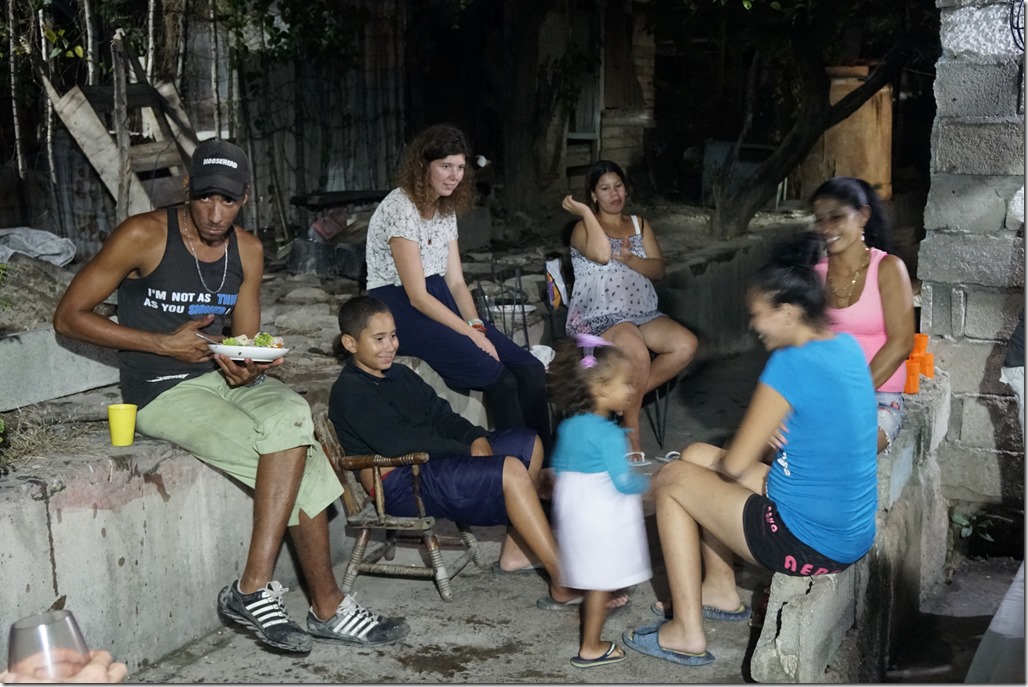 For us, Cuba was one of the most enriching and magical places we have visited during our travelling. We will, for sure, come back.