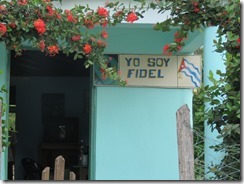 We are sitting in the cockpit at Marea del Portillo, drinking a Cuban Bucanero beer watching the orange sun disappear behind the horizon as two little fishing boats pass by, they are rowing out towards the sunset on their way for another fishing expedition. We use our dinghy with its 10 HP engine to go from the boat to the beaten village dock – about 100 meters away and these fishermen are rowing 2 miles out to the rough Caribbean sea with 20 knots of headwinds.
We go to sea with GPS, radar, VHF, AIS, life raft, lifejackets,
flares, mobile phones. They have nothing of these and much less – they don't even have navigation lights. Some light a fire in a small metal can at the bow of the boat.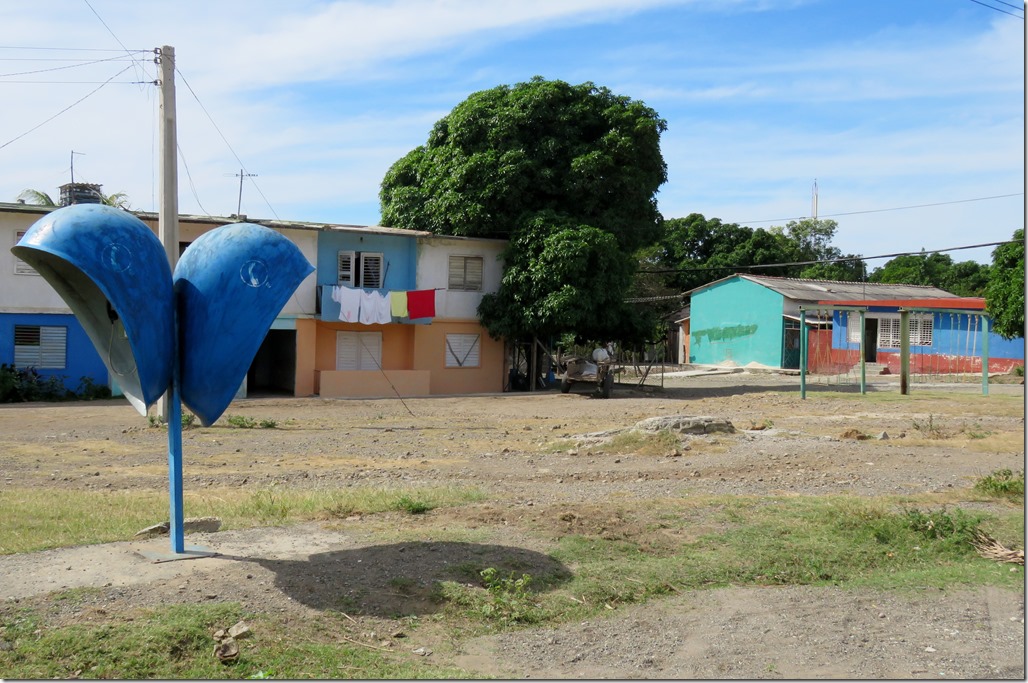 The omnipresent phone booths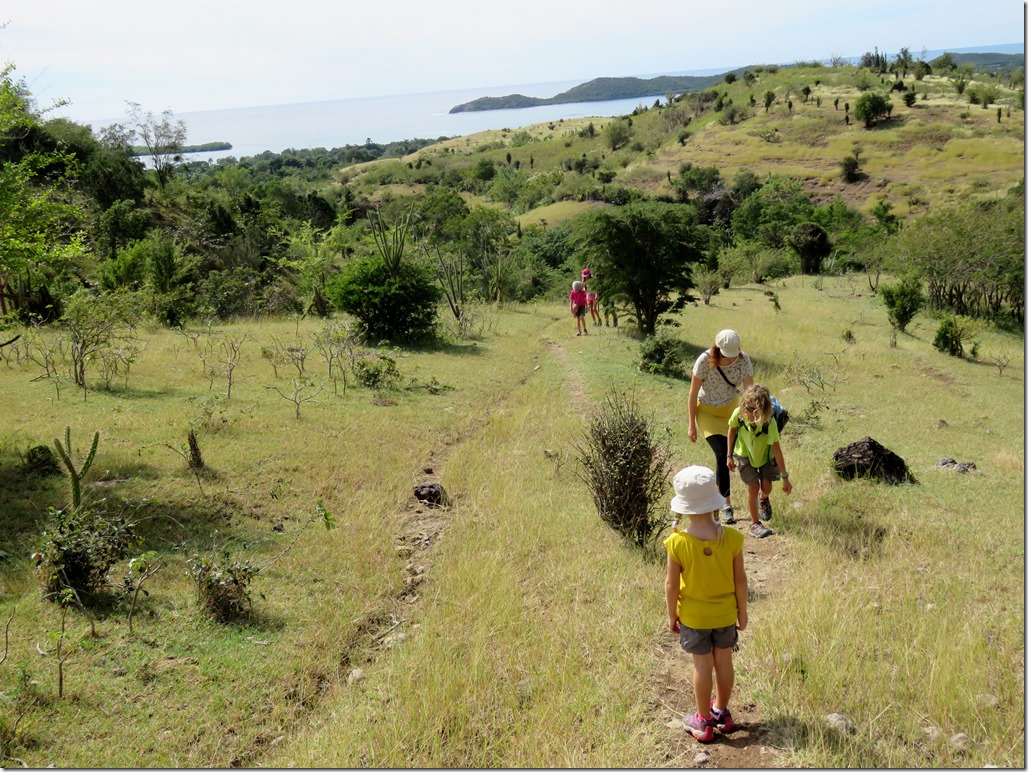 walking around Marea del Portillo
We gave our laundry to a nice lady in the village. The little washing machine, probably 50 years old, sits in her backyard under a small palm tree and a lazy pig sleeps next to it. She does not want to be paid for doing our laundry, she would like us to give her old clothes, fishing lines and used ropes. In Cuba poverty is not only the lack of money but mainly the scarcity of things on offer. Even if you have money there is not much it can buy. Simple things like screws, wood, hand tools, canvas, electronics, fishing gear and so much more are almost impossible to find around here.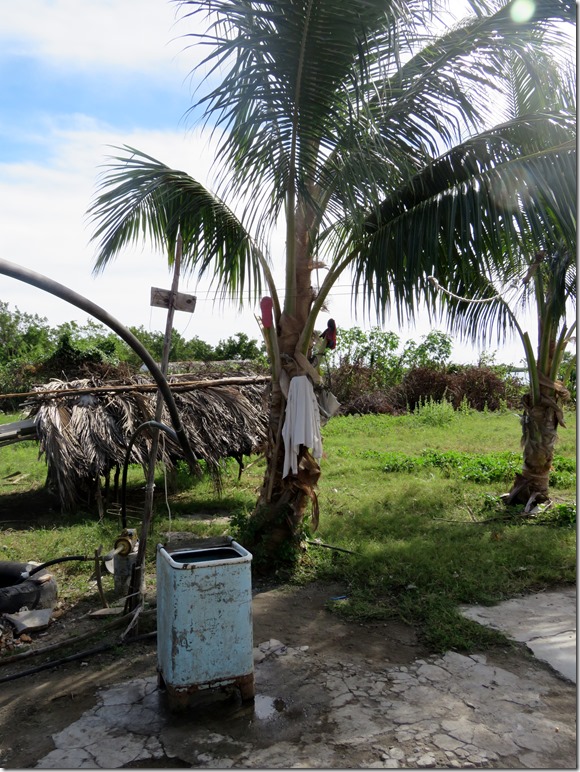 The washing machine

and our clothes drying in the sun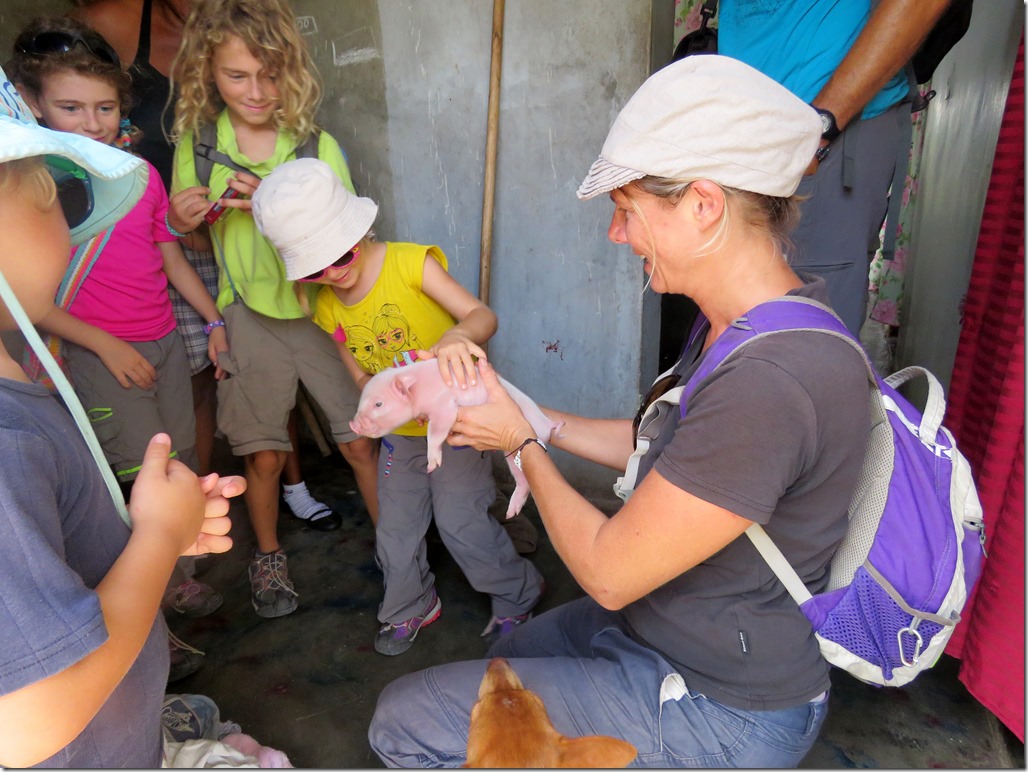 Virginie's new pet
One day I went to the vegetables market. There were only green bananas, yams and aubergines to choose from. The women in line before me bought all the aubergines and none was left so I bought the two last yams and a couple of green bananas. The next day there were again green bananas, garlic and tomatoes. I bought all the tomatoes. One of the things we learned in Cuba – when you see something that you might need in a couple of days, like honey or eggs, don't wait, buy. And buy everything you can carry because you never know when you will be find it the next time.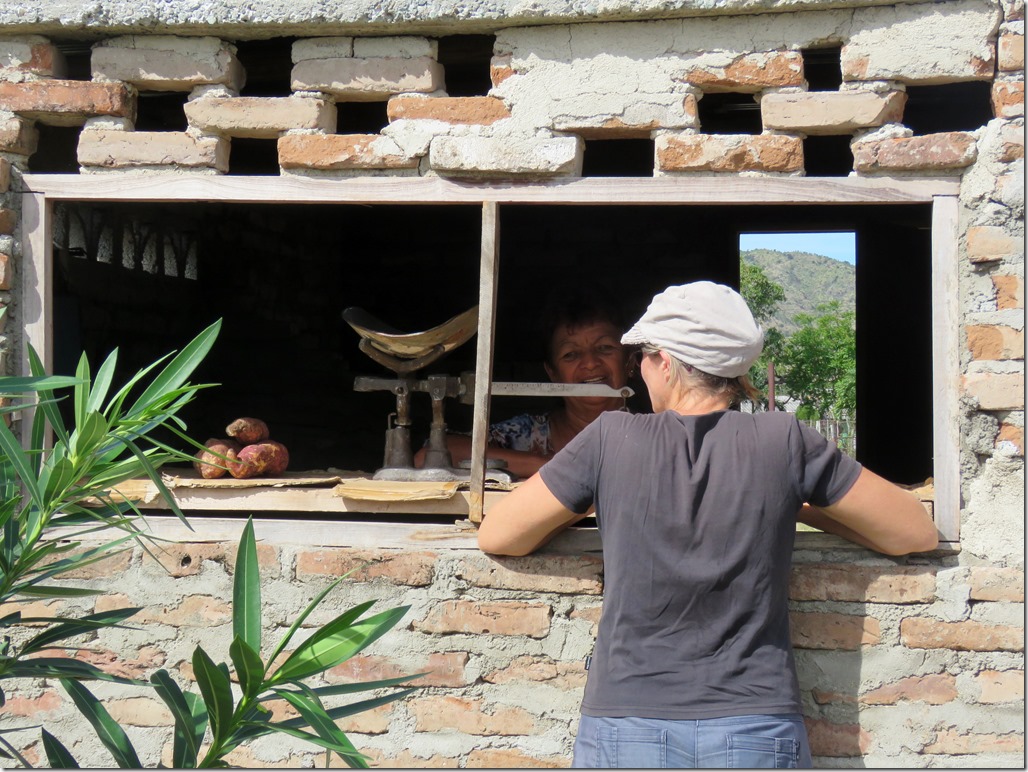 Vegetables shop in Marea del Portillo. That day she only had 3 sweet potatoes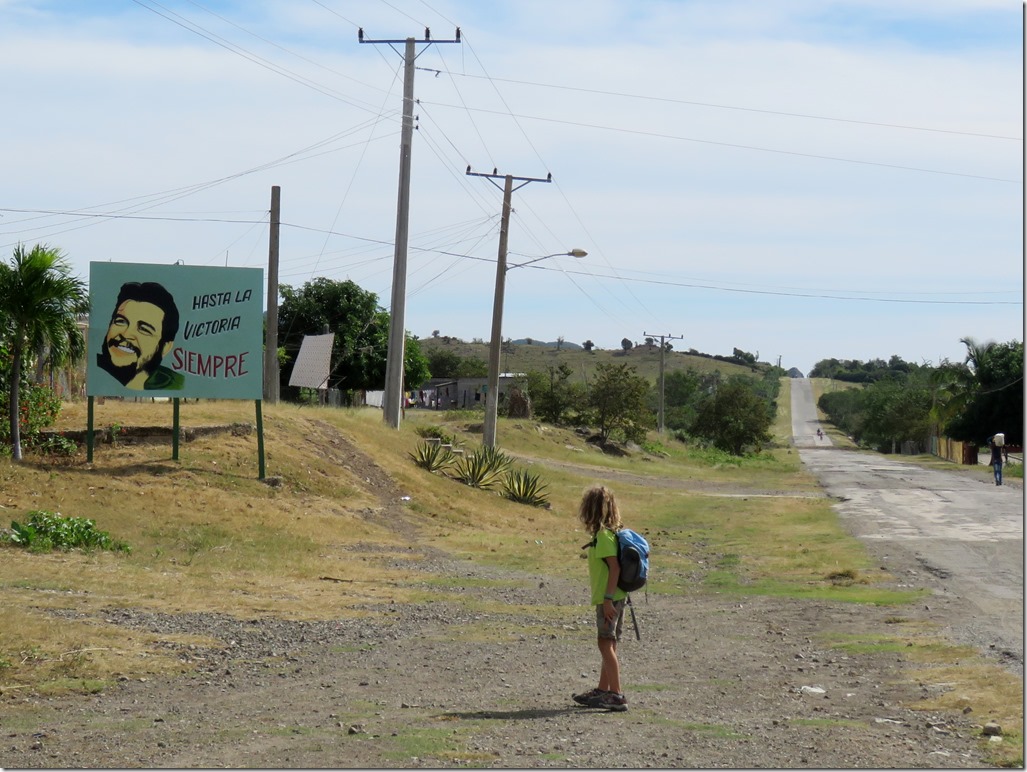 Marea del Portillo's main street facing south. Che and Fidel are always around

That same street this time facing north


But we also learned that if you need something and you don't find it at the shop ask around and someone will know how to find you what you are looking for. One old lady gave us a one-liter bottle of Habana Club rum full of honey; we received a half dozen of coconuts from another Cuban; On different occasions we received fresh salad, onions, tomatoes, bananas and potatoes directly from people's gardens. All these were not bought for money but like in the old days – exchanged for something they wanted like toys, kids clothes, papers and pencils, soaps; we exchanged 5 kg of flour at the local bakery for 20 meters of fishing line. On another occasion we asked around for meat. One guy told us he could get us a whole lamb still alive that we could take with us on the boat… We told him we don't have the space for live stock and asked him kindly to simply prepare us 3 kg of lamb meat. We had fishermen swimming to our boat with a bag full of lobsters (8!) and two groupers. This we bought for 10 CUC and a shot of rum.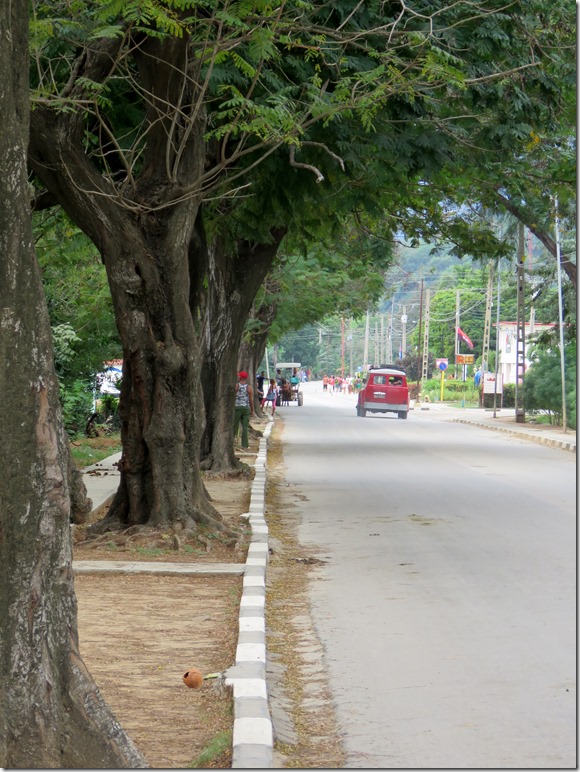 Chivirico's main road
The Cubans we meet are all very polite and extremely friendly and even though we come from a different planet, yes, the western world is a different planet compared to here, they will do their best to help you no matter how primitive are their means. And believe me they are.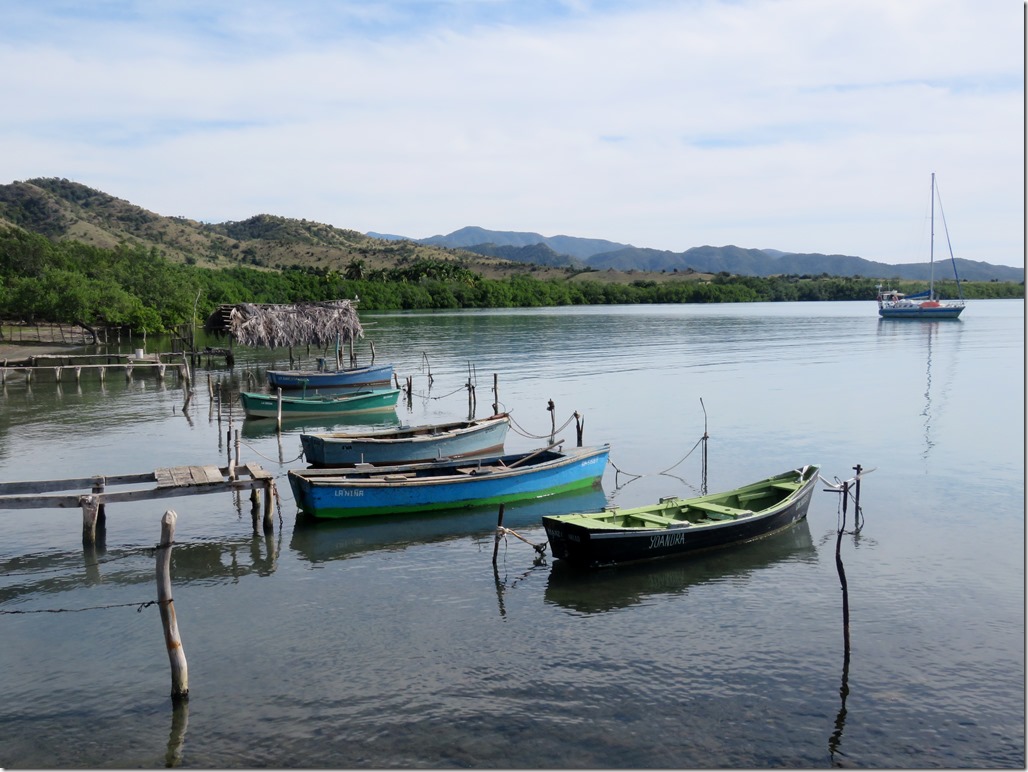 Marea del Portillo bay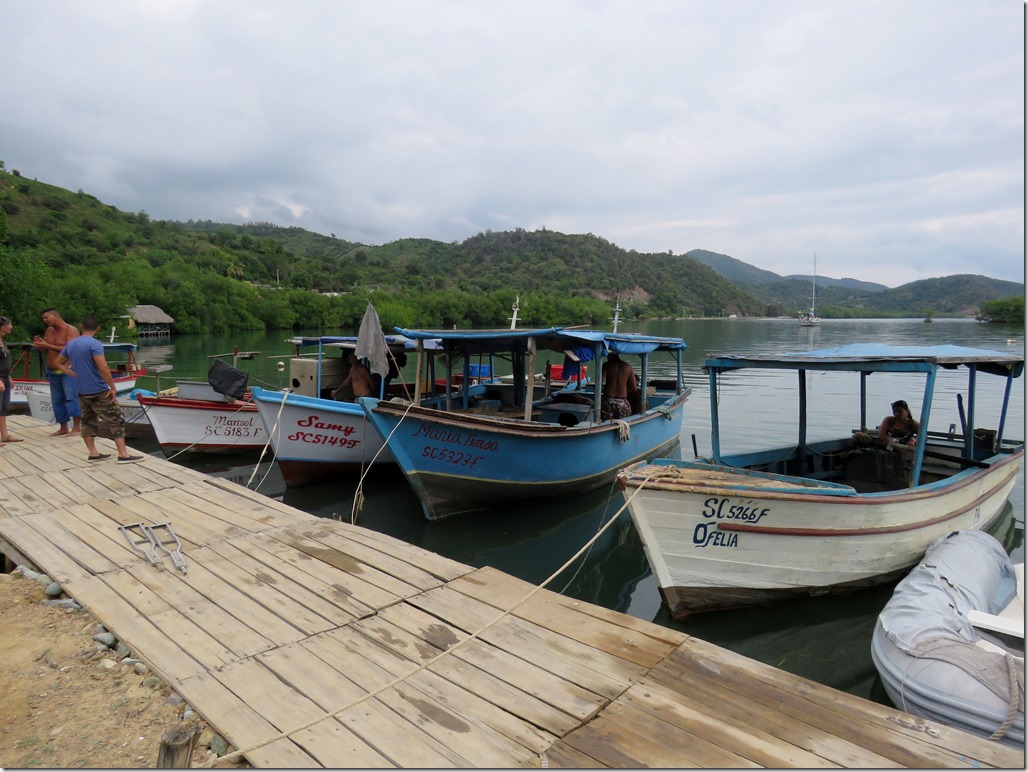 The little fishing port of Chivirico
We met a very nice guy who invited us to eat at his home. He is a welder and we had one of the legs of our cockpit table broken. It rusted so badly that it simply broke into two. I brought the leg to him as he told me he could make me a new one. It was an amazing experience only to watch the guy at work. He lacked basic tools such as vice, a metal hammer, a set of screwdrivers, brushes, sand paper, and of course not even one electric tool to help. Except of the welding machine but he did not have protective goggles either and the electric cable was in a very very bad shape. But after two hours of work and a couple of fried plantains I had a new leg for our table. He did not want me to pay him but I insisted and after some discussion he agreed I will pay him 5 pesos, when I gave him 5 CUC he was almost angry. The next day, him and his wife came to the bay where we are anchored and waited us there with a bag full of vegetables and fruits.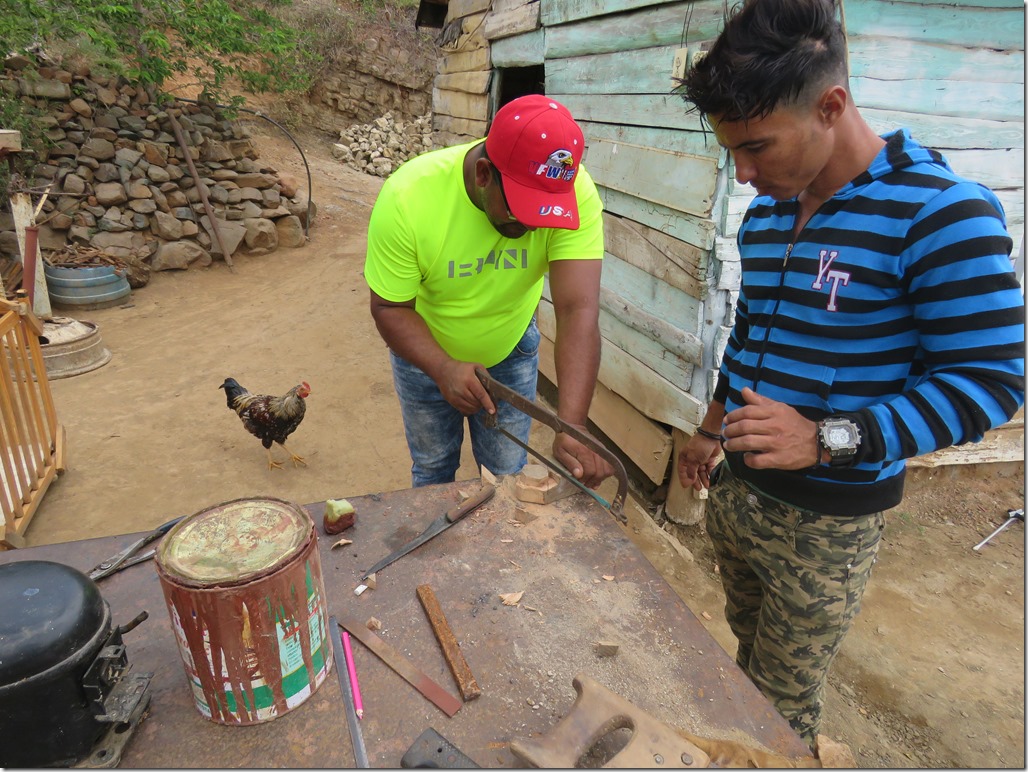 our table's leg in the making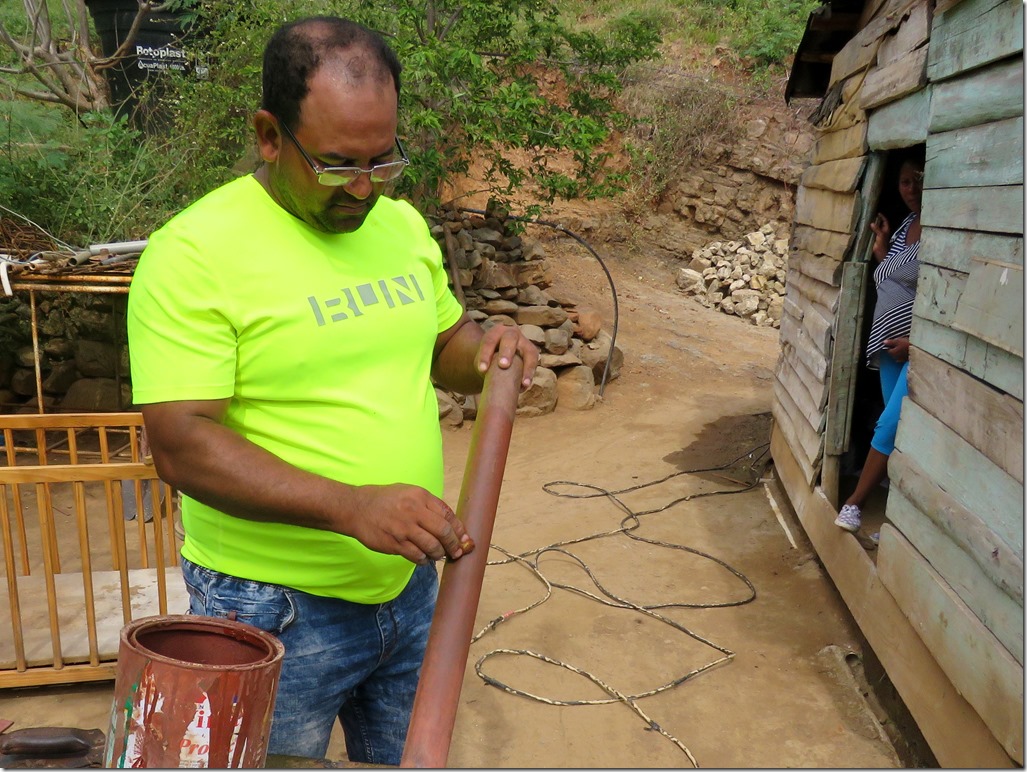 Most of the Cubans don't complain about their situation but we also heard that those who did are not here anymore to keep on complaining. On one occasion a guy told us that what we see is only a façade, underneath things are worse and people are really poor and the their frustration keeps boiling. But nothing will change he told us. The next president is married to Castro's family and he will be exactly the same.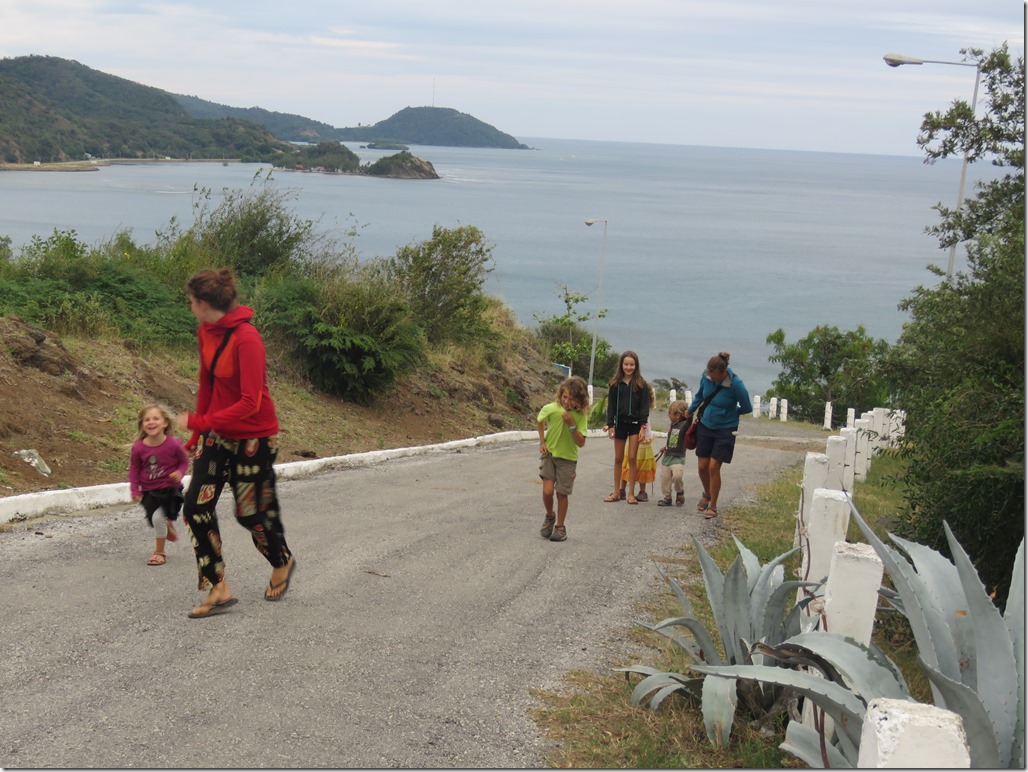 Walking up to the hotel at the top of the hill overlooking Chivirico's Bay
The hotel's parking. This was the only car around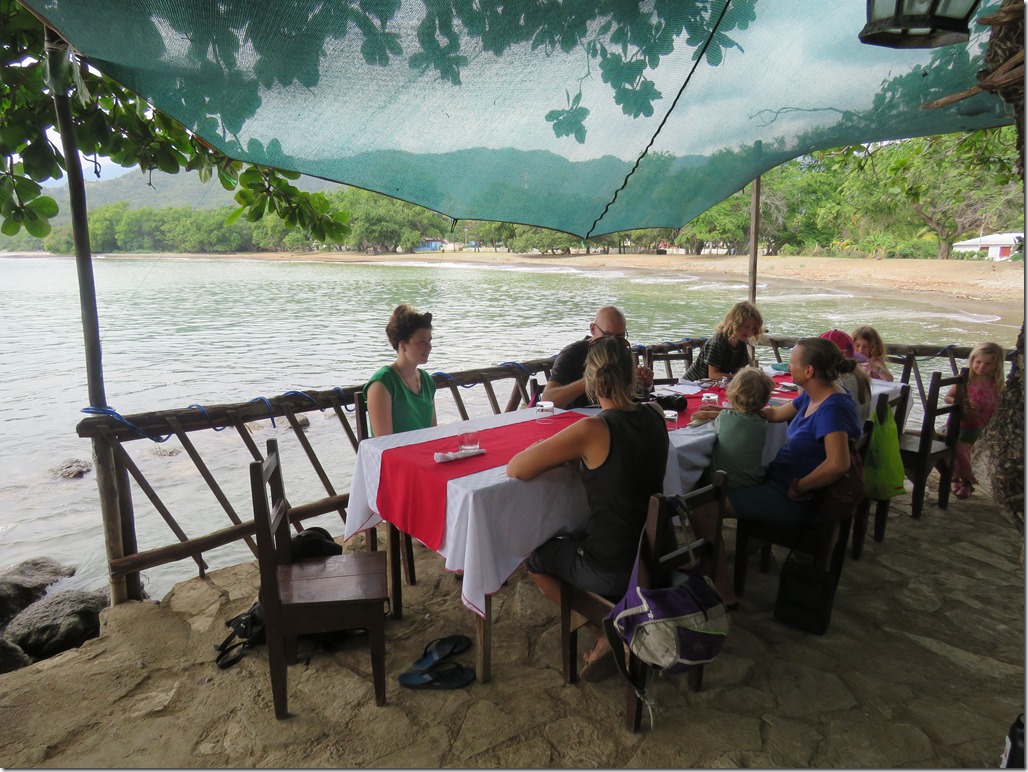 A tourist's restaurant in Chivirico. On the menu – shrimps, grilled chicken, rice, fried green bananas and the mixed vegetables we were promised was actually choux from a can that fermented. The bill – 20 CUC, with the drinks.
In every bay we stop the guarda-frontera, the Cuban coastguard, pay us a visit. They either row themselves, hitch-hike with a fisherman or ask us to come and pick them up. Wearing different uniforms at different ports they always come barefoot and never have a pen with them. They are filling the same paperwork and ask the same questions – what engine we have and what colour is our hull and how many litres of water we carry. Sometimes they ask for a shot of rum, sometimes for coffee with milk but they are always very friendly and polite.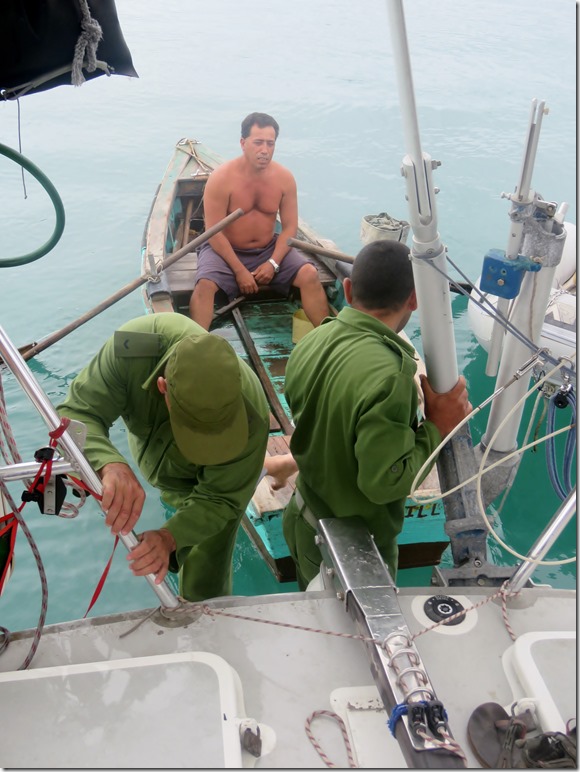 La guarda-frontera at Marea del Portillo and the fisherman that brought them to our boat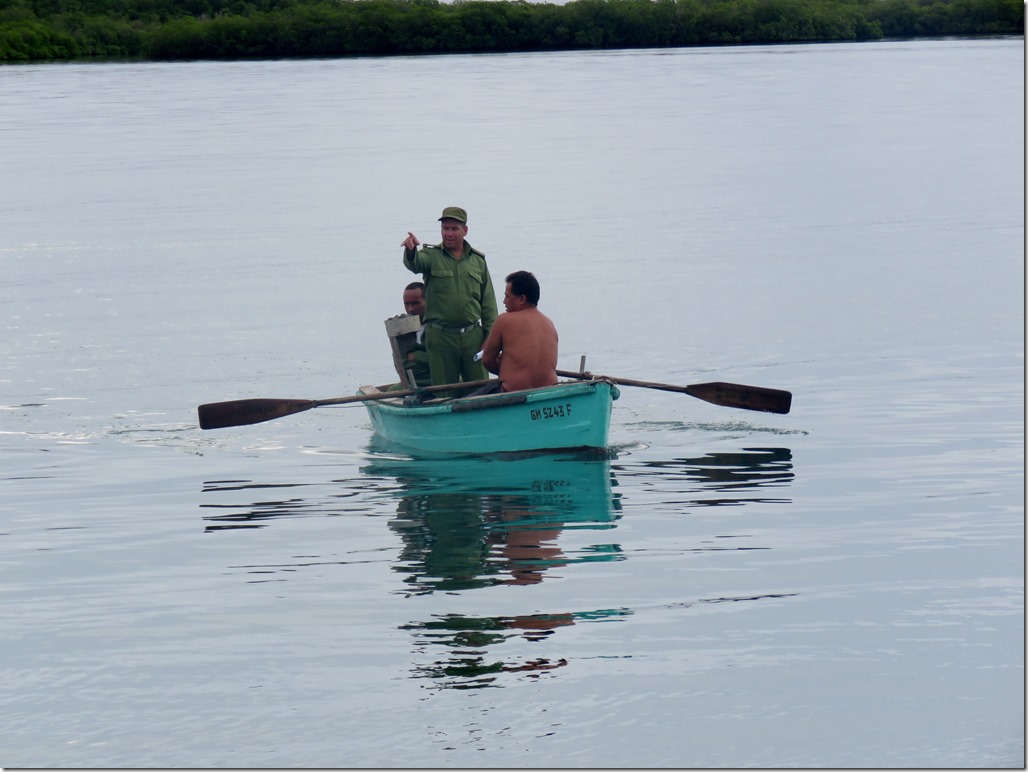 This one reminds of a film about Columbus arriving in the new world
Here I had to go and get the guarda-frontera officer
At the village's main street, a long straight dirt road, a horse pass by, a couple of young guys on bicycles, others on foot, a horse carriage, an old telephone booth where only domestic calls are possible, a pig here, turkeys there and a couple of goats cross the street. Everything moves in a different rhythm to the one we are used to. Except for the paid WiFi at the park this is probably how a small rural village in Europe looked like 70 or 80 years ago. But this is Cuba in 2018.

In the hills surrounding Marea del Portillo you come across horses, cows, sheep and goats as vultures fly overhead. We found a little stream where the kids could build a small damn and dig a tiny swimming pool. Except for one Cuban cowboy there was no one around.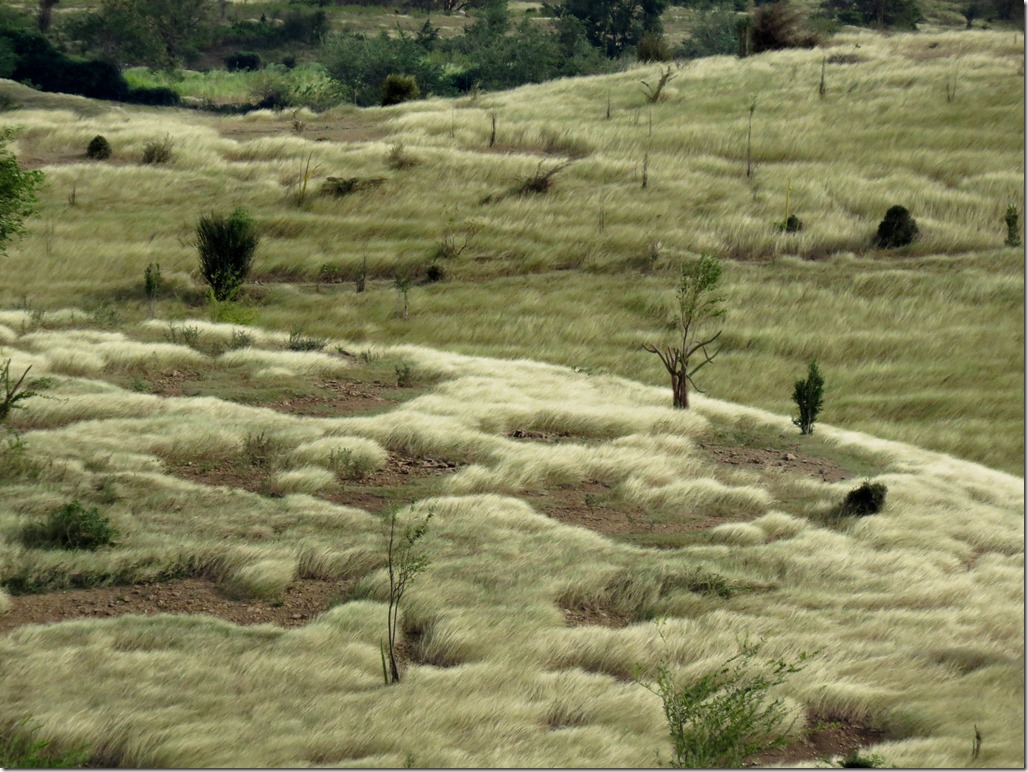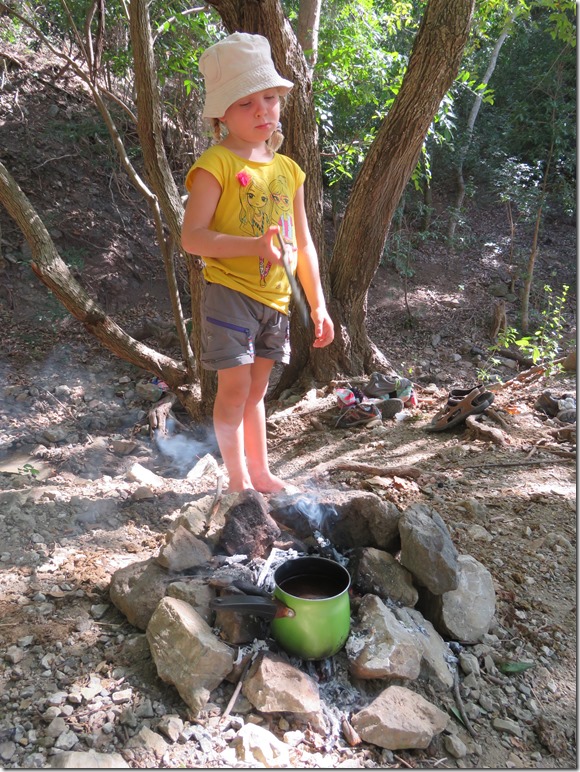 Nothing beats cooking good Nachla coffee on an open fire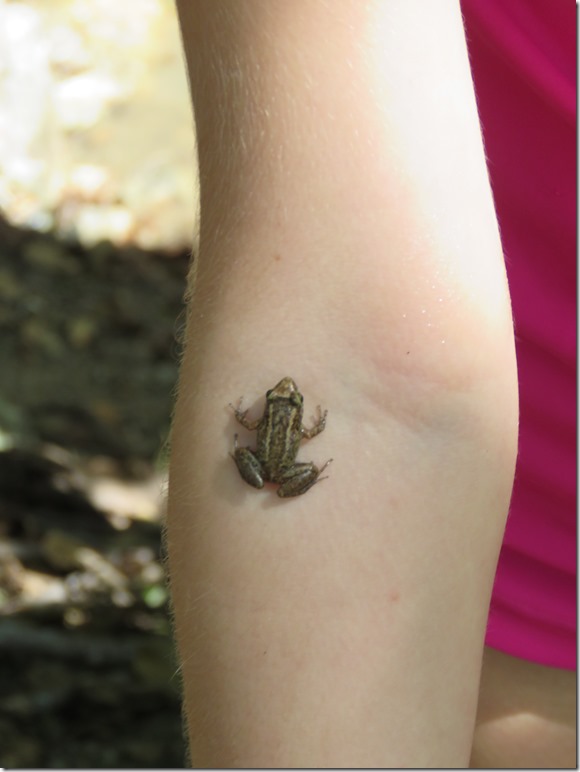 Noa's new friend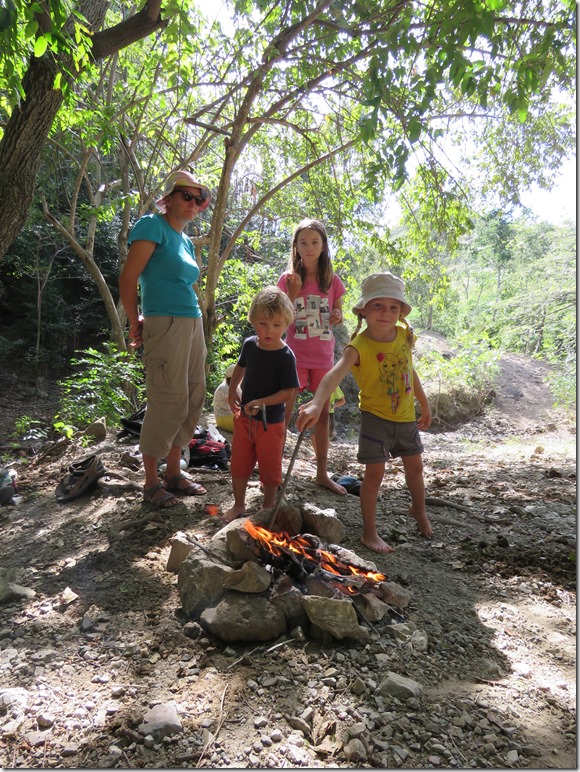 And in between all these terrestrial adventures we had some great sailing. Mostly without too much wind (except for one day with a squall that brought us 35 knots while we were sailing wing-to-wing with all sails up) and sometimes with plenty of rain. Since we left Santiago we met only briefly one other sailboat that crossed our path going eastward. Otherwise, at the anchorages it's only our new Swiss friends on Meli Melo, Kattami and us.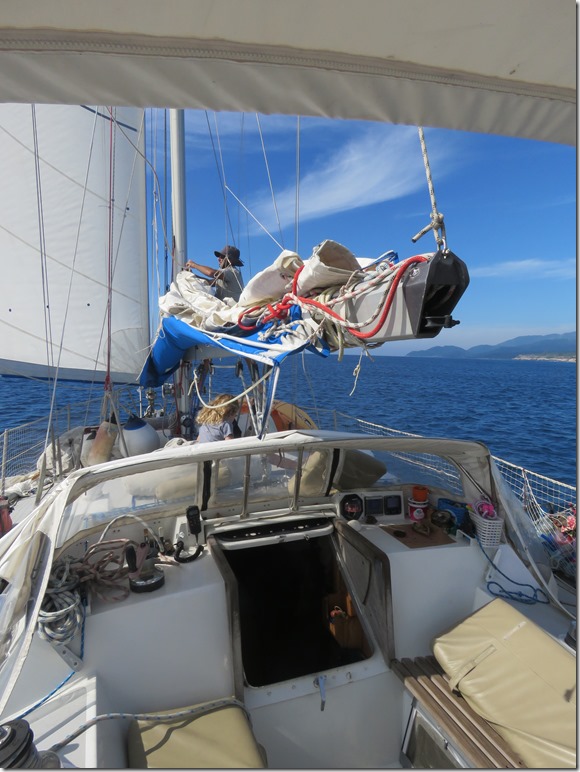 raising the main at Santiago's bay entrance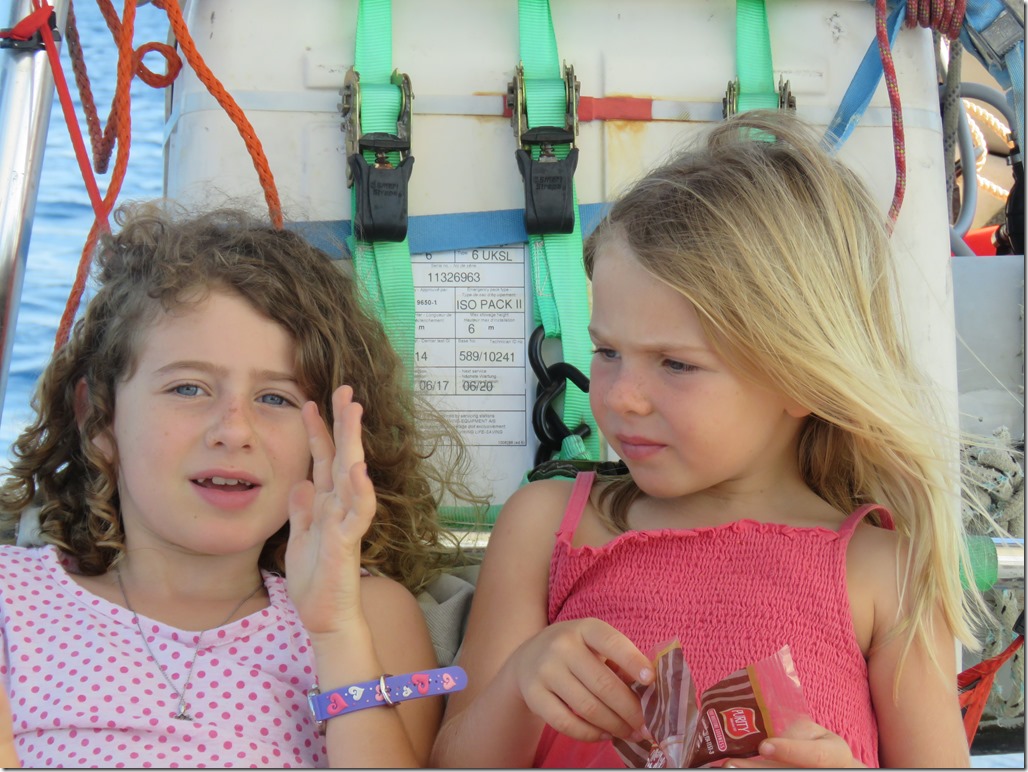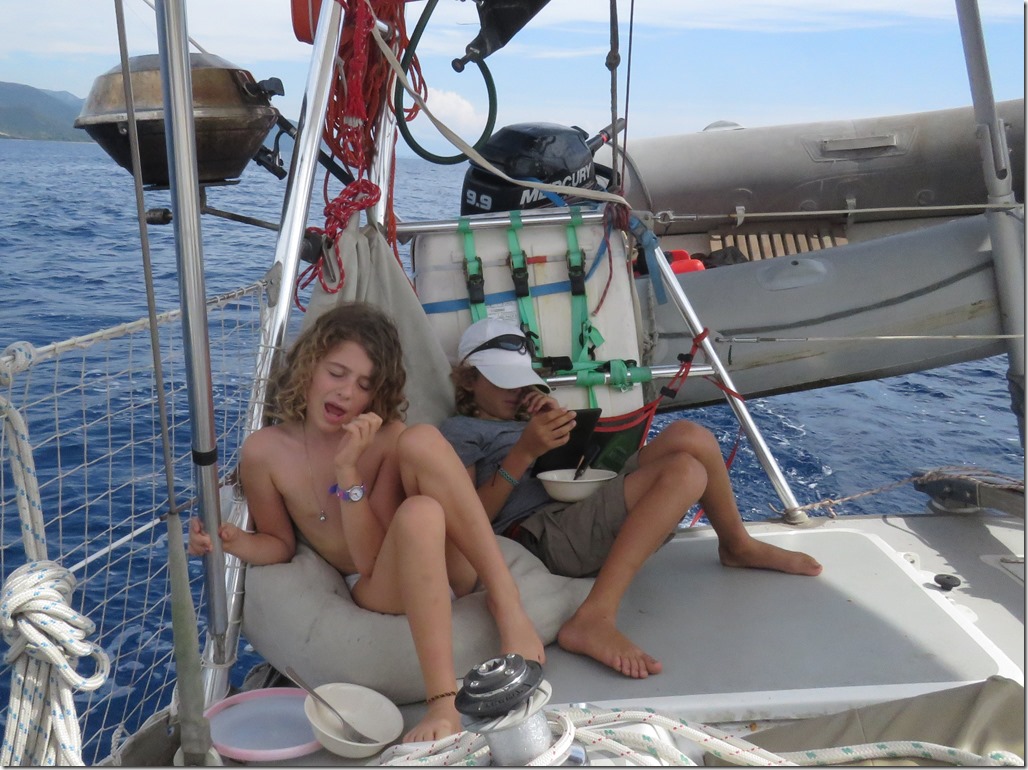 Noa is singing while her brother tries to read

Fishing is also good around here. This big barracuda we actually gave to some local fishermen as we did not want to take a risk having ciguatera