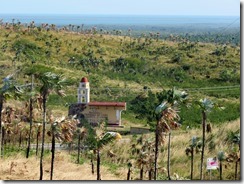 Virginie told me about a chineese saying that when one arrives at a crossroad and does not know if he should turn right or left he should sit down. The decision will show up somehow.
So that is exactly what we did in the last 4 days – we stayed inside our boat getting away from the cold wind that blows since one week and just waited for the decision to show up.
And the crossroad ? Well, it's not really a life or death matter but it did keep us pondering. We needed to decided where
next ? West, East, South or North ? Well, we cannot sail North from Casilda so that helps – one option is off the navigation table.
First thing we did when we arrived in Casilda was a major clean up
Anchored in the little bay of Casilda
Fishermen at the entrance to Casilda
Should we go back east, against wind and current all the way to Santiago, round Cabo Maisi and then head to the Bahamas ? On our way to Casilda we missed Jardin de la Reina – a national park consisting of a collection of small cays with diverse fauna – from sharks to dolphins and even whales and whale sharks, herons, pelicans, frigate-birds, iguanas and some crocodiles. The cays itself provide plenty of anchorages in between mangroves and coral reefs. The echo we received from other cruisers however, is that the anchorages are often far away from both the corals and the beach if there is any at all as the cays are only mangroves.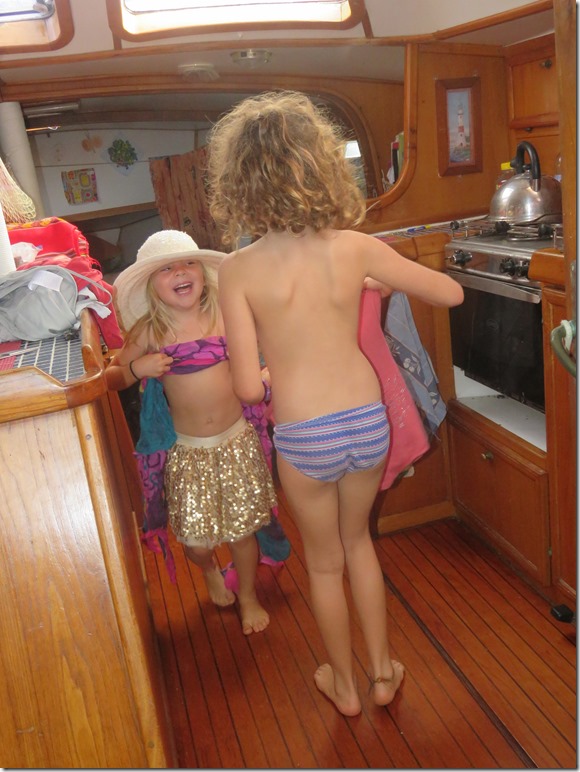 Girls having fun playing princess and queen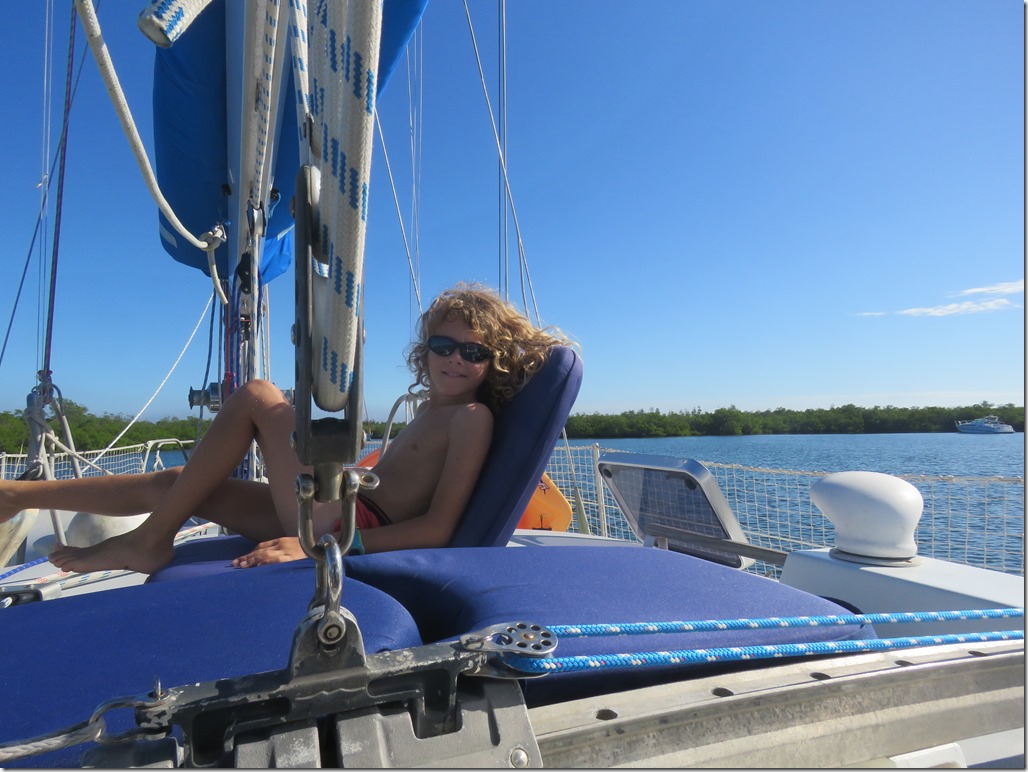 while Amos plays the king
But yet another reason to go back East is to see again all the great Cuban people we met along the way and spend some more time with them, especially Angel and his family in Santiago. But then again, beating to weather is not fun and waiting for the right windows will take us time.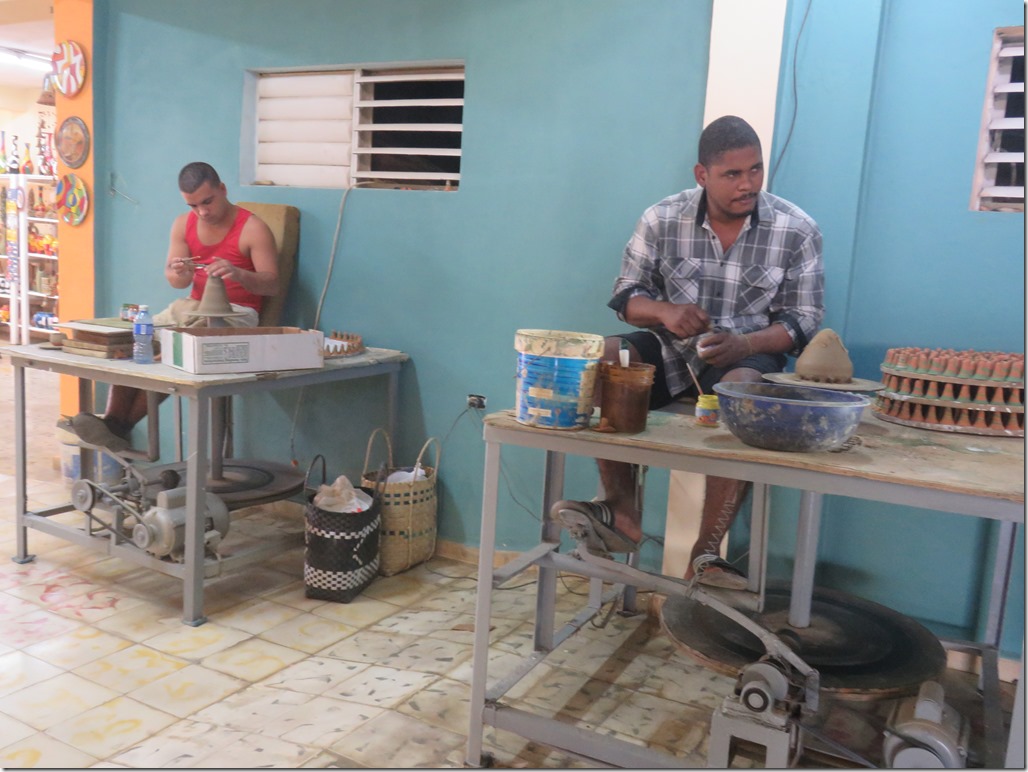 A ceramic factory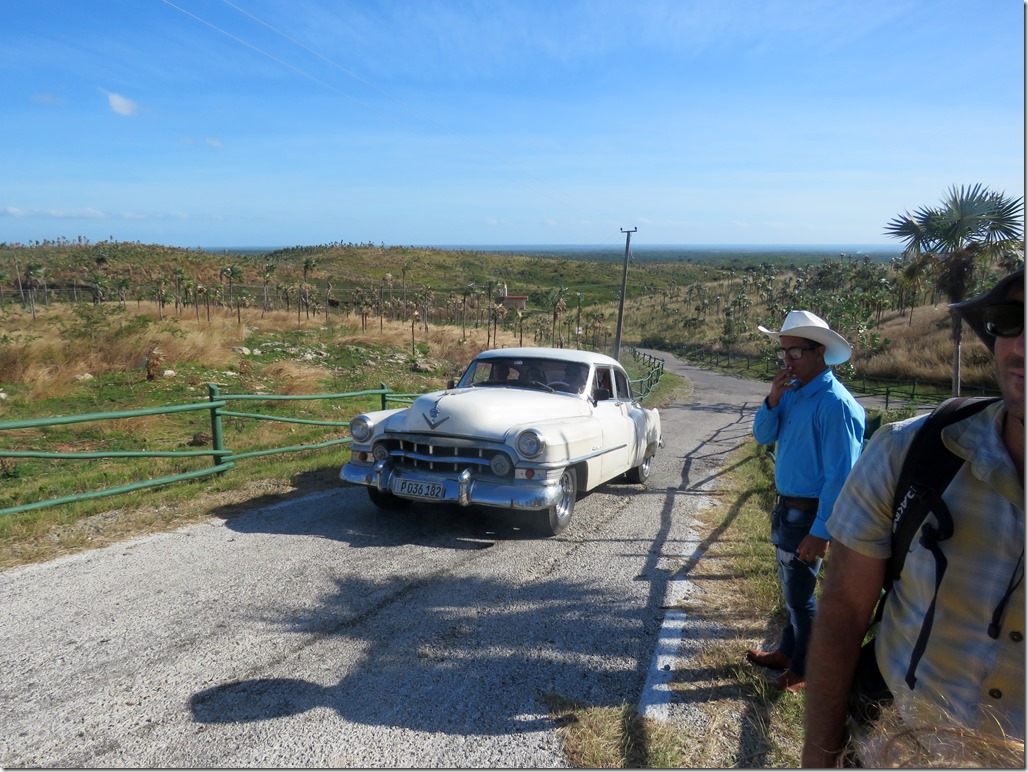 A trip around the hills surrounding Trinidad
We could also instead keep on sailing leisurely with the wind in our back westward to Cayo Largo with its turquoise water, white sandy beaches and great diving. Around Cayo largo are other cays some with specific interest like Cayo Cantiles where there is an Estacion Biologica that studies the monkeys that live on the island. Afterwards we could head back to Santiago via Marea del Portillo and Chivirico. But then again, this is against the wind and our new visa expires in 3 weeks and we might find ourselves pressed in time.
Where shall we go today?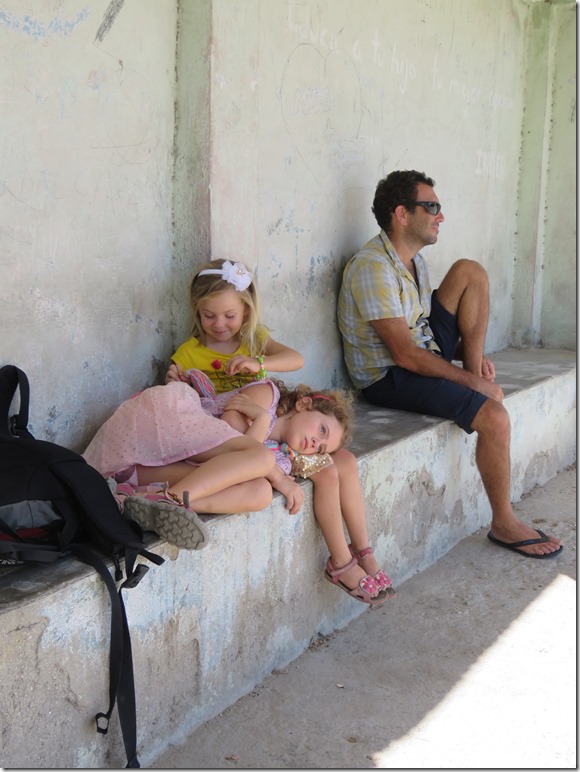 Waiting for the bus
We would also have liked to go through the Ragged Islands in the Bahamas. This long chain of tiny islands lies only 60 miles north of Cuba offers one of those off-the-beaten track of the Bahamas with amazing cruising yet very little cruising boats around. But two days ago we heard from another cruiser that Irma left her mark on the islands or should I say – did not leave anything on the islands. Duncan Town, the only settlement in the whole island chain is a ghost town and it is impossible to clear into the Bahamas there anymore.
Vegetables shop in Trinidad
and the butcher
So maybe forget about east or west and lets head south to the Cayman islands where western malls and facilities, British manners and some of the best diving sites in the world awaits us. After spending some time in this little island we could head back north, through Santiago, Cabo Maisi and the Bahamas. But when we are reminded that entry to Cuba cost us 450 USD it blows away all the air from our sails.
Choices. Decisions. Hard life.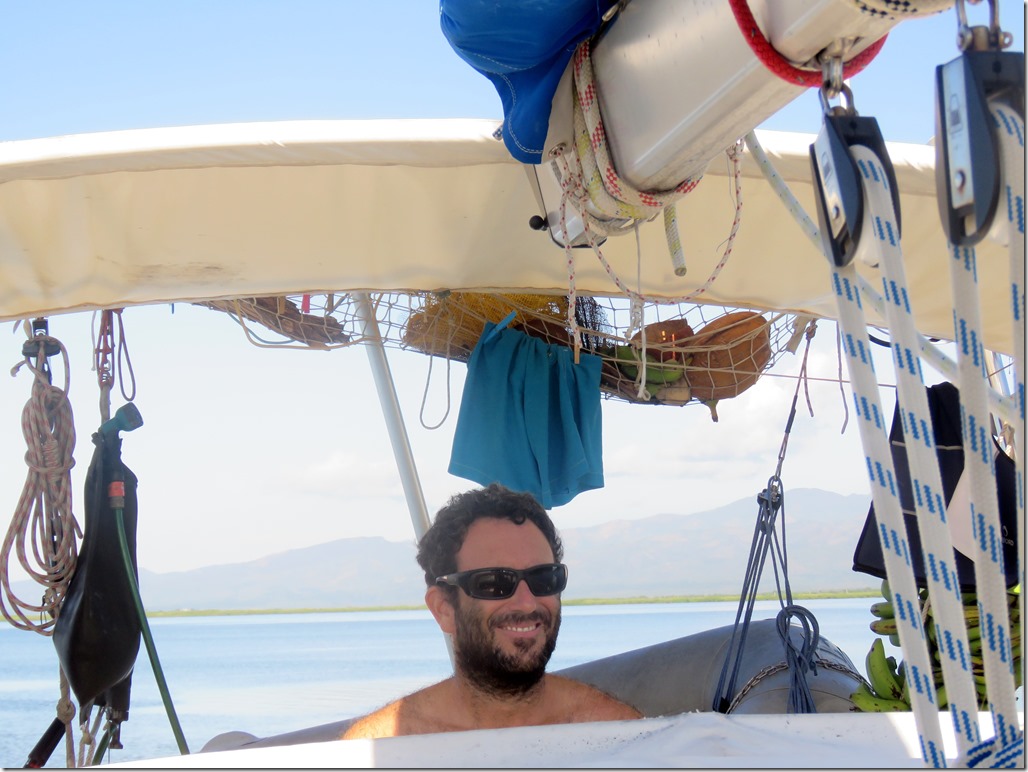 just kidding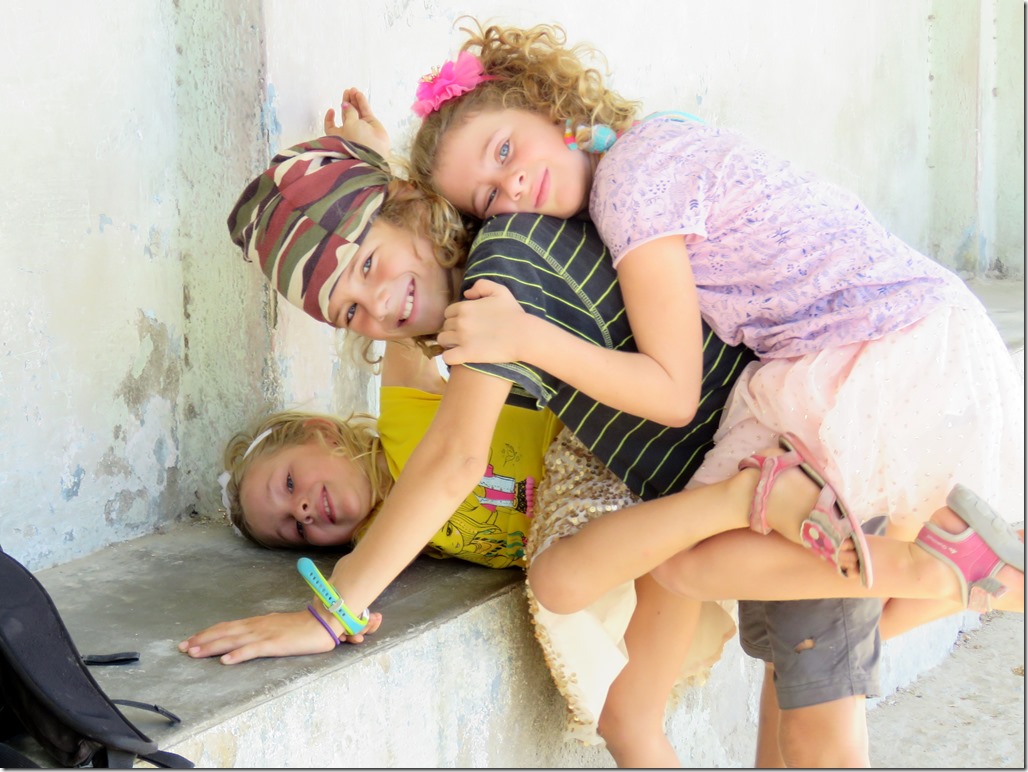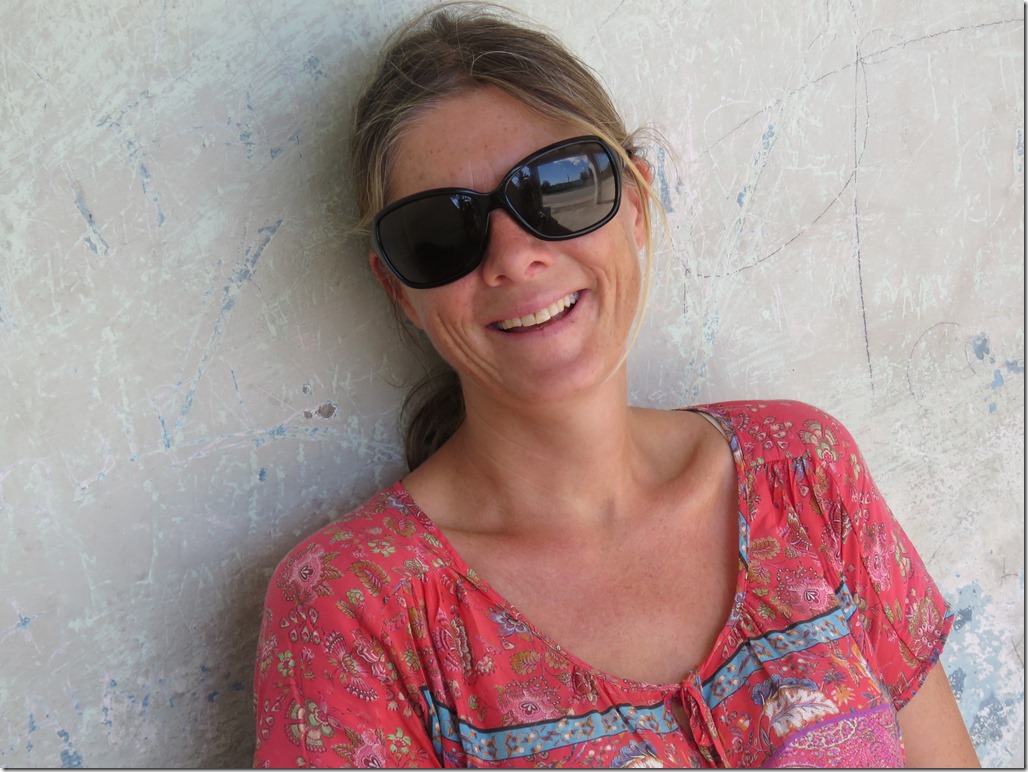 Problem is we don't like Casilda. It's the first place in Cuba we don't like. We are anchored in a small bay enclosed from all directions by mangroves and behind us a small unattractive marina. This last has absolutely no facilities – no showers, no toilets, no gasoline nor diesel, no drinking water. Only a dinghy dock and a security guard at the entrance to the marina.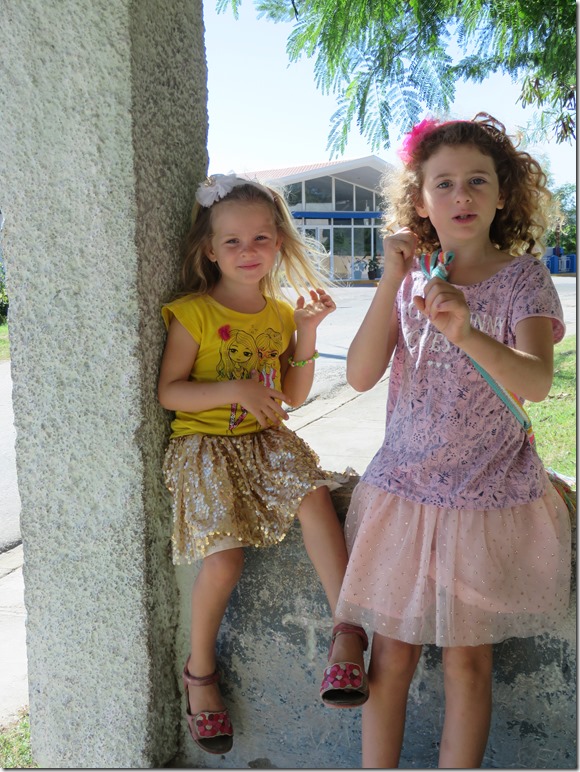 But they still charge us for anchoring in the bay 10 CUC a day. And when we ask for services like laundry or filling our gas bottles they are very reluctant to do anything and always ask for big sums of money (like 20 CUC for one load of washing).
Outside of the marina there isn't much either. Except of a long beach and a Cuban style all-inclusive hotel where cruisers get a cold shoulder to use their internet.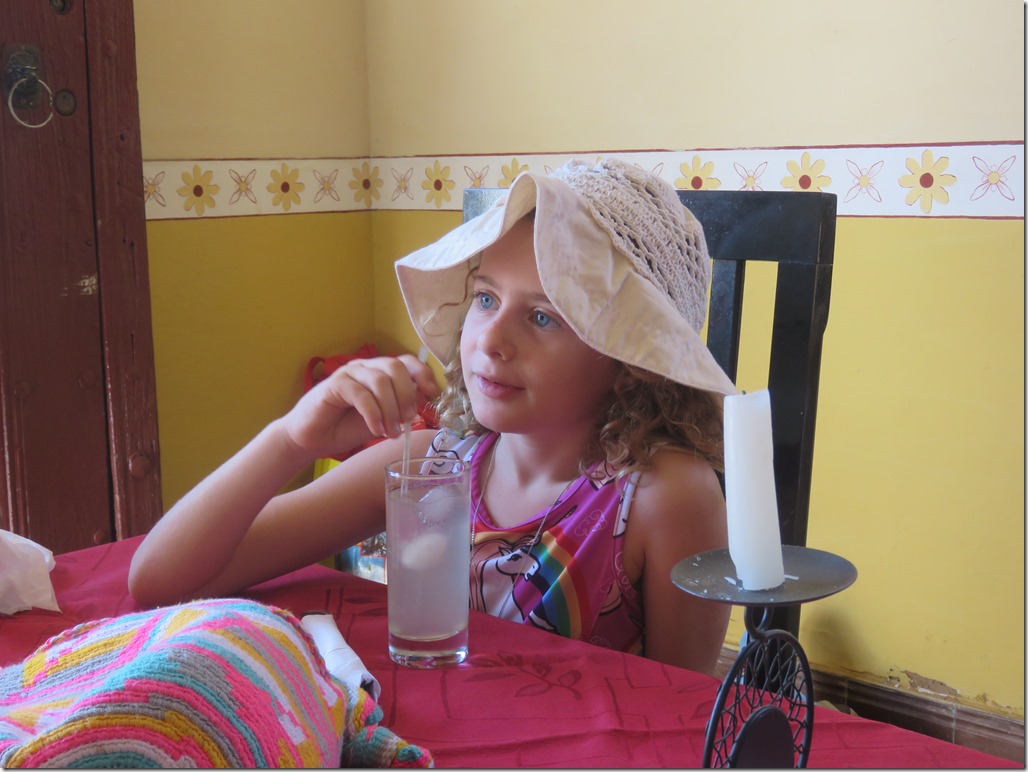 my beautiful princess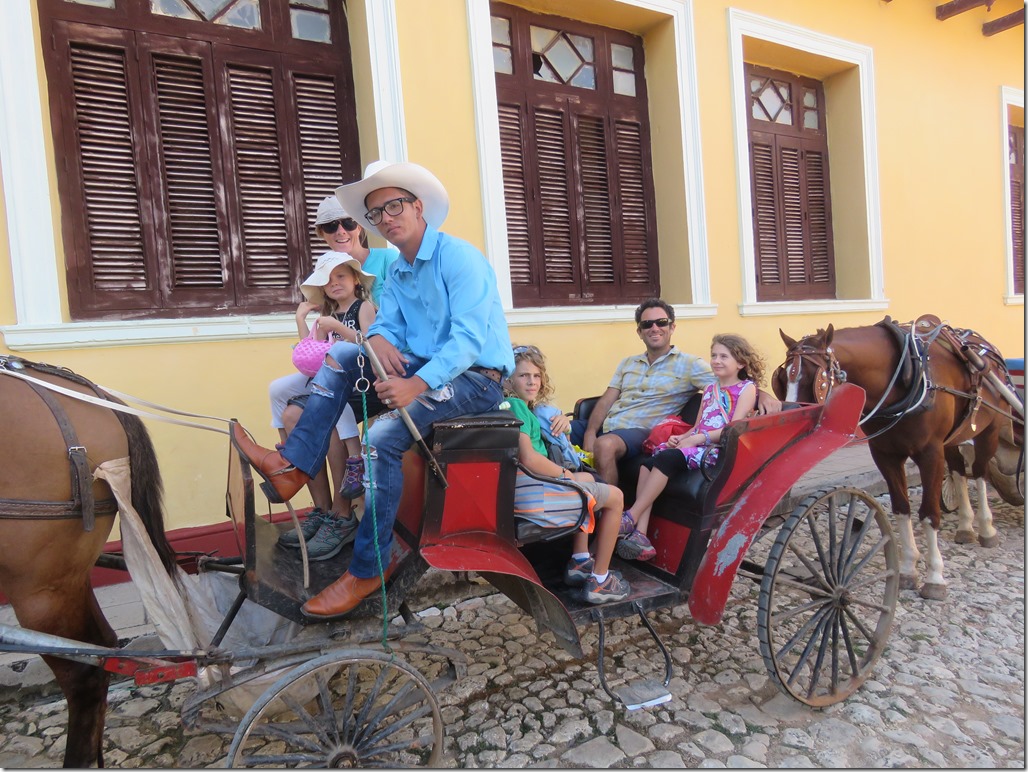 No visit to Trinidad is complete without a tour on one of these wagons
The marina personnel are not the kind and welcoming cuban we got to know so far. They have been spoiled by the many tourists that frequent the area. Trinidad, only 14 km to the north is one of the prime tourists destinations of Cuba and many come over here for the beaches and for excursions on big catamarans to the nearby cays. They come here for one maybe two weeks vacation they don't mind spending 15 CUC for a taxi, 2 CUC for a beer and 15 CUC to eat a bad meal in a government run restaurant, they probably pay more at home. And then the cruiser who counts every single peso he spends arrives and the guys around the marina don't even want to do business with him because he complains about the high tourist prices.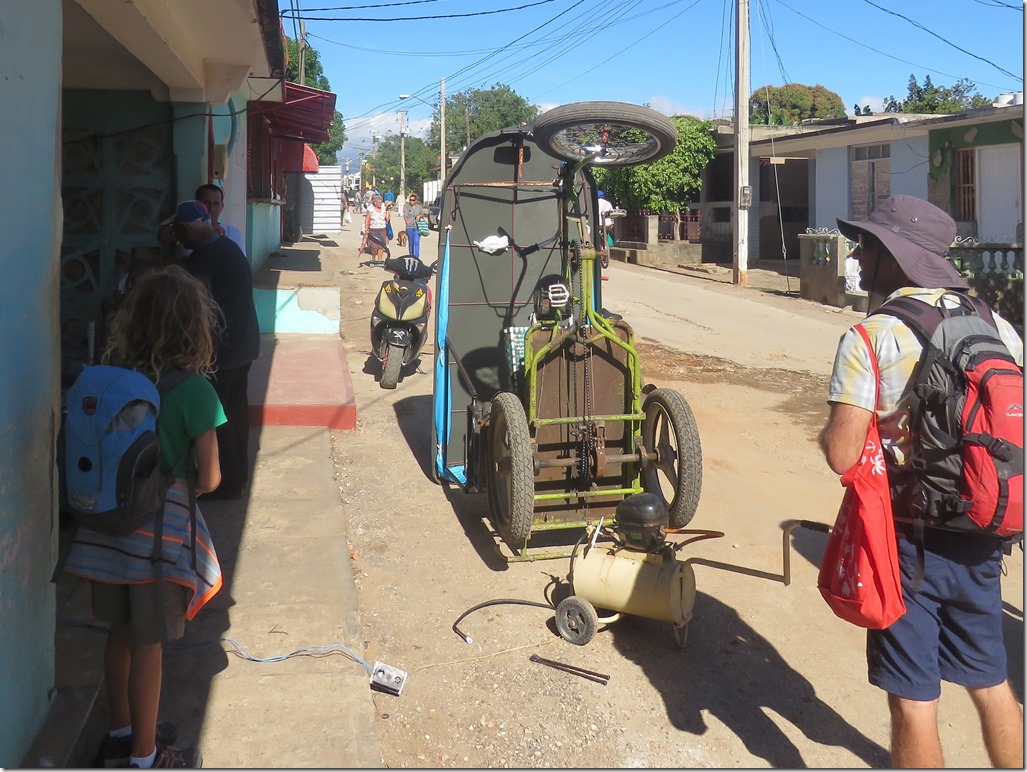 A home made air pump made from a metal can and a refrigerator compressor. Even in Trinidad it is enough to walk ten minutes away from the centre and find real Cuba again. In one of the streets we found a pneumatic repair shop owned by a family with very little means but using very inventive measures.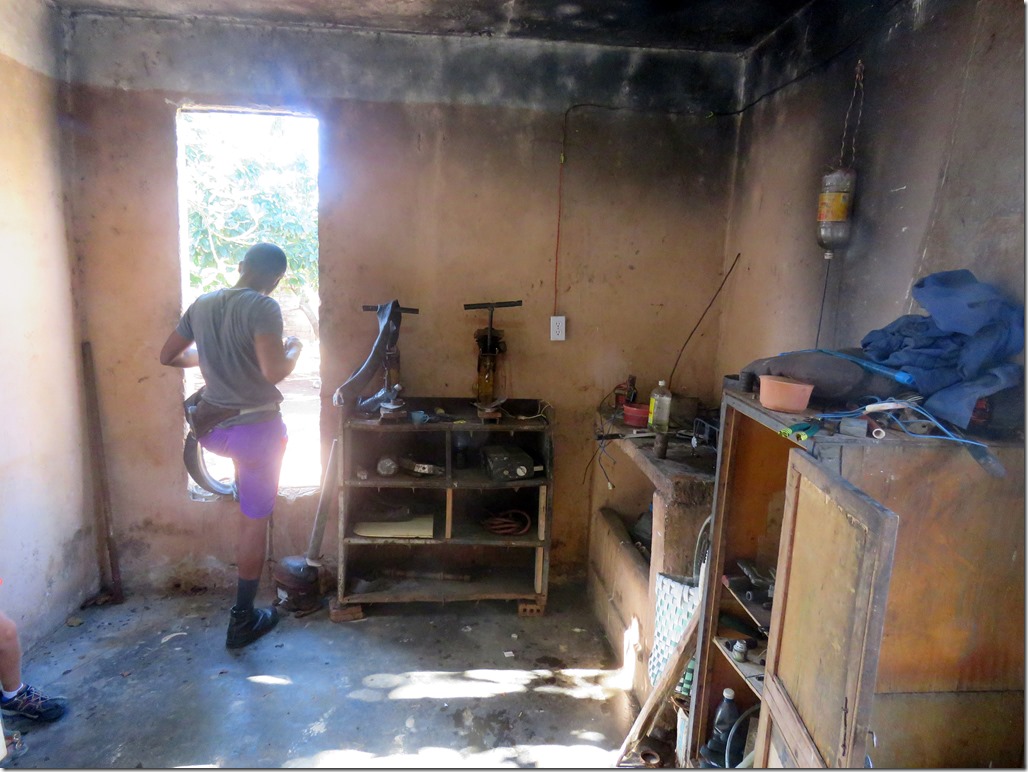 the repair shop
Trinidad itself is beautiful with a nice atmosphere but the streets are full of tourists and it does not have the authentic feeling other places like Marea del Portillo or even Santiago had. In the last days we met a couple of cruisers who did not like Cuba at all, some even hated it. We could not even grasp how is this possible. Their experience was completely different than ours but now after spending only a couple of days in Casilda we can understand this better. These cruisers started their Cuba cruising either in the tourist island where not even one Cuban lives there permanently – Cayo Largo or here, in Casilda. This is not the Cuba we fell in love with. That of simple people yet warm and welcoming, that of people who manage to survive with the little means they have and this with a smile on their face.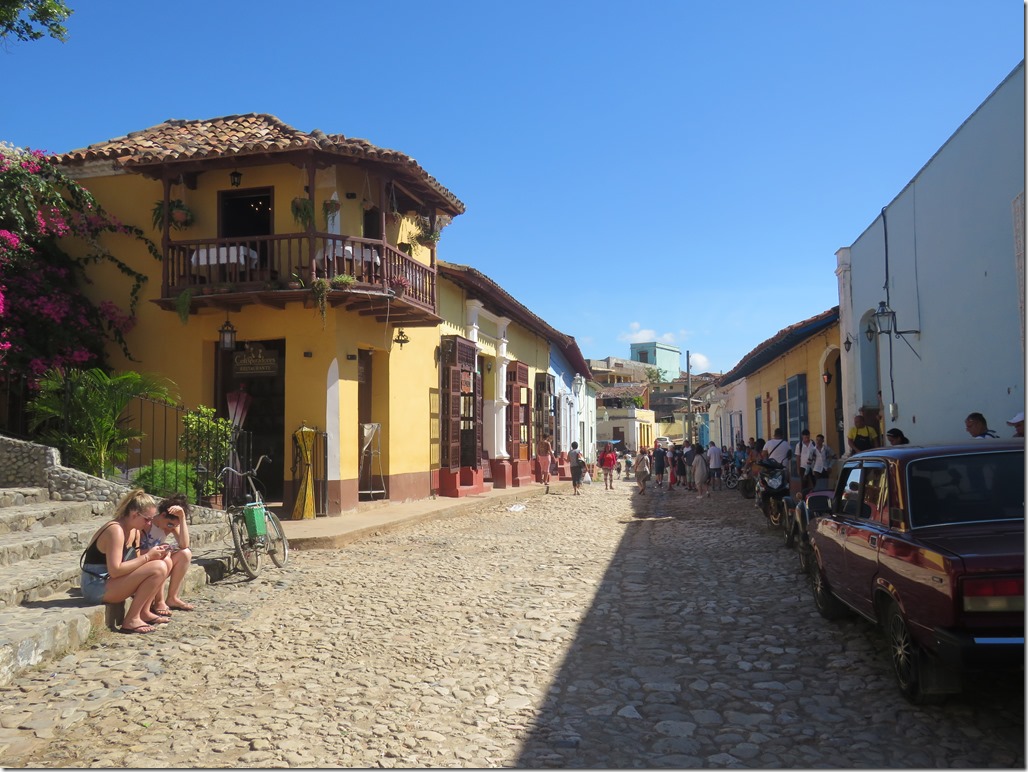 Two different streets in Trinidad – one where tourists stroll the other where Cubans live.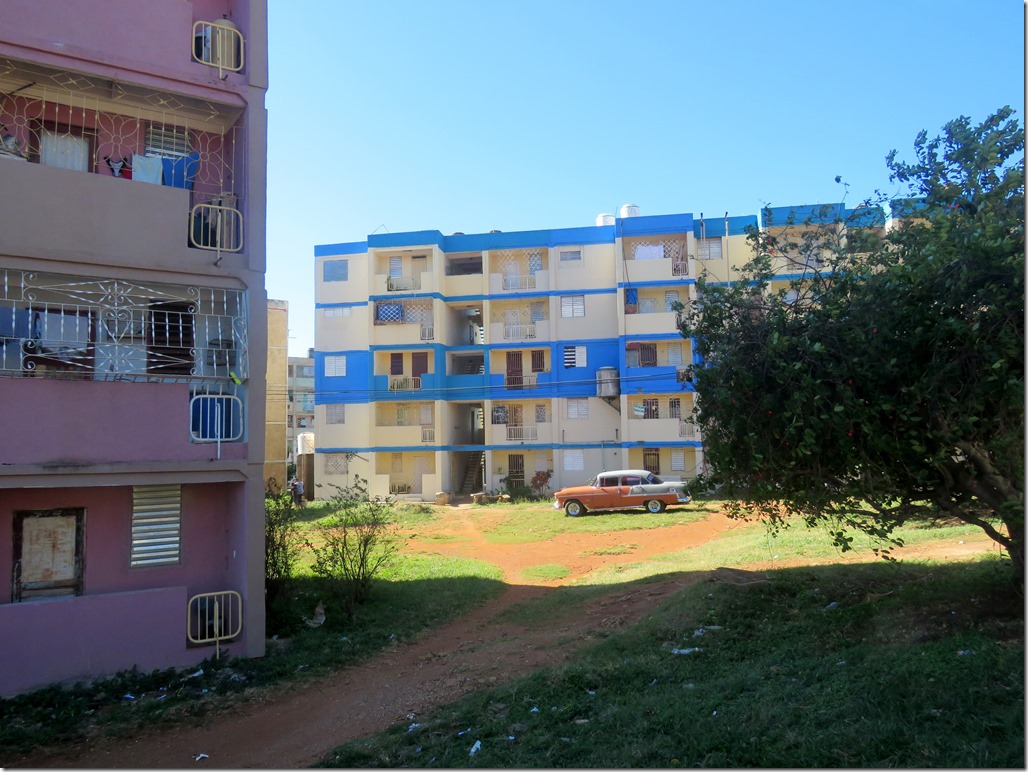 After 4 days of sitting it's time to keep going – a decision finally emerged. We are heading west, direction Isla de la Juventud via the small cays around Cayo Largo. It is great to have once again a plan. Waking up not knowing where you are heading next isn't fun. But the thing we like the most with our new decision is the next destination. No beating to weather nor sailing back in our own wake – both of which we don't like, and no Bahamas either.
Instead we are going to Mexico.
From there we will head directly to the States riding the gulf stream.
Well, that's the plan as of today.