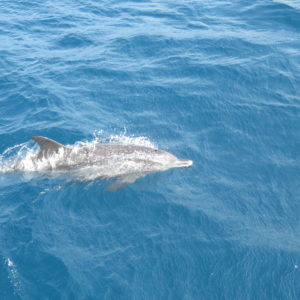 Emails sent via SSB during the crossing from Bonaire to Colombia.
Bye bye Bonaire
Sat, Aug 26, 2017 at 5:28 PM
After one amazing month of swimming with fishes in the turquoise waters of Bonaire we felt ready to keep on with our adventure so this morning we untied the mooring lines and now we are heading to Santa Marta in Colombia. The forecast is for light easterly winds for the next three or four days which is perfect to round cabo the da la vela in Colombia which is considered by some cruisers as a very dangerous cap.
After a slow start we finally apporached Curacao at around 1300 but then the island disappeared under dark clouds with a couple of lightnings to add to the atmosphere. Nomad was flying at 8 knots with about 15 knots of wind and no waves – a real pleasure. The little storm lasted half an hour before the sun came back and we were sailing with all the sails up close to the island shore, the wind from the beam at 10 knots and Nomad advance smoothly – only the smell from all the refineries on land spoilled this lovely moment.
Now we are heading away from Curacao towards Aruba and if everything goes well and the weather forecast wont change much we will keep on directly towards Colombia.
Since this morning we have done 60 miles in perfect sailing conditions – not even one of the crew feels sick! Hopefully it will keep on that way.
our position:
12°10'32N
069°09'19W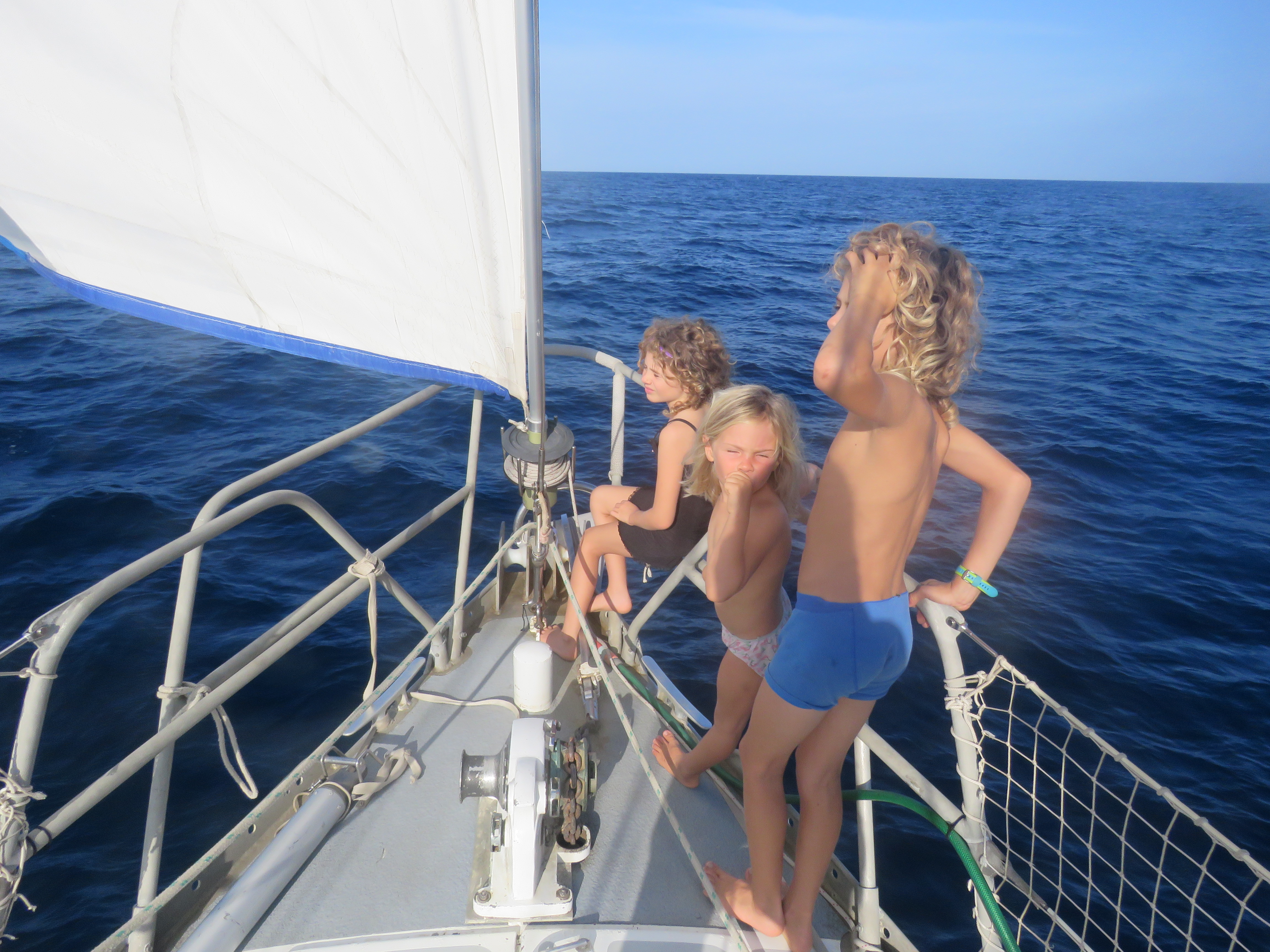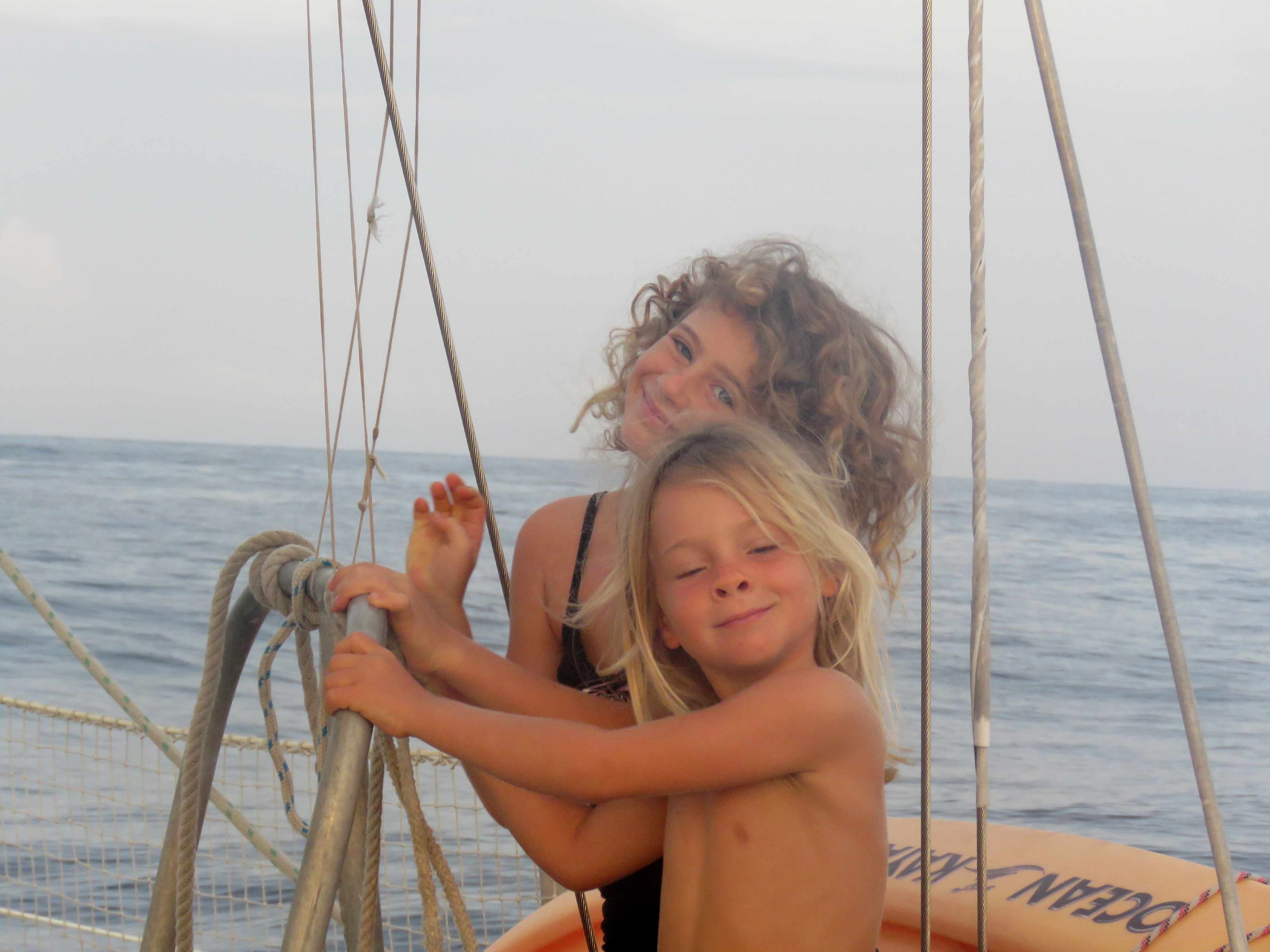 South America
Sun, Aug 27, 2017 at 7:14 PM
Fatigue. It takes time to adjust to the offshore life. There are sails adjustments to make, meals to prepare, and in addition, someone always has to be awake and stand watch. On Nomad we don't have a strict and planned watch turns rather whenever I am tired or Virginie is we simply ask the other one to stand watch while we go to rest and most of the time this works pretty well. This passage is supposed to be a short one – 3 or maximum 4 days. But unlike most of the offshore passages now we pass next to the coast for most of it – from Bonaire to Curacao to Aruba to the Golf of Venezuela and finally we plan of sailing about 10 miles to the north of the colombian coast and so the dangers of ships, little islands or rocks, currents, fishing boats etc. is much greater. So we are all tired. Well not all of us, the kids are in great shape. They slept last night like babies.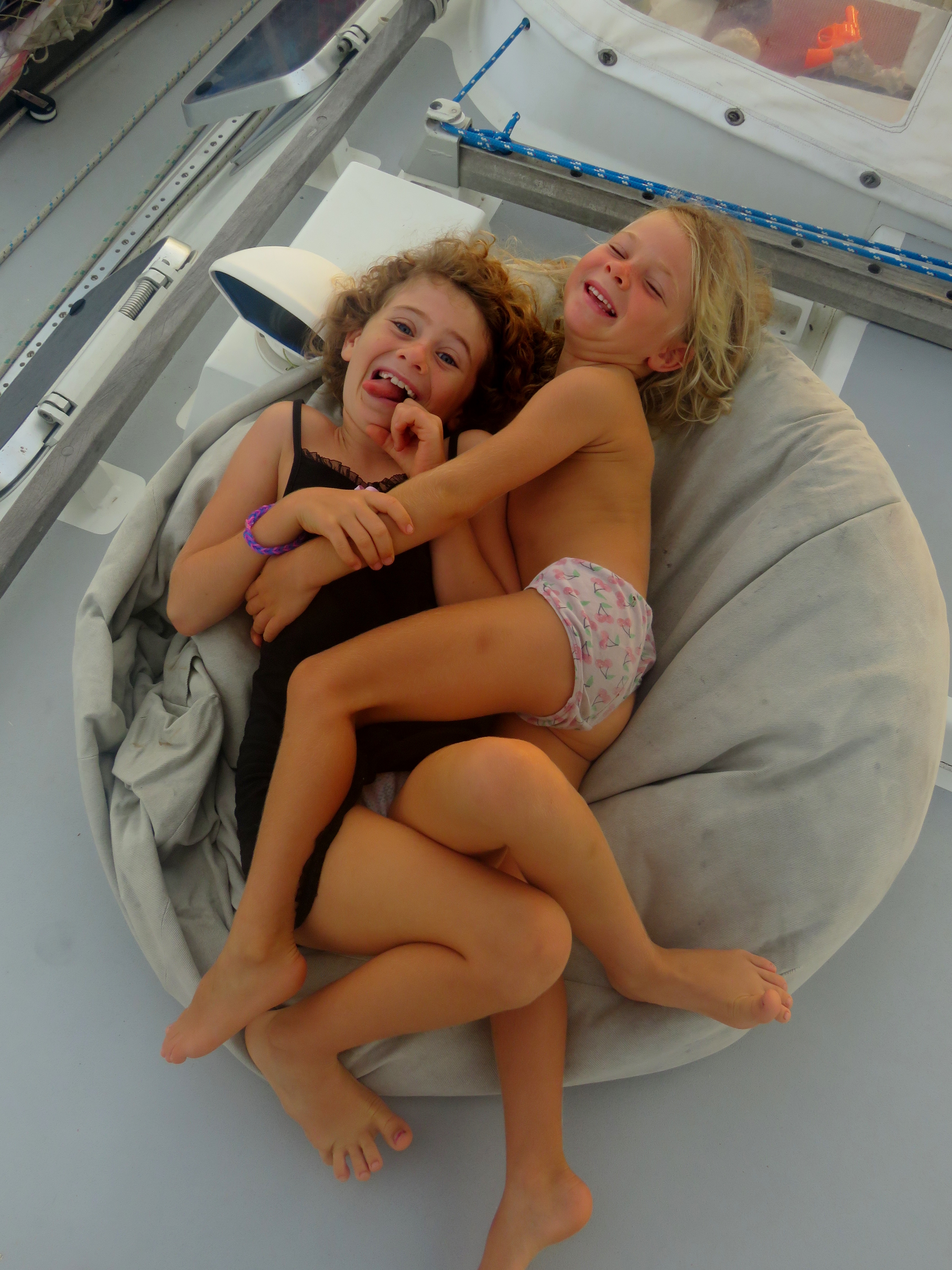 The sea was relatively calm and the boat rolls genetly and only this can make you sleepy already. But virginie and I made turns taking watches. And while we approached Aruba in the beginning of the night it was hard to sort out the island from the floating castles that were parked around it – about 20 big container ships and tankers were anchored nearby and were lit like a christmas tree – they don't have electricity problems as we do..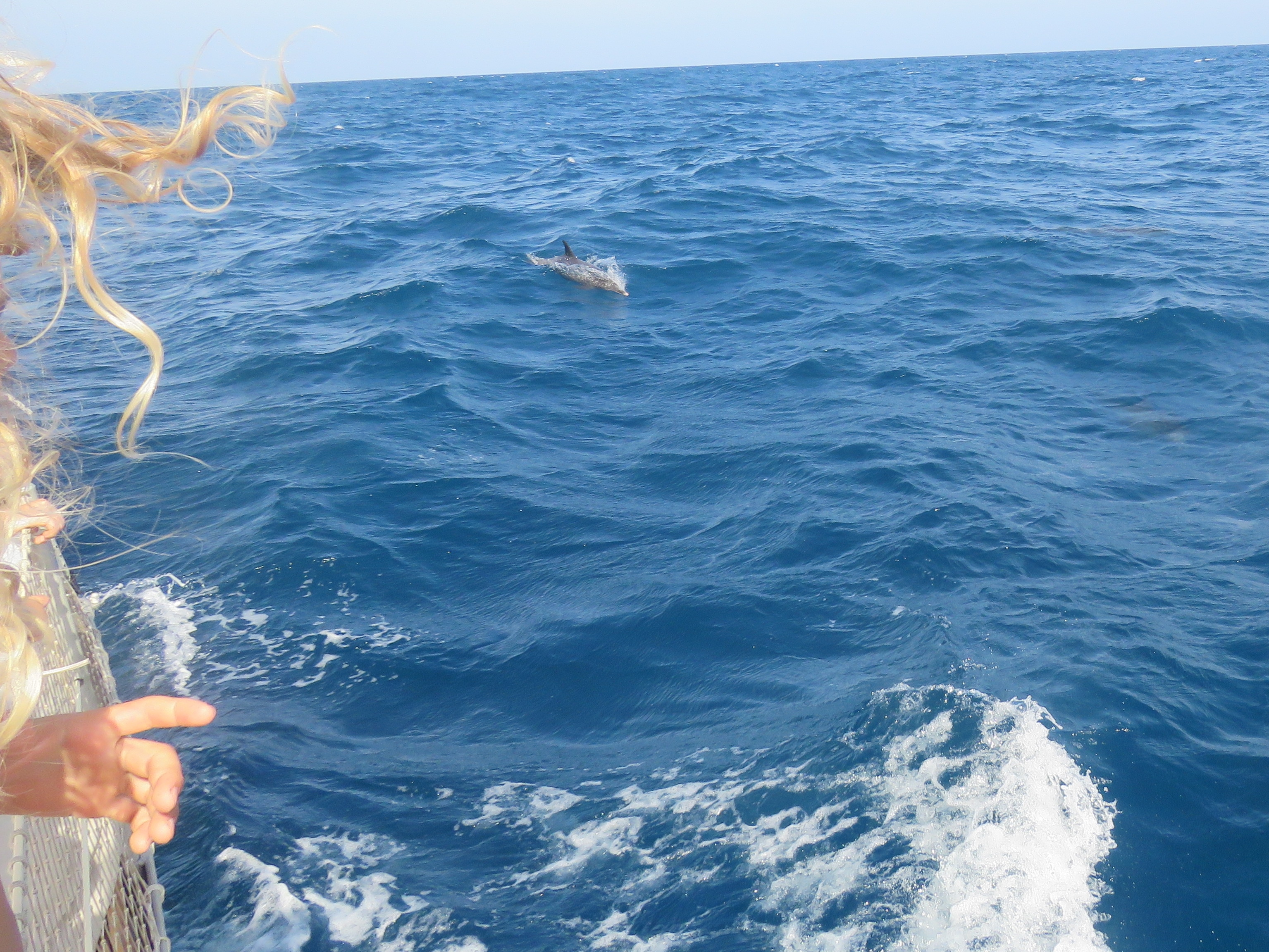 So as Virginie was on watch it was time to change course which meant gibing the main sail. She decided to do it alone and everything went well untill the moment the autopilot decided to stop cooperating. She had to hold on the tiller and so she tried calling me but at last i was really sleeping so she let go of the tiller and grabbed my foot through the small hatch in the cockpit. When I went outside she told me to steer the boat. I had no clue where to – I could sort out land from christmas trees.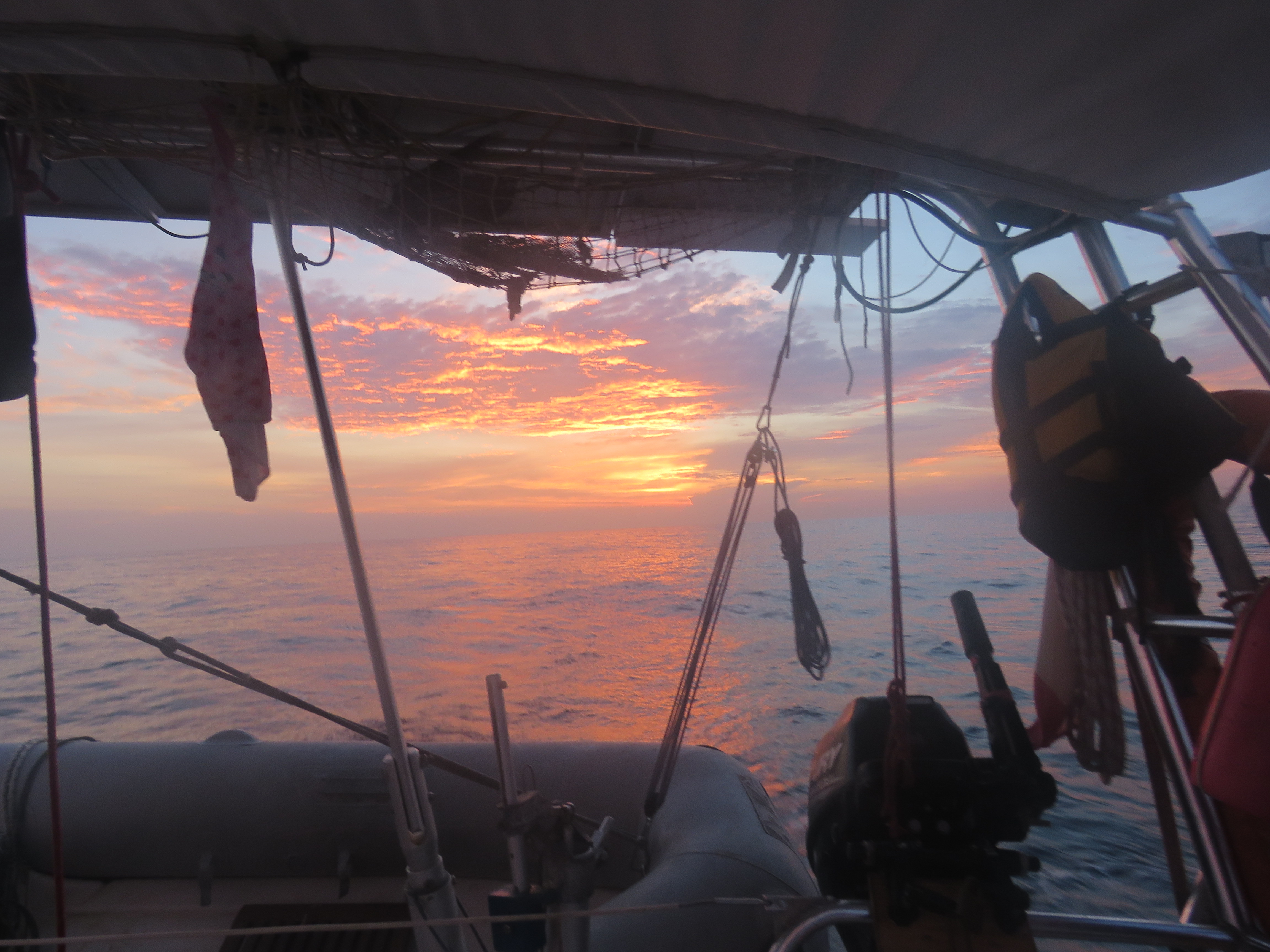 After this episode I went back to sleep only to wake up again after a while from the sudden strong wind gust that came through the same little hatch. It was light already outside but the early morning sun was covered by dark clouds and you could see the ripples on the sea surface – more wind is coming. Nomad was still sailing with all sails up so we hurried to take in a reef and roll the genoa a little. After 5 minutes some 25-30 knots was blowing outisde but it lasted for only 5 minutes also after which Noimad was sailing again smoothly proudly with all sails up.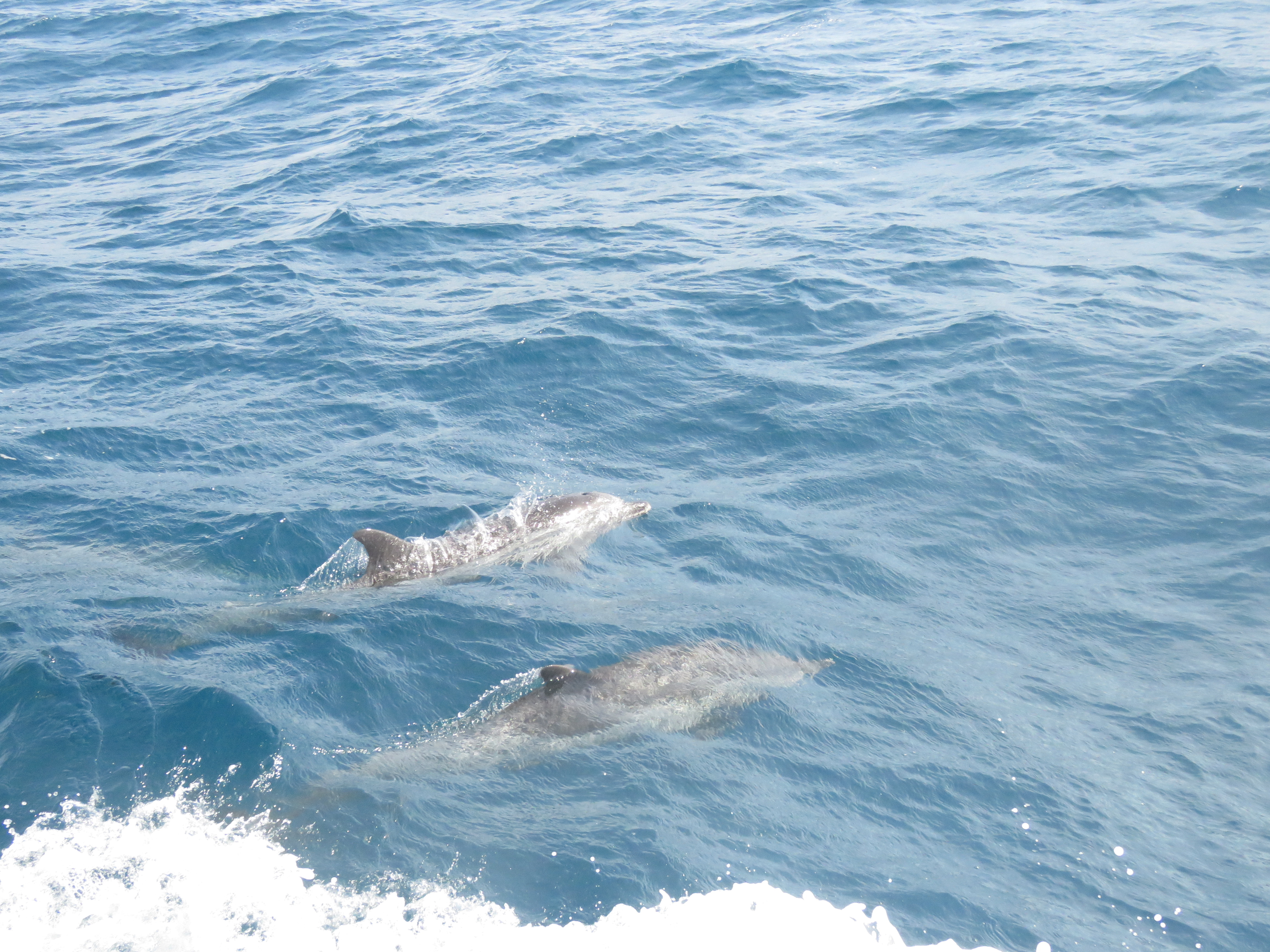 This afternoon while watching the horizon from my favorite place – the bean-bag in the cockpit – I felt really tired. THen Virginie went outside she looks the other side of the boat and shouts – there are dolphins, plenty of dolphins all around! For more than 3 hours this band of happy dolphins swam with us. from time to time one will jump in the air (Amos added he imagined dolphin's jumps to be more gracious) and will get from all Nomad's crew screams of joy. We may be tired but are very very happy.
We now sail on the north coast of the Peninsuala de la Guajira – a little less than 10 miles from the colombian coast. Though we still did not have a glimpse of this coast – not an island anymore but a continent – the south American continent.
our position:
12°34'73N
071°29'25W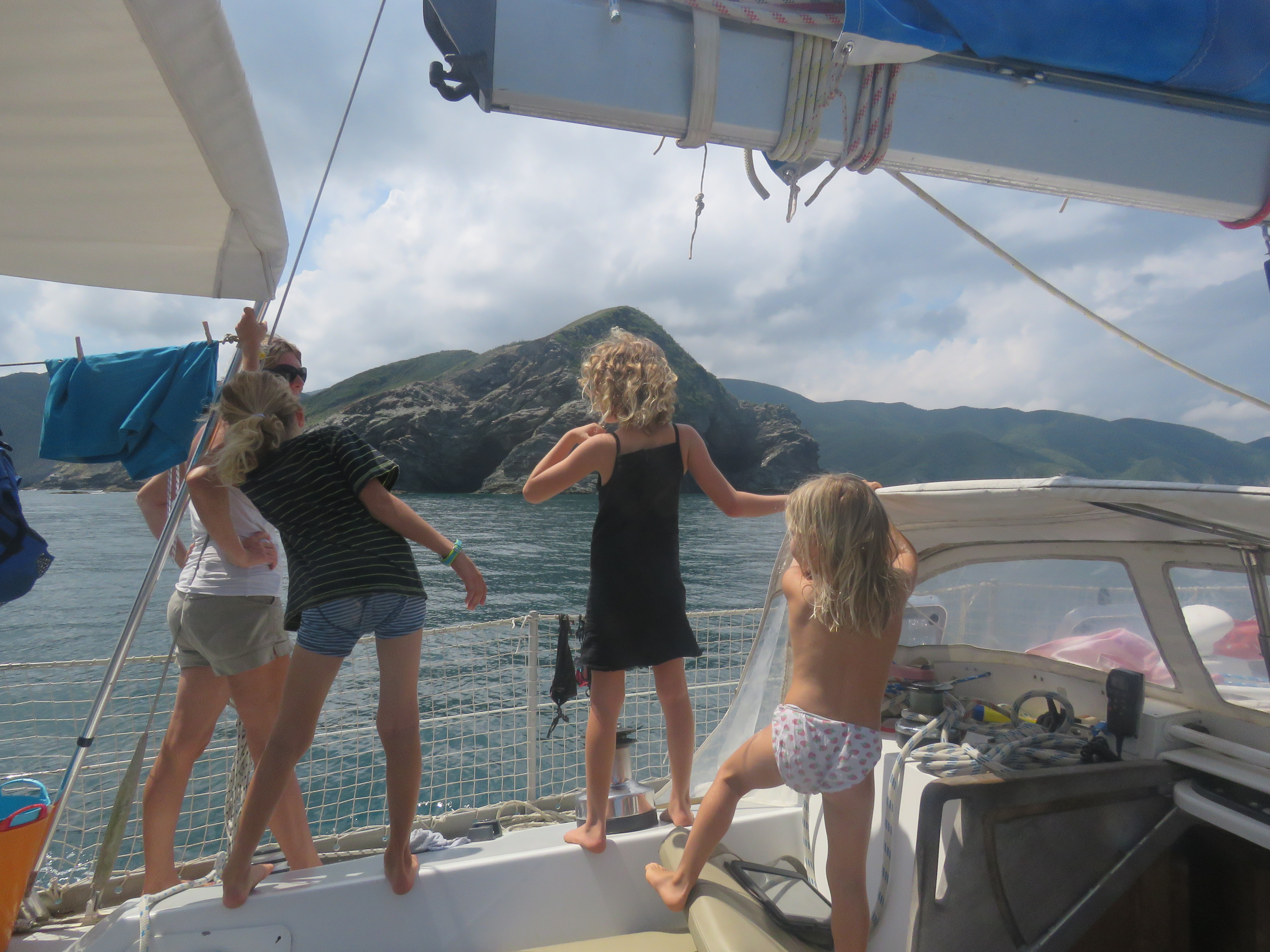 Welcome to Colombia
Mon, Aug 28, 2017 at 11:46 PM
So far the gods of the sea and the wind were very kind with us. This is one of the more pleasant passages we have had. The wind was on the weak side but just enough to sail nicely and together with a favourite current we actually made some good speed managing to sail all the way until tonight. But even if we sailed all the way the engine roared all night. The reason is our batteries died. Already in Bonaire they were giving us trouble but I did not realize how bad it was. As soon as the sun goes down and our solar panels stop supplying us with electricity the battery voltage drops quickly. There is not enough energy to run our instruments, lights, autopilot not to mention the fridge. It takes half an hour to 45 minutes for the batteries to move from 12.8 (full) to 12.2 volts (almost empty – very very low). So even if we had enough wind during the night we had to run the engine non stop and there is nothing more frustrating on a sailboat than running the engine when the wind is just perfect for sailing. From time to time we would stop the engine so we can enjoy a couple of moments without this noise only to have to start it again as soon as the batteries ran out of juice. Hopefully they have good marine batteries in Colombia..
This morning we thought having a rest by dropping the anchor for a couple of hours at the bay behind Cabo de la Vela in front of the small village named El Cabo, where the Wayuu indians live. The idea was to get some rest and leave again later today. At the entrance to the bay there is a small island – more like a big rock – called Cayo El Morro and as we were sailing very close to this rock I thought I heard some voices ahead in the dark. It was pitch dark and I was very tired after a long night so at first I thought I must have imagined hearing these voices. And remember, the engine was running… But then the voices became clearer – I could not understand the meaning but the tone was angry and soon the voices became shoutings. I looked forward and about 30 meters from Nomad a long and narrow open fishing boat with 4 guys inside waving at me and screaming. Nomad was about to hit these guys in a couple of seconds. I had enough time to change our course and miss them by a few meters. The guys kept on shouting at me, waving their hands angrily. I shouted back 'Sorry, but you should have had lights!' It was impossible to see these guys. The little moon was already behind the horizon and the night was dark and these guys carried no lights. Maybe they have problems with their batteries like us?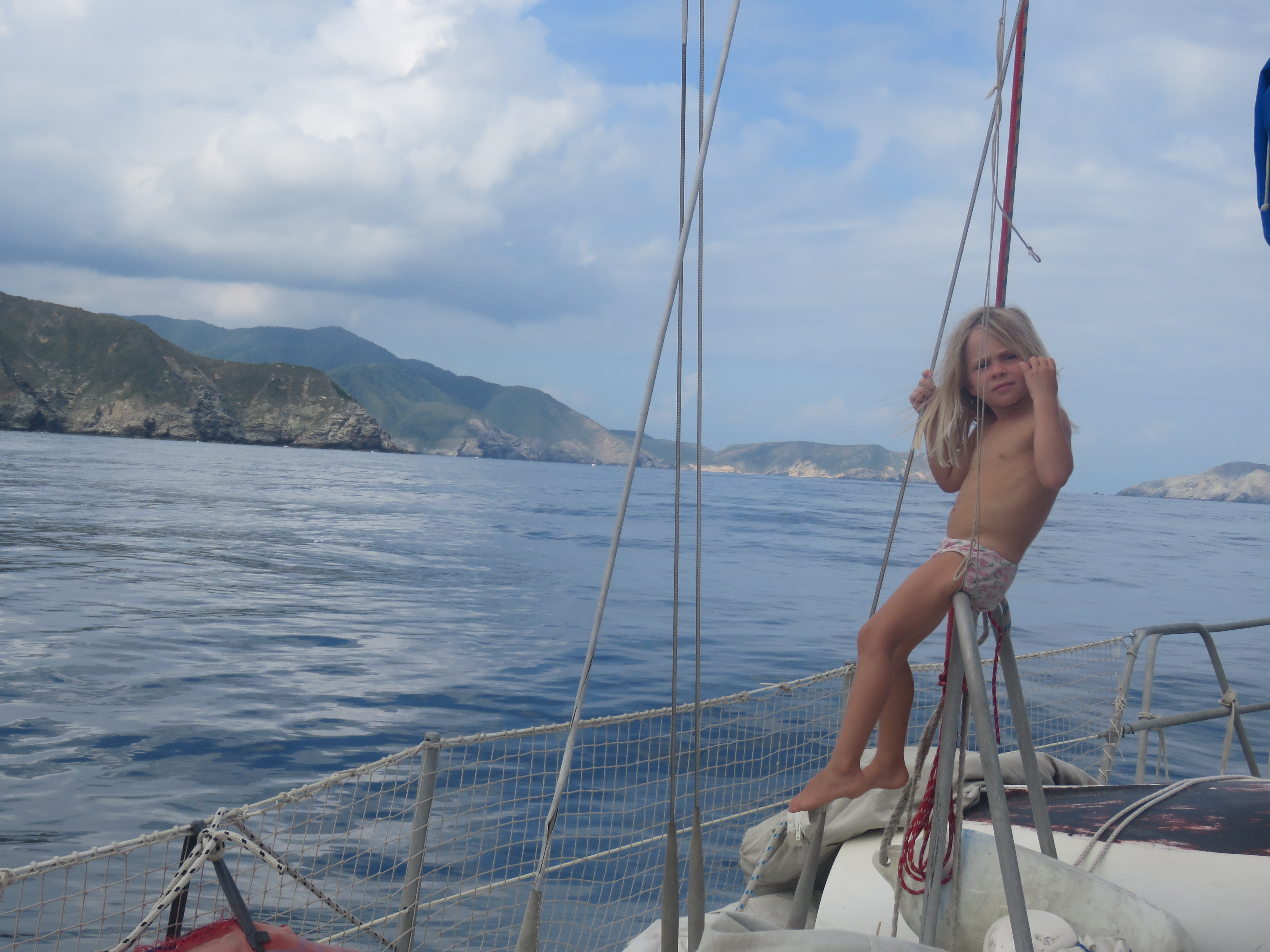 As we sailed into the bay the first lights of day revealed a scenery very much desert-like – small hills, a lighthouse, a watertower, no trees or anything green just rocks and stones and a couple of small huts. It was beautiful. But as the weather announced thunderstroms and some wind change – the wind will come from the west, which means the bay will not give us any protection at all. and together with our batteries problem (and maybe the angry fishermen as well) we decided finally to keep on sailing directly to Santa Marta and maybe we will come back to explore Cabo de la Vela by land..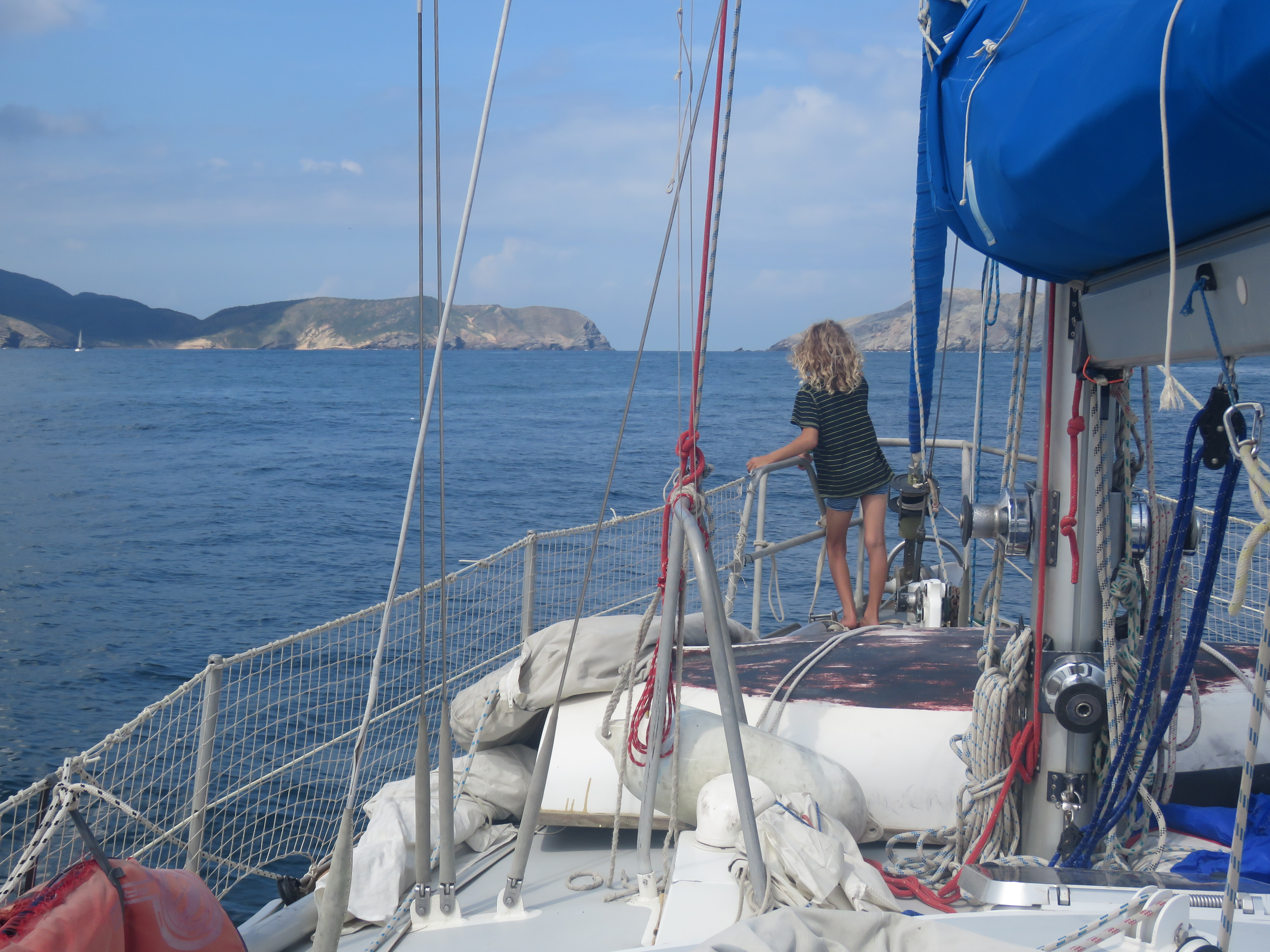 As this coast is known for its thunderstroms we decided to sail the rest ouf our route far from the shore – about 25 miles offshore – in the hope that the storms, which build around the mountains, will not reach us. During the day we could see the huge towering clouds build all around the coast and by the evening these clouds covered the whole visible horizon – us included. The colors became darker and the atmosphere felt stormy. The wind died (at least it feels better to run the engine when there is no wind) and then we could see the top of the swell waves ahead of us breaking with lots of spray – the wind is about to change and probably there is going to be a lot of it. In 5 minutes, instead of sailing comfortably downwind with the easterly trades we were beating to weather in 30 knots of wind. But I guess being far from the shore did its trick (I don't want to speak too soon as the night is still young and there is a lighting show all around us as I write this) since the wind lasted only for an hour and now it is dead calm.
Calm, except for the roaring of our engine.
We should be in Santa Marta tomorrow at around noon.
our position:
11°41'00N
073°27'23W