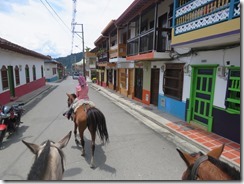 It's four hours now that we are driving on the sinuous roads behind smoking trucks and nervous bus drivers. Google maps says we have another hour and a half until we get to Jardin. We learned to double the Google estimate when we drive in Colombia. But this time it seemed wrong the other way around – we have only 50 km left and in the last 20 minutes we could actually drive pretty fast with not too many obstructions.
I estimated another hour max and we should get there. But then out of nowhere the road ends and it enters the forest. A dirt road, that now with the rain is more like a mud road and we hesitate is this the right way. We go back to the village we just passed and ask a smiling old guy where's the road to Jardin. He points to where we came from, 'Jardin, ohh, straight, all the way straight, and up up' we exchange another smile and turn back to the dirt road.
the road to Jardin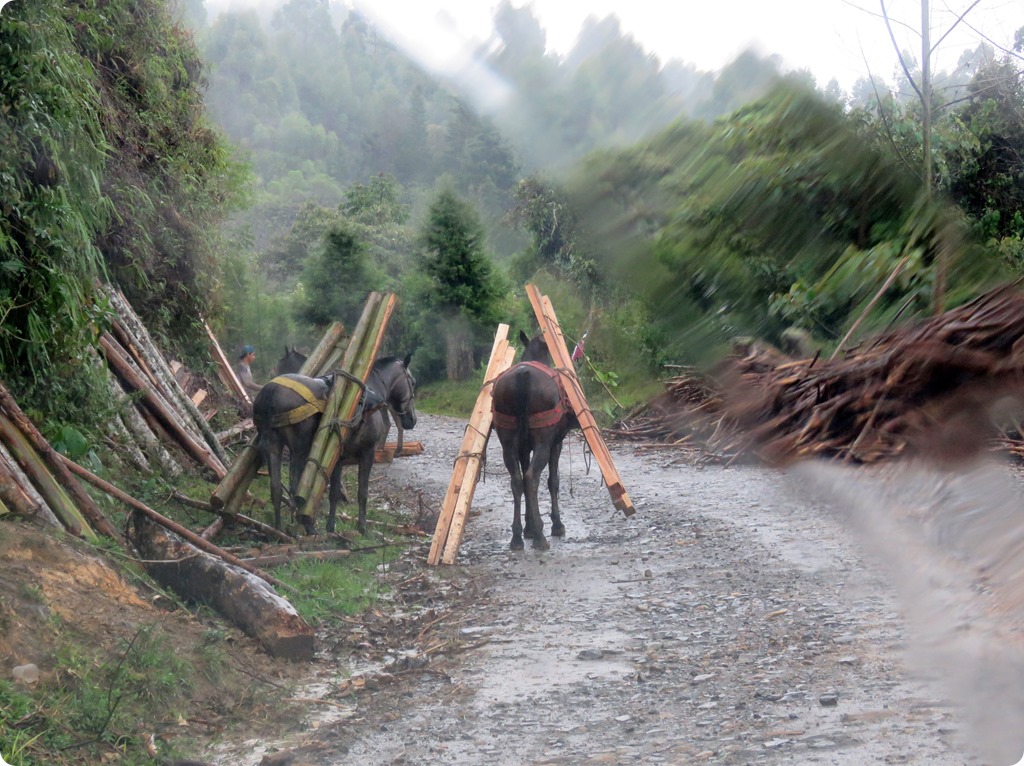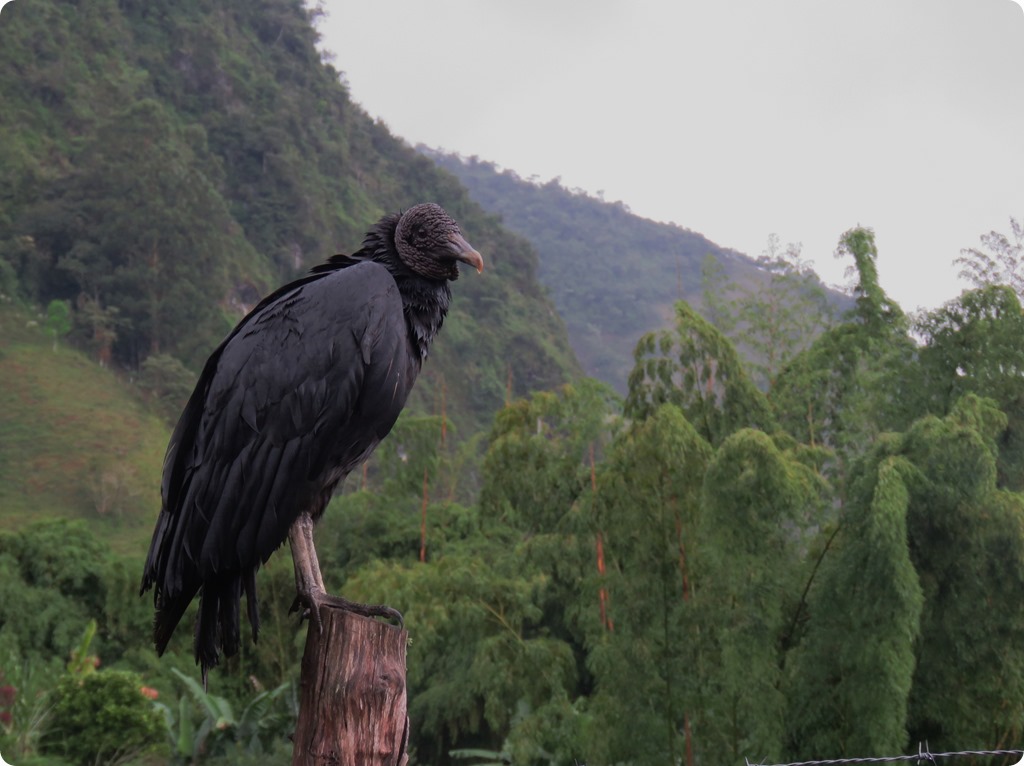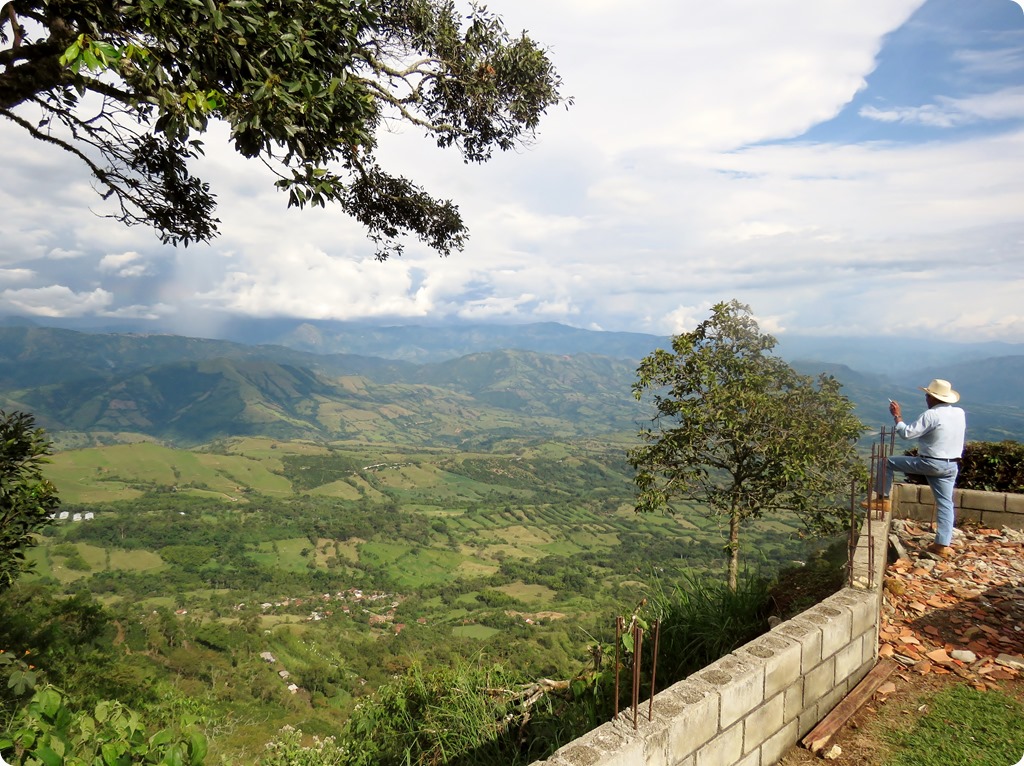 We start climbing with our little car and its small engine that is really not made for the off-road. We have to drive on first gear most of the time and slalom between the many trunks, bumps and holes that scatter the road. It keeps on raining and now the holes are full of water so you cannot tell if they are only a couple of centimeters deep or more. Google says another 40 km. We are driving at 20 kmh. two hours in these conditions? We hesitate for a while. A four wheel drive passes us. Another happy and smiling Colombian. We ask him if this is the way to Jardin. Yes. Is it still long? no. just straight all the way straight. Is the road like this all the way? Does it get worse? Can we do it with this car we ask him? He looks at our car as if measuring its probabilities of success. Yes, you'll be OK. I'll drive behind you, in case you have a problem.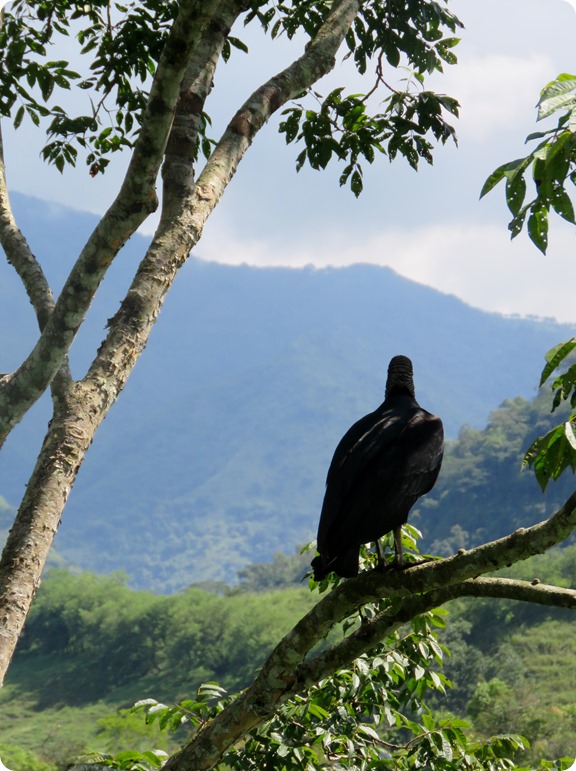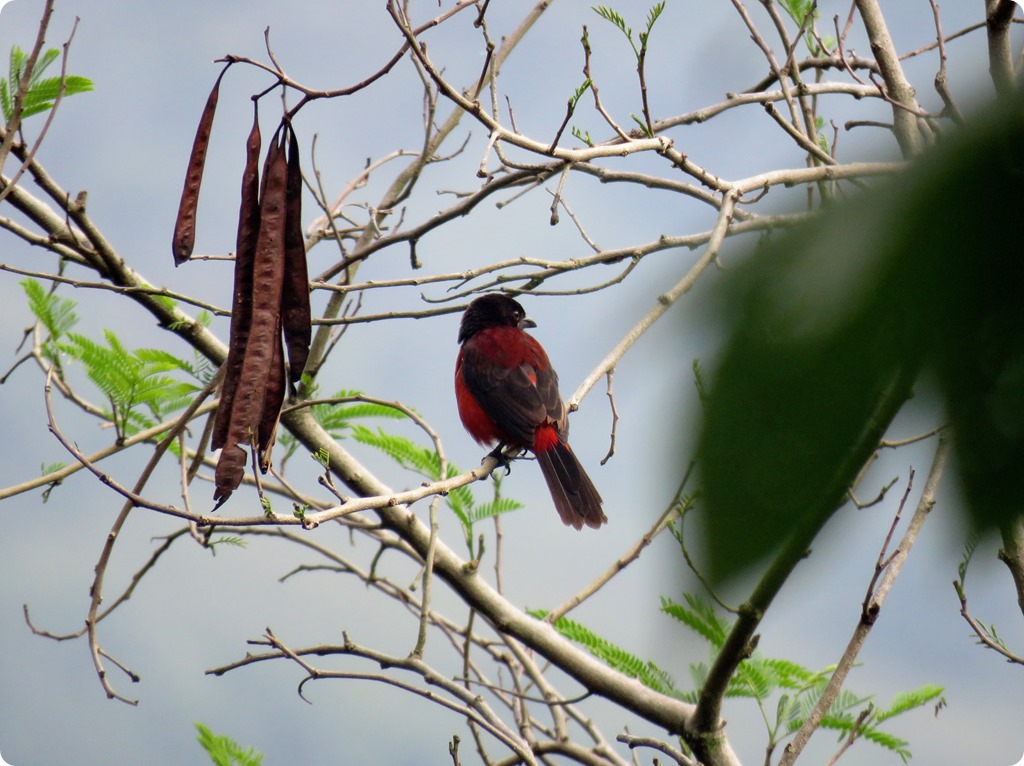 After another half an hour the dirt road becomes a little river. We needed to rent an amphibian vehicle or maybe take our dinghy with us. All along the scenery is stunning. The tropical forest on one side, the mountains on the other and the valley in between. Deep valley. We don't want to end up in the valley, we say to ourselves. We finally arrive at a big pool. No idea how the road looks under the brown waters. We stop for a moment searching for the best place to ford this obstruction. No chance we can cross this one without damaging the car or getting stuck somewhere. We are still 25 km away from our destination. Only 25 km. 25 km, is this close or far? two hours ago 50 km seemed to me very near. Now 25 km seems like infinity. Both Virginie and me don't like turning back and now it means another 2 or even 3 hours back to the main road. And where will we go? we have no other plan. drive all the way back to Medellin?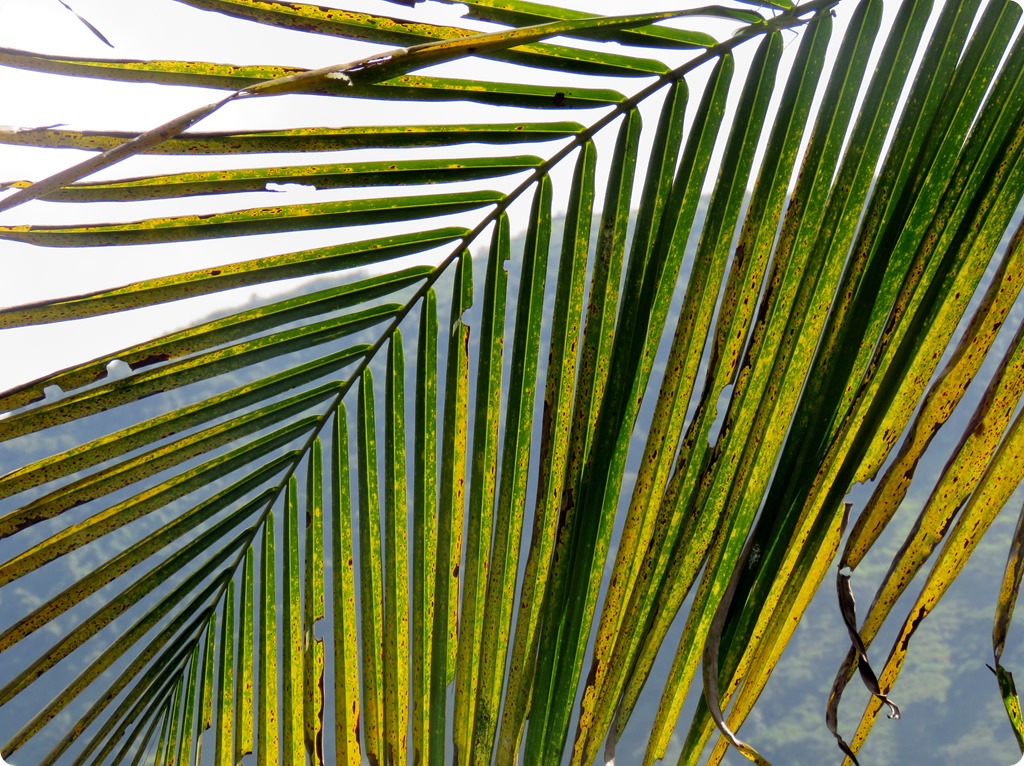 Could think we are in Switzerland with these beautiful cows and pine tree forest. Notice the white heron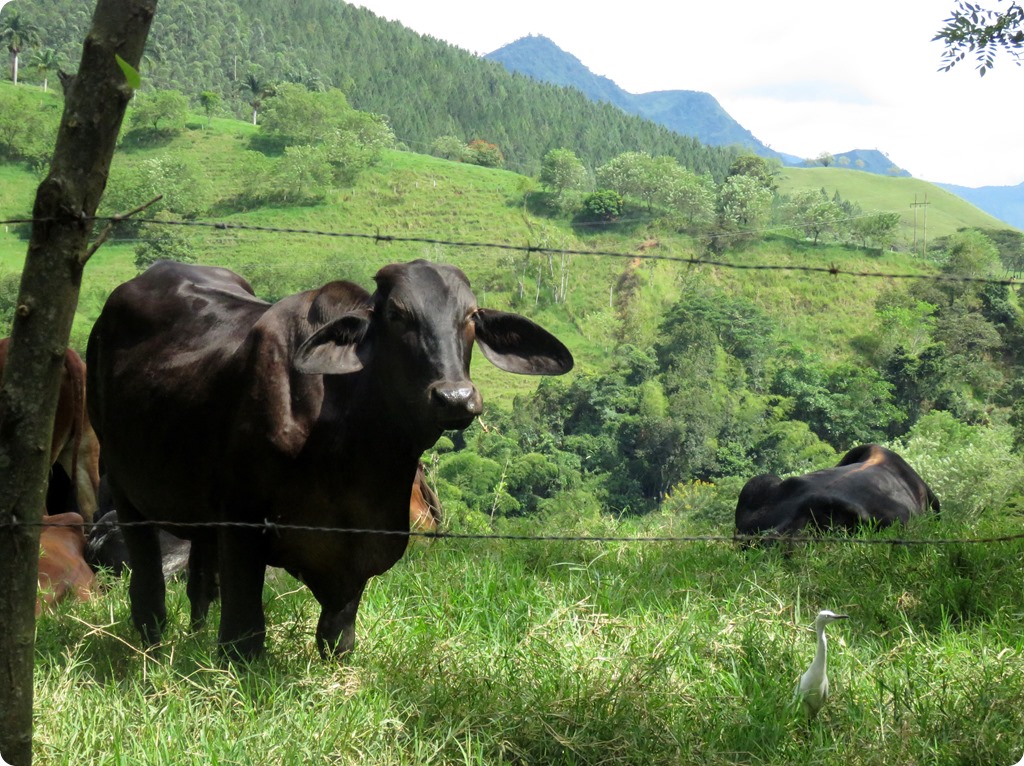 Back on the main road to Medellin, it's late, we are tired. A sign by the side of the road next to a big gate – hotel. We pull over. The place looks very pretty – sitting on the cliffs looking down the river and the forest, They also have a swimming pool, a sauna, Jacuzzi, and a playground. The view or the river from our spacious room is amazing. The view from the Jacuzzi is breathtaking. Probably would be over our budget we thing. But to our big surprise its actually one of the cheapest places we stayed in Colombia – 100000 Colombian pesos, about 35 USD. All of a sudden we feel better for not making it to Jardin.
A prefect place to have breakfast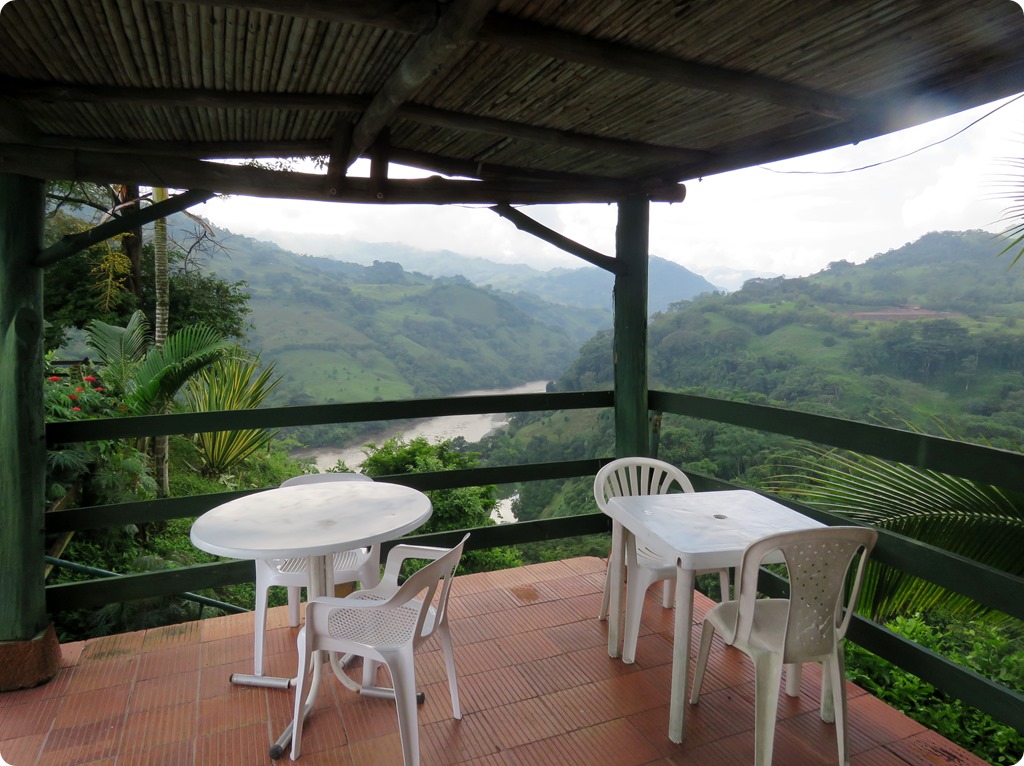 The view from the Jacuzzi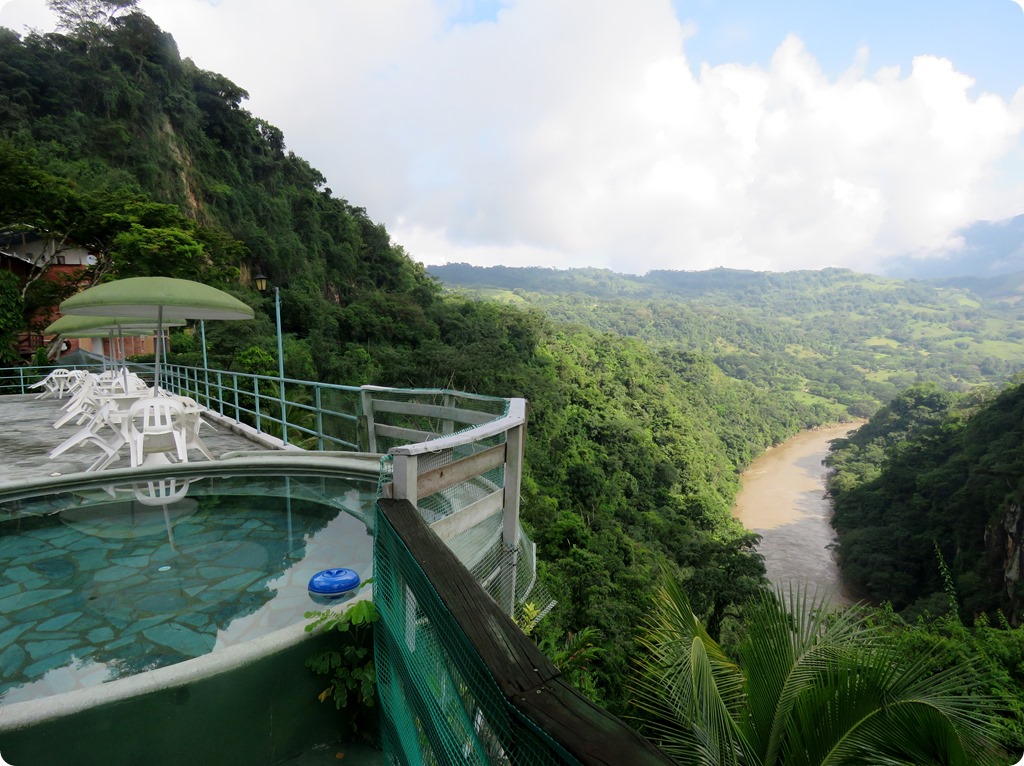 And this one is from our room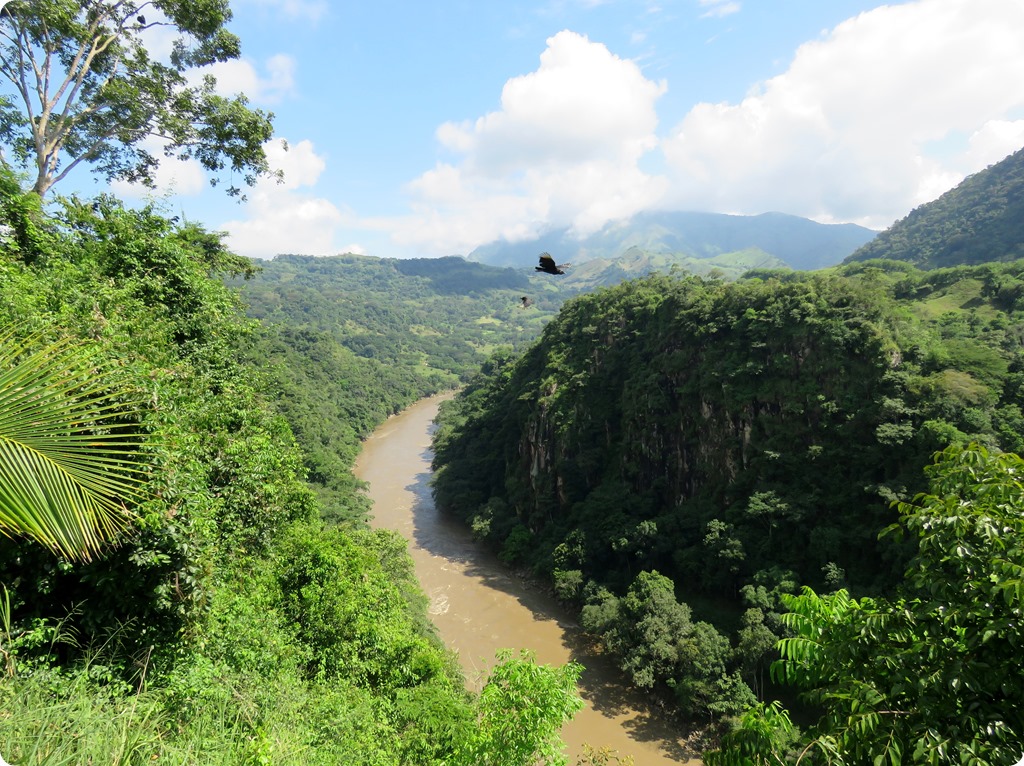 And the swimming pool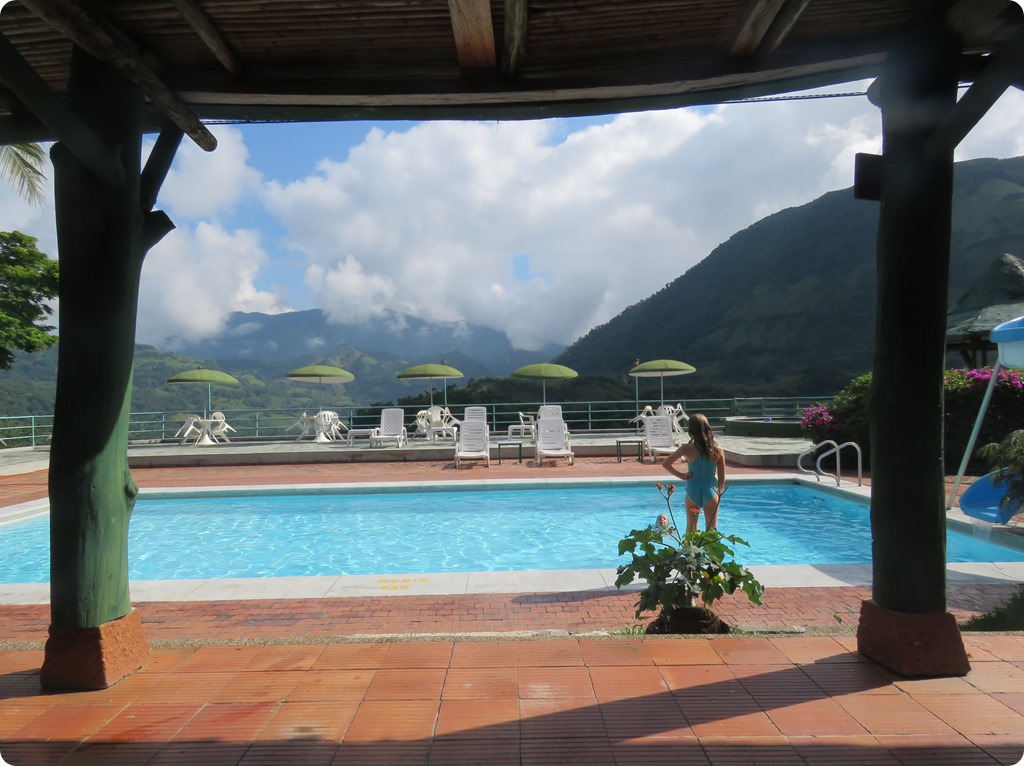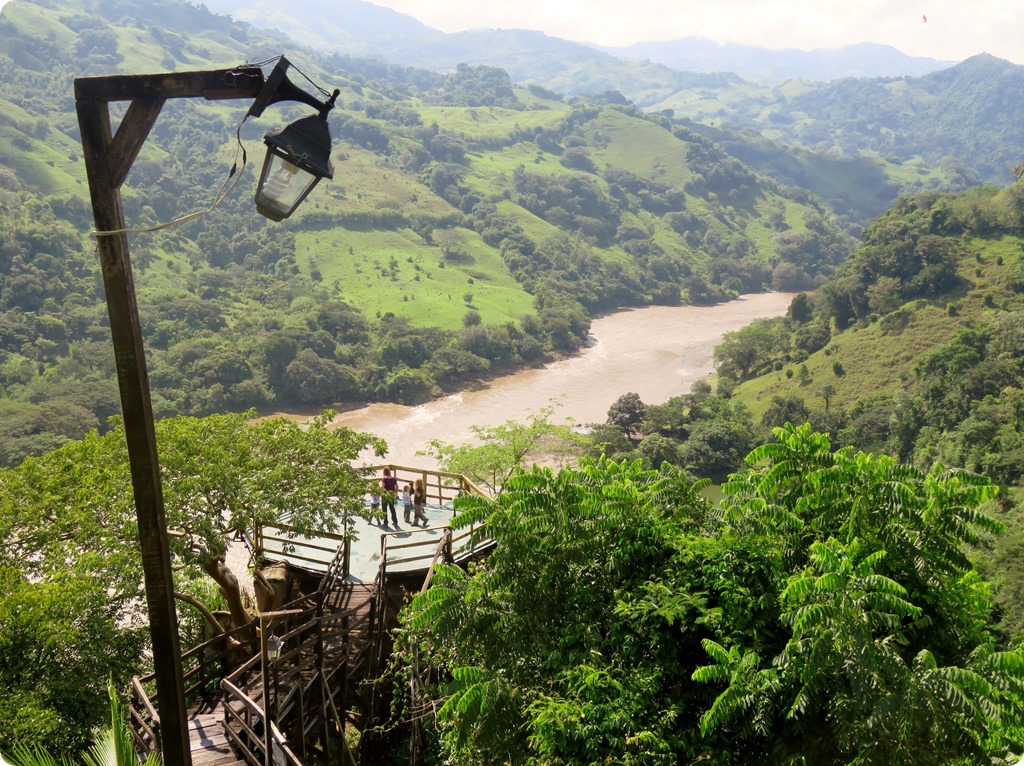 But we are not people who give up. The next day we hit the road again, direction – Jardin. This time we will try getting there from the north hoping the road wont suddenly disappear like yesterday..
The northern road for Jardin is even more beautiful than the previous one. This time we drive between streams, grass hill and cows. Its only the coffee and banana plants that reminded us we are actually in the tropics.
Jardin itself is a little village with a big town square and huge church. Every evening the local Colombians, that look like cowboys with their boots and hats, gather in the square drinking, talking, smiling.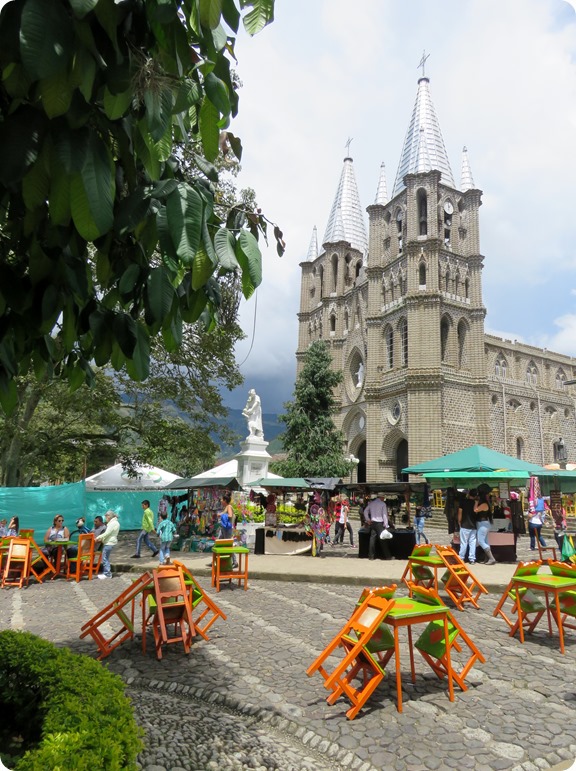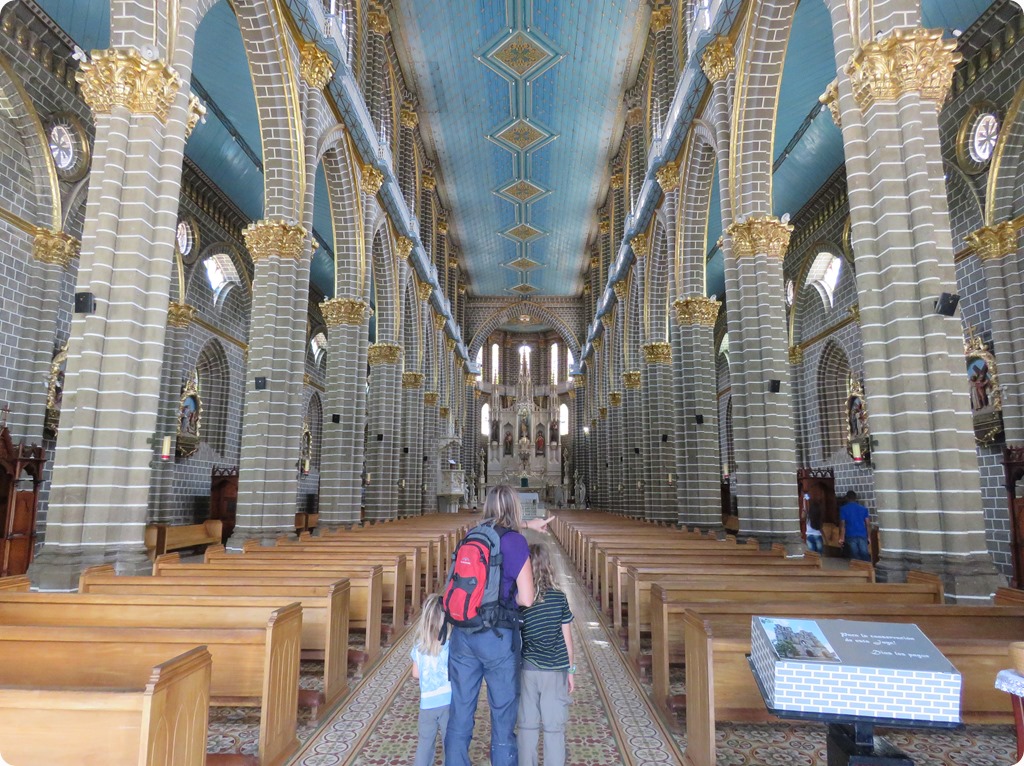 Cowboys in the streets of Jardin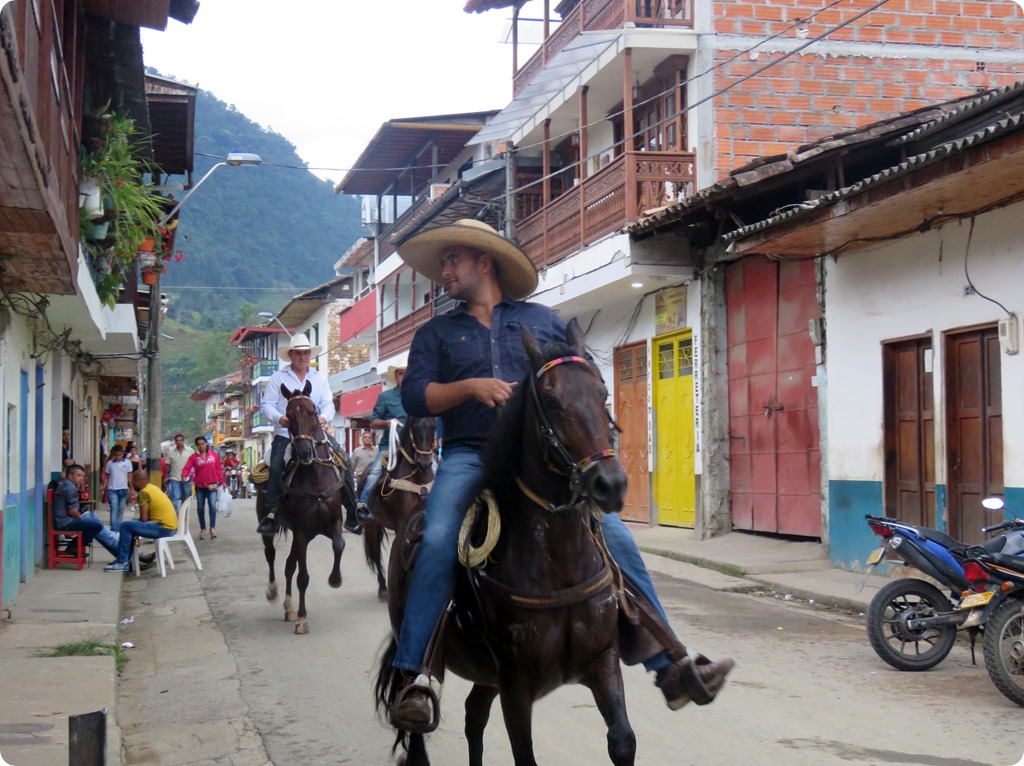 We ourselves turned into cowboys for 3 hours when we took a horse ride tour to beautiful waterfalls. Not knowing too much what to expect and also price-wise we took only 3 horses – one for Amos, one for Virginie and Adi and one for Noa and me. The guide riding his own horse. But after a little while Noa wanted to have her own horse and ride alone. I said I'll walk and she could have my horse. But when the guide heard this he insisted on giving his horse to Noa so for the rest of the walk he ran happily behind us while we were riding his horses. he was amazingly fit at 70 years old.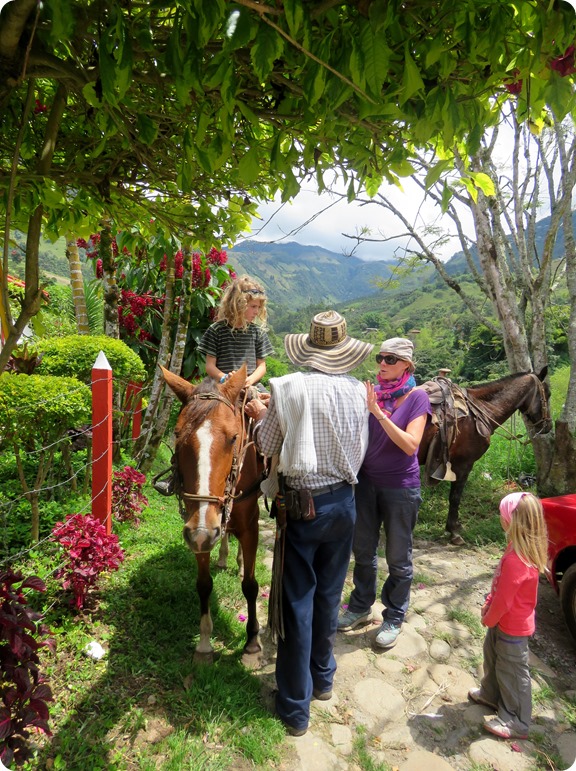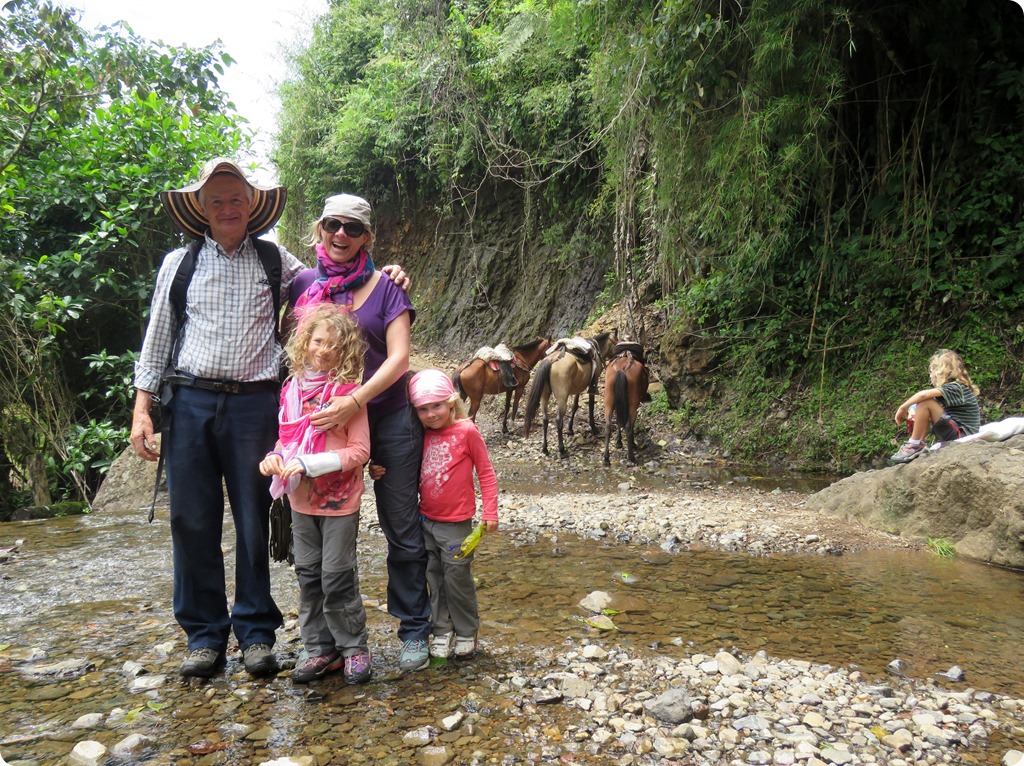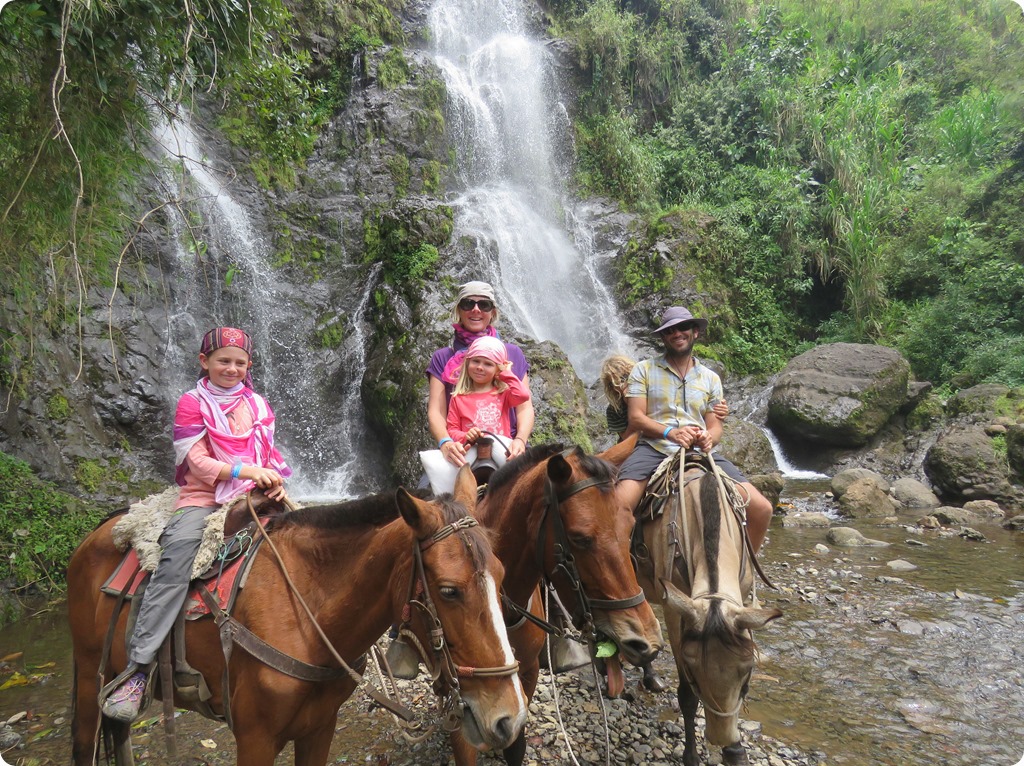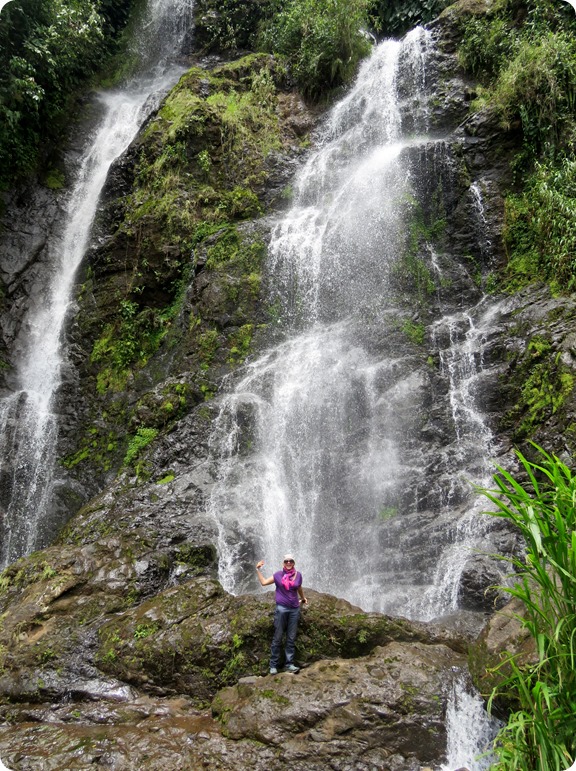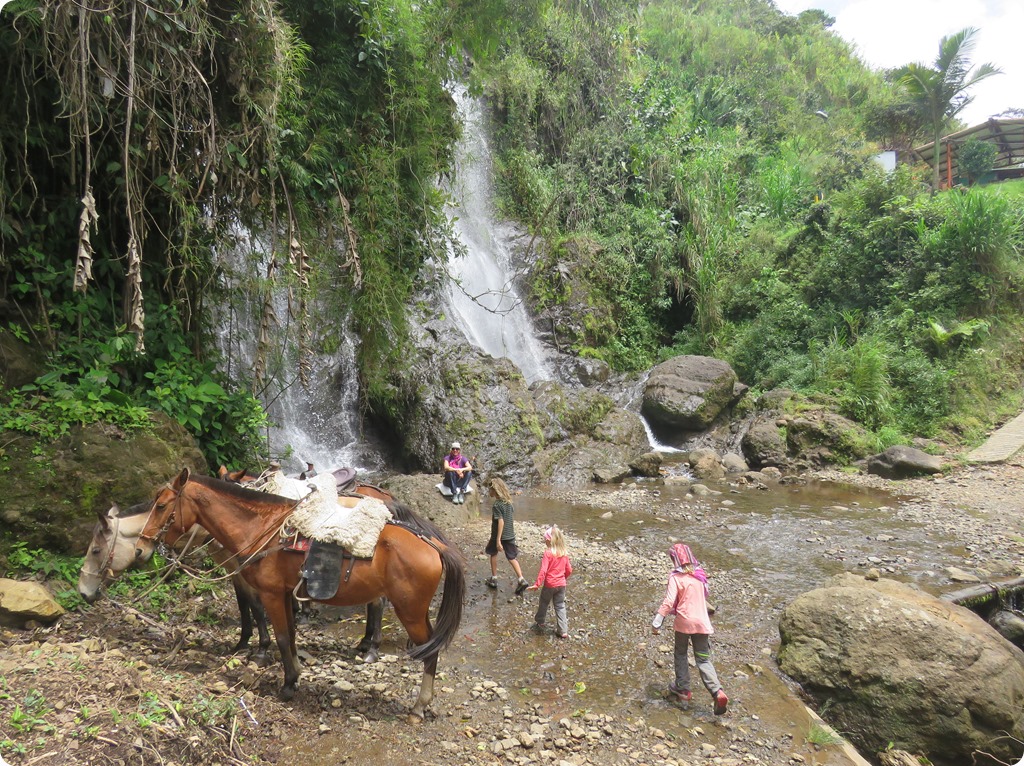 The cowboy family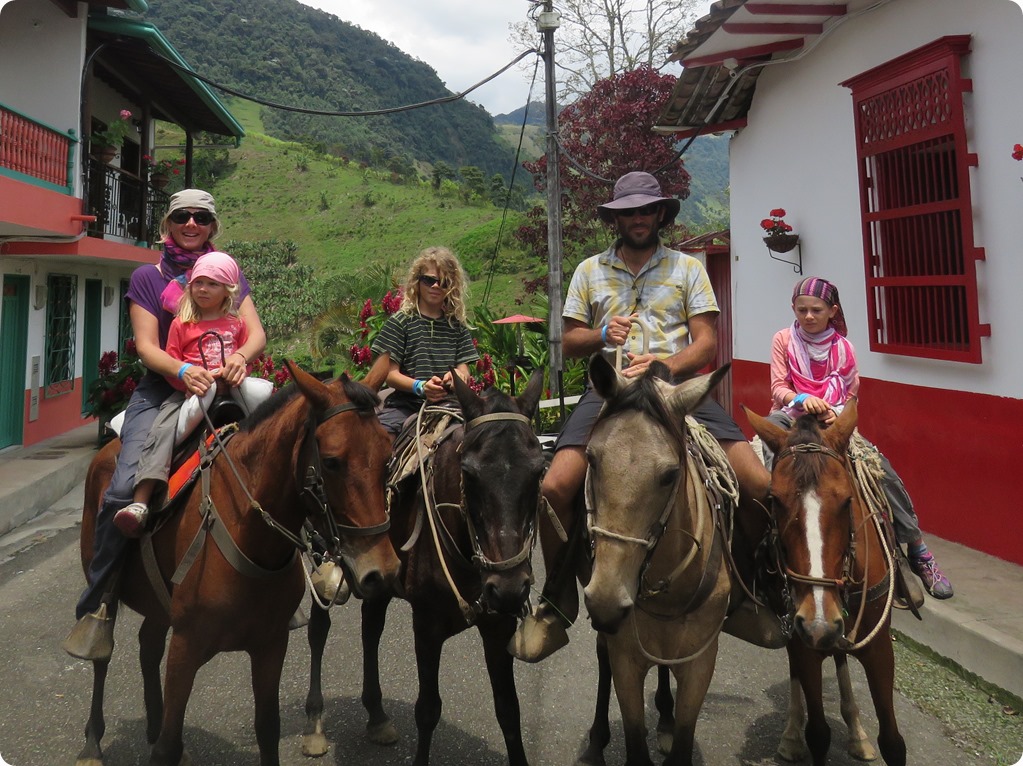 Another attraction in Jardin is this tiny cable car more like a cage on wires. Built 20 years ago by a guy living up on the hill above Jardin for his own personal use. It uses a truck engine to pull the cable while gravity is used to go back down. Now a public transport for those living on the hill and curious tourists ready to sit in a cage suspended in the air.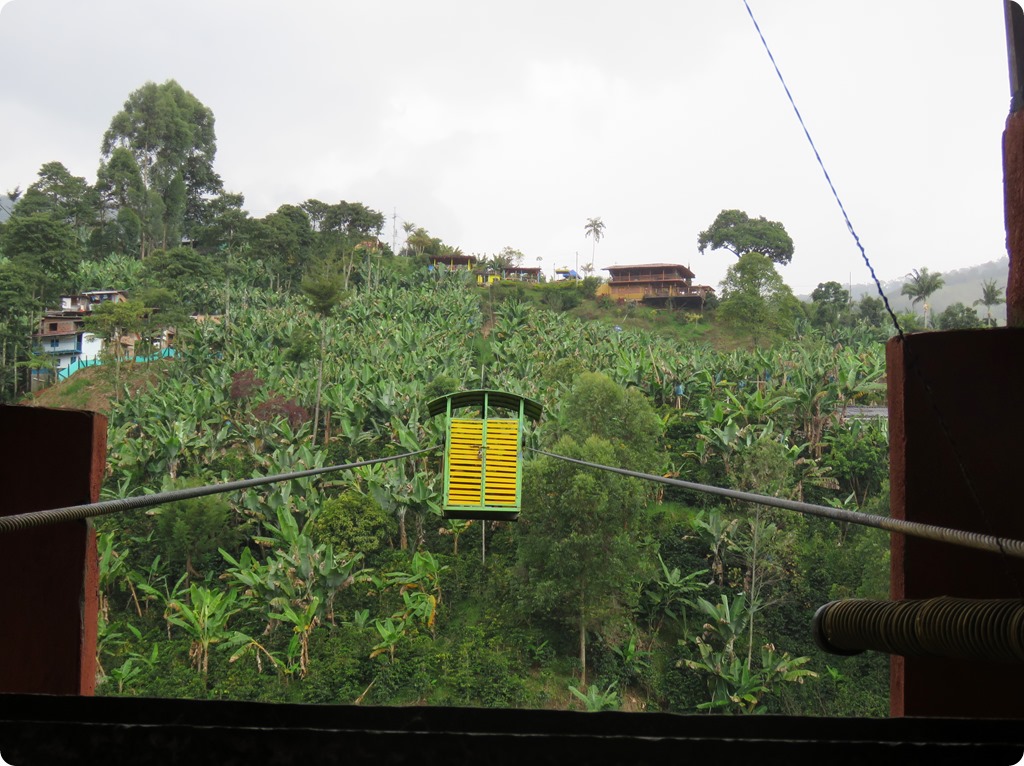 The ticket office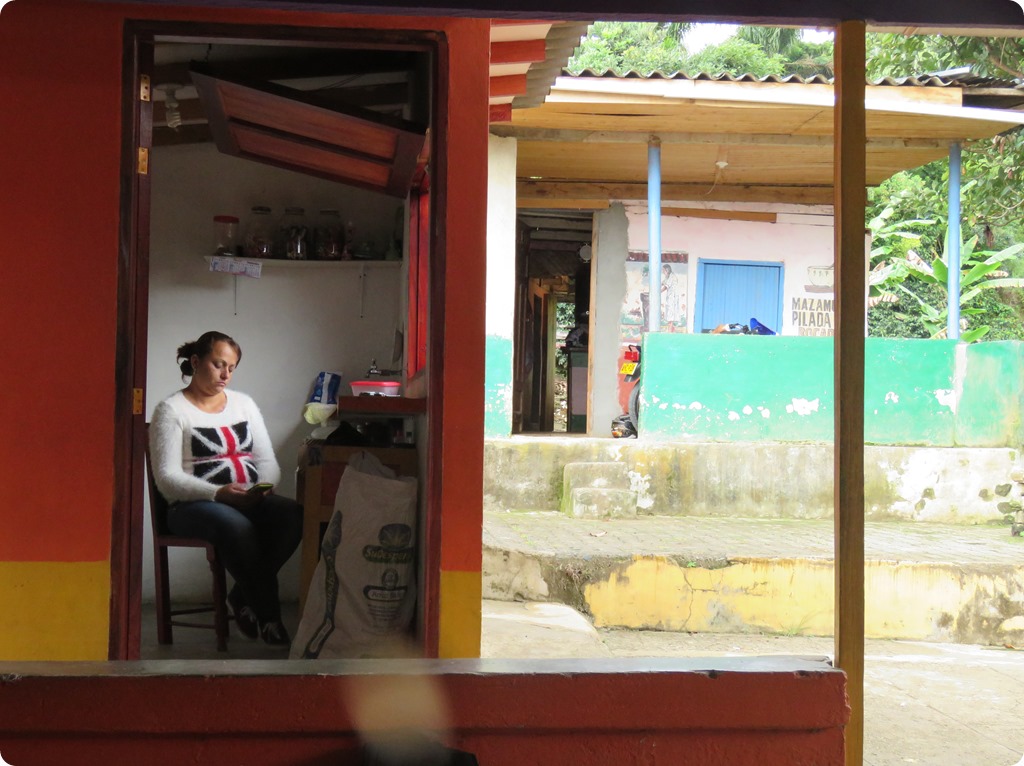 Jardin and its church viewed from the facing hill. And the cable car going back down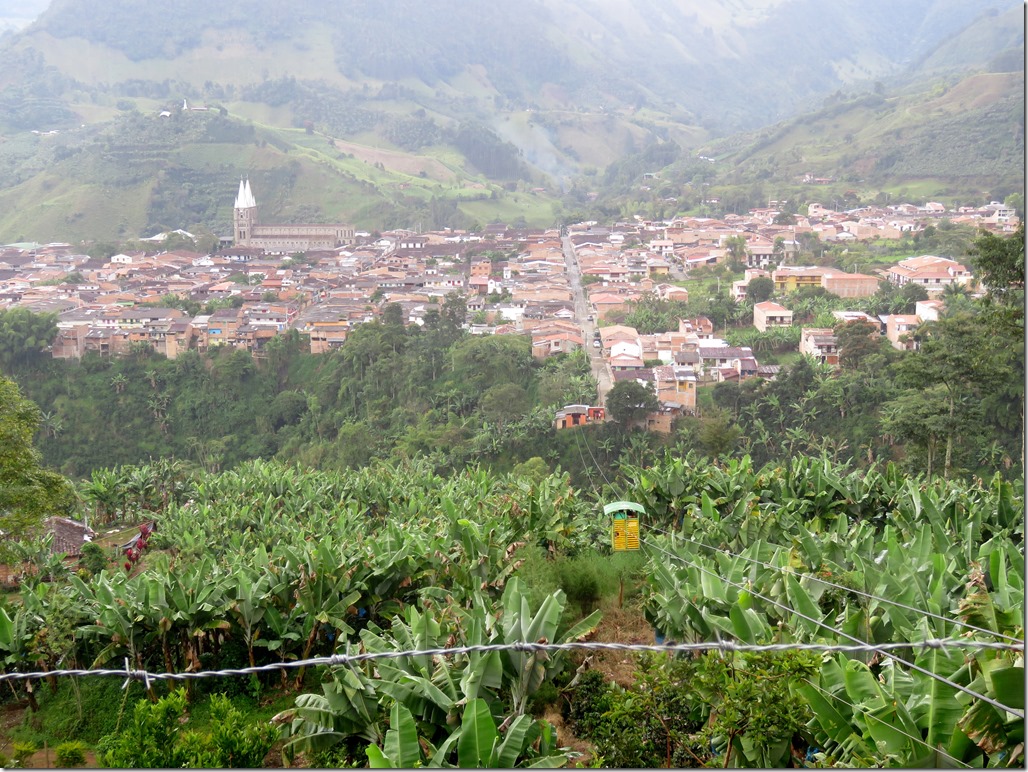 Jardin from below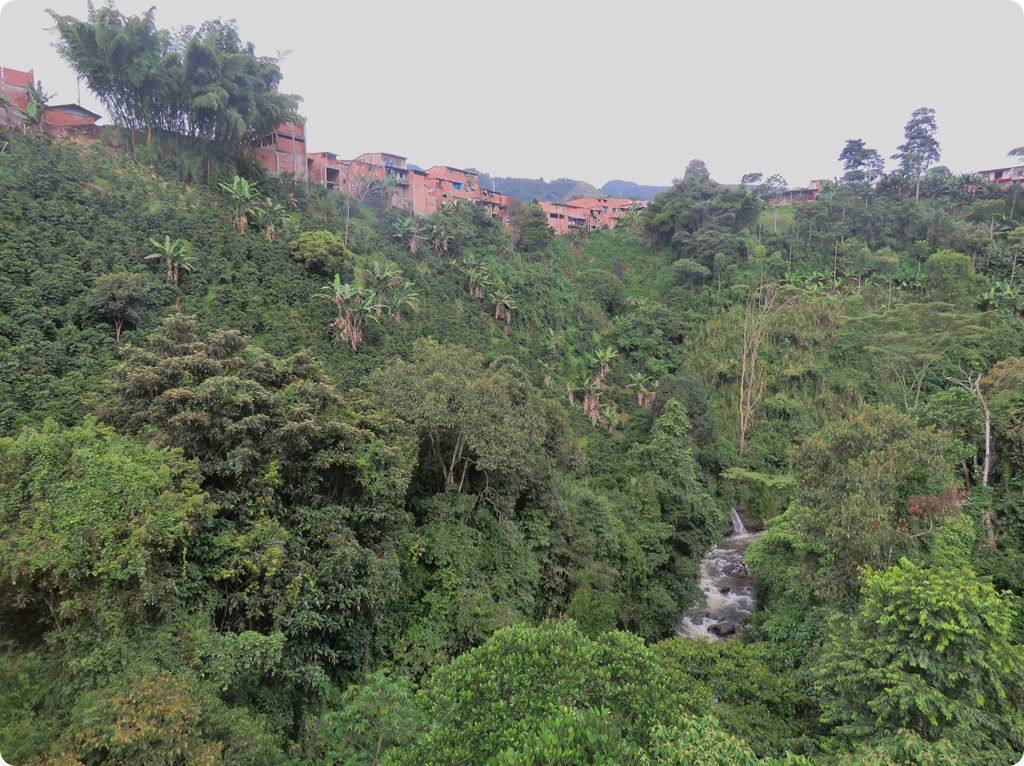 Back in Jardin we went to see these funny looking birds. It's the only place in the Andes where you are guaranteed to see Peru's national bird (no we are still in Colombia) in nature. They are called Andean cock of the rock or Tunki.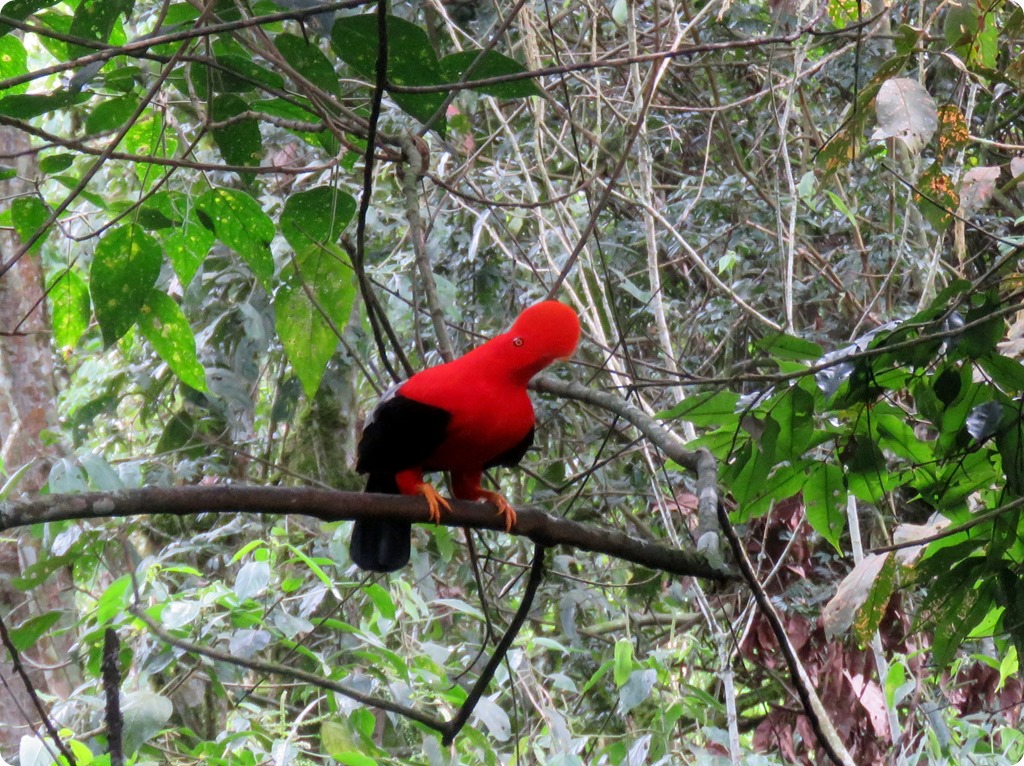 Lady bromelia – Noa started a collection of this tropical plant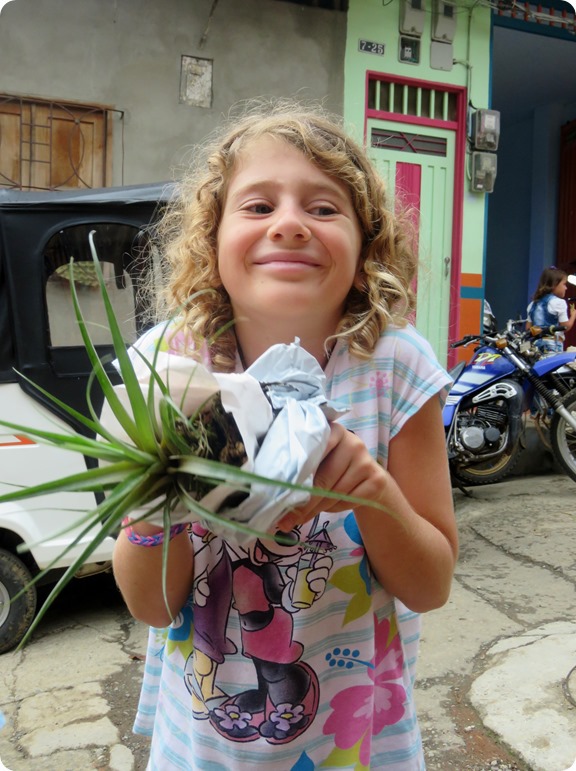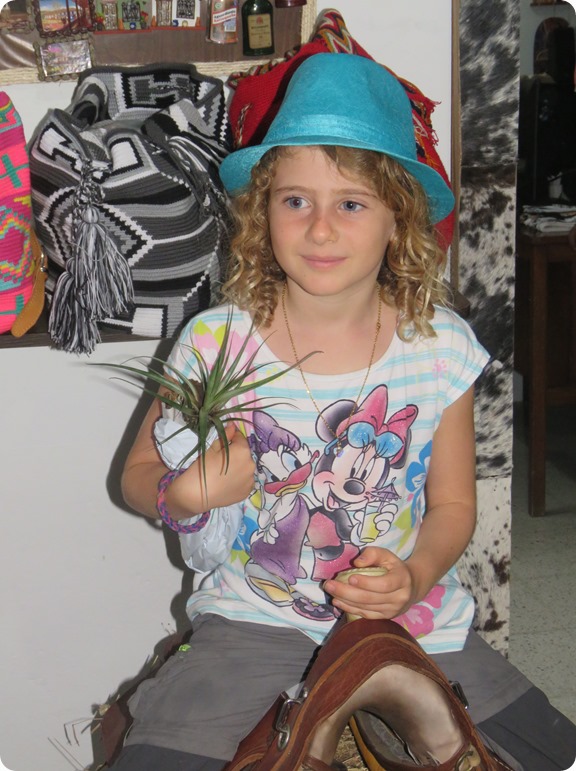 Jardin turned out to be a real gem.