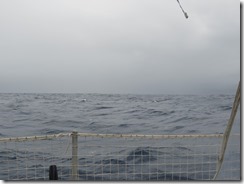 Emails sent via our single side band radio during our crossing to Jamaica.
Hello from the middle of the carribean sea
Mon, Nov 13, 2017 at 7:45 AM
It is 1800, almost 36 hours since we left Colombia and we are
in the middle of the Caribbean sea. Crossing the Caribbean sea from south to north can be hard going with the prevailing north-easterly trades so we pick a window with moderate winds – 10 to 15 knots and more from the east-south-east so our angle of sailing to the wind will be easier. So far so good. Winds were a bit stronger but the direction was good. We are sailing at about 60 degrees to the wind with an average speed of 7.3 knots! The sea is relatively calm except for a wave or two in an hour that washes the deck, another decides to crush on our beam and from the inside it will feel as if a bomb just exploded and if you were not holding something you would find yourself thrown to the other side of the boat, and yet some other waves will make it all the way inside our cockpit wetting us to the bone with salty water, the feeling is much like as if we jump into the sea itself, just the opposite – the sea jumps onto us.. so in a way conditions, for a crossing of the Caribbean sea are good, but for living comfortably on a boat are somehow agitated and complicated…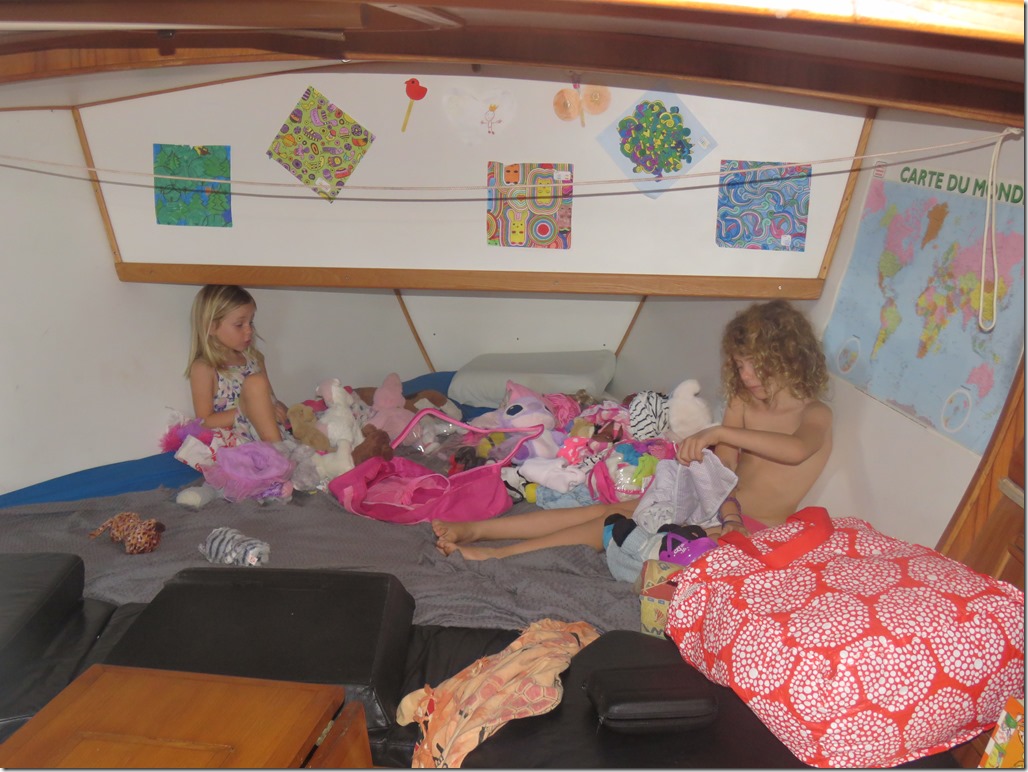 About an hour after we left the calm seas of the marina in santa marta we noticed that the little hatch above our bed wasn't closed properly and all the waves that came washing our deck went also down washing our bed. But nothing too bad we have plenty of other places to sleep on a crossing. Adi, for example likes sleeping on the floor right next to, you guessed, her mother, of course.
The night was a little rough as virginie was sick from the movement of the boat but in the morning she put on a patch and things are much better now.
during most of the time kids are simply lying in their beds half awake half asleep. some other times they are the three of them playing in the cockpit laughing and having great fun. Trying to eat something, mainly waiting for the passage to be over. today virginie washed them all with fresh water outside and now they are watching tom and Jerry on the computer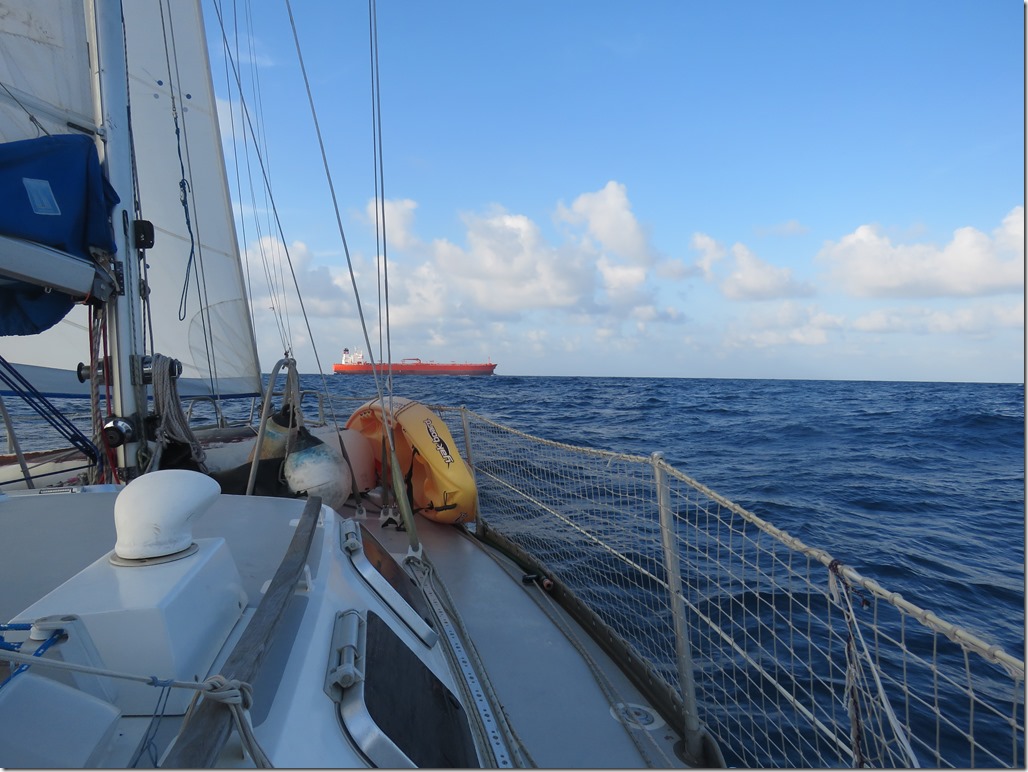 We left Santa Marta together with our Norwegian friends on Kattami and so far we managed to sail next to each other. When the winds are a little calmer it is nomad in the lead, when they are a fresher Kattami doubles us and lead the way. It is very nice to have another boat for the passage – we get our head out of a hatch and we see their familiar catamaran sailing next to us, we can speak to them on the radio to get updates and simply to chat. It gives you a certain sense, even if false, of security. Right now Kattami is sailing about 500 meters ahead of us.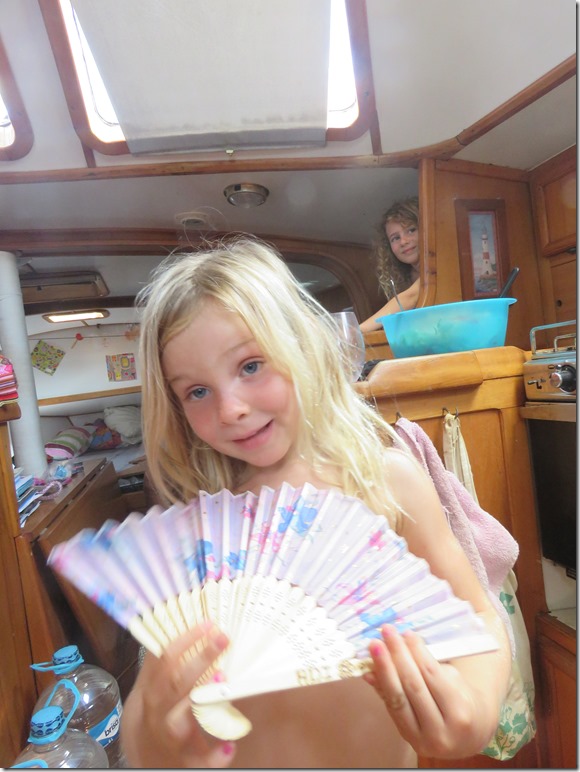 we should make it to Jamaica by Tuesday morning, a day before schedule.
by the time this email is sent we are only 100 miles south of Jamaica. We had great sailing in the last 24 hours with south easterly winds at 15 knots and moderate sea. Everyone on board is doing fine.
our position
16°28'05N
075°16'20W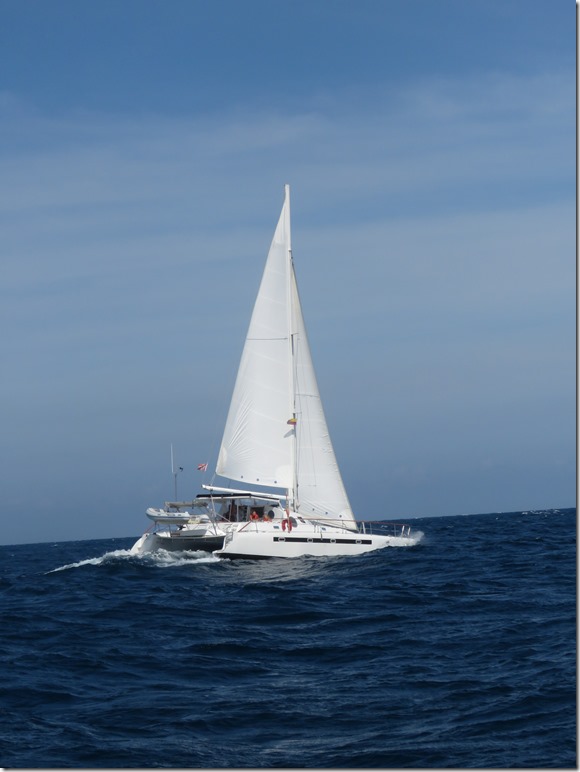 Kattami beating to weather
Welcome to Jamaica
Tue, Nov 14, 2017 at 10:56 AM
Last night was dark and stormy. We noticed the clouds hovering above us just before sunset and it did not take long before these clouds started pouring rain and wind on top of us. lots of rain
and lots of wind. First comes the wind, 25, than 30 than 35 knots. after a couple of minutes it goes
down back to the lower twenties and than the rain. tons of rain. after 10 or 15 minutes the wind dies and Nomad rolls and shakes on the big waves. Half an hour later it starts all over again. And this for the whole night.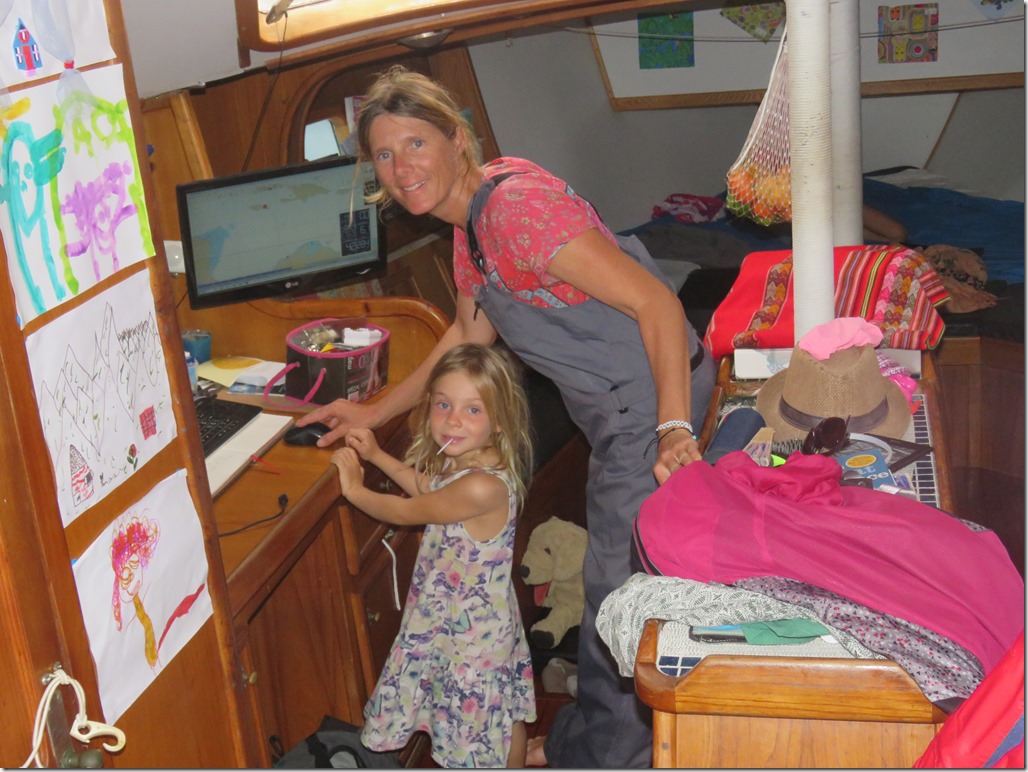 During the first windy episode we rolled our geneoa completely and had only our main sail with two reefs in. We were still making more than 7 knots. As we were only 60 miles away from Jamaica we had two problems – first, we did not want to arrive at night and second, as we approach the island it becomes a lee shore for us – here in the open ocean there is no problem to cope with this kind of weather, close to shore will be a different story. So we simply did not get out the genoa the whole night. making 2-3 knots in the calms and flying at 7 when the wind picked up. This gave us not only a safety margin for arriving in Jamaica at daylight but also a peace of mind to close ourselves inside the boat and not worry when the gusts and rain arrived. Luckily kids were sleeping happily the whole night.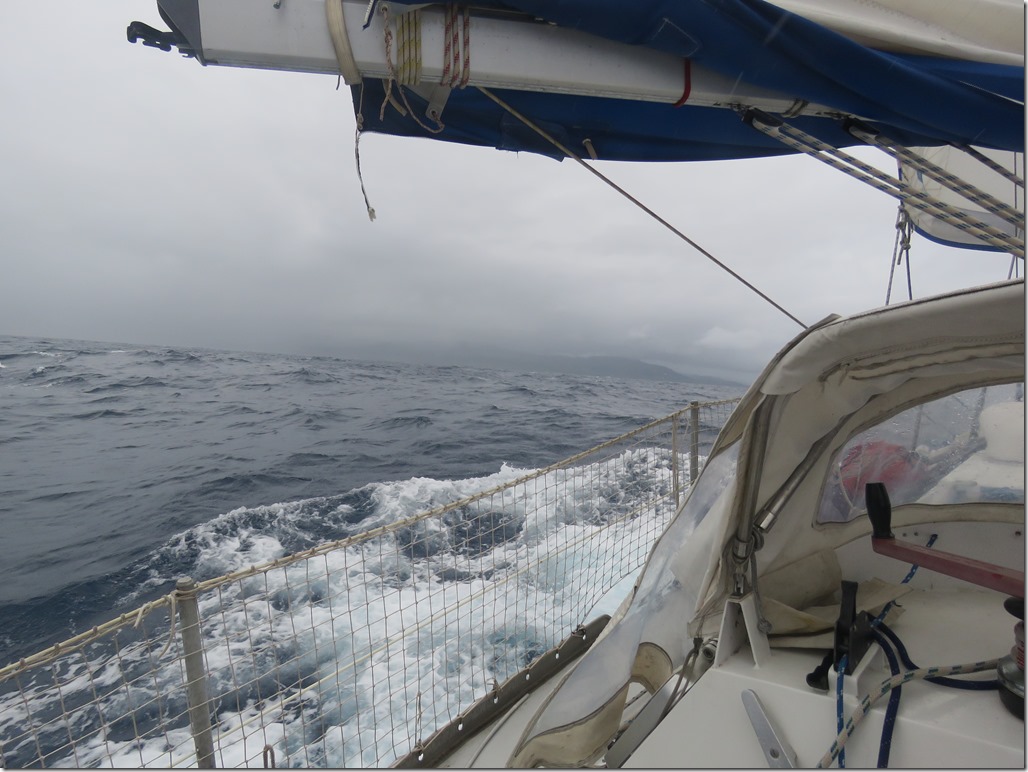 Jamaica on our port side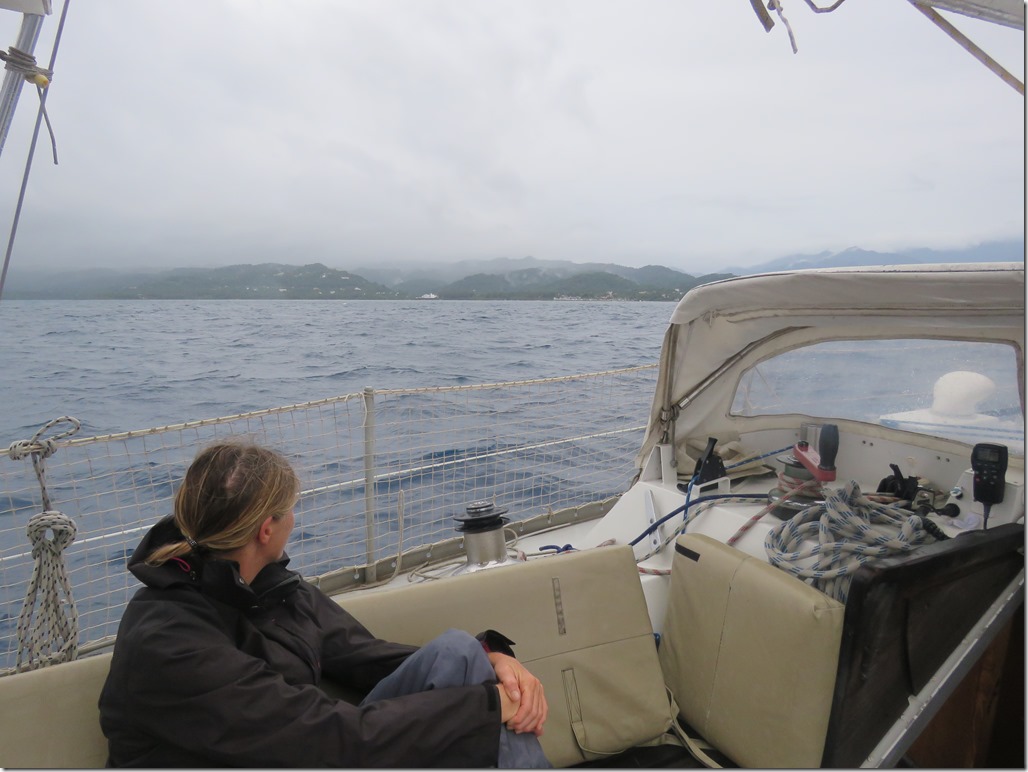 It is now 0730 and we can barely see the Jamaican coast on our port side because of all the clouds but we know it is there and it is not far. We are only 15 miles away from port Antonio and now we are sailing at 7 knots with 15 knots of easterly wind. Virginie had the last hours of the night shift and when I woke up I saw her in her storm clothes outside all wet and tired but with a big smile.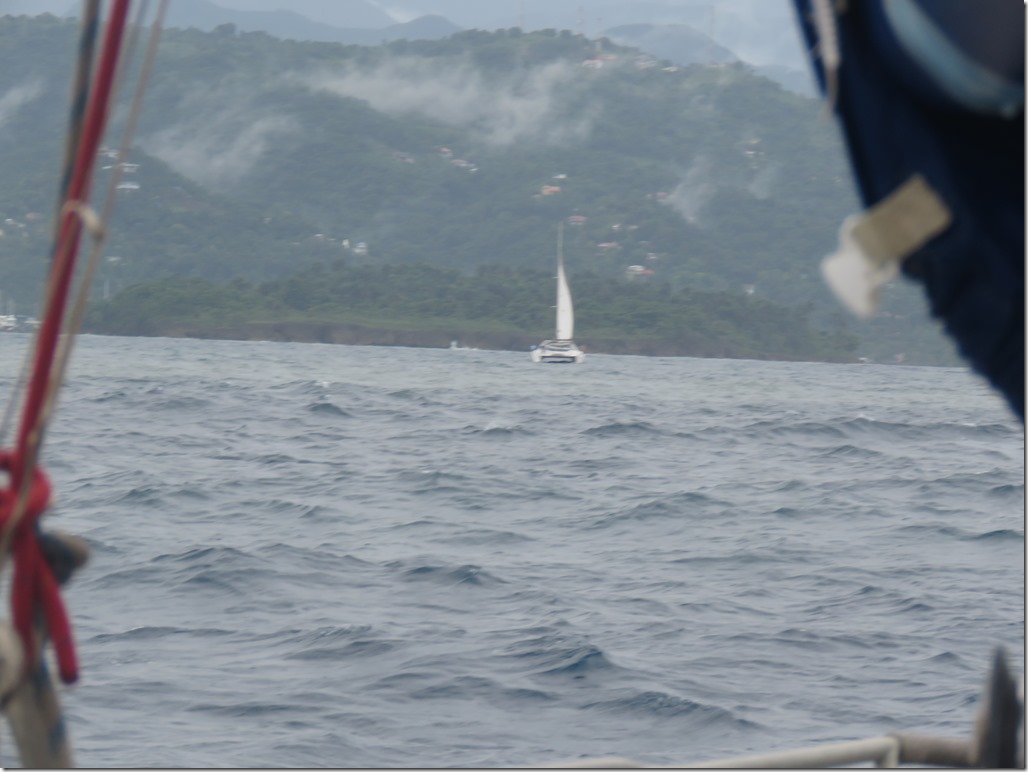 Kattami at the entrance to Port Antonio
As for our friends on Kattami, during the night we lost sight of each other as visibility and conditions were somehow rough but we could stay in radio contact the whole way. And now we can see them again as they are sailing two miles ahead of us.
Jamaica here we come.
It is now 1050 and we are in Port Antonio, Jamaica, filling out paper work, lots and lots of paper work! Everything is great and we look forward to explore this new island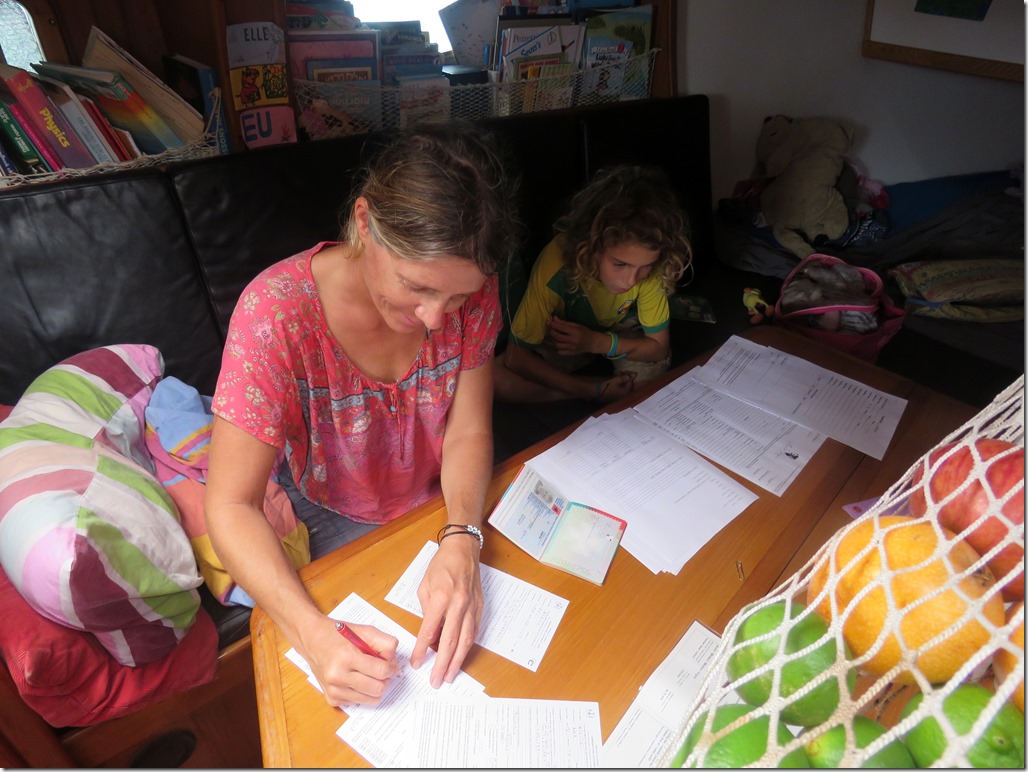 filling up paperwork – quarantine, immigration, coastguard, police, customs, marina, …