It is now seven days already that we are tied to a mooring ball in the beautiful bay of Port Antonio – a small and not so quite town on the eastern side of the north coast of Jamaica. Apart from walking around the town and its lively market, chatting with the local rasta people, doing school, swimming in the bay and the pool of the marina and eating jerk chicken we did not do much during this first week in Jamaica.
In every new place we visit It always takes us a couple of days to rest from the crossing and to learn and understand how things work in this new country but in Jamaica it seems to take us much longer. We could not figure out how to go about and digest this Caribbean country. Usually we simply jump on the local bus or try to hitchhike and go somewhere to visit some places but here things seem more complicated. Everyone explains us we have to have a guide in order to go to this waterfall, to hike on that mountain, to visit that town.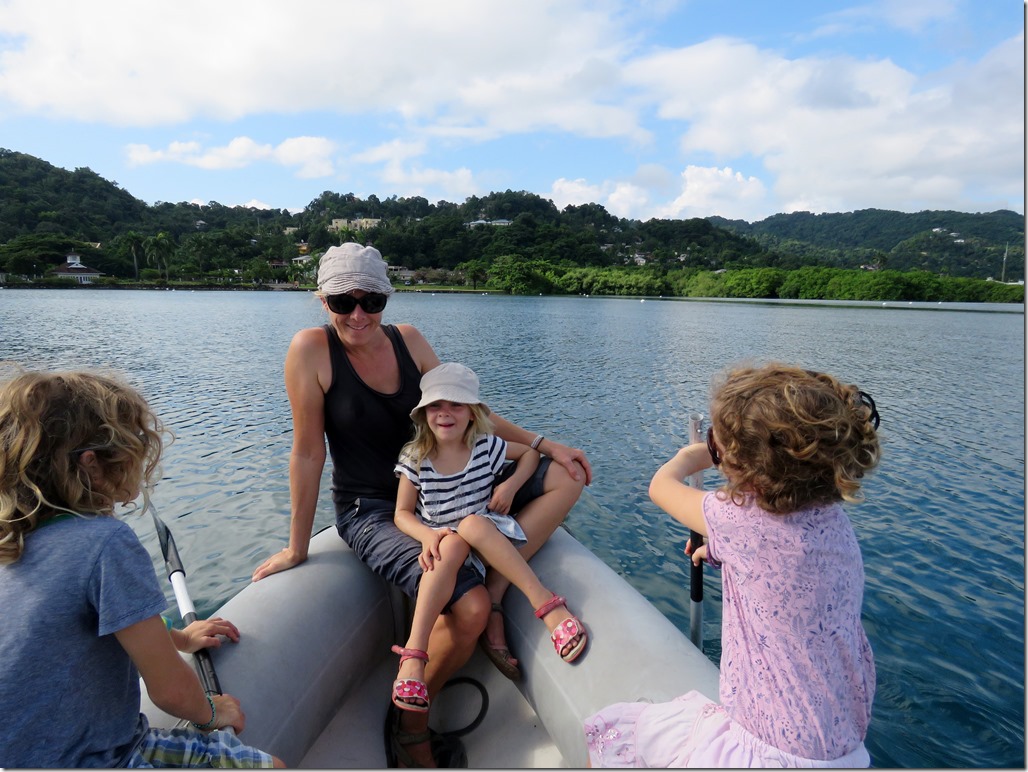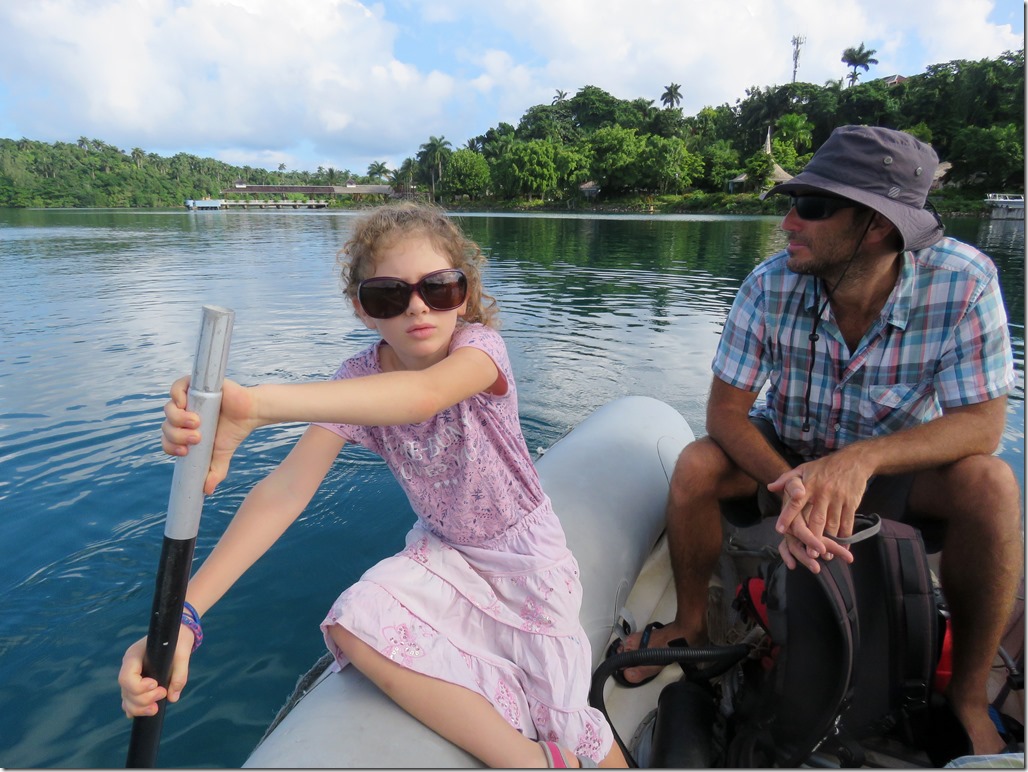 rowing to town
There are not many other tourists around and so the local people recognizes us and interact with us on a daily basis. Everyone tries to sell us something, to take us somewhere.
Every morning we have a visit from Clyde on his homemade bamboo raft. At 4 o'clock in the morning he goes fishing and at around 7 he comes to our boat to sell his catch. While he prepares us the fish he is still actively fishing with a fishing line suspended from each of his big toes.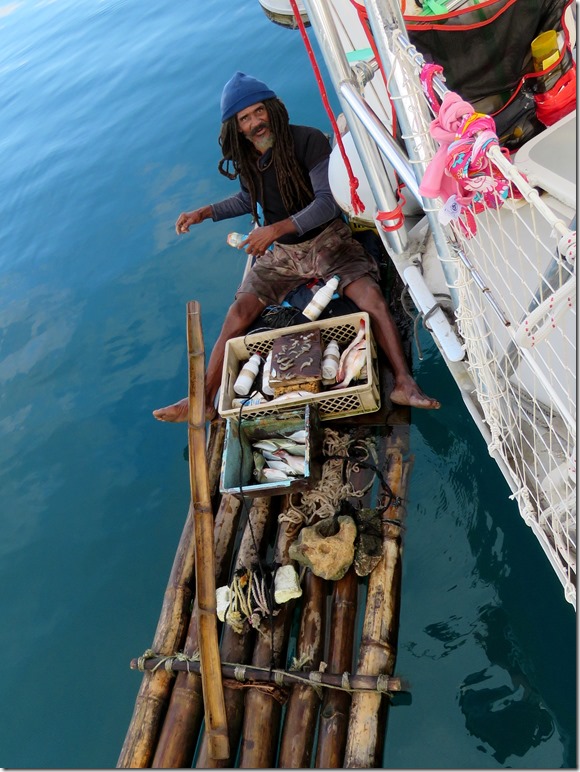 Clyde on his raft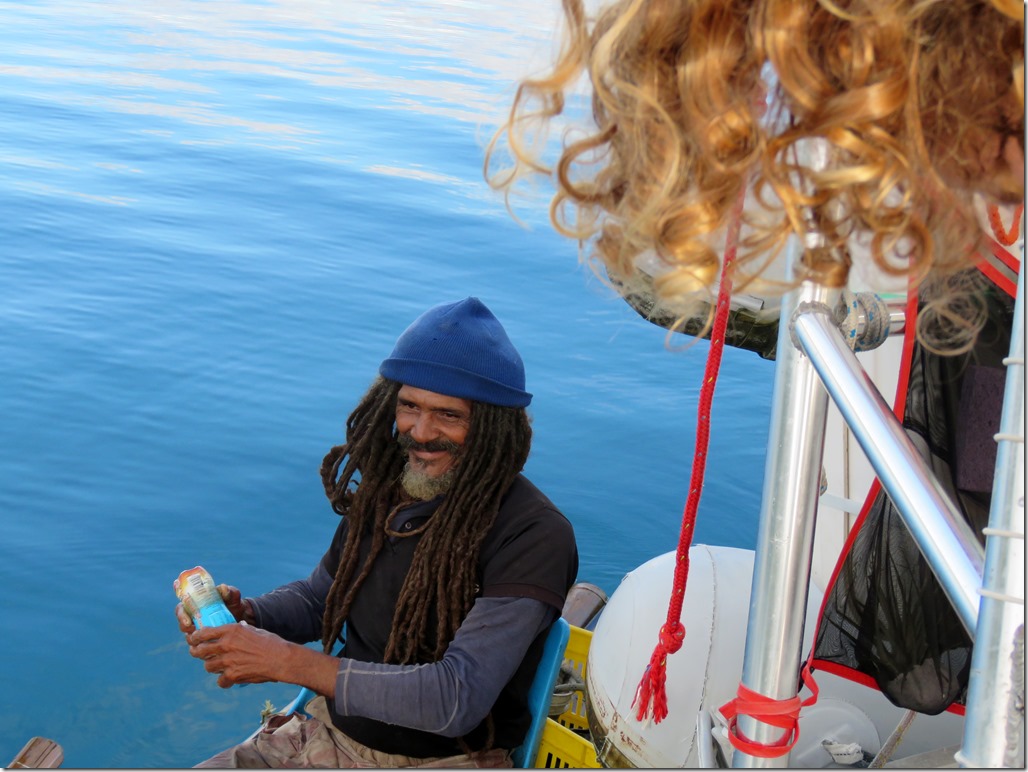 Every time we leave the marina gate we meet either Tony or Ray or both. The first wants to take us to the blue mountains, the second to sell us fresh lobsters and crabs. One morning Tony rowed to our boat on a paddle board ready to take us on a tour. It was a nice sunny day so he thought it was his lucky day – the day we will want to join him for a tour to the blue mountains. He was disappointed to learn the kids had to do school that morning. Maybe some other time we said. Don't you have a beer for me than, was his answer..
And every day we go to the market we meet James who tells us he saw our kids hanging like monkeys on the rigging so he guessed we will want bananas so he brought us a whole banana stem.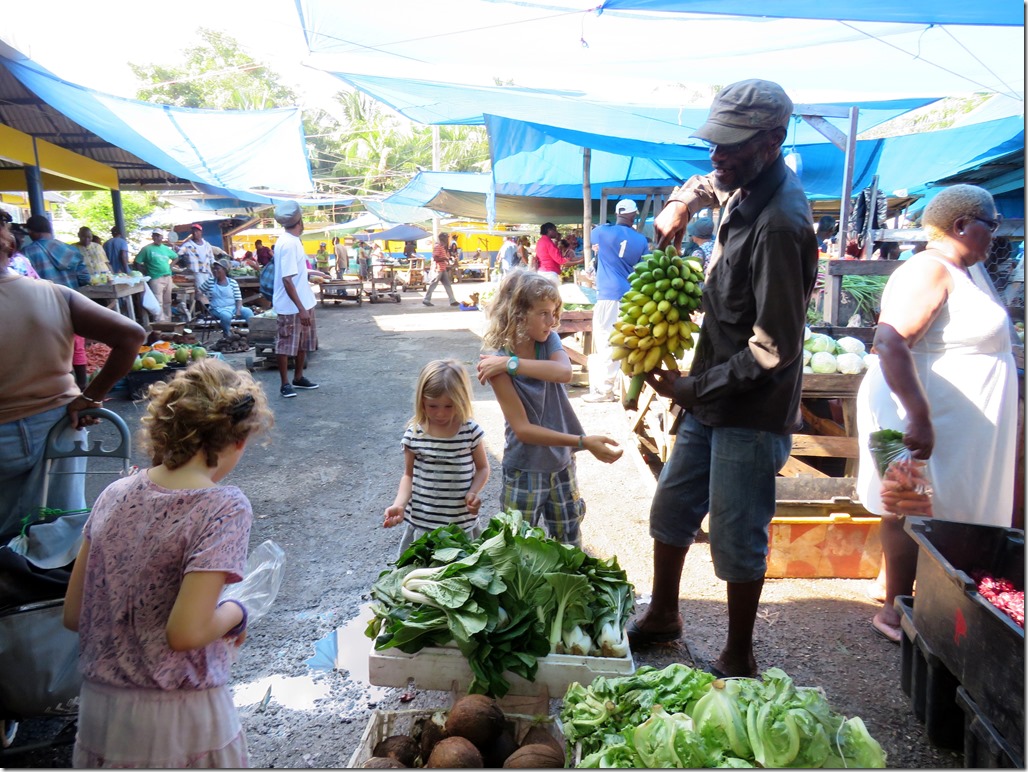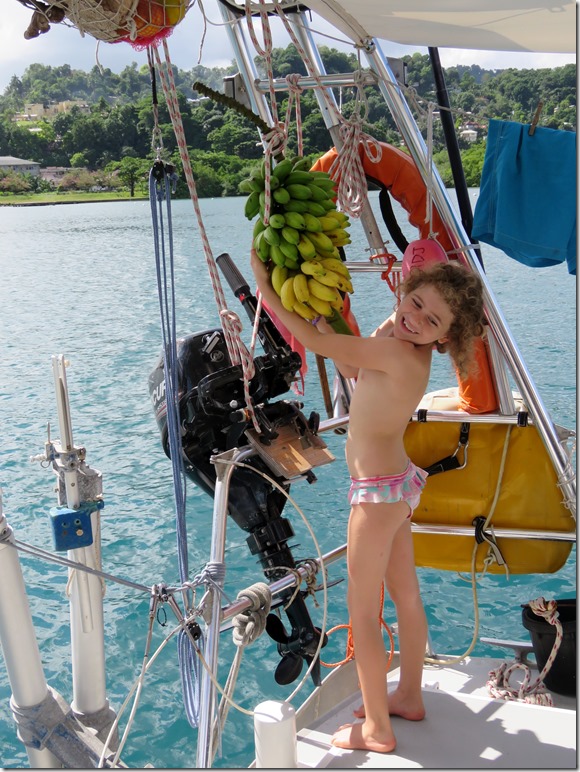 Delicious fig bananas. It took only one day for the green bananas to turn yellow. Kids and us enjoyed 5+ bananas a day.
Among cruisers Jamaica is known to its many hustlers and we were a bit afraid how we will handle them but so far so good. A smile and 'no thanks, maybe some other time' is enough. In the market everyone is friendly and they welcome us with a big smile. Our kids still a little shy and they find it hard to look at the people and smile back. Hopefully after spending enough time in Jamaica they will learn how to smile properly.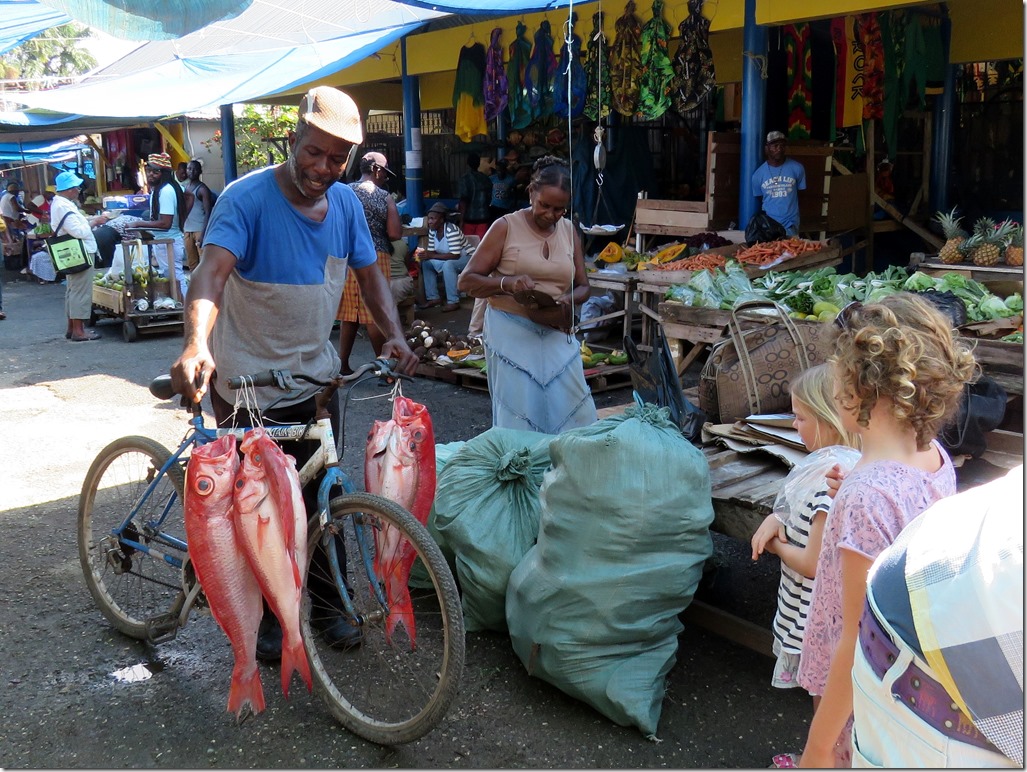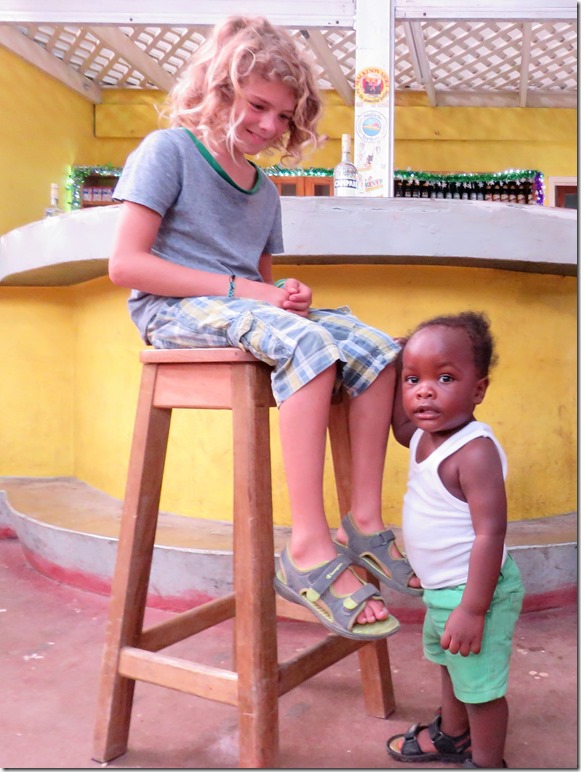 a curious little Jamaican child
The town itself is nice to walk through with plenty of people in the streets just strolling or hanging around and chatting. And of course, smoking ganja. Already at 7 in the morning you can smell the sweet smell of the sacred herb. You see people rolling, smoking and trying to sell you grass at every street corner. Police do not seem to bother about this as some of the people we saw were doing it right next to the policemen.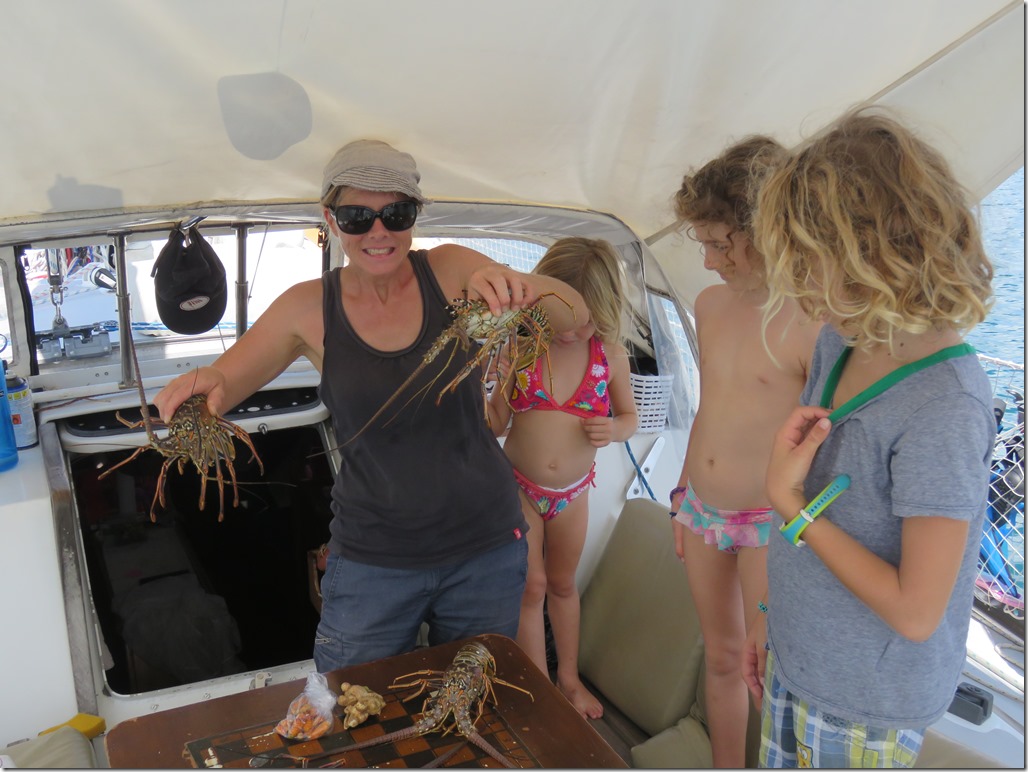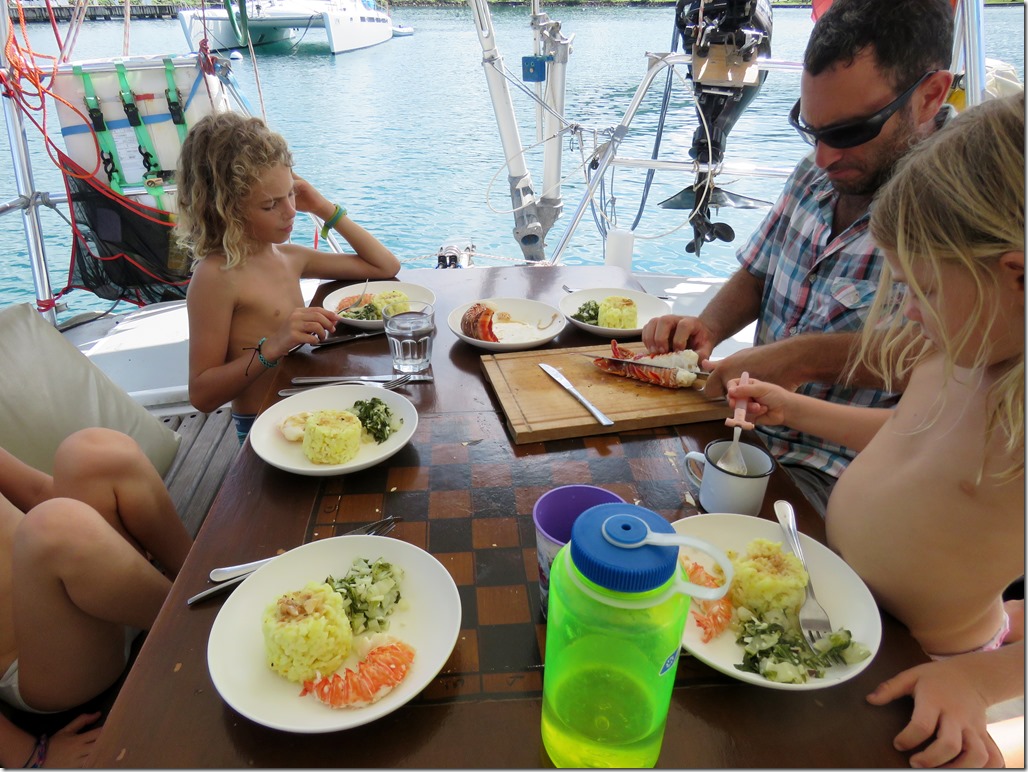 Fresh lobsters at 5 USD each
On Monday it rained the whole day, heavy rain like it rains only in the tropics. So we simply stayed on the boat, did school, played some games, watched a film and saved our little sailing dinghy from drowning.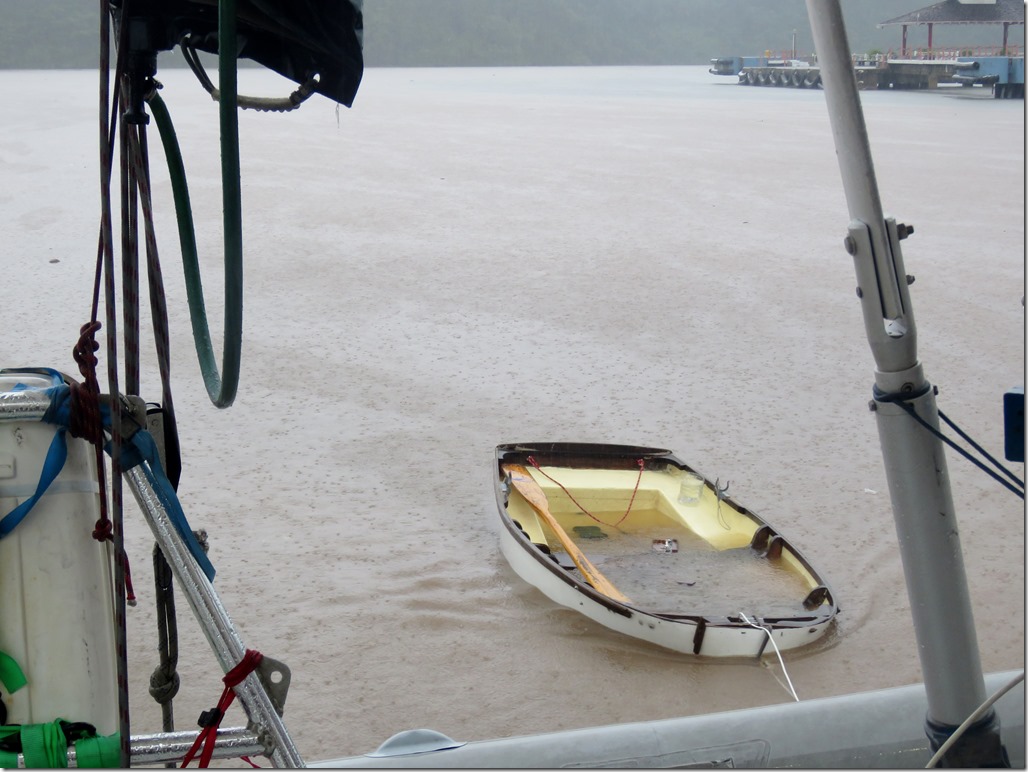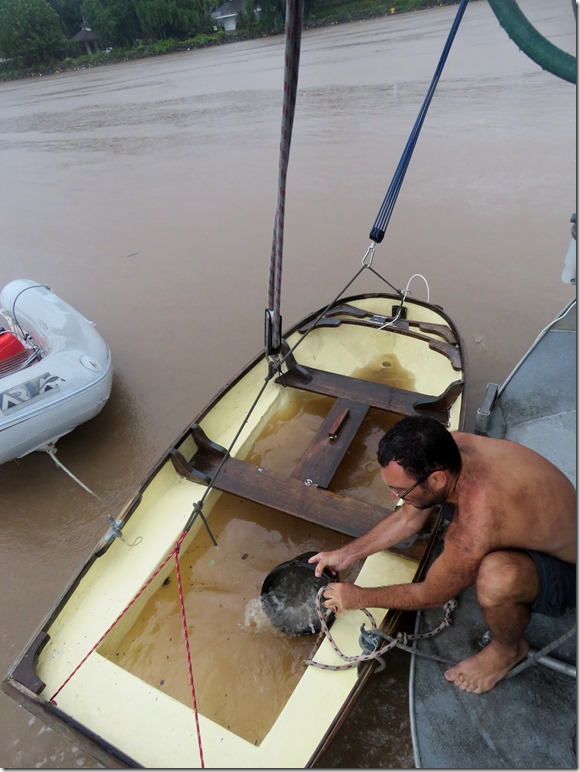 The next day, early in the morning we woke up and saw we have a new neighbor in the bay – a big cruising ship parked 10 meters from our stern. On the dock a live band was playing Bob Marley songs for the new arrivals, buses, taxis and plenty of rastas welcomed the tourist to take them to tours around the island. When we went to town that day it seemed that there were more tourists than Jamaican but luckily they disappeared as quickly as they showed up – already at 1800 the ship was on its way out of the bay. I don't know how much they have seen and experienced Jamaica. I wonder if they even got their passports stamped. But they probably feel they've been to Jamaica.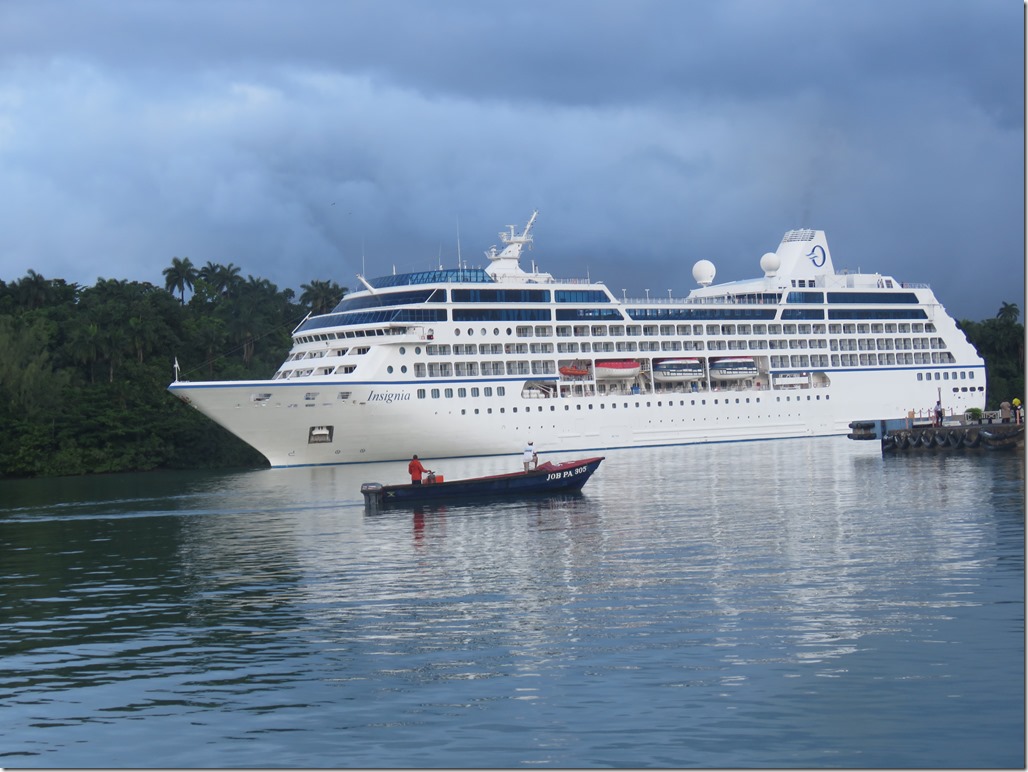 new arrival in the bay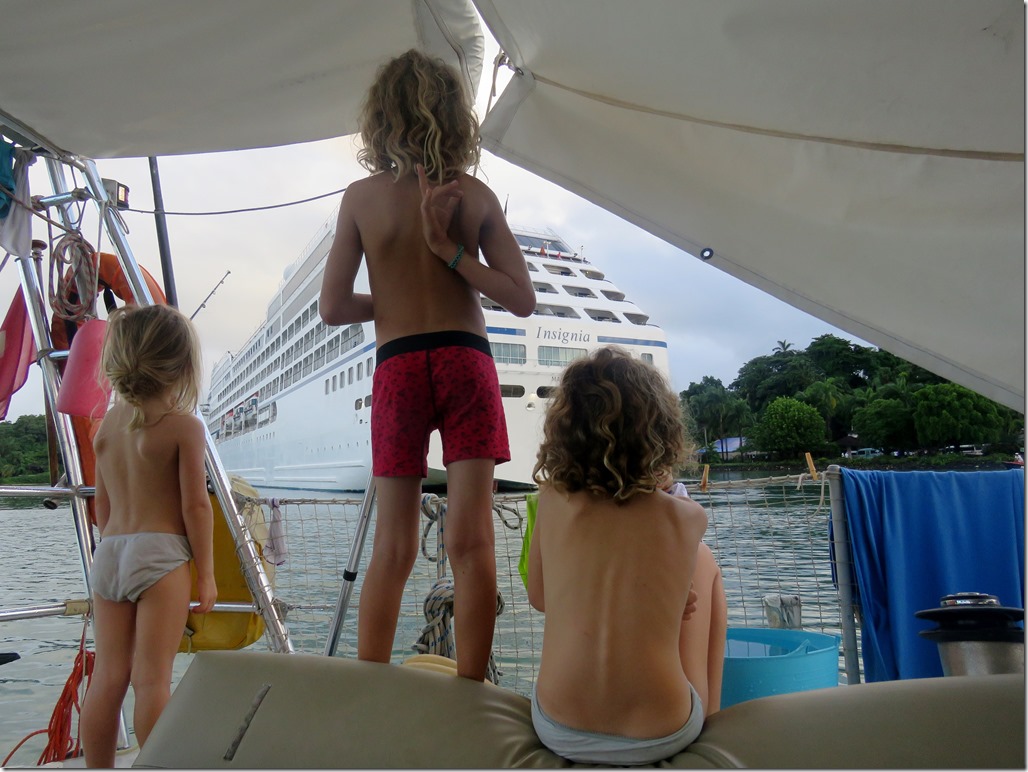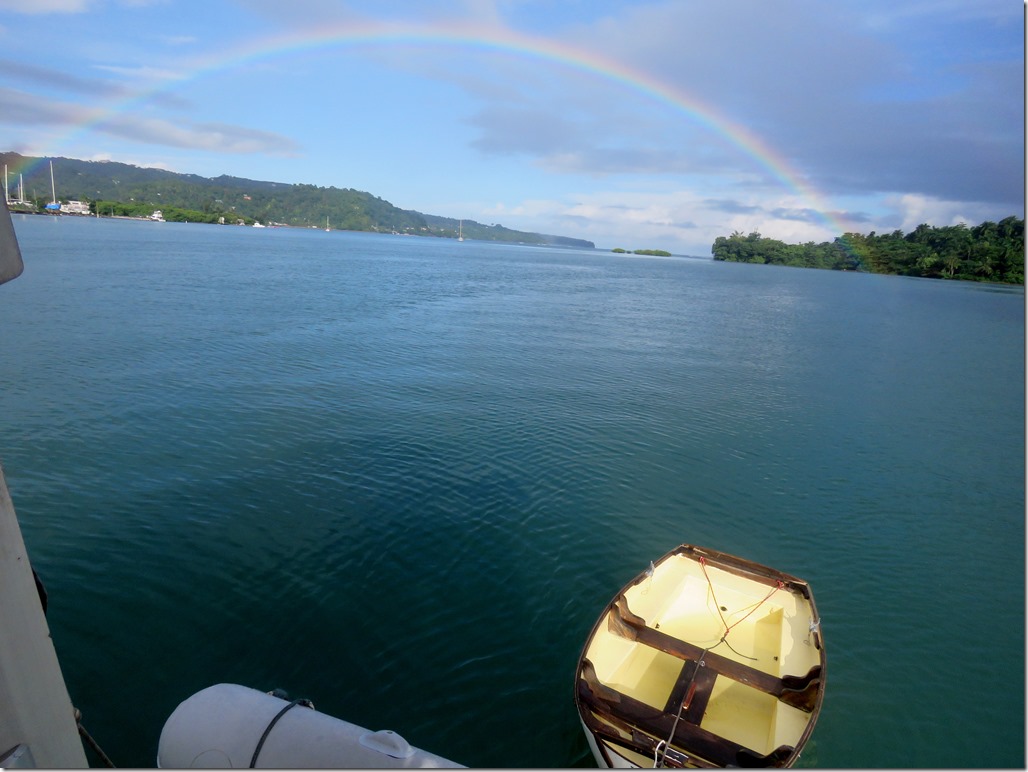 and a beautiful rainbow across the bay
We think we still have plenty of things to see and do in this island of smiling people.